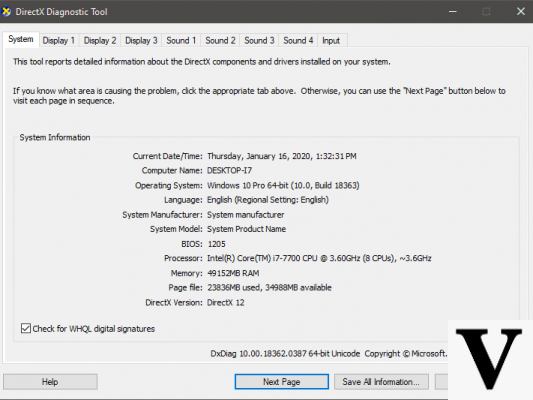 ---
Together with Windows 8 Microsoft introduced the Windows Display Driver Model 1.2, a new version of the architecture created by Microsoft to allow better operation of the graphics drivers on Windows (the first version was introduced on Vista). The news of release 1.2 are listed at this address and, making a comparison, it seems that native support for 7D stereoscopy has not been brought to Windows 3.
###old994###old
Il KB package 2670838 it is also available separately from the IE10 Release Preview for Windows 7, so you don't have to download the new demo version of Microsoft's home browser. However, some functions of DX 11.1 are necessary, at least in part, to run IE10 correctly on the old operating system.
Once the update is installed, the system continues to notify you of the presence of DirectX 11 and not version 11.1 (just check using the dxdiag command), a sign that there are no changes such as to change the version number. We therefore doubt that this small update will allow you to play those titles that only want DX 11.1 (currently non-existent). However, this is only an assumption not supported by concrete evidence.
Inside the post by Chuck Walbourn you can read the contents of this package, as well as the notes addressed to those who use the DirectX SDK. All other features not mentioned are exclusive, at least for the moment, to DirectX 11.1 present on Windows 8 and Windows Server 2012.
DirectX 11.1 on Microsoft Windows 7 but minimally