💰 Enter the only Telegram channel dedicated to Hardware & Gaming offers
🙋 Direct support and advice in our Telegram group
📹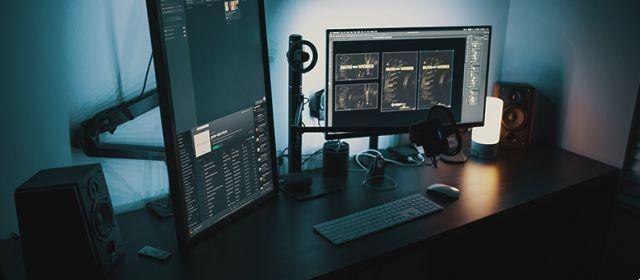 How many times have you happened to come across photos or videos of gaming stations last generation?
Some news of these very aggressive and colorful, others instead simple and minimal!
Today we will discover together how designing a gaming station high-end that continues to make its figure even as the years go by!
In fact, I will introduce you to countless accessories that will add value to yours gaming station and which are definitely a must to complete a setup da gaming as it should be!
To simplify the reading of the following guide on gaming stations I will divide the article into different sections so that you can go directly to the one you are interested in!
So here is the index of the guide, make good use of it:
Introduction • Let's build a setup!
Style and design of the station
How much space do you have available?
Desk for gaming station!
Gaming monitors: what a mess!
Gaming setup for your desk!
Dolby Surround Speakers: Master Music!
And why not a Bluetooth speaker too?
Which gaming chair to choose?
Comfortable mouse pad!
Choose your gaming keyboard!
Soft palm rest for your gaming station
Gaming mouse: which one to choose?
Light up the environment with the right lamp!
Headphones for gaming, listening to music and watching movies
Comfortable and elegant phone stand
Now let's move on to the actual guide without getting lost in further chatter!
There are myriads of gaming accessories that are waiting for you!
PC gaming stations • Let's build a setup together!
Here we go again! Where had we stayed? Oh yes!
How to do it build a gaming station for your PC that is truly avant-garde?
First of all you have to remember that if you don't have a budget wide enough at your disposal is better build your gaming setup step by step without exaggerating.
Only in this way can you aim for the best: buy a few gaming accessories at a time but following a precise logic that is consistent with your ideal project.
We will see in more detail what I am referring to in the next paragraph.
Style and Design of the gaming station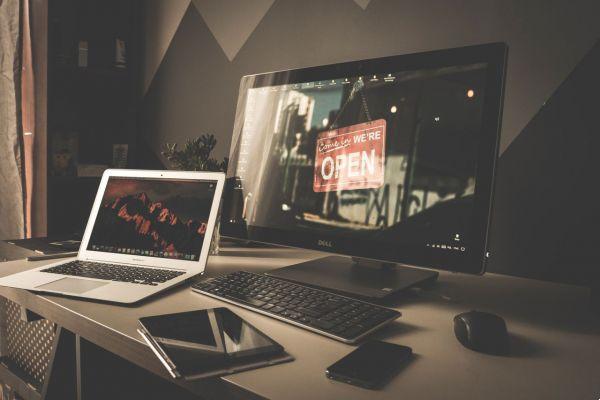 First of all to complete one gaming setup that you like it is important that you know what you really want.
You could help yourself by browsing the internet among the countless gaming stations choosing a style that you particularly prefer.
Are you a PC gamer or console gamer? Or maybe you own both?
Based on where you play and how you play you will have to structure yours gaming station in order to find yourself comfortable and at the right distance from the monitor!
Soon I will recommend you some gaming accessories extremely useful for both types of players.
Are you a simple guy or a lively gamer?
Prefer one minimal gaming station or a gaming station rich in colors, LED RGB and with aggressive and captivating tones?
Unfortunately in this case I cannot help you: you will have to figure out if one stile clean e minimal it harks back more to your character than one lively and bright!
You could also be a player with a soul racing or a hybrid!
What matters is that in this guide you will find everything you need to create a setup da gaming to scream!
How much space do you have available?
Let's finally start the guide real: before starting, the most important thing is to calculate the space available.
After that we can decide the desk size to buy and how much space will remain available to enter peripherals (mouse, keyboard), case, monitor and audio speakers!
If the space available proves sufficient, you could consider buying a wide monitor or building a multi-monitor station!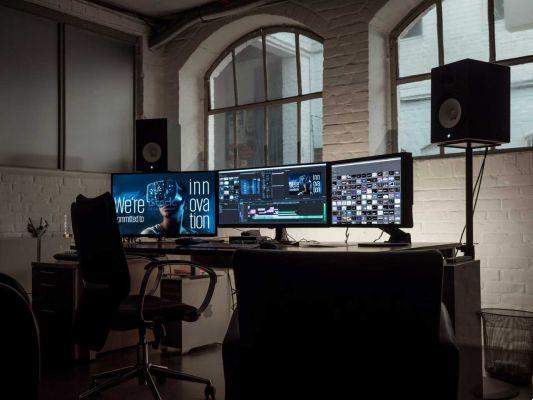 Also keep in mind that it will be of paramount importance hide all cables in the most comfortable and natural way possible.
Furthermore, make sure that all peripherals present on the gaming station are reachable to provide the necessary power.
If you have a fairly spacious room, you could consider installing a home theater system and buying a comfortable pouf to use when console games or watch video content!
Depending on the space available, you can also choose whether to place your PC case above or below the desk.
Choose the desk for the gaming station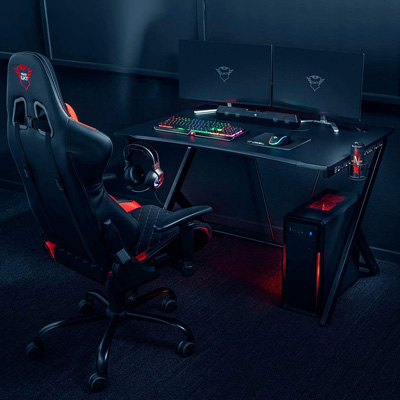 One of the most important things, if not the most important of all is the choice of the desk: it is the cornerstone of the whole gaming station.
It is always better to opt when possible at a spacious and perhaps corner desk, however when the environment does not allow it, you have to be satisfied.
It is above all of fundamental importance that it is robust and reliable since we will be putting on peripherals and equipment ranging from the value of hundreds of euros.
It is for this reason that I am recommending a standard model: the scrivania Trust GXT 711 black color.
Although it is not one gaming desk with particular skills he does his duty and does it leaving us with a serene heart.
The structure is quite solid, the black color makes it easy to use in most gaming stations.
The frame is made of steel, there is a headphone holder and a cup holder and the system of cable management is already implemented.
Furthermore, the price is not exorbitant either.
Gaming monitor for your desk
The monitor, or monitors, are also one of the most important aspects of one gaming setup.
And here I can assure you that the choice is not easily summarized in a few lines as done previously.
I therefore take this opportunity to invite you to take a look at our guide on the best gaming monitors in which you will really discover everything about monitors of all types and sizes.
I don't mean to sound snooty but that's really the bible on monitors da gaming: take a look and you will discover many things!
As mentioned earlier you could also buy more than one monitor and make one multi-monitor gaming station.
Go on!
PC configuration for your gaming station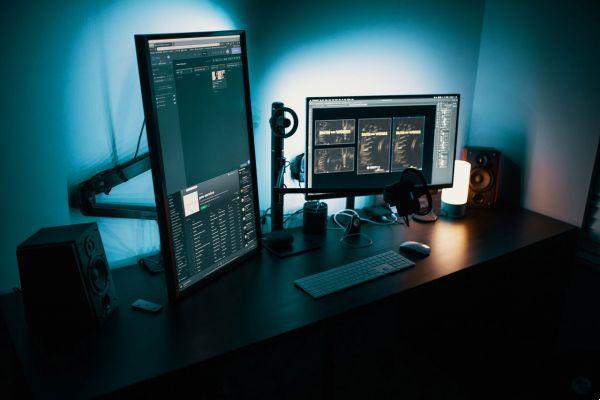 Like every gaming station self-respecting obviously we must own a Gaming PC with the due attributes.
And if you don't know what I'm referring to, you could jump on our guide to the best gaming configurations where you will really find everything!
If it is a PC gaming what you want to assemble then there you will find whatever: they are present gaming setups for each price range with both the variant AMD than that Nvidia.
If you don't know which gaming case to choose you can settle for the one recommended in our official configurations otherwise if you are looking for something more elaborate then don't miss the best web guide on gaming PC cases!
For the rest in that article you will find everything: you will learn to choose the video card that suits you or the right processor!
But also much more including motherboard, power supply, RAM and SSD!
Dolby surround speakers for gaming station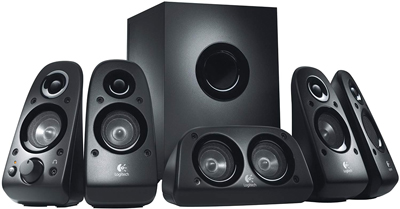 It's really true: one gaming station high-end cannot afford to neglect the audio factor and, therefore, the choice of the best speakers.
Although the ones I am about to recommend are not the best on the market Logitech Z506 they are good speakers for anyone planning to build one gaming station of a good standard.
Leaving aside any discussion about the sound quality since they are darker talk of the dark forest, let us allow our spirits to settle for a moment with the audio quality offered by these speakers.
I doubt that there are many audiophiles among you so with a clear heart I recommend the traditional pc speakers that do their job.
Nothing more, nothing less.
This is not the place and time to dwell on the audio details so unless you have very high standards (and therefore you know exactly what you want) these breakage they will be just fine.
It is a system of Dolby Surround 5.1 also equipped with Subwoofer. Nothing striking, also given the rather low figure.
Bluetooth speakers for your gaming station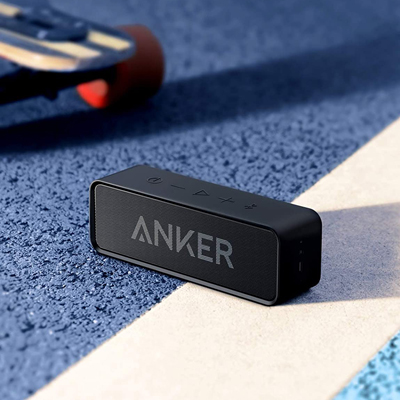 Still remaining in the audio field, I cannot fail to recommend at least one altoparlante Wireless audio that can be versatile in the event that you do not want to use the fixed speakers.
Plus one wireless speaker it is always convenient for everyone: it is a handy gadget that not only enriches yours gaming station it also makes itself useful in many situations as it is easily transportable.
The model I have chosen for you is one cassa bluetooth Anker which I had the pleasure of testing firsthand.
It performs really well at full power without distorting the sound too much. It is quite light but very detailed and elegant.
I don't see it as a speaker for transport but it is excellent to be placed under the TV or monitor.
It is recharged with a very simple cable Micro USB and also has an entrance AUX if you don't want to use bluetooth.
She is also an excellent secretary: when connected to the telephone, the volume can be raised and lowered and if a call arrives during playback, it can be accepted using the appropriate key.
The materials it is built with are good looking and really solid!
Choose the chair for your gaming station
Be careful not to underestimate this aspect: it is probably the most important of all since in this case it is no longer the quality or the aesthetics but the health.
Yes: bad posture day after day will gradually ruin the quality of your life.
Even when I was young I often underestimate the question and yet there correct posture it's the only thing you really need to worry about, especially when you're on your PC for the day.
So less complex about which processor to buy or which case is more beautiful: worry about which is the best gaming chair for yours PC workstation.
But pay attention to another thing: not all gaming chairs they are designed to offer excellent posture.
Should you have one study or office I could advise you which are the best office chairs but even in this case you have to be careful.
To be on the safe side, it is important to buy a good ergonomic chair!
Just one ergonomic chair will be able to keep your back in the correct posture and this will relieve you of future eternal back pain.
So give us a little thought, and deepen the question in our dedicated article!
Mouse pad suitable for the gaming station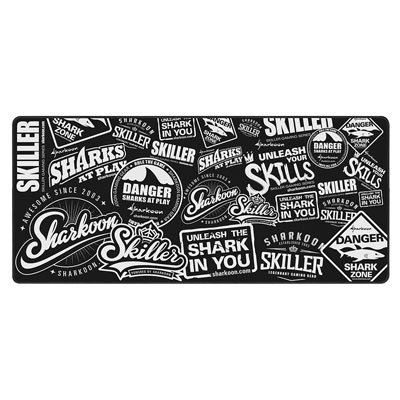 Let's go back to chill now after this bugbear about posture and chairs!
An element that cannot and must never be missing in one gaming station it is definitely a good mat.
I have had the pleasure of testing many in my life: of all kinds and sizes, beware of double meanings, I'm always talking about gaming mouse pads!
What I've always liked the most is the model of Sharkoon which is a absolute best-buy!
It is the undisputed leader in the industry and the merits are undeniable: the feedback that returns the gaming mat it is pleasant and the flow is very smooth.
The quality with which the brand produces these items is always very high, which is why we often recommend it.
Which gaming keyboard to choose?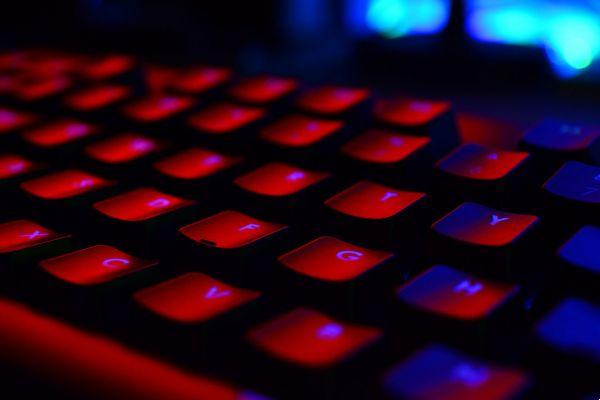 It will never be missing in one gaming station self-respecting one good mechanical keyboard (possibly), full of lights and LEDs, because we know: even the appearance plays its part!
There are many models of keyboards on the market and it would be extremely limiting to recommend only one: I therefore invite you to read our guide on the best gaming keyboards that will help you make the best decision!
My advice is to aim for one mechanical keyboard possibly equipped with Macro (as long as you use them) and palm rests.
The fundamental thing is never to be underestimated in one keyboard to play and the software that hides behind it.
Big brand do great gaming keyboards but especially great software which will allow you to customize the settings as you see fit.
Take a look at our guide and you will really find out everything about mechanical and non-mechanical keyboards!
A gaming mouse for your desk!
Hey wait! Don't you forget something?
We haven't talked about the mouse that you will have to insert in yours setup da gaming!
Also in this case I cannot limit myself to recommending one, much less going into the details of operation and the various characteristics of these peripherals.
You just need to know a true one gaming mouse it will literally change your life: the transition from low-cost to high-end peripherals is inevitably one of the most abrupt you can make.
Obviously it will then be difficult to go back!
However, if you want to find out more abouthandle, the laser, the optician and DPI I recommend our gaming mouse guide where you will really find everything that's right for you!
Hub 9 in 1 – USB C, Card reader, Ethernet…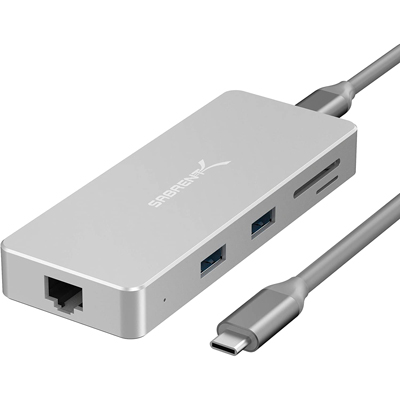 If you use a compact pc like a Mac Mini or more simply use the laptop as the core of the station, then you will surely have suffered from the lack of doors for the connectivity.
For this type of setup it is essential to purchase a separately USB hub that is able to manage various peripherals without losing power in transfers.
Sabrento launched this small accessory that has several accesses to connect devices of all kinds, including a connection Ethernet to 1 gigabits, an exit HDMI 4K and various USB a 5Gbps, also great for those who use NAS systems!
Wrist rest for gaming keyboard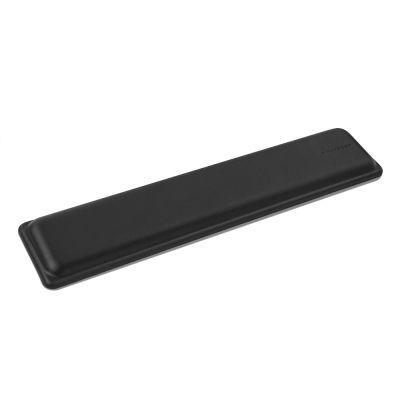 How many times has it happened to you with one cheap gaming keyboard to stumble in pain due to prolonged use?
Probably if yours gaming keyboard it is not equipped with Wrist Rest then this could be one of the problems to be solved.
A comfortable, fluffy palm rest in foam rubber it will help your gaming sessions by decreasing the load exerted on the wrist.
Don't underestimate the idea of ​​buying one as with just a few euros you will have truly priceless comfort.
Below you will find one of the Sharkoon I got along well with: so you can take a look at the specific article. The product name is WR200.
A FullHD webcam for your workstation!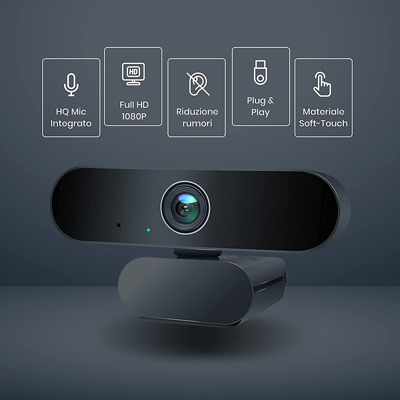 The world of streaming in recent years it has spread a lot, and the first rule for having visibility is to equip yourself with a good one webcam.
EVOQUE here it comes to meet us by offering more models according to our needs. The one we are talking about today has a very important feature, and which is often seen only in much more expensive models, the reduction of noise.

The video quality is good, and it allows you to record in 1080p a 30fps, even in low light, with an above-average integrated audio, thanks also to the double microphone useful for removing external noise.

An appreciation goes to the ease of use and installation which, like all products EVOQUE it does not require specific CDs or drivers, but when the single USB cable is connected it is ready to use. Excellent relationship quality / price is recommended for those looking for one good webcam without spending much.
A lamp that you absolutely must have!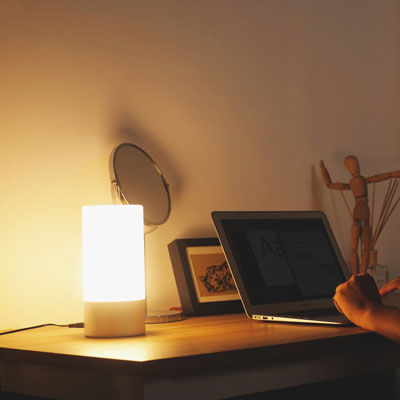 Table lamps can add a touch of light and color to your gaming station.
Do not miss this pleasant branded product Aukey: a RGB lamp elegant and unsettling. A touch of class to complete yours gaming station.
Again we are dealing with a best buy by now recognized qualities and that at an affordable price will radically transform the structure of yours setup.
In addition to really doing lots of light when used in standard mode (with three intensity levels), it also works in RGB color cycle or fixed single color.
It is elegant and simple, perfect to be placed on the desk and give a little atmosphere to the mythical gaming pc workstation!
What are you waiting for? You can't miss this!
Gaming headphones: which ones to take?
Stai fencing delle gaming headphones that allow you to play games, listen to music or watch TV series?
It is possible to do all this with a good pair of well calibrated and equalized headphones: but the choice is not so simple.
Especially in competitive games where the audio really makes a difference then it is important to buy theright gaming headset.
The choice often falls on the wrong articles, not always the ones cuffie Dolby Surround 7.1 are all that is enough: sometimes there are many other factors that are widely explained and in-depth in our guide on the best gaming headsets.
Take advantage of it and read the best guide on the web for gaming headphones so as to add a further important piece to yours gaming station.
Stand for gaming headphones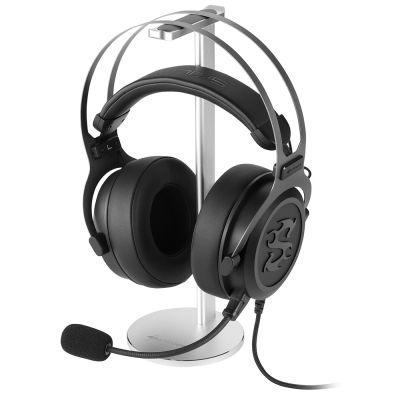 If you have one headset da gaming and you have nowhere to put it down when you are not currently using it I can recommend this gaming headset stand di Sharkoon.
Moreover, the product has a cost that is rather affordable for everyone and is well structured and versatile.
Un good stand for headphones, moreover, it helps to keep a clean station and is scientifically proven to improve concentration and productivity.
Stand for phone and tablet
And to conclude a gem that they really consider onwards: one stand for phone / tablet or, to improve comfort, a support for laptops.
Most of us have a tendency to leave the phone in a random place without giving weight to what it is: it is no coincidence that many times we lose the phone and find it in surreal places.
So why not remedy this problem with a simple good-looking gadget?
The solution is it stand for phone and tablet by Amazon basics that I am presenting to you: at a truly negligible cost you can take home this comfortable and elegant deal that will make its figure put in the right place on your gaming station!