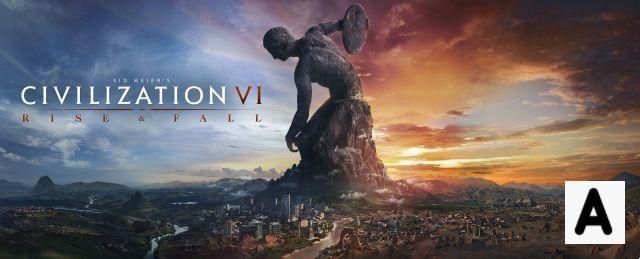 Civilization is a series of turn-based strategy games initiated by Sid Meier when he released the video game Civilization in 1991 and that has been continued to this day with several aftermath . The first Civilization was not published in Spain but Civilization II and Civilization III were, in 1996 and 2002 respectively.
This strategy game has made a place in the heart of turn-based strategy video game players. That's why from ForAppsLovers we want to present you a list with 10 games similar to Civilization to have that emotion of controlling the world and the battlefield.
10 Civilization-like games

At ForAppsLovers we present you a list, created by our experts, with 10 games similar to Civilization.
Civilization 5
The first game we present to you is the penultimate game of the saga, Civilization 5. Sid Meier's Civilization V is a strategy video game by developed by Firaxis Games and distributed by 2K Games, and the fifth in the Civilization series.
Stellaris
The second of the 10 Civilization-like games we present to you is Stellaris. Stellaris is a great 4X strategy video game developed and published by Paradox Interactive. The game revolves around the space exploration, the management of an empire, diplomacy and war with other interplanetary civilizations.
XCOM 2
The third game we present to you is XCOM 2. develops in turn-based combat missions in which the player commands a platoon of soldiers who must fight enemies, humans and aliens, and complete specific targets. In addition, players manage and control the operations of the Avenger, a ship abandoned alien that functions as a mobile base for XCOM.
Endles Space 2
In fourth place we find Endles Space 2. It leads a civilization in its first steps through the cold depths of interstellar space in Endless Space 2, a video game of 4X-style turn-based strategy .
Dominions 5
At the halfway point of the 10 Civilization-like games is Dominions 5. Dominion wants to forget about the complication of some role-playing games multiplayer, and David Allen pursues a simple and fun, while maintaining great playability so that ithooks both veterans as well as newcomers.
Master of Orion
The sixth such game we present to you is Master of Orion . The player assumes the control of a civilization at the dawn of the hyperspace jump and must lead it to victory, in the form of the President of the Senate Galactic, by eliminating all other races or by other systems like research.
Pandora First Contact
In seventh place we find Pandora First Contact . Considered the spiritual successor to Sid Meier's Alpha Centauri , this game takes us to a new world of our own, with flora and fauna exotics, massive armies, wonderful technologies, advanced weapons, etcetera, all recreated in three dimensions.
Polaris Sector
In the eighth place of games like Civilization we present you Polaris Sector . Polaris Sector presents an adventure of simulation and space strategy, with the possibility of exploring a galaxy with up to 900 stars to find planets where to locate colonies, obtain resources or establish diplomatic contact with other alien factions with the to create a whole empire.
Age of Wonder 3
In the penultimate place we present you with Age of Wonder 3. Third installment of Age of Wonders, an epic fantasy saga that mixes strategy with role-playing dyes.
Space Tyrant
The last game we present you similar to Civilizatiom is Space Tyrant .Space Tyrant is a deep strategy game set in a dark humorous future. Build a powerful space force, disintegrate aliens and rule irresponsibly in your relentless march towards total domination.