💰 Enter the only Telegram channel dedicated to Hardware & Gaming offers
🙋 Direct support and advice in our Telegram group
📹
Friends of ForAppsLovers.com, today we are pleased to introduce you to the PG27VQ, monitor enthusiast's band ASUS.
We had the honor of receiving in the editorial office and getting to know this wonderful branded product up close Asus Republic of Gamers which we will discuss shortly in full.
Il PG27VQ is an extreme-end monitor that has a cost that is certainly not accessible to everyone and is aimed at a specific type of user: it is designed for those who have a gaming PC that is powerful enough to allow them to play High Definition to a refresh rate quite high.
I have already revealed two of the fundamental characteristics of the PG27VQ, now we will see all the others together!
If you prefer the video review, you can find it at the end of this article.
Asus PG27VQ review: our test
We always see excellent products fromAsus, especially if these are branded ROG (republic of gamers).
In this case, however, the company has really surpassed itself: this could be the most complete PC monitor that can be purchased in the mainstream range (albeit at a price, as we have already said, not the most content).
Il PG27VQ is the monitor for those who no longer accept compromises: it really has everything a passionate gamer dreams of: high resolution, high refresh rate, support to the various Asus technologies, G-Sync, curved panel and much more.
Let's go into more detail and see point by point what to make this monitor from gaming complete and professional!
Asus PG27VQ • Design and materials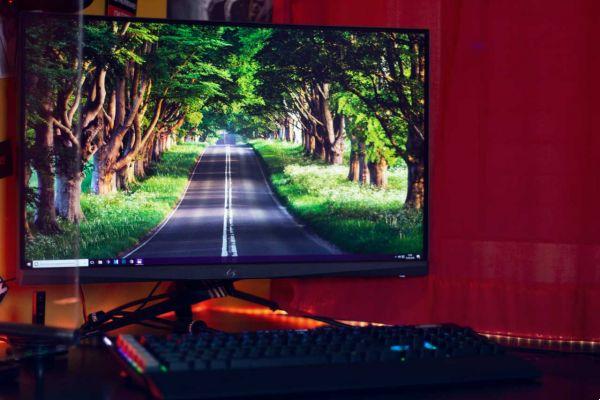 THEAsus PG27VQ it's a gaming monitor with an aspect ratio of 16: 9 of color dull gray.
Il design of the 27-inch monitor is very aggressive but at the same time cared for not to lead to tacky.
Frontally the product looks great with the almost total border cancellation, at the bottom there is the typical logo ROG.
The panel from 27 inches 1800R è curved it offers ample viewing space even if you are not looking at it from the center.
The monitor has extremely thin bezels (even less than 1mm), which make it a candidate for any multi-monitor configurations.
A special mention should be made of the pedestal of the monitor which, in addition to being rigid and good looking (primarily allowing you to hide the cables), is also equipped with the technology Aura sync which allows to offer an illumination LED RGB to be combined with other products if necessary ASUS ROG.
Several are provided inside the package gadget Asus Rog, some of which are used precisely to manage the play of light at the foot of ours gaming monitor!
THEAura sync it allows, then, to project a fully configurable RGB figure at the foot of our monitor!
The back side is the icing on the cake: Asus he took care of the game with perfect minutiae lights and materials making the back of this article wonderful but at the same time almost wasted as it is not visible during normal use.
However, it should be emphasized that the rear camber is rather evident and bulky. I don't think we should take anything for granted so make sure you have enough space available.
Also on the back side we find a 4-way controller plus all the other buttons. With the first you can control and manage the monitor settings simply by orienting the controller in the menu and pressing to confirm the choice.
A really useful and convenient tool designed by Asus!
The materials used, I don't think there is any need to remind you, are premium quality.
Il monitor has a inviting appearance, a very reliable solidity and exceptional color customization.
The panel can be adjusted in three directions: rotation from -40 ° to + 40 °, height from 0 ~ 100 mm and / or front inclination from + 20 ° to -5 ° can be exploited.
Asus PG27VQ • Technical features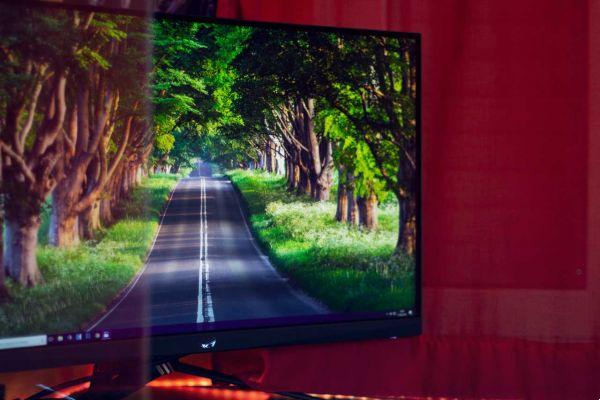 THEAsus ROG PG27VQ, as we have already said, it is an expensive extreme range monitor and capable of offering certain inevitable features among which thehigh refresh rate, super resolution and G-SYNC.
Il PG27VQ it has, in fact, a resolution WQHD go 2560 1440 pixels x (what is commonly referred to as 2K) and a curved TN 1800R panel that reaches 170 °.
Il refresh Rate of the monitor can be brought from 120Hz (when using NVIDIA 3D vision) to 165Hz thanks to the built-in factory overclock.
Il response time is equivalent to 1 ms: very little, the top for those who want to play at a competitive level.
La brightness and of 400 cd / m2 while the relationship of contrast is 1000: 1.
La G-SYNC technology adopted by Asus and elaborated by Nvidia it also allows you to eliminate artifact problems during the production of graphic elements of all kinds.
For example, in videogames, input lag, tearing and sharpness problems are eliminated by synchronizing the "speed" of the monitor with that of the Video Card.
The monitor is however not provided HDR technology while it offers other minor technologies developed by ASUS including ULMB (Ultra low motion blur) which compensates for the possible lack of G-Sync when not using an NVIDIA video card.
It freezes the developed frames within a fixed refresh rate ranging from 85Hz to 120Hz passing through 100Hz.
La Ultra low blue light technologyFurthermore, it will take care of your eyes by lowering the intensity of the blue lights which, as we know, are the most harmful to vision in the long run and tire the eyes.
Finally, the Flicker-Free technology which provides a cleaner image during gaming sessions.
In its rear side, the ASUS PG27VQ gaming monitor offers a connector HDMI 1.4, a DisplayPort 1.2, audio jack and, finally, ben 3 USB 3.0.
Asus PG27VQ • Gaming functions
We are now dealing with two very interesting functions: we are talking about the Game Visual and Game Plus.
The first allows you to manage the color profile directly based on the type of content you are viewing to offer a more engaging view.
The pre-existing profiles are: Cinema, Racing, RTS / RPG, FPS, sRGB, Landscape.
La Game Plus instead, it allows, through a few simple clicks from the controller located on the rear panel, to access 4 useful functions intended for gamers and designed according to their needs to improve their game quality: Crosshair (viewfinder), Timer, FPS counter and Display alignment .
The first allows you to add a viewfinder and modify it in the center of the screen, with the second you can add a timer and with the third you will see the Current FPS.
Finally, with the Display alignment you will be able (if you have them) to better align all the monitors to provide a balanced image.
Asus PG27VQ • Conclusions
The monitor, from the first use, manifests itself in all its beauty by virtue of a unique design for all gamers who aim for the maximum without spending limits.
The only negative point, for an enthusiast of the genre, is constituted by the LEDs placed on the back which are not adequately powerful: they, in fact, are barely visible in the evening, but not as evident as one might hope.
In terms of performance it is really difficult to find something better and the experience in games is certainly more than satisfactory going to justify the important expense. The technical data sheet, as important as it is, does not give reason to the practical test that truly gives emotions.
Finally, I leave you my video review where you prefer it.
https://youtu.be/I_fbg2dipWY