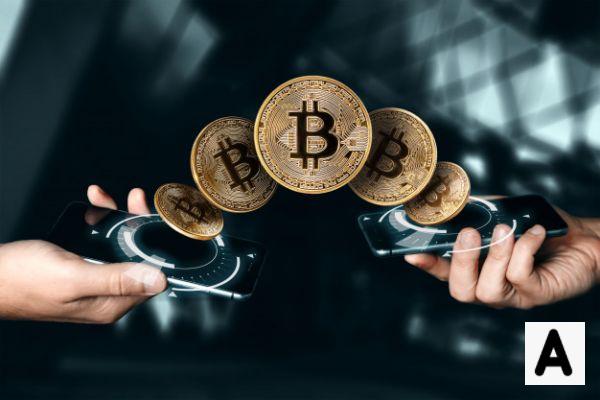 For many, the only crypto currency that exists is Bitcoin . For being the first and most popular we usually hear about it all the time. During 2017, Bitcoin shocked everyone by the huge growth that it produced in just a matter of 1 year, when it went from being worth only $1,000 to being worth over $20,000.
In the world of cryptomoney you can also find other alternatives to Bitcoin that make money. That's why ForAppsLovers presents you with a list of the 10 best alternatives to Bitcoin. This way you can invest in yet another type of cryptomoney.
The 10 Best Bitcoin Alternatives
From ForAppsLovers we present you a list created by our experts with the 10 best alternatives to Bitcoin.
Ethereum
The first kryptonet we present to you is Ethereum . The Ethereum blockchain coin is the Ether, and it's used to to carry out the transactions. Whether it's using decentralized applicationfunctionality ( dapps) or running smart contracts.
Ethereum features:
Current price: $223.55
Market capitalization: $22.759 billion
Maximum amount of ETH: This cryptomontage differs from Bitcoin in the simple fact that it does not has a limit, although if the maximum that can be issued annually is of 18 million.
Technology: Bitcoin is only one digital currency, but Ethereum is different. By providing a language and a platform, intelligent contracts can be created decentralized applications on your blockchain.
Bitcoin Cash
An interesting alternative that we found for Bitcoin and that we present to you as a second alternative is their own fork, Bitcoin Cash. A fork is a blockchain that using the code of another one creates a new project with some differences.
Bitcoin Cash features:
Current price: $509.41
Market capitalization:$8.83 billion
Maximum amount of BCH: 21 million as well as its big sister, Bitcoin.
Technology: Bitcoin Cash was created with the aim of improving the scalability that Bitcoin presents. For that, it uses larger blocks which may contain a larger number of transactions. This will allows not only to improve the speed with which they are performed, but also the cost of them.
Tron
The third of the 10 best alternatives to Bitcoin we present you to Tron . TRX is the crypto currency used in the ecosystem to make the transactions, where you can share your content and in return to receive crypto coins. All without the need for an intermediary like happens on platforms like YouTube.
Features of Torn:
Current price: $0.02
Market capitalization:$1.367 billion
Maximum number of TRX: The maximum number of TRX that can exist is 100 billion.
Technology: The comparison with Bitcoin is difficult to make, since the main Kryptomoney seeks to be a replacement for fiat currencies, such as the Euro or the dollar, and Tron a way of sharing content in a decentralized by eliminating intermediaries.
Ripple
The fourth alternative we present to you is Ripple . Ripple was founded in 2012 with a very different purpose than most crypto-currencies, that of being an intermediary for the institutions financial and banking.
Ripple features:
Current price: $0.296
Market capitalization:$11.739 billion
Maximum amount of XRP: The The maximum amount of XRP that can exist is 100 billion. But at difference from Bitcoin that new coins are continuously generated at through mining, those of XRP have already been created. Since more than half of them are in power of the company, is said to have a greater centralization than Bitcoin. Anyway, there are plans to release the market these XRPs gradually.
Technology: The simply by getting international transactions to take a few seconds instead of days or weeks, it's already an improvement a major problem in global economic activity. For this it uses a technology called Distributed Consensus Leder System, which is different from Bitcoin's distributed accounting. Besides, at Bitcoin it is the community that makes the decisions, while that in Ripple there is a private company working towards adoption of the cryptomoney.
EOS
The alternative to Bitcoin that we present to you is EOS . The potential of EOS is finds that it's an Ethereum-like cryptomontage. This implies that the platform is capable of running decentralized applications by as well as smart contracts.
EOS features:
Current price: $5.08
Market capitalization:$4.602 billion
Maximum number of EOS: 900 million
Technology: In EOS, intelligent contracts can be developed easily, something very similar to Ethereum. That along with the possibility of building dapps make the big difference to Bitcoin. The difference with Ethereum is found in the consensus algorithm they use. While EOS uses Delegated Test of Participation, Ethereum still uses a Proof of Work. This can mean that EOS in the future will be much more scalable.
Litecoin
Just past the halfway point on this list, we present Litecoin . This was created some years ago, in 2011 by aformer employee of Google, Charlie Lee. And while he used the Bitcoin code to create this solution, their goal was to further enhance the main cryptomoney.
Litecoin features:
Current price: $56.59
Market capitalization:$3.292 billion
Maximum LTC: The limit is set at 84 million, just four times more than Bitcoin.
Technology: Litecoin in essence is very similar to Bitcoin, as it seeks to be currency to exchange value. It does not have all the features that we find in other projects like Ethereum. The main difference you have with the BTC is your speed, reaching a 400% improvement.
Ethereum Classic
The seventh alternative to bitcoin that we present to you is Ethereum Classic . In this case Ethereum Classic was not created with the aim of improving technology , but to correct a mistake resulting from the acts by some malicious hackers. At that time, $50 was lost millions, which the believers of this currency thought were not important enough to break their values.
Characteristics of Ethereum Classic:
Current price: $11.84
Market capitalization:$1.236 billion
Maximum FTE: Unlike its sister, the maximum amount of FTE that can exist is limited to 230 million.
Technology: The The differences with Ethereum are very few as ETC is a hard fork of this one. But if some differences start to emerge as the changes in the code are not reflected in the Ethereum Classic, and as the first has a much larger developer community, it is produces a distance between them.
NEO
The eighth of the 10 best alternatives to Bitcoin is NEO . NEO is known as the "Chinese Ethereum" because it shares similarities and also because it was created in 2014 in that country. At the beginning it had the name of AntShares, but was later changed to a namethat we could say more conspicuously.
NEO features:
Current price: $19.69
Market capitalization:$1.28 billion
Maximum amount of NEO: 100 million
Technology: Al As Ethereum differs from Bitcoin in providing contracts intelligent and decentralized applications. The difference is that implements an algorithm that greatly enhances the Ethereum model, both in accuracy, scalability and compatibility between applications.
Binance Coin
The penultimate alternative we present to you is Binance Coin . Launched as part of an ICO in July 2017, this token is more like it, is a way to get commissions on the exchange much cheaper. If someone pays for transactions using BNB then they onlypay the 50%.
Features of Binance Coin:
Current price: $10.09
Market capitalization:$963 million
Maximum amount of BNB: 194,972,068
Technology: BNB is an ERC20 token, this implies that it was created using the Ethereum blockchain. This limits its functionality a bit, but Binance has plans to create its own blockchain called Binance Chain, which will also allow you to create a decentralized exchange.
Cardano
The last alternative to Bitcoin is Cardano . Launched exactly one year ago, Cardano is a young but the time within the most popular ones. Perhaps this is because your founder is Charles Hoskinson, who has been one of the foundersof Ethereum.
Characteristics to Cardano:
Current price: $0.08
Market capitalization:$2.762 billion
Maximum amount of ADA: 31,112,483,745
Technology: It is said that Cardano is third generation because it seeks to solve those problems faced by Bitcoin and Ethereum, its predecessor. These are three: scalability, interoperability and sustainability. It can also be seen as a rival for Ripple, because it seeks to have financial transactions carried out quickly.