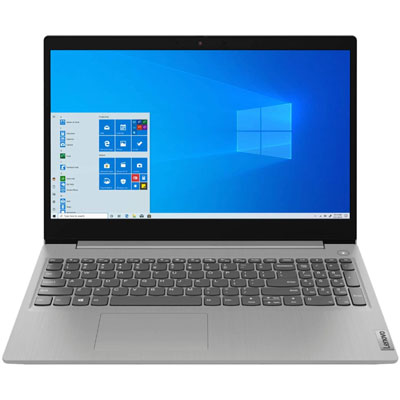 Lenovo IdeaPad 3

Intel i5, SSD 256 GB , RAM 8GB DDR4
The minimum for studying or office use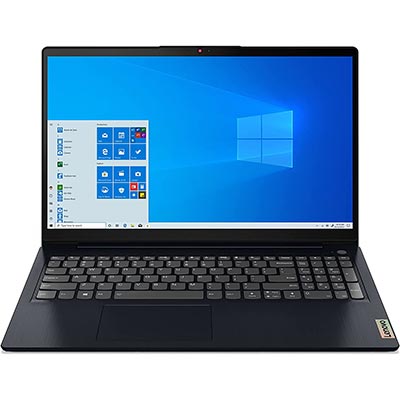 Lenovo IdeaPad 3

Intel i7, SSD 512 GB, RAM 8 GB DDR4, Intel Iris Xe Graphics
The best of the mid-range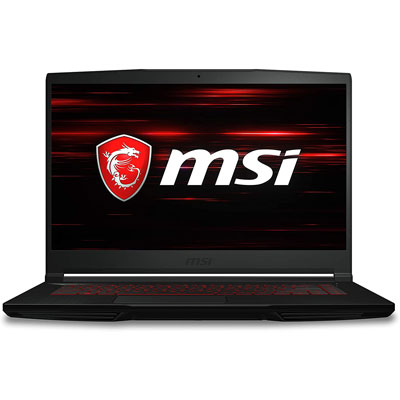 MSI GF63Thin

Intel i7, SSD 512 GB , RAM 16GB DDR4, Nvidia GTX 1650
The most powerful quality / price ratio!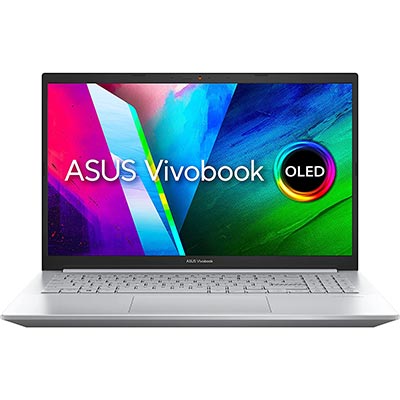 ASUS VivoBook 15

Intel i7, SSD 512 GB , RAM 16GB DDR4, Nvidia RTX3050
The most powerful quality / price ratio!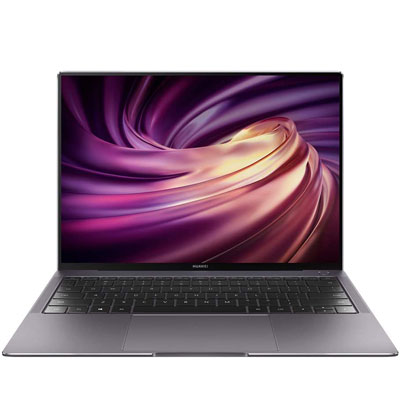 HUAWEI MateBook X Pro

Intel i7, SSD 1 TB , RAM 16GB DDR4, Intel Iris Xe Graphics
The most comfortable and powerful for business!
I propose you a memorable guide to say the least that is capable of encompassing all best laptops divided by price range, suitable for all occasions and always updated. The ForAppsLovers site could only open up with a guide of this level inherent in its own best notebooks.
Many of you will know me as the admin of Tuttoapp-android.com where, a bit like I want to do today, I have written many guides in which I recommend the best devices to buy to the great satisfaction of my readers.
Advice about i best notebooks they do not concern, in particular, only the technical specifications and the single computer, but are related to portable PCs tested personally: you will not find, therefore, simple lists, but real 360-degree advice thanks to which to understand what to buy, why do it and where is it. Safe shopping, in short.
Before getting to the actual guide, therefore, I would take the liberty of giving you some advice of a general nature, the result of my experience in the field of notebooks.
Best Laptops • Hidden Shopping Tips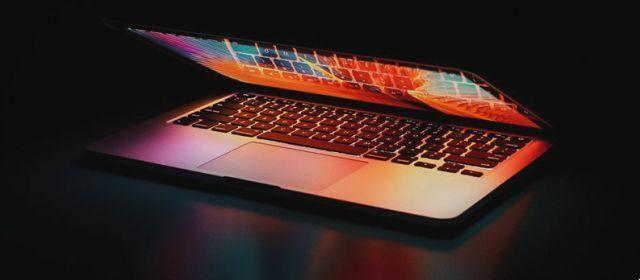 As for the purchase of other technological products, also for the research of best laptops I am a spectator, in spite of myself, of a continuous race for prices and brands. I realize that, for a marketing principle, there is a tendency to relate the value of a thing to the price with which it is on the market but, in reality, for economic reasons that I have studied and that I am not here to feed you, the cost final offered to the buyer is influenced by numerous factors.
With this I want to give you an important message: choose the best pc according to your needs and your skills. Does it make sense to buy a professional product (be it HP, Apple, Dell, Asus, Samsung and the like) if what you do with a pc is surf the net, use the Office suite software and shop online? Absolutely NOT, an office notebook will suffice!
Well, how bad it is for an expert to see a professional Asus or a Mac in the hands of someone who has never used resource-hungry software.
What do you have to do then before buying a pc?
evaluate in advance your needs and the purposes for which you will use the laptop.
forget the advertising that gives you the brands: it only confuses your mind.
set a budget without necessarily passing out.
only consequently, choose which computer hardware sector to prefer and the best laptops for you.
Best Laptops: Hardware or Software?
In my direct experience, it is really difficult to choose a laptop that lasts over time without slowdowns or breakdowns.
As demonstrated by the Linux and Mac operating systems, the software part matters a lot: a lean operating system can guarantee great fluidity over time.
In the same way, we often look for increasingly important and powerful hardware specifications, leaving out perhaps the most important aspects of a laptop: build quality and cooling capacity.
Well, if you want a durable and snappy PC, then you must necessarily prefer a light operating system and a laptop that is able to dissipate heat at its best. Choose, therefore, materials at least "plasticky" is possible by taking a look at the cooling method and, if necessary, the position of the fans.
I'll bring you a case experienced in person: my roommate had a mini 7 inch laptop with 1gb of ram and windows 7.
Performance? The PC took 10 minutes to turn on and 10 to turn off, impossible to use even for the simple use of Word.
Since this pc had no cd player, I thought about using DriveDroid for Android and installing it on it Xubuntu.
The result? With a PC with a current value of 150-200 euros, very versatile, my roommate can perform all the typical office operations and is delighted with this. Now yes, even that pc can be considered one of the best laptops 😀
Having made the necessary premises, perhaps even too long, we come to the real advice, to the analysis of the individual products.
Are you ready? Let's go!
Which will be the structure of the guide to the best notebooks? I will offer you laptops divided by price range, with technical data sheet, short review and updated prices constantly taken from The Amazon, the best site for guarantee, and from Find prices, site that compares the prices of almost all online stores.
Best laptops • Low-end (under 600 euros)
Among the laptops with a price included between 300 and 600 euros those of low and medium - low range are certainly included, ideal for a basic use: watching movies, surfing the internet and using office programs in a sufficiently fluid manner.
Difficult, however, to find laptops with quality materials capable of ensuring constructive solidity and good dissipation.
In summary, it will be the most common and purchased notebooks, but a lot depends on your needs.
CHILDREN HeroBook pro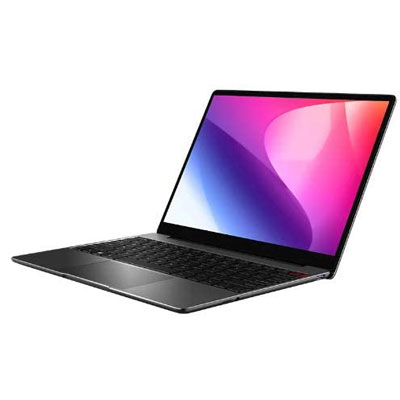 The first product of the fascia entry level you can find the CHILDREN HeroBook Pro, an honest solution that provides an extremely low price.
Inside it houses a processor Celeron N4020, not really one CPU with remarkable performances but for the type of use to which it is envisaged it is not necessary to ask for more.
With its 2,6GHz can absolutely take charge of any operation for daily use or school and being equipped with an integrated video card.
One of the flaws is represented by the size of the storage, but we can not expect anything better for a figure that is truly out of the market like that ofHeroBook Pro!
In terms of memory mounts a SSD da 256GB, more than necessary to make up for the installation of the operating system (Windows 10 already pre-installed) and all additional software, while the RAM it's composed by 8GB DDR4, a good combination of performance e price.
Il notebook di CHUWI is an ultrabook from the point of view of design and dimensions and weight, but an entry level product for performance.
It is designed for those who want to use it from casa, for viewing movies and TV series or for trivial operations that do not require computational power.
Lenovo IdeaPad 3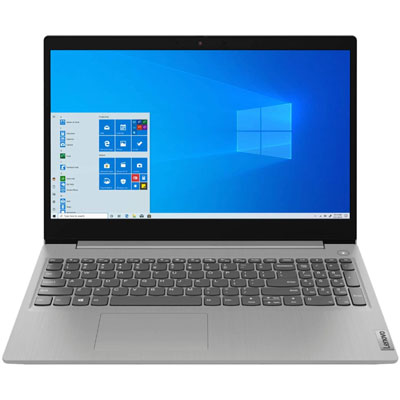 A further solution beyond under € 600 and the Lenovo Ideapad 3, for an laptop respectable based on a use of productivity and school mainly but does not exclude the possibility of playing some video games at very low details.
Here, too, we have a processor Intel di tenth generation, more precisely i5 10210U, powerful enough to use most school and software software smart working;
Windows 10 it is already pre-installed and ready to use.
Could not miss the much loved SSD da 256GB, as in the previously recommended models, always suitable for carrying out all navigation and use operations in quickness, juxtaposed with memory RAM da 8GB DDR4.
The screen is a panel Full HD with resolution 1920 × 1080, an excellent compromise that allows a autonomy rather prolonged for the most intense sessions even in mobility of the size of 15.6 inches.
Microsoft Surface GO 3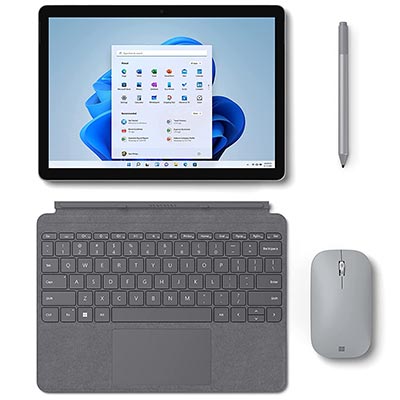 Il Microsoft Surface GO 3 it is a different solution than those proposed up to now: it is specifically designed for workers but mostly students.
It represents a middle ground between a tablet and a laptop, since it can be used exactly in these two ways.
In its cheaper version it comes with a Intel Pentium CPU: the minimum sufficient for one use study / office.
Then there is a variant, more expensive, from about 700 euros, which instead mounts a intel i3 which is already more powerful and interesting.
It is clear that the strong point of this solution is represented by lightness and versatility, it is certainly not a portatile and with a high computational power.
Storage memory is a SSD from 128 GB.
Model with i3:
Acer Aspire 3 A315-58-532H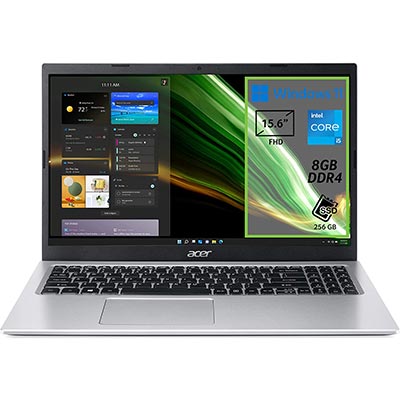 The latest product beyond under € 600 it's a Acer Aspire 3 It equipped with a excellent processor for laptops: l'Intel Core i5-1135G7.
This is the best solution for slightly heavier workloads. With this cheap notebook in fact, it is possible to start using applications that are already more demanding and therefore we can effectively suggest the product for those who work even sometimes with less generous working tools.
Il laptop it is then equipped with 8GB of DDR4 RAM memory and an archiving SSD a 256GB.
Il display is 15,6 inches in FullHD resolution. The notebook mounts operating system by default Windows 11.
Best laptops • Mid-range (600-900 euros)
In the price range between 600 and 900 euros, we start to get serious: although even the products of 700, 800 or 1.000 euros may still have defects or not respond to everyone's needs, the general quality of the laptops is high.
Let's start with a notebook excellent for value for money.
Lenovo IdeaPad 3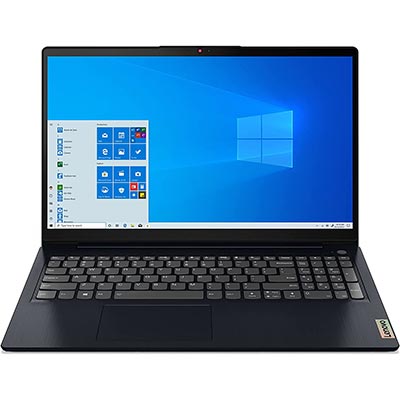 Entering the upper range of 600 € we find a product launched by Lenovo, from the same series seen above, but equipped with a more powerful components and with more storage space.
We have in fact at our disposal a Intel i7 and a 512GB Nvme SSD.
La RAM memory from 8 GB it is always sufficient and represents the only brick on which no one has been made upgrade. This also Laptop like the previous ones, owns a integrated graphics card, which allows you to use applications that imply little load on the GPU.
It is great for business purposes, but still nothing too demanding.
It is certainly starting to be an exaggerated choice instead for those who study or intend to use the device for standard home / office use.
MSI Modern 15 A11MU-1018IT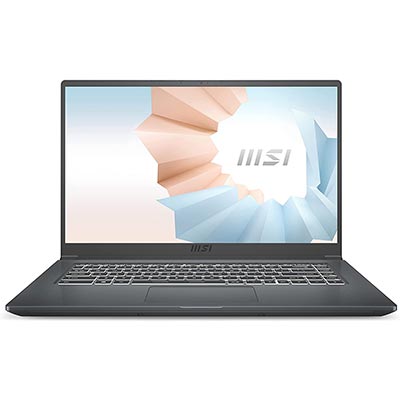 The second product on this list of the middle band is produced by MSI and can be purchased for a figure around 800 €.
This laptop represents an exact middle ground between the previous Lenovo notebook and the next Huawei.
In fact, it presents a more attractive design than the previous one, but less slender and lighter than the next product.
In terms of components, it always mounts a Intel i7, really enough for not too expensive work operations. A SSD Nvme gives 512GB and requires 8 GB of RAM memory at a frequency of 3200mhz.
It has a larger keyboard since it has no numeric keypad and backlit, very convenient for use in dimly lit environments or at night.
HUAWEI MateBook D14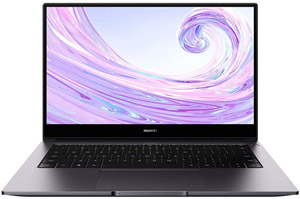 We enter a category that promises results but gets paid, rightly so.
Third in the ranking for the mid-range we offer you this Huawei Matebook D.
If elegance is a characteristic you are looking for when choosing a laptop then this product will probably not go unnoticed in your eyes.
Characterized by one CPU 7th generation Intel iXNUMX promises to be excellent for those who have some extra needs, especially in the field video e social, as it is one of the products in the line for content creators.
Obviously also the memory receive a noticeable improvement, in fact it brings with it a SSD nvme M.2 from 512GB, the top in terms of speed standards and 16GB di RAM DDR4, excellent for performing multiple operations at the same time.
From the design point of view, the whole frame is made of metal and in some ways reminds you of the much more expensive MacBook Air I talk about below. The bezels are really thin and the front camera is integrated into the keyboard. I point out the presence of the fingerprint reader for quick unlocking of Windows 11.
The screen has a size of 14 inches in resolution Full HD, which we do not believe can represent a disadvantage by virtue of one greater autonomy and easier portability.
This ultrabook has a thickness of only 15,9 mm and a weight of 1,38 kg.
MSI GF63Thin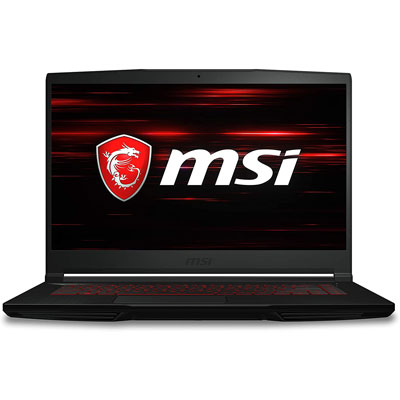 Another product that we offer you if you want to compromise less and less with technology is the MSI-GF63 Thin, PC with an aggressive design and performance as well.
Surely it also falls into the gaming category but it is not what we focus on in this guide but you can find the link to the dedicated article in the next section.
The soul of the PC is a Intel i7-11800H, XNUMXth generation processor.
As for the memory, the RAM and from X, while the 'SSD and from 512GB.
Couldn't fail to present one dedicated video card, which one GTX 1650 da 4GB, excellent for playing a wide variety of titles, considering that it is still a portable PC.
Finally, the display is a Full HD of excellent quality from the size of a classic notebook, that is 15,6 inches, nothing to complain about.
No more a lightweight notebook like the previous ones but almost a gaming laptop, with much better performance, at the expense of weight and size.
Best high-end laptops: over 1000 euros
At least once in our life each of us has thought of buying "ancillary goods" from 1.000-2.000 euros even though we do not have the slightest need. For me it is immoral.
But the speech is different for who is a professional, for those who make their life out of the PC or are used to playing with it. In short, there are people who need to use an absolute level computer. Even myself, who works 15 hours a day with the computer, does not believe he needs a 24 euro laptop. I just need a desktop PC configured by me in all respects.
I desktop computers run better regardless of brand. This is why we offer you, constantly updating them, the guides to the best motherboards, desktop processors, video cards and PC cases which are some of the main pieces to assemble a PC yourself.
It is difficult to expect from a notebook, in fact, that it is able to carry out processes at the speed of a fixed one: the micro-technology of notebooks tends to produce heat and work worse anyway. You can't buy stars with money, not always.
Having made this necessary premise, if you need to do graphics, to play with the latest video games released on the market (provided, of course, this is a necessity), then you must absolutely continue reading to discover the best high-end laptops.
ASUS VivoBook 15 K3500PC#B09HV94RFT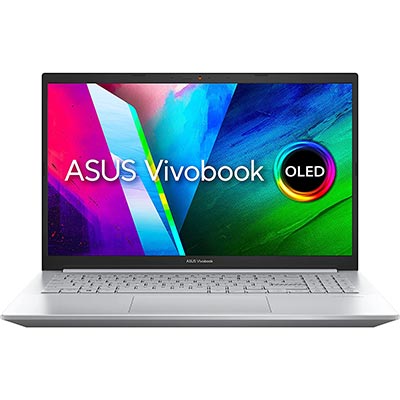 If what you are looking for is a High-performance portable PC with a dedicated video card then this ASUS Livebook is certainly the answer to all your questions.
Il Vivobook 15, with a 15,6 ″ display, it is equipped with a compartment respectable hardware: Intel i7, RAM memory yes 8 GB and Nvidia RTX3050 plus of course a lively storage space from 512 GB.
This portatile it even allows you to play not too demanding titles, but what makes it truly enviable is the possibility of use graphics applications such as Photoshop, Premiere Pro or others with notebook that costs just over 1000 euros.
The previous model is still equipped with integrated video card, but much less performing than theASUS. Moreover, this article has a more favorable weight and portability.
It remains a must for those approaching the work or studia ma ha need for a dedicated GPU in the laptop.
Huawei MateBook X Pro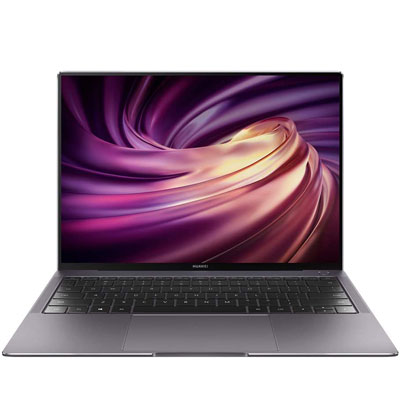 First product of the highest range is the Huawei Matebook X Pro, the price of which is around 1200 euros.
The CPU mounted inside it is a Intel i7 i7-1165G7.
The graphics card is one Intel Iris Xe Graphics.
On the other hand, the display is a 14" in 3K, given the 3: 2 ratio, synonymous with high definition. In addition, the screen is also touch screen and supports finger gestures, for example to take a screenshot of the screen.
Speed ​​and reliability are given by a SSD and 1 TB, flanked by one RAM da 16GB DDR4, which make it one of the Ultrabook more performing than you can find at the moment.
Furthermore, the technology Share OneHop will allow you to easily and very quickly exchange files, images and documents between Huawei smartphones and PCs. Finally, the long battery life allows you an autonomy of approx 13 hours, which really makes it a great buy to make.
This Huawei Matebook X Pro is one of the best Windows alternatives to Apple's Macbook Pro.
ZENBOOK PRO UM535QE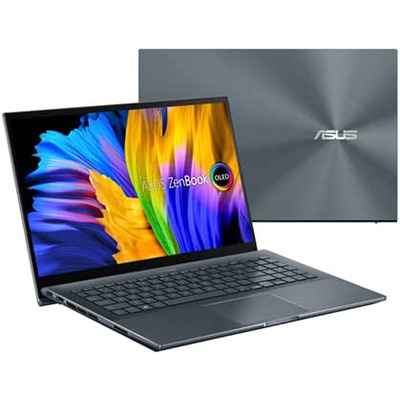 I need a laptop to work, with a powerful hardware compartment, an exceptional screen of a good size and with a dedicated video card handsome? What is the right solution for me?
Obviously it is Zenbook PRO on Asus: equipped with one Enviable 15,6 ″ OLED screen.
Il processor of this laptop is a Ryzen 9 5900HX, an absolute excellence of the sector, with a truly disproportionate power for a common use.
It is good to buy this product if you are using it heavy programs, graphic applications or alternatively for programming accompanied by gaming. Basically: it's a real one top of the range.
The price speaks for itself: we almost touch the 1500 €, 1400 euros in the best cases.
But we are acquiring excellence, and we must do it exclusively if we really need everything that makes us available!
La dedicated video card is a TI RTX3050 and archiving is from 1 TB (SSD Nvme).
Best gaming notebooks
In this section of my guide, for the sake of completeness I will refer you to our guide about the best gaming laptops where you will find them of various prices and belonging to different market segments.
It cannot be ruled out a priori, in fact, that you can play and have fun without spending an exorbitant amount. Much depends on your needs, the games you are interested in and your expectations.
It is also true that it is preferable, when possible, to assemble a fixed PC that certainly ensures higher performance. In this regard, I suggest you take a look at our configurations for gaming PCs!
Before coming to laptops we clarify that i gaming notebook they are designed for important performance, at the expense of weight and autonomy. These notebooks, therefore, are designed only for a specific user.
Apple notebook with Macintosh operating system
In the list of best laptops Apple products with Macintosh operating system cannot be missing.
Any Apple laptop can be custom in a very flexible way by freely deciding the type of processor, hard disk and so on.
I will propose the versions we have chosen for each line (Macbook Air and Macbook Pro).
But I would also like to answer, first, a question that everyone is asking: does it make sense to buy a 1200 euro MAC with hardware components on paper that are less performing than those of 800 Windows PCs? For me it is a compromise to share, which I talk about in more detail, however, in my guide to choosing between Mac or Windows PC where I go to compare the two types of computers both in terms of software and hardware.
In summary I will tell you right away that the Mac is a very intelligent, dynamic, fluid and optimized operating system, capable of always being as you have bought it for years.
This is thanks to an exceptional and state-of-the-art file system, where the Windows one can't even weigh a file correctly (have you ever thought that, according to Windows, on 4.7GB DVDs you burned 4.3GB of data?).
On the other hand, however, you cannot think of buying a Mac for gaming or for applications designed only for Windows or, again, to buy a low-end Mac if you want to do video-editing at a professional level.
Having made these necessary premises, let's then move on to the models selected by our editorial staff.
Apple MacBook Air
The MacBook Air responds to needs of average users who use PCs at 10% of their possibilities but who, having difficulty in managing a ridiculous operating system like Windows, are delighted to find a software sector optimized and ready to use, without ever problems.
It is not a laptop with important performance, but it is ideal for those who do office work or use software that is not overly greedy for resources: it does it well and without hitches.
Apple MacBook Air 13″ M1 – 2020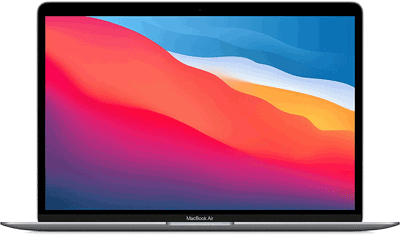 The power and reliability of the products Apple has always been indisputable. When it comes to efficient computers for work and editing, the new is a must MacBook Air 13 ″.
In particular, I recommend the version with 512 GB di SSD fast and capacious, which will be able to offer you space and speed for any job. The retina display IPS is of 13 inches and possesses a resolution of 2560 × 1600 pixels, with the support of technology true Tone.
The processor inserted inside is the new Apple M1 proprietary Socket, an ARM cpu with exceptional performance.
Are present due porte Thunderbolt 3 which also allow the connection of external video cards.
RAM makes use of 8GB LPDDR4X with a frequency of 3733MHz, in addition there is the presence of the sensor touch ID and the backlit keyboard known as magic keyboard.
As for connectivity, the handset supports the Bluetooth 5.0 and Wi‑Fi 6 802.11ax. Finally, the battery is able to hold out for more than 15 hours of use.
Apple MacBook Pro
The MacBook Pro open easily for professional use in the most varied fields.
With a MacBook Pro even the use of Final Cut (to name one) is absolutely possible with great satisfaction.
Let's see the model chosen by us among the latest ones put on the market by Apple.
Apple MacBook Pro 13″ M1 – 2020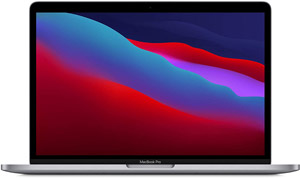 Il 13-inch MacBook Pro with M1 processor is, from the hardware point of view, almost identical to the younger brother I told you about above.
Among the advantages of this Pro model I would like to point out the presence of the touchable above the keyboard, the slightly brighter display and a more powerful GPU since it has an extra core.
I also point out the presence of fans (absent on the Air model) and a design almost identical to that of the MacBook Pro 13 of previous years.
The quality of the speakers also changes, which on the Pro are clearly superior to the Air.
Apple MacBook Pro 16 "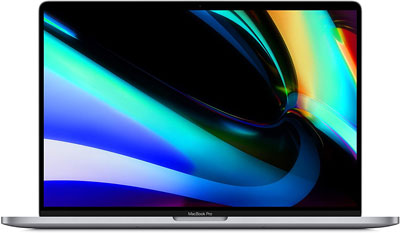 We certainly move on to a more expensive, but even more efficient product combined with a larger screen. We are talking about the MacBook Pro 16 ″ of Apple.
Also in this case we recommend the version with 512 GB di SSD for computer storage space. The retina display IPS is of 16 inches and has a resolution of 3072 × 1920 pixels with technology True tone.
The CPU in question is a Intel Core i7 da 6 core, with a base clock at 2.6GHz which reaches i 4.5 GHz with Turbo Boost. The GPU is one AMD Radeon Pro 5300M 4 GB of GDDR6 memory and the presence of quattro porte Thunderbolt 3 allows connection of other external video cards.
The RAM inserted inside is 16GB DDR4 with a frequency of 2666MHz and the connectivity enjoys a Bluetooth 5.0 and wifi 802.11ac.
Again we have the magic keyboard with the presence of touch bar and sensore touch ID, moreover, the battery exceeds 10 hours of use up to 30 hours of standby time.
Difference between notebook and mini pc Windows or Android
La difference with Windows mini PCs or Android is obvious. In the meantime, let's clarify what are mini pc.
I mini pc or tv box have entered the market in a powerful way only in recent years, thanks to the combination of two very important elements: very interesting and useful features for everyone, combined with a very low cost.
With a price between 40 and 150 euros, in fact, it is possible to bring home a product that is a hybrid between laptop and tablet.
The mini PCs, in fact, are small boxes with an impressive fluidity that work by connecting an HDMI cable to the TV. They interface to any monitor with a simple HDMI cable.
A small box, two cables, the power one and the HDMI one, and here is a very good product.
The mini PCs, however, have above all a purpose multimedia and are badly suited to those who need a real PC. They can be substituted for tablets for home use, ideal for those who want to surf, use an application to watch movies and TV series or play games.
Indeed, perhaps they are truly unattainable: directly from your sofa or bed (feel free to choose), preferably with a wireless mini keyboard, you can access any type of video.
Of course, the performance is excellent, but it depends on the use you want to make of it: surfing, watching videos, listening to music are more than good, less so if you have different professional or practical needs.
However, mini PCs are an exceptional choice and worth trying. This is why we have also created the ai guide for you
What is the best laptop for you?
For us it is important and rewarding to read your experiences on the subject of computers: which are the best laptops for you? Write it in the comments.

Do you want help choosing the best laptop? Write to us: we will be happy to answer you!

Ah one last thing: for me a professional ... while an average user ... I'm kidding, but I guess he fell for it.

If you are still alive and have escaped the attempted suicide, I ask you to share this guide ... sorry THE guide, the most complete, studied and longest on the PC-themed web. Help ForAppsLovers.com grow and reward staff for their efforts in testing PCs and evaluating them carefully in such a lengthy guide.

Tagsbest notebooks