💰 Enter the only Telegram channel dedicated to Hardware & Gaming offers
🙋 Direct support and advice in our Telegram group
📹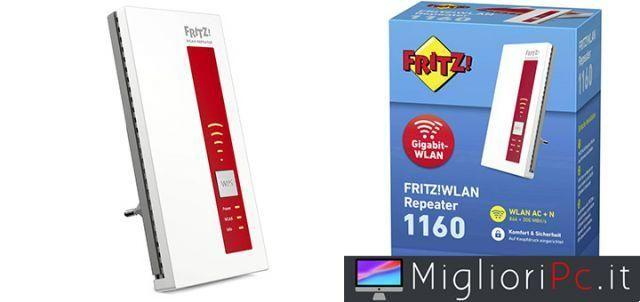 As we can see, in this digital era in full evolution, our everyday life depends entirely (or almost) on the use of devices that need a good and fast connection that does not waste time in installation and that works in a intuitive and easy.
Read also our guide to wifi repeaters: what they are, how they work and the best on the market.
FRITZ!WLAN Repeater 1160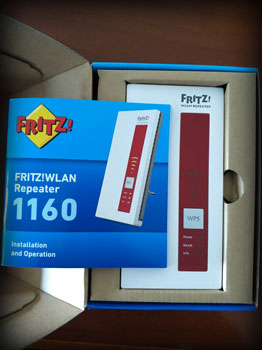 This relay allows you to have a fast Wireless AC connection even in the most hidden corners of the home network, increasing the range of wireless networks in common use.
We are talking about an excellent universal repeater which is usable by almost all standards in circulation: 802.11a/b/g/n/ac.
Il FRITZ! Wlan Repeater 1160 è DUAL BAND: therefore it works on the 5Ghz and 2,4 Ghz frequencies.
Also by taking a look at the wireless quality LED light, you can also find the optimal position for the repeater!
You can check the maximum speed that can be reached by consulting the table below.
Installation and configuration
Il FRITZ!WLAN Repeater 116 it connects to the mains via the 230 V, 50 Hz power socket and supports easy automatic recording by the so-called method WPS.
To configure, just press the button on the device: the repeaters and WPS routers (such as the FRITZ! Box) will connect automatically!
Il FRITZ!WLAN Repeater 116 it has no port, neither LAN nor USB.
Thanks to its sophisticated simplicity to simplify configuration, the browser-based user interface (http: //fritz.repeater) is easy and intuitive to use.
Network speed and browsing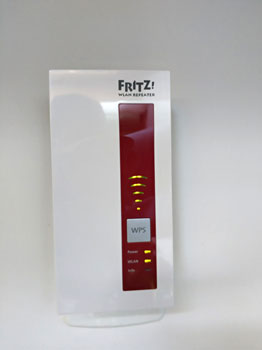 Thanks to the Wireless AC + N it is possible to surf simultaneously in the 5 and 2,4 GHz network thus offering a transmission speed of up to 866 Mbit / s according to (the 802.11ac standard in the 5 GHz network and up to 300 Mbit / s in the 2,4 GHz network).
Therefore, thanks to the Wireless dual, the two networks are used simultaneously thus allowing navigation, gaming or streaming without waiting further. There is good compatibility with the FRITZ! Box and all other AVM devices for home network. This repeater is also compatible with all current wireless routers equipped with the 802.11ac / n / g / b / a wireless standards.
Furthermore, the FRITZ!WLAN Repeater 1160 always enjoy new features thanks to free updates.
Data Sheet
wireless

Wireless AC up to 866 Mbit / s on the 5 GHz band for fast wireless connections
Wireless N up to 300 Mbit / s on the 2,4 GHz band

Compatibility

with all wireless routers equipped with the 802.11 ac / n / g / b / a wireless standards

Installation

WPA2 and WPS with push button configuration

User Interface
Configuration

Practical configuration with the installation wizards for wireless routers without WPS, optionally directly via the browser-based assistant integrated in the repeater




Safety

secure connections with WPA2 and WPA standards



Navigation

Veloce con Wireless dual AC + N

Wireless range extension

da 5 GHz fino a 866 Mbit/s
da 2,4 GHz fino a 300 Mbit/s
Safety
Supporting supports secure encryption WPA2 il FRITZ!WLAN Repeater creates secure connections with rout wireless networks and the wireless is thus always protected.
Warranty & Compatibility
Present the manufacturer's warranty of 5 years on the hardware for end customers, as indicated in the warranty conditions.
The FRITZ! WLAN Repeater is perfect for all FRITZ! Box models and is compatible with all routers on the market with the wireless standards ac, n, g, bea, (no WDS required).
Price
On Amazon FRITZ!WLAN Repeater is sold at the price of 64,99 euro; on ePrice it is sold at a price of 66,25 euros; on Moncl! ck is sold at a price of 63 euros.
Conclusion
We can consider this device one of the best signal repeaters on the market, considered in the entry level range. We can highlight, in the face of a data transmission speed and signal extension capacity that few repeaters can boast, that only a LAN port would be missing to complete the product.
The device is fragile because of the material and lacks an off button which, thanks to Fritz OS, allows you to manage the power management cycles!
Functional, intuitive and easy to use!
If this repeater does not convince you or you are looking for something different, you can read our guide about the best wifi repeater that offers the best solutions now on the market to amplify the wifi signal.