💰 Enter the only Telegram channel dedicated to Hardware & Gaming offers
🙋 Direct support and advice in our Telegram group
📹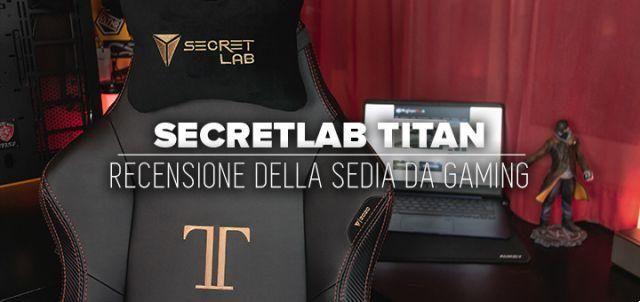 Dear reader, today we are dealing with something sensational! If you follow the world of Gaming long enough you have certainly heard of secretlab and its wonderful gaming chairs. The one we're going to review today is one of the best Secretlab chairs on the market!
A preview for you Secretlab TITAN review in its version 2020: the best gaming chair present on the market!
Secretlab TITAN gaming chair review
Although I have tried to hold back my judgments from the very beginning of this writing Secretlab Titan review I must admit that I have failed miserably in my intent.
SecretLab is a very young brand: it was just born in 2014 in singapore. The rise this company has achieved in just 6 years has been immense.
In fact, it does not exist gamer appasionato and hardcore hardware fan that doesn't dream of owning a model of Titan.
Let's put aside the introductions now and head towards a more specific and detailed one Secretlab TITAN gaming chair review.
Secretlab TITAN Review • Unboxing and editing
I can assure you that of gaming chairs I have assembled and disassembled enough to be able to provide a fairly true judgment of the experience of use that you have with these products.
Unlike the others gaming chairs la TITAN at Secretlab it was a piece of cake: unboxing and assembly had never been so simple and quick so far with any model I had the pleasure of testing.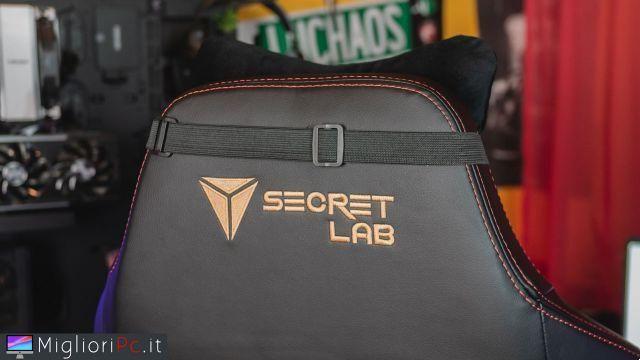 With regard to packaging: la TITAN at SecretLab it is insured inside a huge box weighing more than 30 kg and certainly not unnoticed in size.
The box is sturdy, inside there are 4 armours that prevent the corners from being blunted or ruined to a large extent (which as we know are the weakest areas).
The rest is then inserted inside in an orderly and safe manner.
Here's what particularly surprised me about this first phase: the Assembly instructions they were printed on a sheet of about the size of the entire box; this allowed me to lay it on the ground working on it.
Another ingenious move was to provide i armrests of the gaming chair already installed in the seat section.
Generally, in fact, I have always had to install them myself and this involves another waste of time. In this case, however, everything is smooth!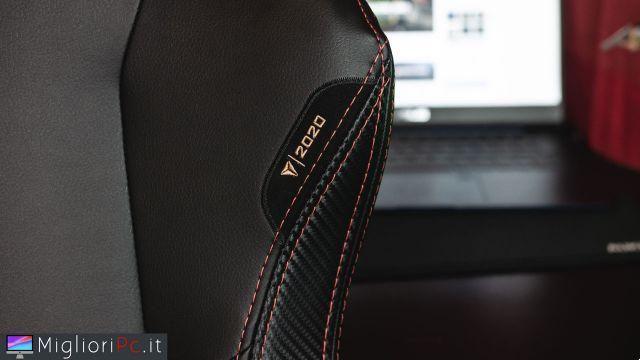 The assembly was very simple: it was enough just to screw a few screws or bolts and that's it! Plus the instructions were very detailed and it was pretty hard to go wrong.
Inside the box there was the box with the screwdriver to mount plus at least one excess screw of each type for safety.
La TITAN at Secretlab it was the gaming chair with the easiest and fastest mounting compartment I've seen so far!
Secretlab TITAN Review • Technical Specifications
Let's now see some data together!
La SecretLab TITAN is a gaming chair top of the range: it is in fact the next choice to OMEGA and the one that comes before the TITAN XL.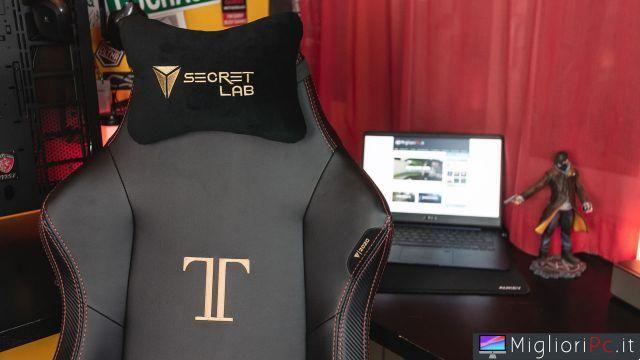 The generation of Secretlab gaming chairs in fact, it includes 4 models: the starting one, cheaper and more similar to common chairs, namely the "Throne"; the high-end one with already better materials and an experience that cannot be found in common chairs or the "OMEGA", the enthusiast one or the "TITAN" and its XL version.
La SecretLab TITAN it is recommended for those with a height between 175 and 200 cm with a weight of less than 130 kg.
THEbackrest height is 84 centimeters, the seat height ranges from a minimum of 47 centimeters from the ground up to 57.
The depth of the seat is 50 centimeters, the width instead of 52 centimeters and there are no side barriers to block or hinder the legs.
Secretlab TITAN Review • Features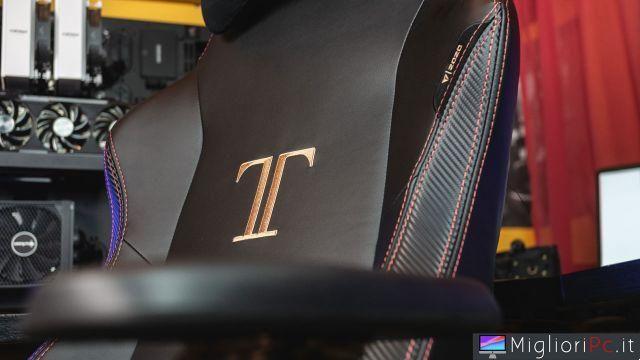 This gaming chair in addition to offering a lot of quality and robustness, it has very important features at its disposal, some of which cannot be found elsewhere.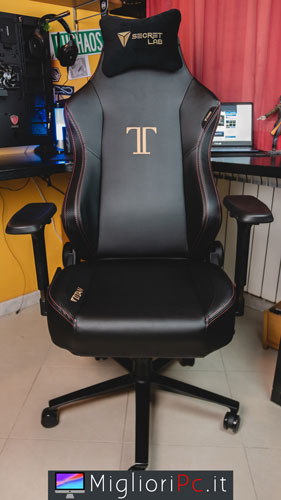 First of all, the width of the session is not hindered by any barrier. It may seem silly but it is absolutely not as most of the gaming chair models I tried did not allow me to move my legs too much to one side or the other.
Here I am completely free to cross them or even cross them as if I were doing a yoga session!
We come now to the armrests: these are height adjustable clearly. That's all? Of course not!
They can also be locked in 3 positions: perpendicular to the backrest or tilted to the right or left; all at the push of a button, nothing more!
An additional button will even allow you to move them further inside or outside the seat. This is one feature almost impossible to find elsewhere!
Lo back it is clearly reclining backwards. However, the lumbar pad. How come secretlab?
Well it has been integrated into the back a system that allows you to manage the intensity and the radius of curvature of the section lumbar through the use of a very simple knob!
Finally, there is a last lever under the seat: this allows you to lock / unlock the rocking of the chair backwards.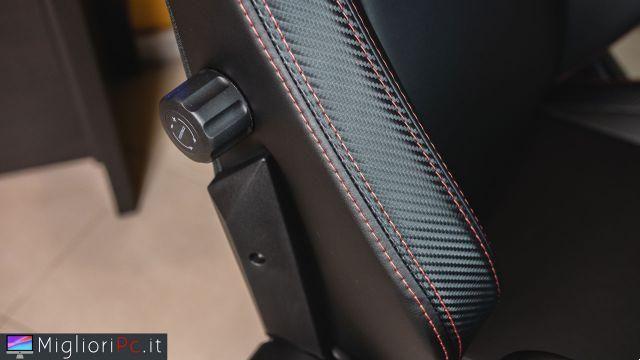 An additional knob under the seat will instead allow you to adjust the resistance so as to make this swinging of the backrest to the rear feasible with more or less energy.
Simply incredible!
Secretlab TITAN Review • Materials and comfort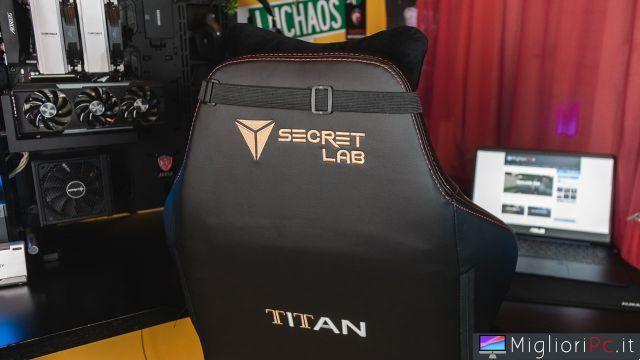 There are clearly several variations of this model of TITAN at SecretLab in different colors and characterizations.
Undoubtedly each of them is however in real leather or even there is one in LEPA leather with a decidedly less accessible price for anyone.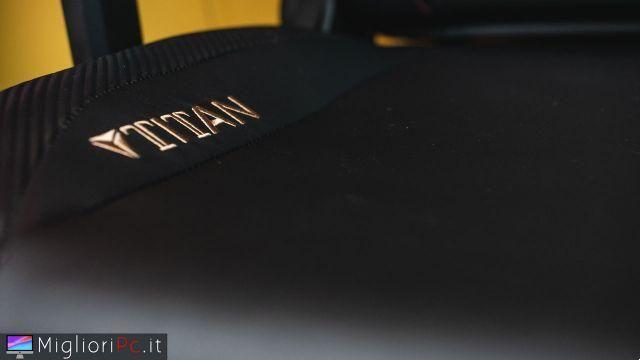 Inside the box is also provided a cervical pillow not in very common sponge as usually happens but in memory foam and lined with soft fabric as well as with the Secretlab logo embroidered in color oro!
Il feedback who returns the pillow is absolutely from ready and top gaming on gamma.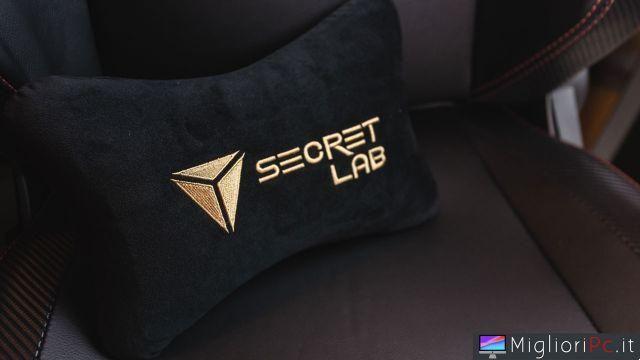 As far as the seat is concerned, this is sturdy: the lower seat is in fact quite rigid and does not tend to collapse downwards, always keeping whoever sits at the same height, perhaps I would have preferred it slightly more "yielding".
He is much more accommodating back that wraps the shoulders well and allows you to get lost in a few centimeters of softness.
Let's not forget about the adjustment of the lumbar section: that plays an important role!
In principle, the ready for TITAN gaming at Secretlab it is certainly very comfortable and very resistant. The lower seat looks a lot like what you find on airliners and if it feels slightly snug at the moment I think it will be a matter of time before it will soften.
It is definitely there most comfortable gaming chair I've tried so far!
Secretlab TITAN Review • Photo Gallery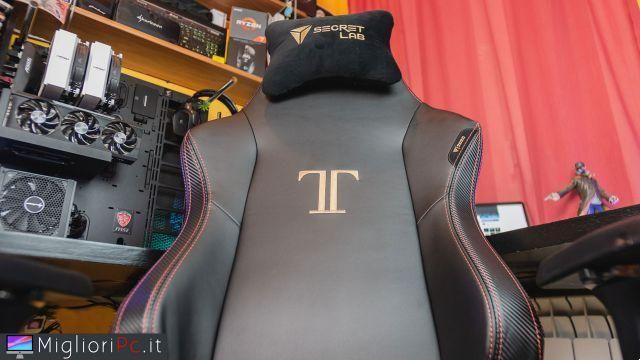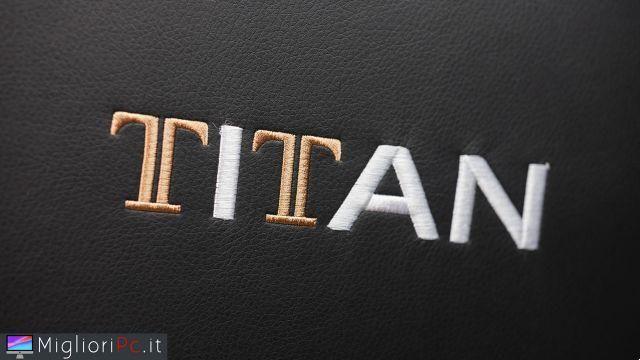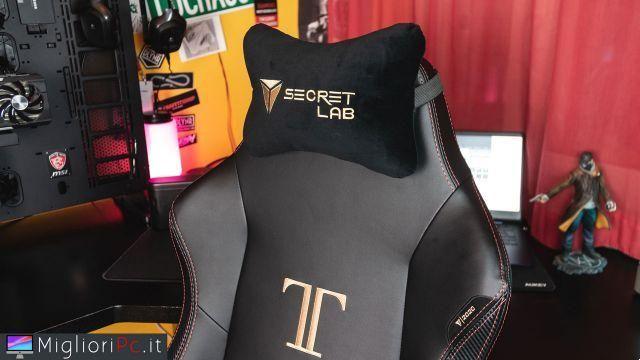 Secretlab TITAN Review • Conclusion and judgments
The real question that needs to be asked is: do I need one TITAN?
We saw the together Secretlab gaming chair review and we have outlined all its features and its pros (because I still haven't been able to find a negative aspect).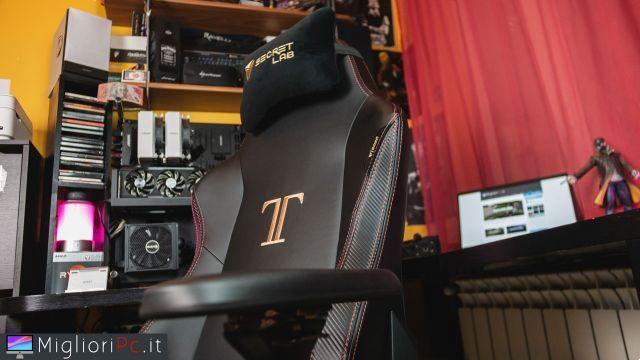 Clearly the price can be an obstacle: if what you are looking for is one gaming chair but you do not have great expectations and you want to spend little, you will certainly never be able to buy this product.
If instead the budget it is not a problem and you really want to have the best from a qualitative point of view then the choice must necessarily fall on this TITAN Secretlab!
If otherwise you can make a little effort but can't reach the TITAN you can always point to the model OMEGA.
Personally, however, I can warn you that you will hardly go back after trying it.