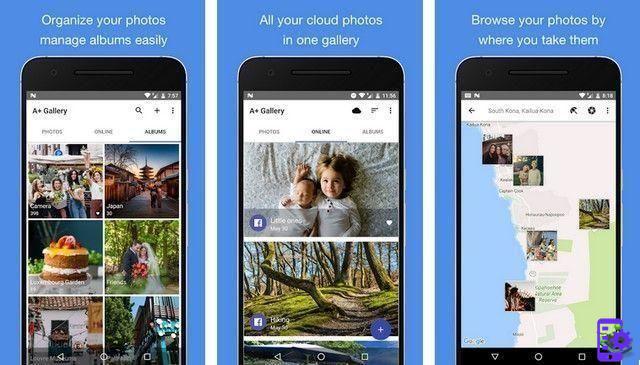 Despite the simple premise, not all gallery apps are the same. Some of them work wonderfully with great designs and great speed. Others suffer from poor design and slowness. The good news is that you have plenty of options to replace yours if needed. Whether you're sorting photos, hiding them, or just wanting something clean and quick, we've got you covered with the best gallery apps for Android.
The best gallery apps for Android
A+ Photos & Videos Gallery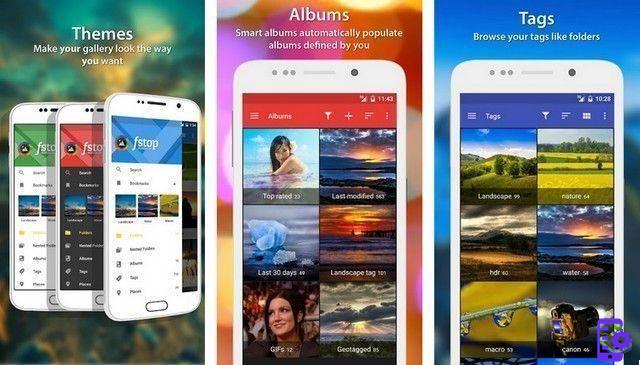 A+ Gallery is a simple gallery app. You can perform common tasks such as managing your photos, creating photo albums, and sharing your photos. Along with these, it supports Dropbox, Amazon Cloud, and Facebook. This means that you can also see these photos. Moreover, it has a vault feature where you can keep private images. The design is solid and easy to use. It combines Material Design and iOS styles into one look. You can download it for free with an optional pro version available as an in-app purchase. That's not bad as far as gallery apps go.
DOWNLOAD ON GOOGLE PLAY
F-Stop Galerie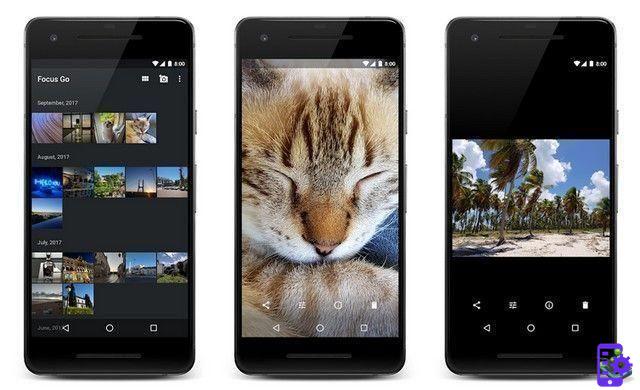 F-Stop Media Gallery is one of the oldest gallery apps. This one features a flatter, cleaner design, accentuated by Material Design with some really decent features. You can search your photos based on their metadata, which is great. You can also add tags to your photos to help organize them. It also reads metadata (including EXIF, XMP, and IPTC information), and a Smart Albums feature lets you sort your files on its own. Best of all, it plays GIFs! This is easily one of the showiest apps in the gallery for those who love their work. Some features require the pro version, but the free version is still very functional.
DOWNLOAD ON GOOGLE PLAY
Focus Go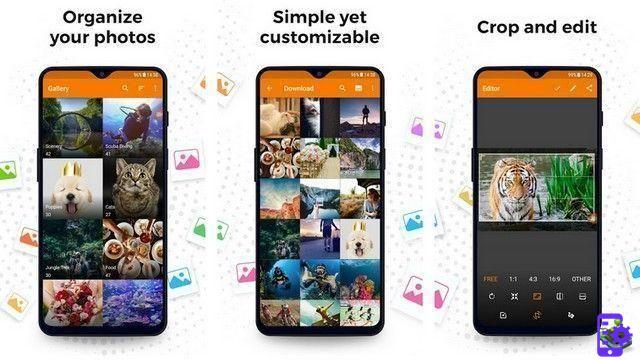 Focus Go is a newer gallery app. It's a lighter version of Francisco Franco's popular Focus gallery. It is a lightweight and simple gallery app. You open it, files are opened, you can share them and that's all you need. It does not include a third-party editor to help you with app sizing. Moreover, it has an optional 32-bit encoder for better image quality and some customization options. The main Focus gallery app is being developed for a major overhaul. So, if you want something like this with even more features, best to check this on Google Play and see if the massive update has already dropped.
DOWNLOAD ON GOOGLE PLAY
Simple Galerie Pro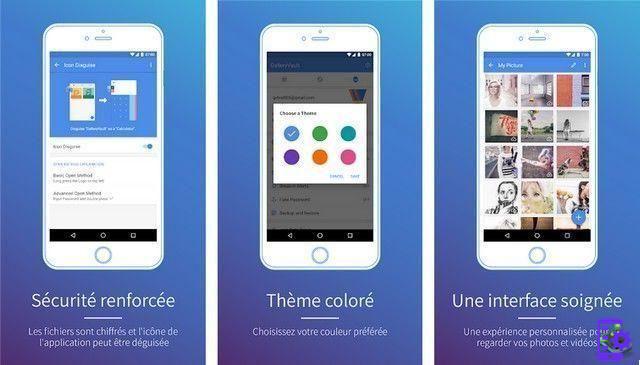 Simple Gallery Pro is a simple gallery application. The app is fully offline with no unnecessary permissions. In addition, you get image and video search, support for 32 languages, a favorite function for quick access, a trash can to recover lost photos and many ways to filter your large collection. There is also a security feature with a fingerprint unlock for added privacy. There was a free version of the app. However, only the premium version receives updates now.
DOWNLOAD ON GOOGLE PLAY
GalleryVault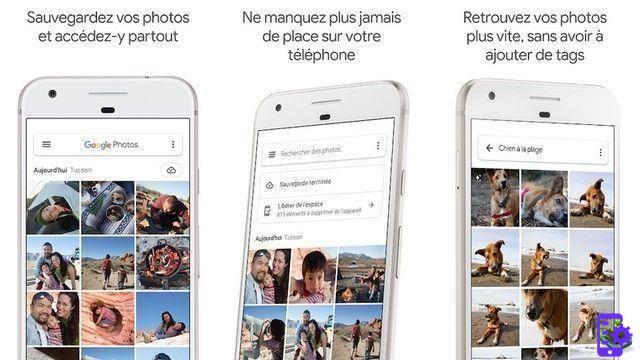 GalleryVault does almost exactly what its name suggests. It creates a private vault for your photos to protect them from prying eyes. With it, you can hide photos, videos and any other file types supported by this app. You can also hide the icon so no one knows how to access it but you, get alerts if someone intrudes on your system and supports some fingerprint devices (Samsung devices only for the instant). It's a good option in terms of gallery apps if you want more privacy and you can try the free version before buying it.
DOWNLOAD ON GOOGLE PLAY
Google Photos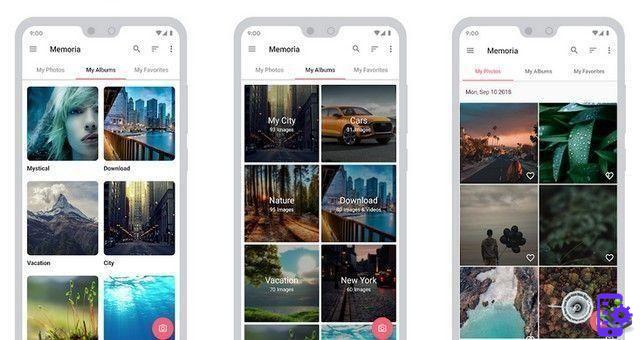 There are few places the fingers of Google hegemony don't reach and this is not one of them. Google Photos app is a cloud storage app where you can upload as many photos and videos as you want. The only downside is that the images and video will be compressed in Google's High Quality setting. However, the app is also able to view your device folders to see anything you haven't downloaded. It's a great app that most people use anyway, but its secondary functionality means having another gallery app is essentially redundant. If you use Google Photos, you can also use it as your gallery app.
DOWNLOAD ON GOOGLE PLAY
Memory Photo Gallery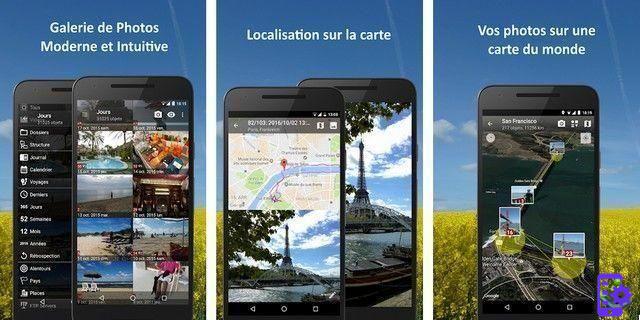 Memoria Photo Gallery is one of the newer apps on the list. This one has a good level of customization, generally smooth performance, and even some security features. You get themes, fingerprint authentication, and you can even hide albums you don't want. The app also comes with an encrypted vault and various display modes. It seems to tick all the boxes, although the app still has the occasional bug here and there. It's a great new option in a gallery app scene that doesn't see many new apps anymore.
DOWNLOAD ON GOOGLE PLAY
PhotoMap Galerie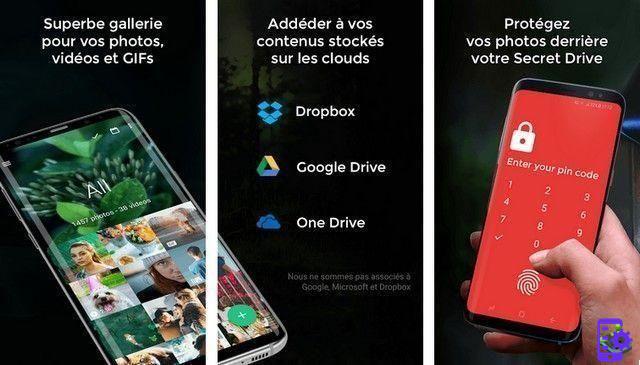 PhotoMap is one of the most unique gallery apps. It allows you to take photos and save them via location. You can then use a map to view your photos based on where you took them. For example, you'll need to browse the beach to see the photos you've taken near the beach. This is one of the cleaner GPS gallery apps we could find. It's also fun to play with. You can download it for free.
DOWNLOAD ON GOOGLE PLAY
Piktures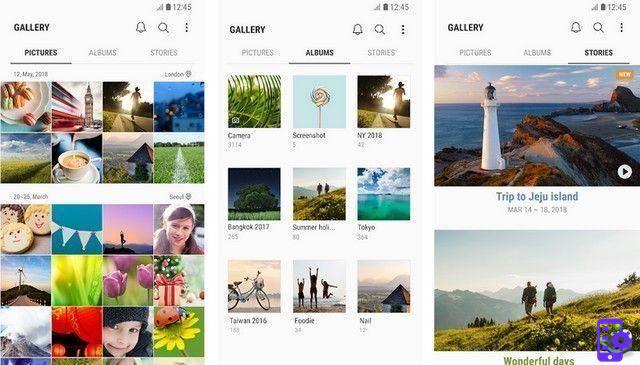 Piktures is one of the simplest gallery apps. However, that doesn't mean it doesn't have features. You can sort various things, such as location, and you can hide albums if you don't want people to see them. It works best on large screens. That makes it decent for larger phones or tablets. It looks like Chromecast support is on the way as well. It also has gesture controls that are nice to use once you get used to it. It's a solid option all around.
DOWNLOAD ON GOOGLE PLAY
Gallery Samsung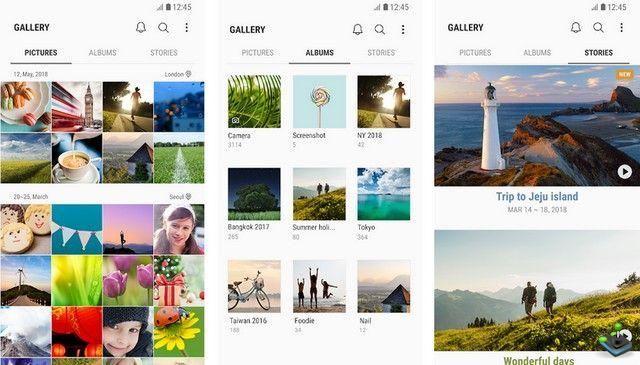 OEM gallery apps are great options for basic use. These are the apps that come standard on your device. So, Galaxy devices have Samsung Gallery (linked), HTC devices have HTC Gallery, etc. These are good options for several reasons. For starters, they're preloaded on your device, so they're already there. Also, these apps are developed to work with your phone's stock camera app with some of its native features. For example, Samsung Gallery has Bixby features in its gallery app. It might not always be the best experience, but it's certainly more consistent most of the time.
If we missed any of the best gallery apps for Android, tell us about it in the comments. You can also check out the best apps to hide your photos on Android.