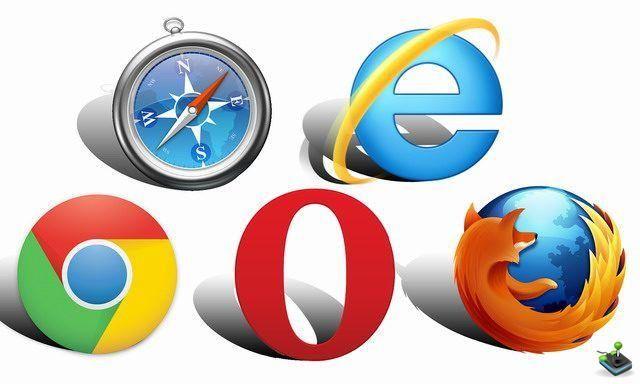 The web browser is one of the most important applications on any smartphone and for a good experience it is very important to have a good browser with the right features. However, finding the right browser can be very difficult, as there are so many browsers out there. Here are the best internet browsers on Android in 2022.
Brave Internet Browser
Dolphin
Ecosia
Firefox browser
Firefox Focus
Google Chrome
Microsoft Edge
Opera web browser
Phoenix Browser
Samsung Internet Browser
Kiwi Browser
Brave Internet Browser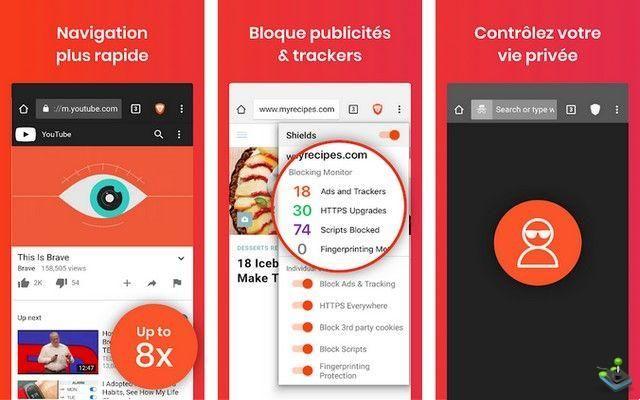 Brave Internet Browser is one of the newer Android browsers. It was released in 2016 and has a variety of features. There is a built-in ad blocker. Also, it can block third-party cookies, block scripts, and has HTTPS everywhere. Per-site settings are included in case you need them. It also features optimizations to improve speed and battery life. You can even keep track of anything blocked. In real-world use, it's very functional and even fun to use at times. It also has most of the basic features like bookmarks, history, and a privacy (incognito) mode. The app is completely free with no in-app purchases or ads.
Dolphin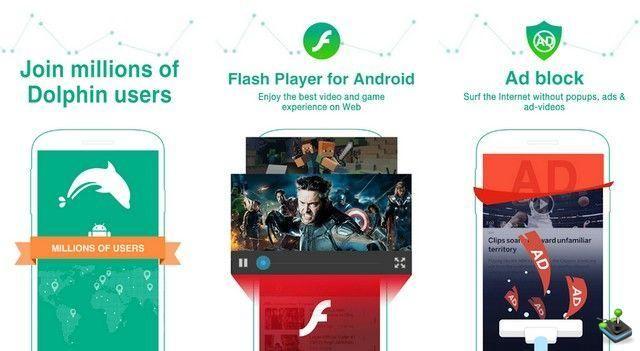 Dolphin Browser is another famous browser that has a good following and reputation in the community. It comes with an inbuilt ad blocker which will block pop-up ads. You'll also find tons of useful features like multi-tab support, bookmarks, add-ons, custom search, incognito mode, gesture support, and sonar. The main asset of Dolphin Browser is its add-ons that you can add to your browser to extend its functionality. The only drawback of this browser is that it contains ads.
Ecosia Browser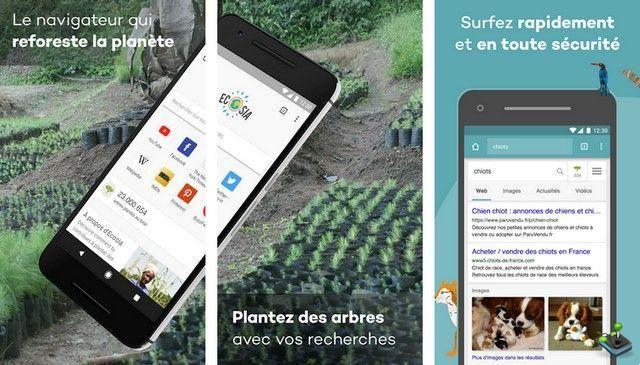 Ecosia is an eco-friendly mobile web browser. It offers all the usual stuff like bookmarks, multiple tabs, private browsing mode, and downloads. It pulls from the Chromium open source project. So it looks a bit like Chrome. The big draw here is the cause. The browser spends up to 80% of its profits on tree planting. It's not a browser feature, but it's really nice. This one is good for those who don't need to browse the web often, but still want something that works well. The tree thing is a bonus. It's also free.
Firefox browser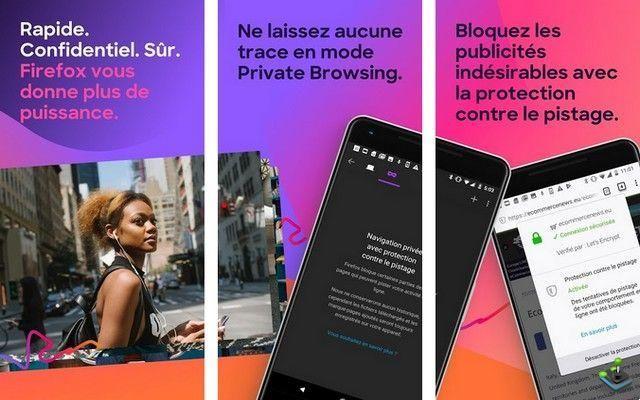 Firefox underwent a change in 2018. The update, dubbed Quantum, promised to add stability, speed and a new user interface. The results took a while to take effect, but the update was very positive overall. The browser also offers cross-platform synchronization of bookmarks and tabs, excellent privacy controls, add-ons, and more. It's an exceptional replacement for something like Google Chrome that works across multiple platforms. It's also completely free as usual.
Firefox Focus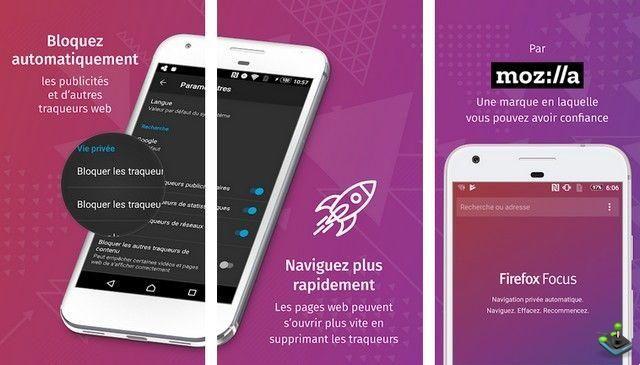 Firefox Focus is one of the newer Android browsers. It is arguably the best Firefox browser application currently. This is a security-focused browser app. Basically, every session is in privacy mode. Some features include a one-click history clearing process, a relatively decent ad block, and block most types of web tracking. It's definitely not something for people who need their browser to remember their login credentials. It's remarkable for just about everyone, though. It's also completely free, with no in-app purchases.
Google Chrome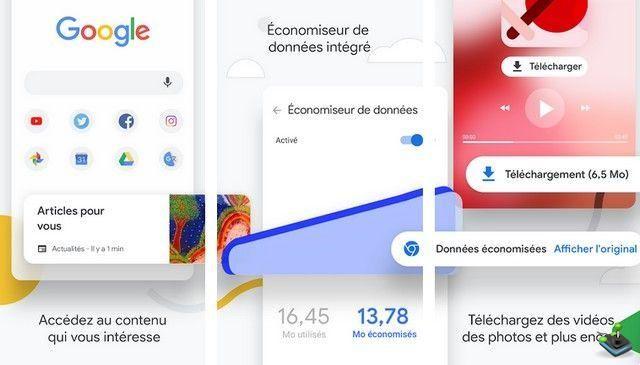 Of course, we give the mandatory green light to the most popular Android browser. Many people already have it pre-installed on their devices and choose to continue using it. It's a perfectly reasonable thing to do. It offers synchronization with Google Chrome on the desktop as well as the latest hardware design, unlimited browsing tabs, deeper integration with Android and many other features for basic browsing and power users. There are four Chrome browsers in total. In descending order of stability, you have the normal versions of Google Chrome, Chrome Beta, Chrome Dev, and Chrome Canary. Choose at your own risk. Google Chrome almost always has the latest Android features before other browsers.
Microsoft Edge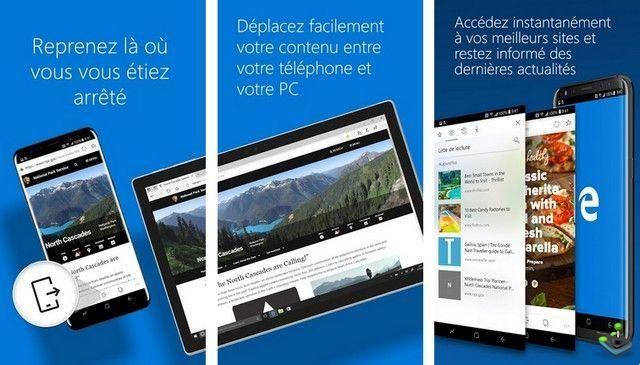 We'll probably catch Flack for this, but that's okay. Microsoft Edge is a legitimately decent web browser on mobile. It offers lightweight but effective sync functionality with the desktop version. The app also works well with Windows 10 and Microsoft Launcher. Some other features include a Hub function, QR code reader, voice search, and private browsing mode. It's not great for everyone. However, those deep in Microsoft's ecosystem are unlikely to find a better browser that works with their other services. Microsoft ends up migrating Edge to a Chromium base, which will allow it to improve further over time.
Opera web browser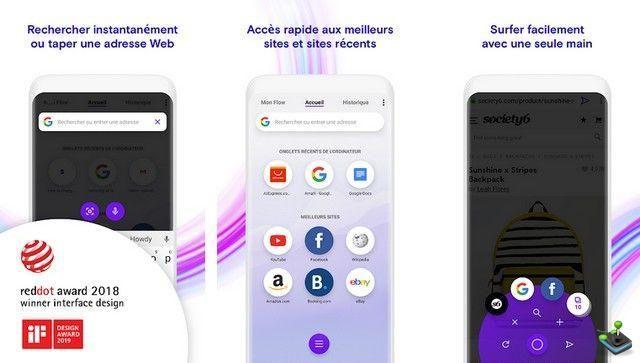 Opera has a couple of Android browsers. They are both pretty good. The first is the standard Opera browser. It has a partial ad unit, video compression to save data, and a dashboard where you can store news and favorites. You can create an Opera account and sync data between it and the desktop version. Opera Mini is a smaller and lighter option. It also includes a Facebook notification bar, partial ad blocking, and more. Each has its own beta version. Like all software, these Android browsers have their ups and downs. If the apps don't work well, give it a month.
Phoenix Browser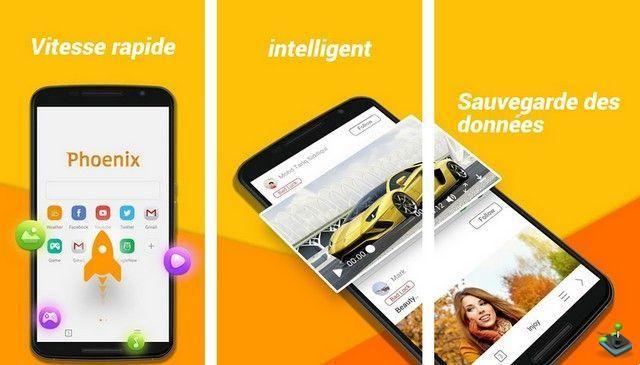 Phoenix Browser does a lot of things right. The good features are there, including ad blocking, data saving features (popular in less developed countries), a night mode, privacy mode, and more. Its biggest claims to fame are its support for 34 languages ​​and its offline download mode. Basically, almost any video or webpage is savable for offline viewing. There are unwanted issues here and there. However, most of them are negligible. It's a decent enough web browser, although not as powerful as the big dogs in this space.
Samsung Internet Browser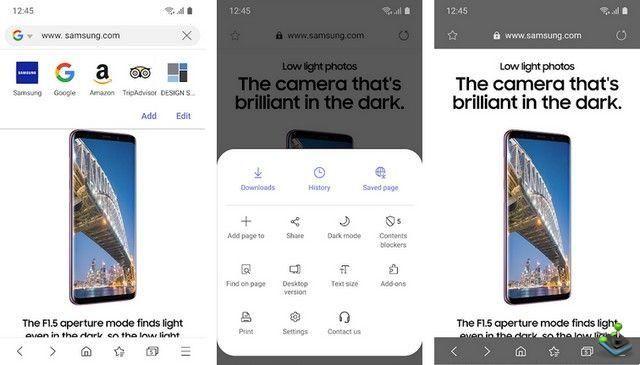 We feel a little dirty putting an OEM browser on a list of the best Android browsers. However, the Samsung Internet browser is surprisingly good. It has swipe gestures, plugins, a quick menu, and some Material Design elements. Some plug-ins even allow ad blocking. There are also features like Amazon shopping, general online shopping, and 360 degree video support. It's probably the browser that many Samsung phone owners see before choosing Chrome as their default. The app is labeled as beta. However, it is more stable than some non-beta browsers even on this list. No, Samsung didn't pay us to put this here.
Kiwi Browser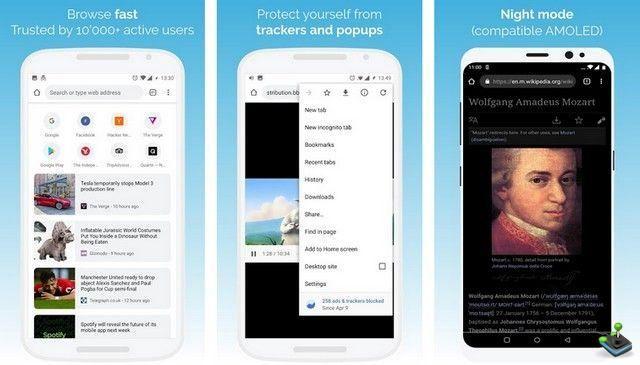 Kiwi Browser is one of the newer Android browsers. It uses chromium as a base. So you can recognize many visual elements and settings options. It also loads pages very well. Other features include native ad blocking, pop-up blocker, night mode with 100% contrast mode for AMOLED screens, and encryption protection. There are also a few UI changes, such as the address bar resting on the bottom of the app rather than the top. He also does the usual things. It's surprisingly nice to use, although we miss the desktop sync available on major browsers. If you don't need it, it's definitely one of the best options.
Conclusion
These are the 10 best Android browsers. Each browser has its unique features and you can choose the one that suits your needs. If you have any questions, please let us know in the comments section below. You can also check out the best free apps for Android on our website.