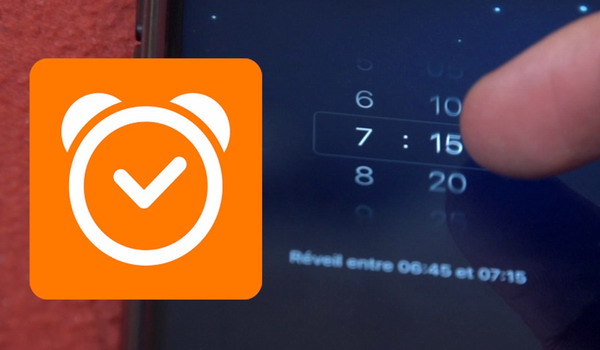 Sleep deprivation can have all kinds of adverse effects on your body – ranging from depression to heart disease and several other more serious illnesses. Ironically enough, the notion of "there's an app for everything" can help you get a better night's sleep. All of these sleep tracking apps use the accelerometer sensor on your phone to track your sleep patterns and wake you up at the optimal time so you don't feel groggy when you wake up. So today I'm going to take a look at the 7 Best Sleep Tracker Apps for Android and iOS:
1. Default Clock app on iOS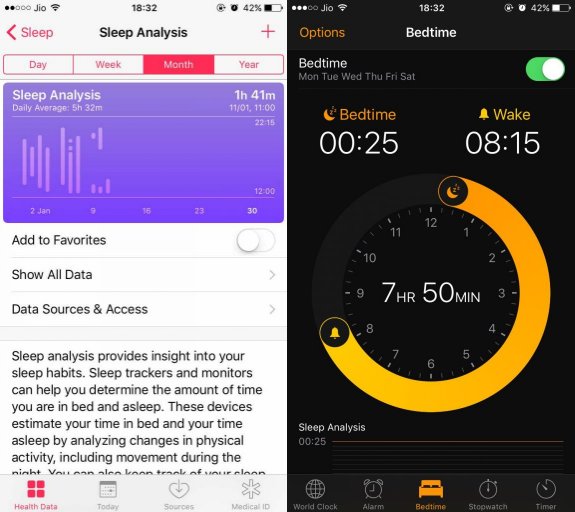 Starting iOS 10, the alarm Bedtime feature comes baked into the Clock app by default. On the first run, you have to select bedtime and your preferred time to wake up. Here, your device will send you a reminder when it's time to go to bed. This reminder is customizable and can be set to trigger either certain amount of time before bedtime or exact bedtime. You can also change the wake-up sound and volume. The Clock app shows you a visual representation of your sleep grouped by day.
Le sleep section of health apples app stores all sleep related data. Here you can see how much you slept grouped by day, week, month or a year. This follow-up is made possible with the help of Apple's co-processor movement introduced with the iPhone 5S. It is also very battery efficient, it eliminates battery leakage concerns. That being said, by default Apple's option doesn't offer all the fancy features. Luckily, if you're looking for more options to tweak around, there are plenty of good sleep tracking apps that can help you accomplish this.
2. Sleep Cycle
Sleep Cycle is a fairly simple yet powerful sleep tracking app. Just set the time you want to be woken up and place your phone next to you. Sleep Cycle uses your phone accelerometer sensor and microphone to analyze your sleep throughout the night and wakes you up in the lightest phase of your sleep, just before your main alarm goes off. This sleep data is plotted on a graph and you can easily see your sleep phases during the night. It also throws in some other parameters such as the sleep quality and average sleep time.
The free version of Sleep Cycle lets you change basic options such as vibration, sound, and wake-up phase. The premium version brings a host of new features – including online backups, sleep notes, wake-up mood, and Philips tint integration . Perhaps the best part, the premium version allows for a new Trends tab that shows lots of interesting sleep stats like how caffeine, workouts, air pressure, and local weather affects your daily sleep. If you're a data nerd like me, the Sleep Cycle premium upgrade is definitely worth it.
Download: Android | iOS (Free Version, $1 Premium Version)
3. Better Sleep par Runtastic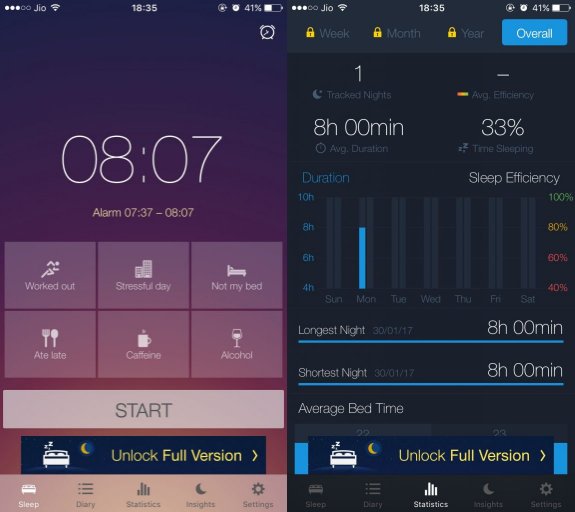 Runtastic has established itself as a renowned developer when it comes to the section of health and fitness apps. Better Sleep is Runtastic's take on the sleep tracking app and boy, do I have to say it lives up to its name. Just set the time you want to wake up from Sleep Best and gently wake you up in your lightest phase of your sleep, just before the main alarm. The free version has a built-in sleep diary where you can write a brief record of your sleep and dream notes. You can also connect to Apple Health app, it can then write your sleep data to the Health app.
The premium version presents you with the option to include certain scenarios like stressful day, alcohol and caffeine so you can get insight into how these factors affect your daily sleep. Moon phases also have the ability to affect your sleep and it can help you find out which moon phase you have the most peaceful sleep on.
Download: Android | iOS (free version with in-app purchases)
4. Sleep Time par Azumio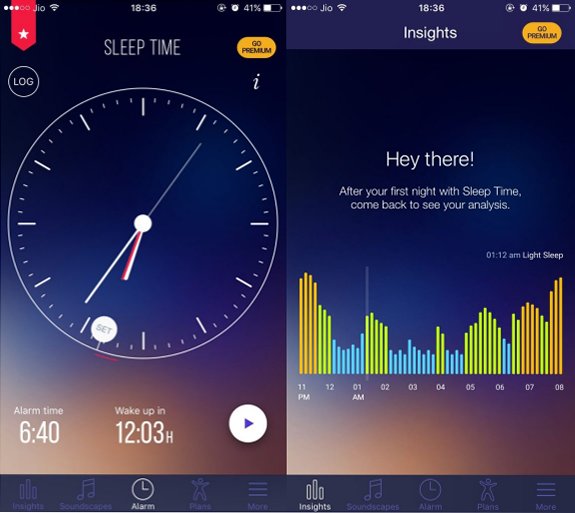 Sleep Time is another popular alternative that tracks your sleep and wakes you up from your lightest phase of sleep. Sleep Time presents you with an intuitive slider to set an alarm and adds a handy timer to show how much time is left until the alarm goes off (One feature I miss from Android's Clock app!). Like other competitors, it also allows you to record certain scenarios like the caffeine, alcohol and tobacco and gain insights into how these factors affect your sleep. It has a dedicated Soundscapes tab that houses lots of natural sounds that can help you fall asleep faster. He also i Integrates with Apple Health app. The premium version of Sleep Time unlocks a lot of sleep insight reports like sleep efficiency, average sleep time and many more.
Download: Android | iOS (Free Version, $2 Premium Version)
5. Good Morning par Apalon
Good Morning is a simple sleep tracking app that monitors your sleep sensors using and wakes you up at an optimal time. It presents you with easy-to-read graphs to analyze your sleep quality at night. You can select one of several built-in tracks or even use your custom music to wake up to. The settings pane also includes a handy tool Placement test option that lets you test if your phone's current location is good enough for sleep tracking. It also presents you with the current time as soon as your alarm goes off. The premium version of Good Morning removes in-app ads and persistent bar that harasses to upgrade to the premium version.
Download: Android | iOS (free version with in-app purchases)
6. Pillow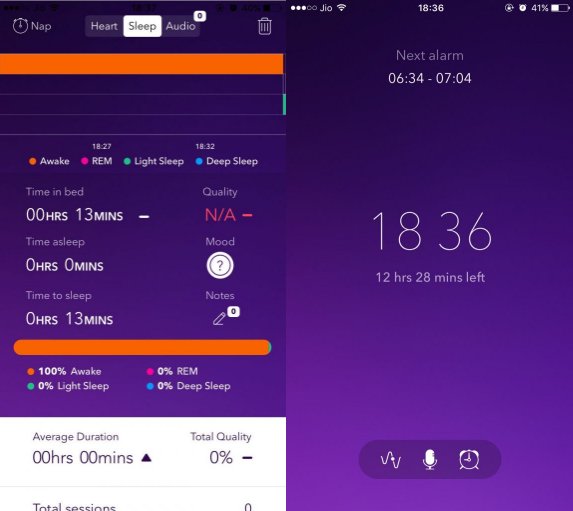 Pillow is an iOS-only sleep tracker app that wraps the best of sleep tracking into a beautiful app with slick animations. As soon as the alarm goes off, you are presented with an option to save your wake up mood or take sleep notes. It also syncs your data with iCloud and Apple Healthkit. You can use any inbuilt tunes to wake up or select a song from your iTunes library. the Sleep Aid feature is a collection of natural sounds to help you fall asleep faster. It also has a support 3D tactile for iPhone to quickly set up an alarm.
Pillow's premium features include even more advanced Healthkit integration, detailed sleep stats, and Snooze Labs that gives you personalized sleep advice.
Download: iOS (free version, $5 premium version)
7 Sleep as Android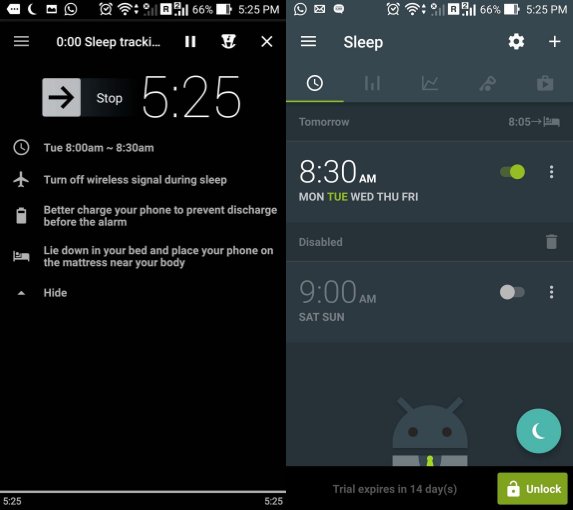 Sleep as Android is an Android-only sleep tracking app that ticks all the boxes when it comes to features. With basic sleep tracking, it tracks your sleeptalk and snoring using your Android's microphone. It also has a lot of features to force wake you up like math problem solving, counting sheep to stop the alarm. Lots of lullabies are built in to help you fall asleep faster. It integrates well with Pebble, Android Wear, Google Fit, S Health and Philips Hue.
Considering its long list of features, it can seem a little intimidating at first. But never fear, once you get used to it, Sleep Like Android is the single most app you'll need for tracking your Android's sleep.
Download: Android (free version, $4 Premium version)