💰 Enter the only Telegram channel dedicated to Hardware & Gaming offers
🙋 Direct support and advice in our Telegram group
📹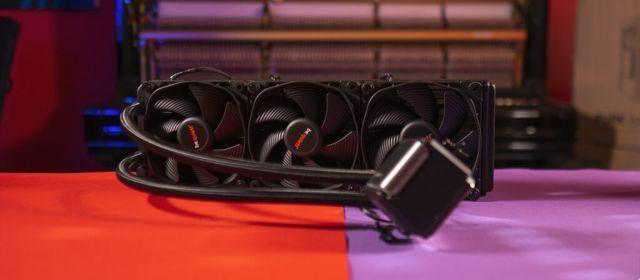 be quiet is one among many brands that inspires trust and confidence when it comes to both liquid and air heat sinks.
We know however how the product lineup be quiet is much wider and also includes PC cases, power supplies and much more.
Today we have the pleasure of testing and reviewing the Silent Loop 2 360mm, for an all in one liquid cooler!
Be quiet Silent Loop 2 360mm • Technical specifications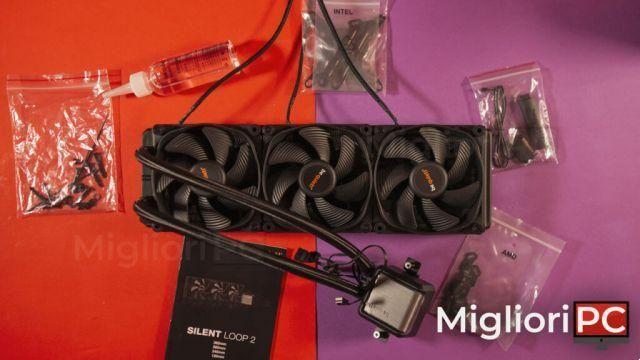 Il Silent Loop 2 da 360mm it's a all in one liquid cooler from the price of approx 160 € on Amazon at present.
The price is in line with that of the competition, perhaps a little higher than the more basic models, but balanced when compared to that of the other famous brands.
The pump is powered by a 3 pin connector which operates at a speed of 2800RPM.
TECHNICAL SPECIFICATIONS
Pre-installed fans: 3 x 120mm
Controller / HUB: Yes / No
Tube length: 400 mm
Radiator dimensions: 394 x 120 x 52 mm
Total weight:
1.33
Fan model: 3x Silent Wings 3 120mm PWM
AMD Sockets: AM4 / AM3(+) / sTRX4,TR4(optional, mounting-kit (BZ008))
Intel Sockets: 150 / 1151 / 1155 / 1200 / 2011(-3) Square ILM
Technical specifications Be quiet silent loop 2 360mm
Il heatsink it is also equipped with a bottle of liquid which can be used to refill the radiator if it has small air bubbles and is not 100% full of liquid.
The pump is thesingle rgb component of the entire system: it is in fact equipped with a connector that once placed on the mobo will allow you to control the play of light.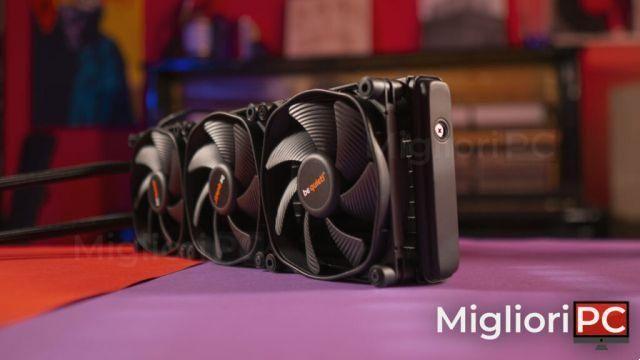 Alternatively, you can connect this to the appropriate controller that will allow you to manage the settings through its buttons RGB of the pump and the "Be quiet" logo.
The latter can also be turned off and left without lighting by means of a small key which is inserted in the package and which will be used in a special hole placed on the pump structure.
The operation is very similar to opening the slots for inserting SIM cards in modern mobile phones.
The package obviously includes all the screws, instructions and accessories necessary for a quick and easy assembly.
Be quiet Silent Loop 2 360mm • Test and performance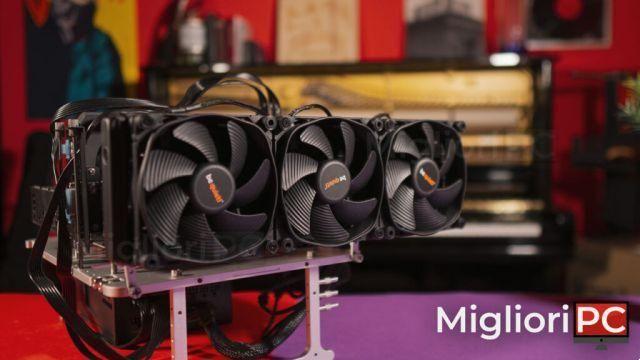 The performance of this Be quiet Silent Loop 2 they confirmed what we would have expected.
Be quiet is one of the top brands for the dissipation of PC components.
I temperature test were first conducted in Idle for 10 minutes and then in full load per 10 minutes of stress test on AIDA64 Extreme.
The graph below represents the values ​​of temperature delta su environmental temperature. In other words, the environmental temperature should also be added to the numbers we see if we wanted to know an actual temperature.
Some of the data may be slightly inaccurate as we also had to apply mathematical proportions to be able to fit them all into a single graph, given the difference in ambient temperature between the different tests.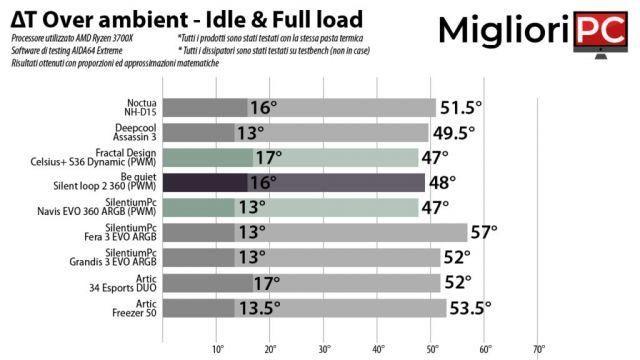 Il Silent Loop 2 da 360mm it lends itself particularly well in the chart.
If we compare it for example to two other liquid heatsinks (Fractal Design and SilentiumPc in aqua green color), we see how the performances are almost similar.
It is therefore confirmed that the mix between radiator and 120mm Silent Wings 2200RPM fans is a winning combination.
The differences with the other two AIO they are minimal, they tend not to differ much from each other and it will not be a degree of difference to decree which is the best product.
Il Silent Loop 2 da 360mm then performs better than Deepcoool Assassin 3 and Noctua NH-D15, which despite being air coolers are absolutely not to be underestimated, as sometimes they perform even better than AIO.
We do not have a soundproof room available to conduct noise tests, but indicatively the Silent Loop 2 it is very quiet and in line with the competition.
Be quiet Silent Loop 2 360mm • Fitment and build quality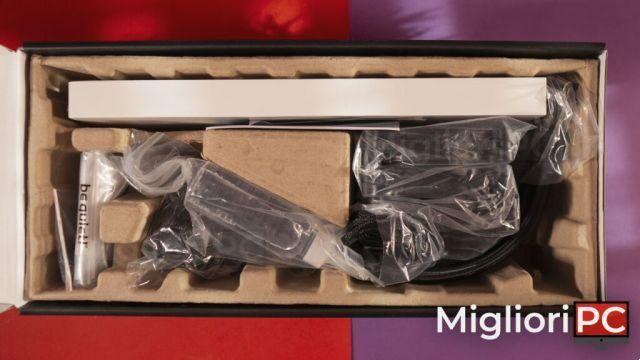 Il mounting the Silent Loop 2 it was quick and easy.
Thanks to the very clear instructions and the well-studied design by the Be quiet engineers who have been able to create a product that is easy to install.
Passed with flying colors, therefore, in terms of ease of use and installation.
I Supported sockets are varied between Intel and AMD. You can find them in detail above, in the paragraph about the technical specifications.
La constructive quality is sublime. The Silent Wings 3 fans are flawless both from a functional and aesthetic point of view.
La pump it is very beautiful and lighting RGB which integrates is unobtrusive e minimal.
Be quiet Silent Loop 2 360mm • Appearance and controller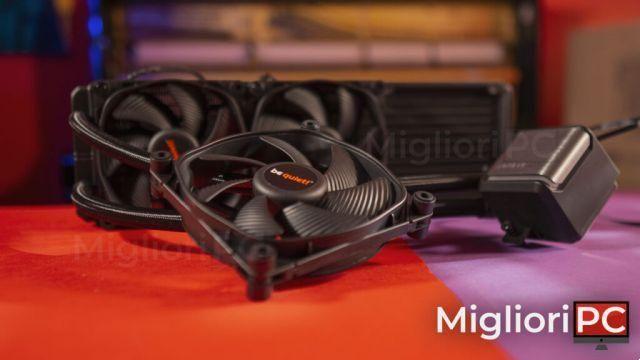 Il Silent Loop 2 It seems a semplice liquid heatsink, and in fact it is!
There are not RGB fans available, the only lighting is as we have already seen on pump.
Aesthetics are winning. I am not a fan of fans RGB as they are particularly treacherous, I love well-built, high-quality fans instead, so I'll be biased.
This is one of the most beautiful liquid coolers I've ever seen along with the Fractal Design Celsius + S36 Dynamic tested a few months ago.
Il controller provided is simple and intuitive. There is no HUB for connecting the fans logically as they are not equipped with lighting.
Le 120mm fans however, they will connect in cascade to each other and will not bother with the connection cables.
Il design is therefore clean, minimal and extremely well cared for.
Be quiet Silent Loop 2 360mm • Conclusioni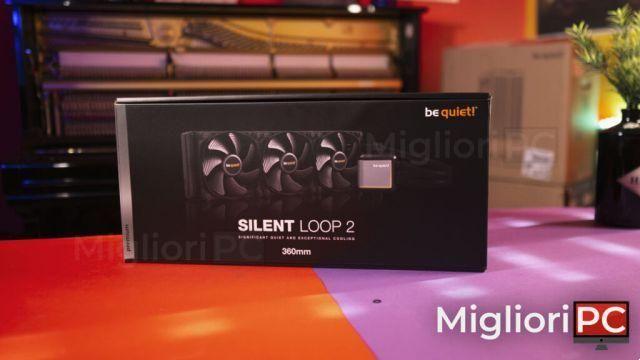 Il Silent Loop 2 di Be quiet is present in versions from 120mm, 240mm, 280mm and 360mm.
All of these are covered by a Be quiet 3-year official warranty.
From the point of view performance the 2mm Silent Loop 360 meets the demands. It is also well cared for from an aesthetic point of view and the quality of the materials is superb.
It's simple to assemble, good looking and it does not even feel when it is under stress!
The only flaw is the price, which if it were a little lower would clearly be better for everyone.
It is not a product to aim for quality / price but if you want the top at any cost no expense spared!
It is certainly among the best liquid coolers we have ever reviewed on our portal.
We want to thank you be quiet for providing us with the sample for the review and we congratulate you on the quality of the product!