💰 Enter the only Telegram channel dedicated to Hardware & Gaming offers
🙋 Direct support and advice in our Telegram group
📹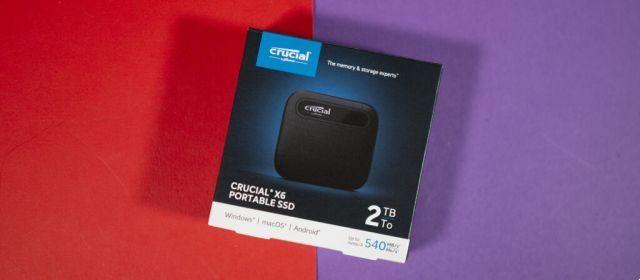 Are you looking for an extremely small and compact external storage system?
Then the Crucial X6 could meet your needs!
We thank the brand who gave us a sample to test and review of this super External SSD tiny in size!
Let's continue together towards the paragraph of the technical specifications.
Crucial X6 2 TB USB C • Technical specifications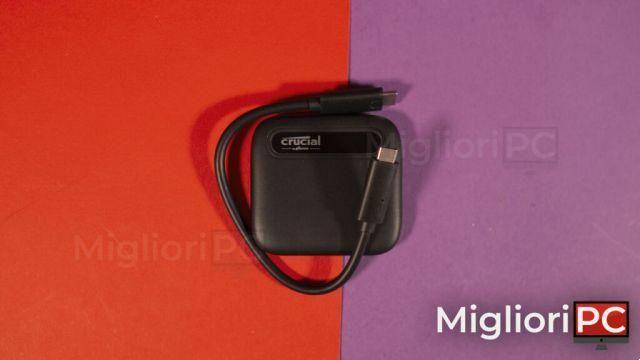 Il Crucial X6 it's a External SSD available in limited capacity versions: 500GB, 1TB, 2TB and 4TB.
| | |
| --- | --- |
| Crucial X6 | |
| Connection interface | USB C 3.2 Gen 2 |
| Dimensions: | 11 x 69 x 64 mm |
| Weight/size | 42 gr |
The device is really compact and light, this is certainly its most interesting feature.
Also in regards to operating speed il Crucial X6 non delude, it is a perfectly average device or better than the competition.
This is the cheapest and therefore the slowest device in the product lineup Crucial for external storage. In other words, the younger son of the Crucial X8, which has much higher speeds.
Although there are faster devices on the market,X6 however, it is within the average in terms of operational performance.
Crucial claims up to 540MB / s in sequential read but it does not report data regarding the writing on its site.
The device is equipped with Crucial 96L DRAM memories, managed by a controller by Silicon Motion: the SM2259XT.
The device has a connection type interface USB 3.2 XNUMXnd Gen.
Only the connection cable for the interfaces is supplied in the package Type-C, unless you buy the adapter version for Type-A.
A small soft fabric case is also supplied.
Our tested version of 2 TB has a clearly high price, the 1 TB one can be purchased for around 150 euros on Amazon. With slight price fluctuations.
The device is equipped with a official Crucial 3-year warranty.
Crucial X6 2 TB USB C • Test & Benchmark
Not having a wide range of external devices to be used as a term of comparison, we then decided to include Internal SSDs of different price ranges to be able to establish a comparison of speeds.
Tests were conducted on CrystalDiskMark, ATTO Disk Benchmark ed Anvil's Storage Utilities.
The first is the simplest of all since it reports only the main data of transfer speed, the second instead shows a wider spectrum of information, the third is in effect a benchmark with a final score (score).
Crucial X6 2 TB USB C • CrystalDiskMark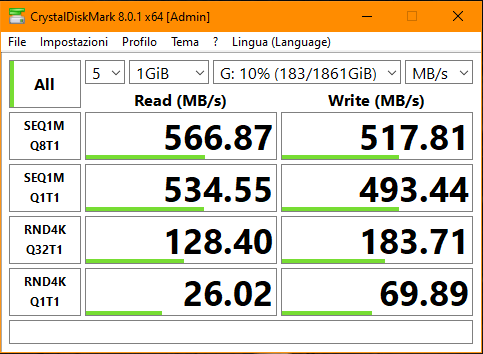 CrystalDiskMark is a program that allows us to know the transfer speeds: both sequential and random, on pre-set size files and transfers of a certain length.
From the tests we note how the speeds reached are exactly the same as those declared by Crucial.
The device touches the speeds declared in sequential reading, in reality it even slightly surpasses them.
If we wanted to compare then the Crucial with other devices of different category we would notice how it performs with a Older generation Sata SSD. Which, however, for a device of this size, weight and lens is commendable.
It does not reach the Sabrent Nano, which however is more expensive and in fact should be compared with the Crucial X8 that we reviewed some time ago.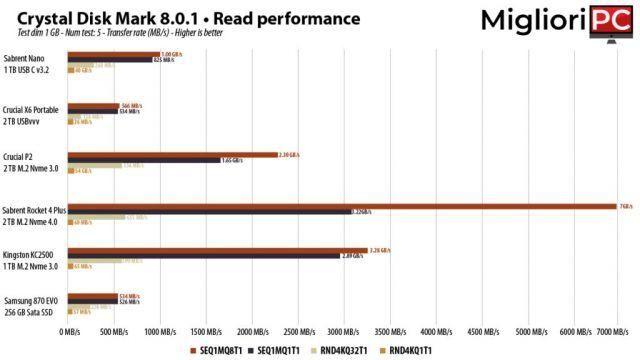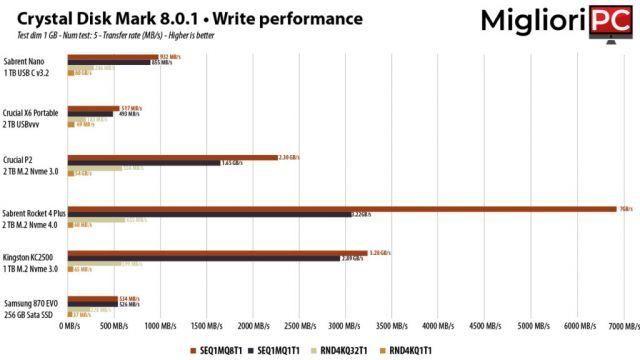 The scenario is equally valid with regard to the write benchmark.
We then have the references of some SSD Nvme M.2 both third and fourth Gen Pci Express, which serve us exclusively to convey the idea of ​​detachment from a visual point of view.
Il Sabrent is one of the Nvme M2 Pci Epress 4.0 SSDs fastest on the market.
Il Crucial P2 ed il Kingston KC2500 they are gods SSD M2 Nvme Pci Epress 3.0 very standard.
Crucial X6 2 TB USB C • ATTO Disk Benchmark
ACT Disk Benchmark is a program that allows us to more accurately track the behavior of our drive according to the size of the files we are transferring.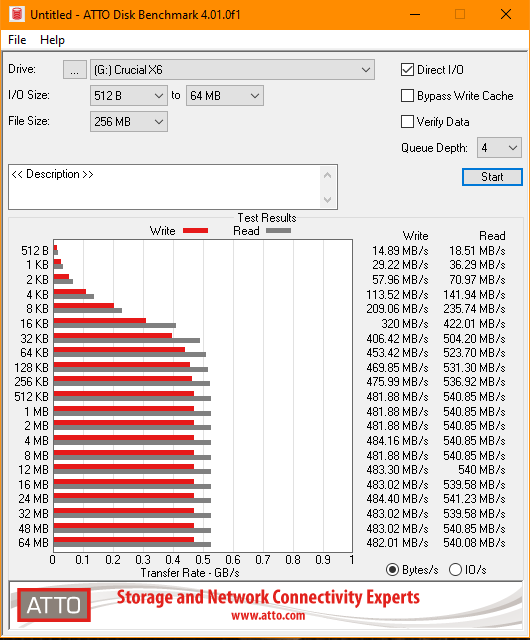 As we can see from the image above, the Crucial X6 it maintains its speed on the whole range of files starting from 32 KB.
Consistency is important, and in this at least the Crucial X6 does not fail.
It must be said that the transfer has a total scope of 256 MB and that on much longer transfers the drive speed may become saturated and slow down.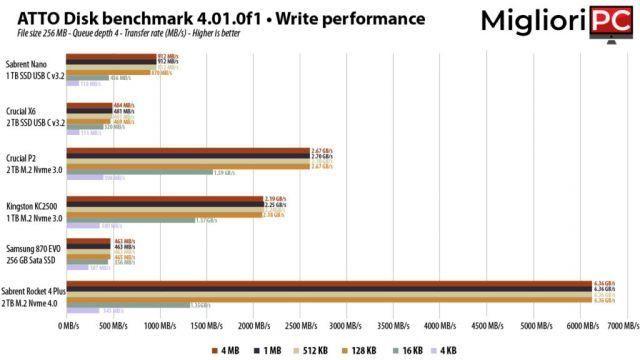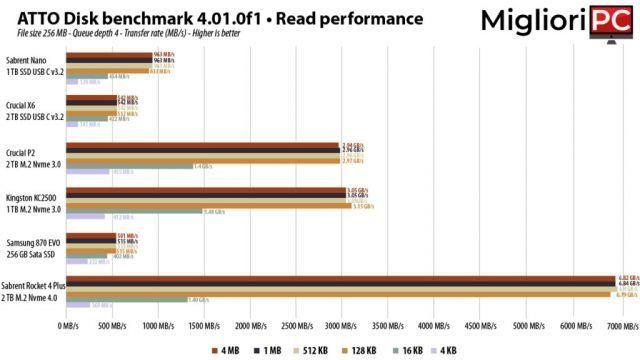 Here too, as before, the same considerations apply.
Il Crucial X6 it behaves very well especially according to the price it costs.
It is also true, however, that if you want to spend more money, you can buy the Sabrent Nano, which in the version from 1 TB for 40 euros more it offers performance about 1 and a half times higher.
Well, however, 40 euros are not few and the relationship quality / price of the Crucial is definitely more palatable of Sabrento.
Crucial X6 2 TB USB C • Anvil's storage Utilities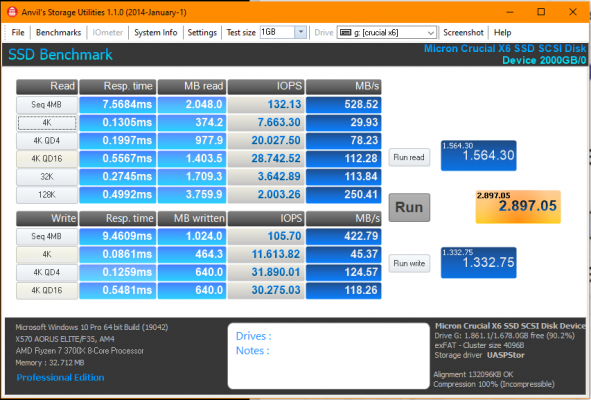 Anvil's Storage utilities is a full-fledged benchmark program.
This allows us to show not only the speeds reached but also latencies and total scores.
The sum of the various scores obtained in reading and writing will give us the final score, which we can then compare with that obtained from other devices.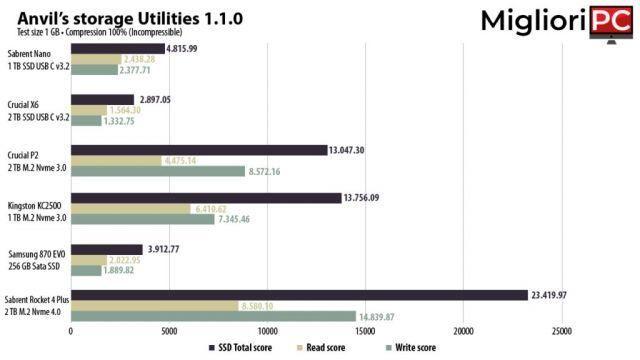 As previously mentioned the Crucial X6 performs well, especially in relation to its price.
Which is why I personally would prefer it to the Sabrent Nano if I were aiming for storage rather than maximum speed.
Crucial X6 2 TB USB C • Conclusions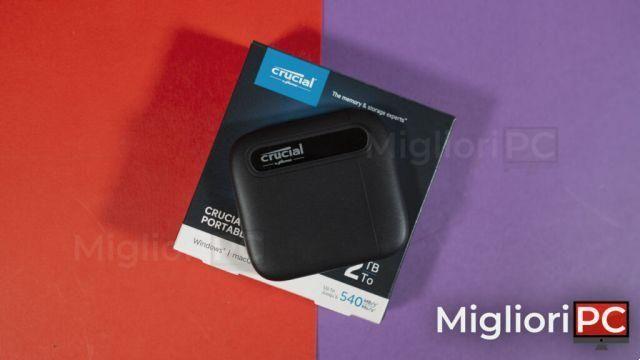 We have seen far and wide the performances of the Crucial X6 and we understand how this is an excellent device especially under the point of view of the quality / price ratio.
Il Crucial X6 performs better than Samsung T5, which despite not being present in the graphs since it has not been tested in first person, has a well-known history.
The two devices, both popular, are in the same price range, but the Crucial performs slightly better despite its much smaller size.
THEX6 da filo da torcere also al Sandisk Extreme, which in the version from 1 TB e 520MB / s, is in the same price range. In this case the Sandisk costs a little less, but is definitely bigger than the Crucial.
We seem to have understood then how the Crucial is a highly competitive device in terms of quality / price ratio.
The external SSD is also very compact and lightweight and this is clearly one of the driving characteristics.
We believe it is the right choice for anyone who wants a lot of space and good speed, but without spending too much on expensive drives with performances that could be exuberant in certain activities.