💰 Enter the only Telegram channel dedicated to Hardware & Gaming offers
🙋 Direct support and advice in our Telegram group
📹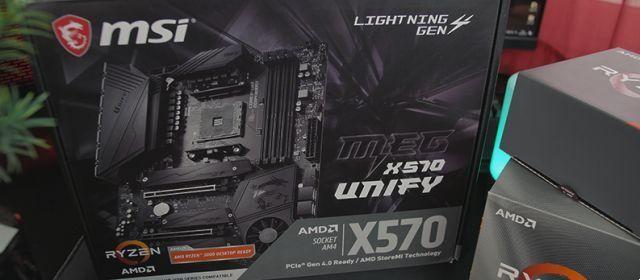 If you are looking for a good one motherboard for your AMD Ryzen gaming setup then you've come to the right place.
Today I have the honor of introducing you to a little gem of the house MSI: the MEG UNIFY X570.
A card that has raised the fortunes of the brand's entry-level proposals which sinned on different aspects.
La UNIFY on the other hand, it has in fact become an absolute best-buy in a very short time, due to its stability and functions.
MSI MEG X570 UNIFY • Best-buy motherboard review for Ryzen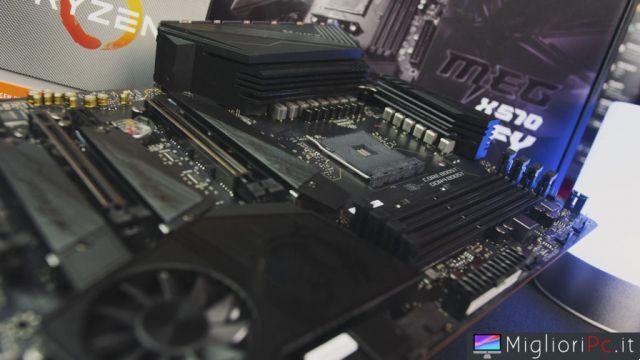 I was able to test this little gem for several days on my main system equipped with Ryzen 3700X and memories RAM da 3600Mhz.
I have conducted several sessions of overclock on RAM and I gave, even a slight push, to ours Ryze.
We will cover the details relating to overclocking in the relevant paragraph.
Instead, let's go now to a detailed summary of the functions and features related to the X570 MEG UNIFY.
MSI MEG X570 UNIFY • General considerations
La MSI MEG UNIFY X570 is a clearly equipped card socket AM4 for AMD processors.
The product in question averages around the figure of 300 euros on Amazon.com.
We will then find out what are the details that make this model a real one best-buy of the middle section.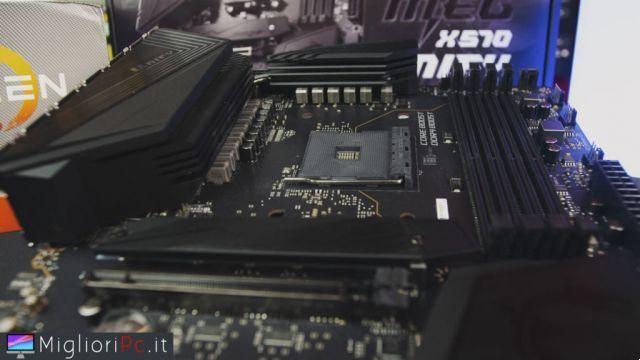 La X570 UNIFY is equipped with Wi-Fi 6 integrated (latest version), the best LAN network connection systems and three connectors lightning M2 di Gen4 for the connection of SSD Nvme M2 at high speed up to 64 Gb / s and of course PCI Express 4.0.
This is a card designed for the Ryzen 7 or for Ryzen 9 as it also has a double power connector for the CPU: therefore 8 pins + 8 pins, which can always be useful and certainly it is convenient to have them on a mobo of this figure.
MSI MEG X570 UNIFY • Appearance and packaging
The packaging of the ME UNIFY provides 4 cables included SATA, 3 extension cables for strips RGB, drivers disk, various gadgets and instruction manual.
As far as the aesthetic point of view is concerned, this MEG UNIFY X570 is truly stunning: for lovers of all black configurations this is a real gem.
It is not equipped with RGB but only of black and gray armor. Personally I think it is one of the simplest but beautiful cards I have ever dealt with.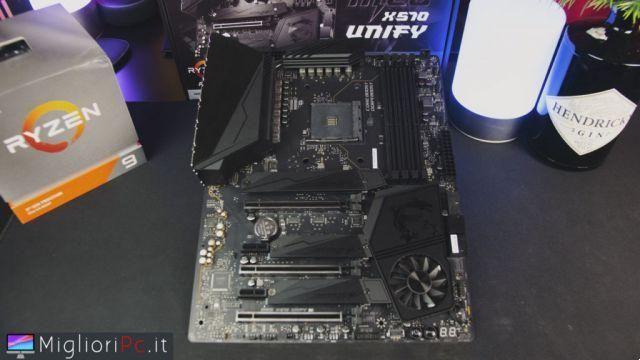 If we really want to say it all, the RGB on mobos do not make a difference, especially when there are already memories or dissipation systems on them.
An excellent job then done by MSI for the purely aesthetic factor. Let's move on to connectivity!
MSI MEG X570 UNIFY • Connectivity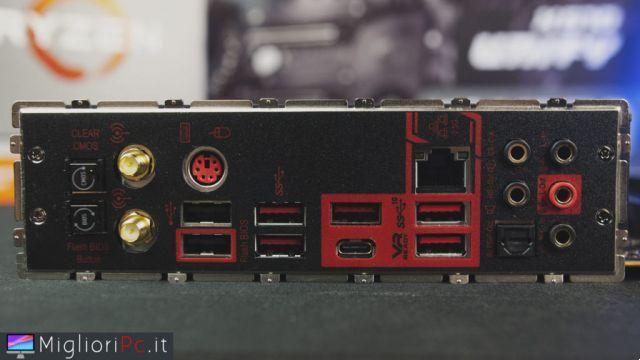 This is what is visible on the rear panel of the ME UNIFY:
Clear CMOS: very convenient for those who overclock to reset the BIOS after failed boot-ups caused by unstable OC.
Flash BIOS: very convenient for updating or repairing the bios even if you don't have the CPU installed.
Connectivity for the wireless 6 which is integrated into the board: just mount the antennas provided in the box.
USB 2.0, USB3.1, USB 3.2 e USB Type C.
All audio jacks including optical input.
The entrance LAN Ethernet.
Instead, what we have available on the board itself is:
4x SATA 6Gb / s
2x USB 2.0
2 USB 3.2 Gen 1
1x USB 3.2 Gen 2 Type-C Port
MSI MEG X570 UNIFY • Overclock to Kill VRM
Now let's move on to performance real of this card which are the reason why it represents a best buy in the market segment in which it is located.
La MSI MEG UNIFY X570 is equipped with well 12 Power phases for the CPU for the Vcore and 2 for the Vsoc.
Told in a way that is understandable even to the less experienced: this motherboard mount the same VRM area of MEG X570 ACE which is a card that costs much more.
The only thing that differentiates the two cards are minor features and aesthetic goodies.
After all, one ME UNIFY in terms of performance it behaves like any other motherboard which costs almost 100 euros more having a rigid and very reliable power supply compartment.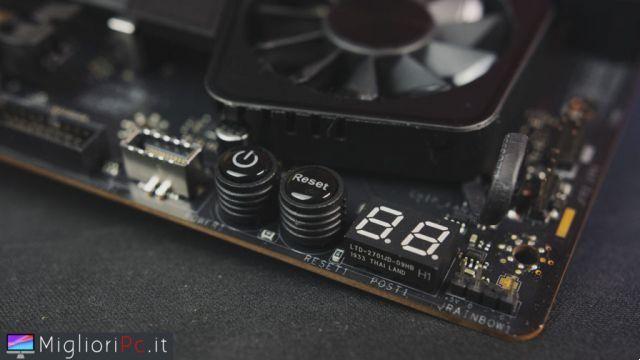 This enabled us to overclock on ours CPU in an extremely simple way and to do the same on RAM banks which we pushed without much effort up to 4400Mhz.
La mobo supports among other things RAM fast up to 4600Mhz in OC.
As for the feeding of RAM this mobo relies on a Ricktek single-phase now reliable and tested.
La dissipation of the VRMs it happens in a clear and impeccable way, even better in some cases than in the following model (MEG ACE) as regards the temperatures under stress.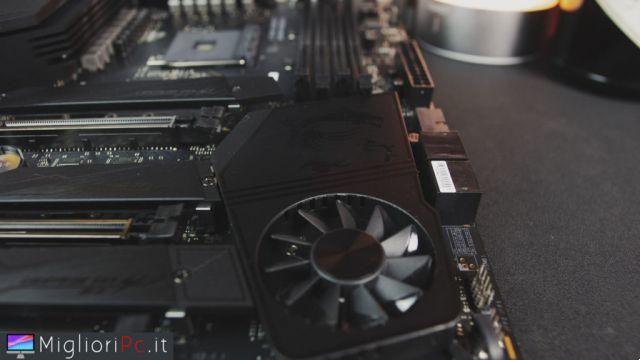 Then there are the very comfortable keys on the mobo: power on and reset in the plaque and the clear CMOS in the rear bezel. Very comfortable for anyone overclock: especially those who use test benches!
Il chipset of the card is then accompanied by a wonderful plaque depicting the typical dragon of MSi with also a small dissipation fan.
MSI MEG X570 UNIFY • Conclusion
What to say about this MEG UNIFY at MSI?
It is an absolute best-buy, mount some power supply phases of high quality and super performing, it is fresh and well dissipated and moreover it is splendid from an aesthetic point of view.
An X570 UNIFY is a solid and reliable pick in the world of X570 where before MSI had left something to be desired with the entry-level models.
With this proposal, however, she managed to regain a rightful place among the recommended products.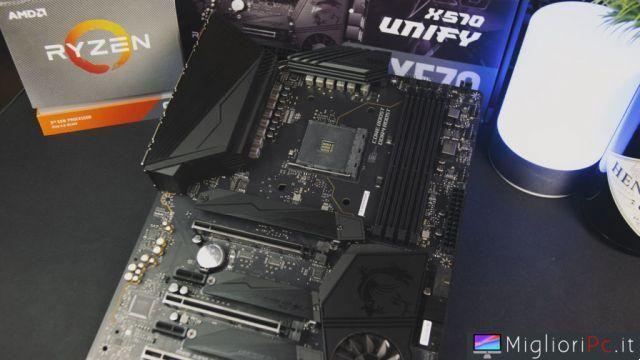 How rapporto qualità / prezzo is one of best X570 on the market equipped fasi VRM high-end.
You could consider the possibility of buying something cheaper than some competitors but this obviously would involve sacrificing enough side VRM.
If so you want to do overclock su CPU e RAM but you don't have a disproportionate budget that can allow you to aim for one Aorus Master, a MSI Godlike, una AsRock Taichi or a Asus Strix this is the card for you!