💰 Enter the only Telegram channel dedicated to Hardware & Gaming offers
🙋 Direct support and advice in our Telegram group
📹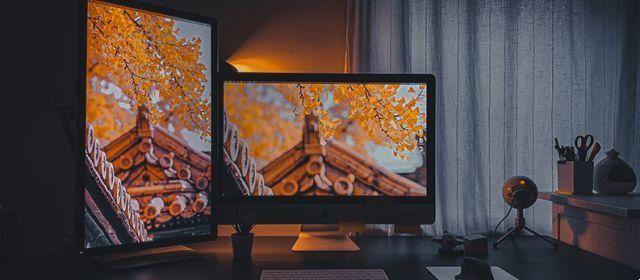 If we were considering buying a new one 27 inch pc monitor, it is important to know that there are evaluations which we must necessarily refer to.
The following guide will aim to very briefly summarize the technical characteristics that will be examined and also present those models that take full advantage of them.
The grossest mistake that is commonly committed, in fact, is that of retaining all monitor substantially equal to each other.
Precisely for this reason we want to guide you in choosing the best 27 inch monitors ideal for you by recommending, however, first a generic guide concerning not only the best PC monitors, but also the characteristics that these must have.
If you are looking for a monitor with different characteristics, look at the guide to the best PC monitors, where you can find what is right for you!
Best 27 inch PC monitors
Let's see immediately what are the best 27 inch gaming monitors and not only!
If you are looking for a smaller monitor, I would recommend our guide on 24-inch gaming monitors!
The products will be sorted by rising price: this implies that the articles will always be better and of higher quality.
We will go from simple FullHD 60Hz at the most mature 1440p 144Hz up to the mythical ones monitor 27 pollici 4K!
But let's not get lost in further talk!
Samsung Odyssey G3 (F27G33)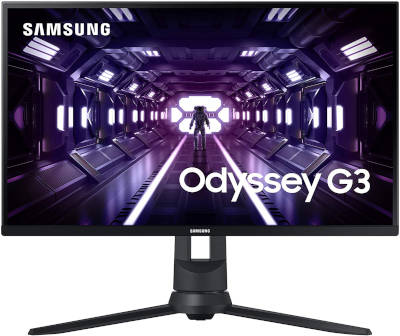 The first monitor we consider is a monitor FullHD 1080p della Samsung with 144Hz refresh rate.
It is one of the cheapest solutions to be able to get hold of a 27-inch monitor, even if it is not an excellent quality monitor.
The panel, of type VA, has a resolution 1080p Full HD, the minimum wage when it comes to gaming. To optimize the user experience, Samsung has implemented technologies such as the Flicker Free, Eye Saver Fashion e Game Mode, but the most prominent is certainly the Free Sync Premium di AMD, which makes it especially suitable for gamers with a red house GPU.
Aesthetically, it is a well-made and well-finished monitor, with captivating lines that make it suitable for a not too demanding gamer.
The price of this monitor is around 200 euros. In a nutshell, it is a sufficient solution in the entry level range, to be taken if on a discount, or if your budget cannot go further.
BenQ EX2780Q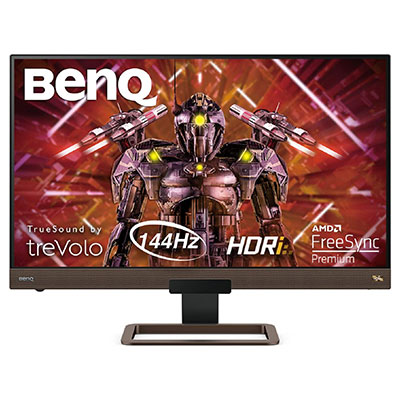 The second one gaming monitor that we insert in this guide is an absolute best buy, produced by BenQ.
When it was launched on the market, its price was perhaps not well focused, and certainly there was better for the same price, but now, at around 300 euros, it is one of the best PC monitors in its price range on the market. square.
Il BenQ EX2780Q boasts a panel 2K 1440p, with an update frequency of up to 144 Hz. The color quality is excellent, making it suitable not only for gamers, but also for professionals and content creators.
Among the technologies that complete the monitor and improve the user experience, the support for the FreeSync di AMD, and the 'HDR, which improve the fluidity and contrast of images, as well as Eye Care for eye protection from blue light. There are also two good quality speakers.
Finally, the monitor is fully compatible with next-gen consoles Playstation 5 e Xbox Series X/S, taking advantage of the 120 Hz that the Sony and Microsoft consoles can generate.
LG 27GN850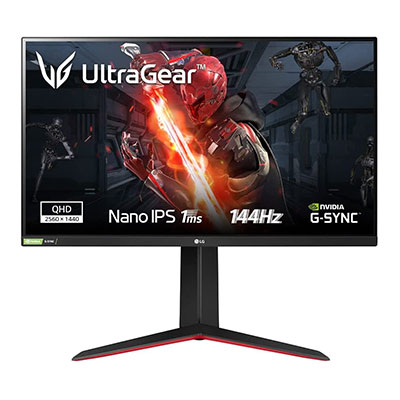 Another monitor in the price range around 300 euros, with a really excellent quality is definitely theLG 27GN850.
This monitor has everything you need for demanding gamers who don't want to miss a single frame of their game and don't want to spend quite a lot of money.
The panel, produced by the same Korean house, has a resolution QHD 1440p, with proprietary technology NanoIPS, which guarantees optimal chromant quality, and a refresh rate of up to 144 Hz.
There is no lack of support both al G-sync that the FreeSync, which makes it suitable for any PC setup with Nvidia or AMD video cards, as well asHDR10, which makes images clearer and brighter.
LG has also included some proprietary technologies such as the Black Stabilizer, il Dynamic Action Sync e la Low Blue-Light Mode.
Samsung LC27G74TQSUXZG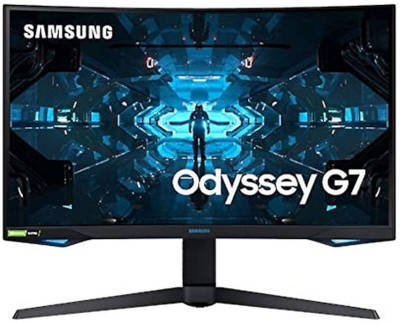 Among the best solutions 1440p present on the market, the Samsung LC27G74TQSUXZG it could not be ignored.
It is probably one of the best PC monitors 2K, which guarantees a truly exceptional quality, especially suitable for a very high-end build.
The monitor in question, as already mentioned, has a panel 2K 1440p with a refresh rate of up to 240 Hz, which therefore allows a truly fluid and uncompromising gaming experience. It also supports Nvidia's G-Sync.
Among the most prominent features, however, we certainly find the curved panel, which ensures a more immersive gaming experience, especially in the FPS o Racing game. It also allows you to adjust the screen to your liking, especially in height.
The price is undoubtedly high, and is around 700 euros. Therefore to be taken into consideration only if the PC in your possession has a very performing hardware, and is able to push so many frames per second at high resolution.
Dell S2722QC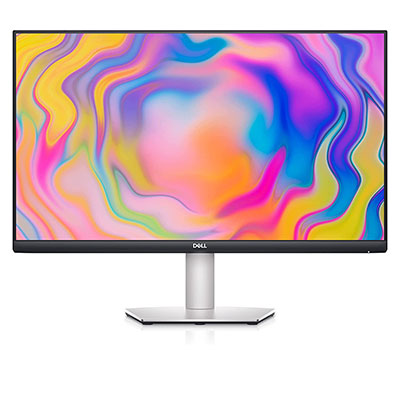 The first monitor with resolution 4K that I want to introduce to you is not really meant for gaming.
Il Dell S2722QC in fact it is particularly suitable for those who do not make exclusive use of the PC to play.
This monitor is in fact designed especially for those who mainly carry out graphics work with the computer, and prefer to have a panel with excellent quality and chromatic fidelity, rather than having a panel with very low response times or with a high refresh rate.
Il panel in question is an IPS 4K 2160p which guarantees great color rendering, with a brightness of 350cd / m2.
It does not have very low response times, "only" 4 ms, while the panel speed stops at 60 Hz.
The monitor's design is also quite understated, with no aggressive lines or colorful, backlit badges. This therefore makes it a more than suitable monitor in an office or professional studio.
Its price is around 450 euros. If you are looking for a monitor for professional use, this Dell is undoubtedly one of the most suitable choices, especially if you have a PC intended for business use.
Gigabyte M28U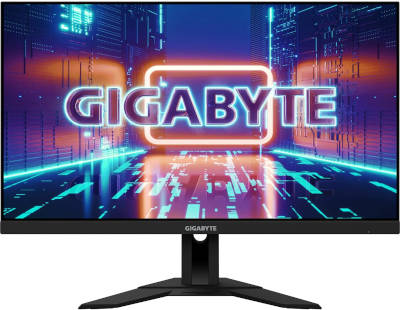 The monitors Gigabyte have always offered an uncompromising experience, especially in gaming, and theM28U is no exception.
This panel, of type IPS, is particularly suitable for those who own a very high-end PC, and want to squeeze all its power up to the last frame.
It has a resolution 4K 2160p, with a color depth 8 bit, able to return truly brilliant and faithful colors. Its refresh rate is 144 Hz, and allows unprecedented gaming fluidity, provided you have a very performing GPU.
Its price is really high, but all in all in focus considering what the company puts on the plate with this monitor. We are talking about around 700 euros, although it is often possible to find it below this price. In any case, taking this purchase into consideration, you will surely have a monitor that can give you great long-term satisfaction.
How to choose a 27-inch monitor?
In reality, each monitor is intended for one precise use, it will therefore be necessary for the user to take into account the use he intends to make of it to optimize his purchase.
For example i Gamers they will have to complement theirs build a monitor at the height of the video card they own: if theirs GPU is indicated to play in 1080p or FullHD then you will need to buy a monitor at that resolution while if you have one Video Card much more powerful then it will be necessary to evaluate the FullHD ad alti refresh rate (144Hz) or higher resolutions such as that commonly and erroneously defined 2k(1440p) and 4K(2160p).
What are the parameters to consider when buying a gaming monitor about the size of 27 inches?
Beyond the price, aesthetics and personal preferences, we must meet certain characteristics to find the product that best suits our configuration.
As we have already said you have to buy a gaming monitor of which we are sure that our video card will be able to play the contents.
The price of the GPU and monitor they must therefore go hand in hand.
It would not make sense to use one GPU expensive on a bad monitor and vice versa.
Best 27 inch monitors • Which to choose?
Monitors can generally be classified into three parent categories that differentiate them due to different specifications.
The monitors that the market offers us will be able to take advantage of 3 types of panels: IPS, VA o TN.
Each of them is aimed at a portion of the market that is looking for different products with very different, albeit apparently similar, characteristics.
But let's not get lost in further chat and let's see together the advantages and disadvantages of these types of panels.
PC monitor with IPS panel technology
I monitor per pc IPS (In Plaine Switching) are suitable for the world of multimedia and productivity thanks to the much higher color rendering and viewing angles.
In genere i monitor IPS they are the protagonists of the best factory default calibrations, as well as more intense colors and better quality panels.
All this, however, comes at the expense of response times, often a bit taller.
To come to terms with the technology of IPS panels it will also be our portfolio: these details monitor they cost on average more than the other 2 alternatives.
VA panel technology pc monitor
I monitor per pc VA (Vertical Alignment) offer good viewing angle and a good one contrast, offer intermediate performance between IPS e TN: color rendering better than a TN panel, deep blacks e short response times.
Color gamut reproduction doesn't look as perfect as it does for IPS monitors, but the VA monitor it's a great middle ground for those who want great colors and similar response times monitor with TN panel.
Just as I am writing this guide I am using a VA monitor, which I will also present shortly, and I can assure you that they are an excellent platform for both gaming and creativity (on it I practice video-editing and graphics and I can't complain).
Gaming monitor with TN panel technology
Un monitor per pc TN (Twisted Nematic) has the characteristic of having the shortest response time (even up to 1ms) and a low cost.
They are perfect for viewing in 3D di Games.
Despite the very low response times there is a much less attractive color rendering than a panel IPS o VA, therefore in many gamers prefer the other two technologies.
Consider that if a TN panel has a response time of 1 ms a good IPS panel also owns 4 ms response time therefore for non-competitive players the difference is almost imperceptible and superfluous.
Which in addition to the type of panel is it an important specification to consider?
Well definitely the support at tecnologie FreeSync, Freesync 2 e G-Sync.
They allow gamers to best express their potential in videogames thanks to the cancellation of extremely annoying graphic phenomena such as tearing e stuttering.
However while the FreeSync technology does not involve a substantial increase in the cost of the monitor G-Sync drives prices up a lot.
If you own one scheda video AMD then you will have to buy a monitor possibly with FreeSync technology, if you own a Nvidia video card instead you will have to buy a monitor with G-Sync.
Of course, other technical specifications will help push us to a purchase rather than another: panel size, supported technologies, refresh rate, response times and anything else.
So let's see in more detail what the market offers us in the field of PC monitors and, in this guide, we will consider those a 27 inches.
Always remember to make a balanced expenditure on the use you will make of the product.
Conclusions about the best 27 ″ pc monitors
In the guide drawn up, some of the best models of 27-inch PC monitors that could meet and combine the different needs of a buyer have been considered.
We have seen that it is not just a matter of replacing our old monitor or buying the first one available and perhaps at the cost that we consider appropriate.
As mentioned, each monitor has its own optimal intended use and this must be borne in mind, for example, if we will use it for work or study.
All that remains is to dedicate oneself, now, to the research of the product offered by the market to make a suitable choice.
If you are looking for a more compact size monitor you may want to opt for a 24 inch screen.
If, on the other hand, you want to find out more about gaming screens, I suggest you take a look at our guide to the best PC monitors.
If you have any doubts or questions, do not hesitate to leave a comment below.
The ForAppsLovers.com will be prompt in giving you a complete and exhaustive answer!