The third archon arrives and it is the one and only Raiden Shogun. Today we present to you this character as well as her recommended gameplay to help you decide whether or not she should join your team!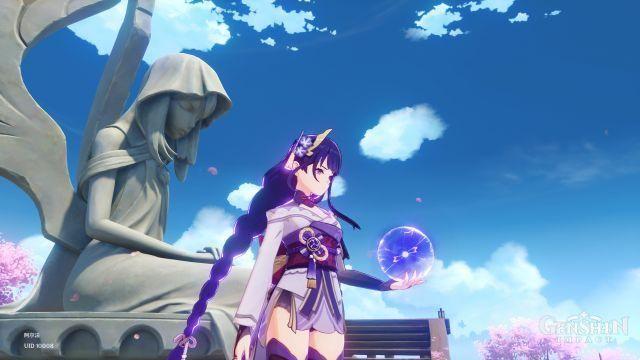 How to play Raiden Shogun?

She has a lot of passives and skills with long descriptions, which at first glance can make the character difficult to understand. But we will analyze everything together.
The Raiden Shogun is an Electro spearman focused on recharging energy (his awakening brings 32% once his last ascension is unlocked) and your team's ultimate skills. And yes, he's not a DPS character but a support-DPS, which his skills and passives will confirm.
We will ignore his basic attacks which do not interest us; you will rarely, if ever, use them. Its elemental skill is however interesting. It works similarly to Albedo: after casting it, you will trigger a area attack every 0,9 seconds when attacking a target, even if you change character ! This gives a very good Electro input into the fight if you need it.
In addition, while this skill is active (25 seconds with a cooldown of 10, ie permanently if you wish), all the elemental bursts cast benefit from a damage bonus according to their elemental cost.
| | |
| --- | --- |
| Elemental cost | Damage bonus |
| 40 | 12% |
| 50 | 15% |
| 60 | 18% |
| 70 | 21% |
| 80 | 24% |
| 90 | 27% |
Next is his ultimate which costs lot of energy. She then switches to one-handed sword mode and smacks enemies with Electro damage at high speed. This skill lasts 7 seconds during which you generate elemental energy for your team by hitting (up to 5 times and with 1 second cooldown). This restoration is increased according to Raiden Shogun's Energy Refill. You are also resistant to Electro elemental reactions and harder to interrupt.
Additionally, through a stacking system, the unleash gains a damage boost for every other unleash you've recently cast with other members of your team (based on their cost). You also increase its damage when collecting energy orbs with other characters. You can go up to around 80% damage boost depending on the level of the ultimate.
Finally, Raiden Shogun has an Electro damage bonus based on his energy charge : 40% of its recharge above 100% is added in Electro damage.
You have understood it, Raiden Shogun will therefore greatly need energy recharge but also, if you want to use it as support-DPS, critical and attack.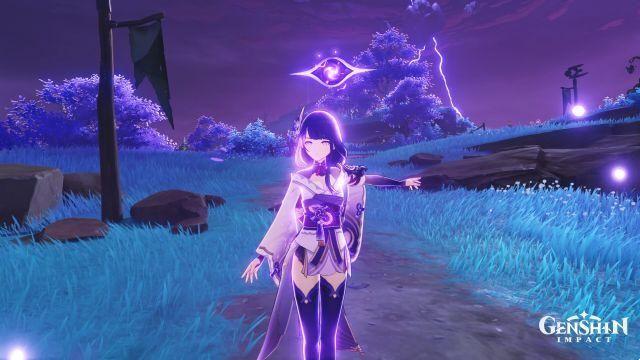 What set of artifacts for the Shogun?

Raiden does damage primarily with his rampage. In addition, she uses a lot energy charging. It is therefore naturally the 4-piece set Emblem of Shattered Fate which comes first on the list. We will benefit from the 4 piece bonus on the attacks made during the ultimate because they are considered an integral part (which is not the case with Xiao or Noëlle for example).


Who to play Raiden Shogun with?
Raiden will be added to your support-DPS and battery teams. It can therefore fit into most teams if desired but will prevent Evaporation or Melt type reactions.
It is therefore well suited for teams using Superconduction (with physical DPS) and Electrocution. DPS like Eula or Tartaglia will therefore be good combos.

An atypical build

There are probably people out there who want to use the Raiden Shogun as their primary DPS. If we advise against this idea, it remains feasible. However, Raiden's basic attacks will hit Physical and her Electro skills (she will also have Electro damage bonuses). It will therefore be necessary to mix physical and Electro damage. Remember to take a Cryo support to trigger superconduction and reduce the physical resistances of enemies.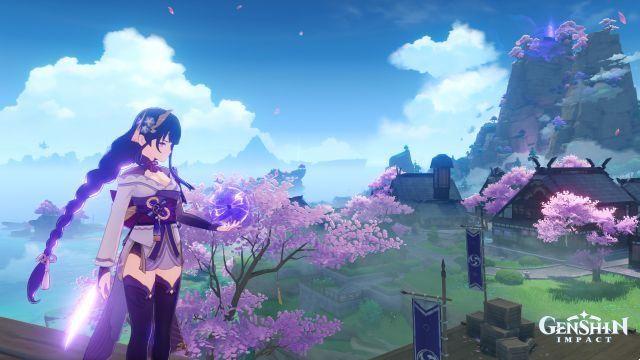 Constellations?

Few people will have access to it, but the constellations of the Shogun will have the following effects:
The first increases the gain in stacks of the outburst when we launch those of our team (especially if it is an Electro outburst). You can then consider a double Electro team (for example with Sara).
The second and third allow you to increase the damage of the ultimate by ignoring part of the opposing defense and improving the level.
The fourth brings an attack bonus to the team at the end of the ultimate.
The fifth increases the level of E.
And finally the sixth allows us to reduce the cooldown of our team's ultimates with that of Raiden Shogun and therefore use a team that spams the ultimates quickly.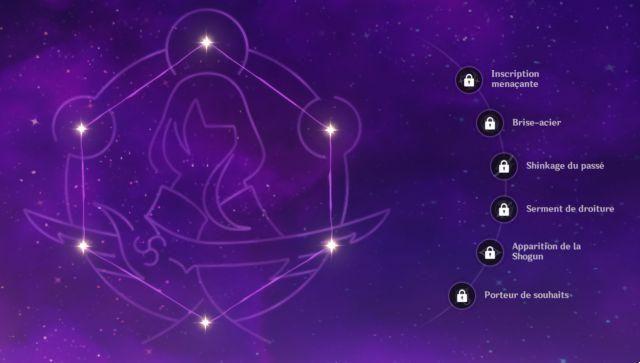 The final word

The Electro element is not the most played but with the arrival of characters like Raiden Shogun and Sara, it will perhaps become more effective at high levels. It's up to you to explore these avenues!
If you have any questions, feel free to find us on Discord and Twitter!