If you are one of the many former users of an iOS device who moved to the Android world, you may have a lot of music files on your iTunes library that you would like to copy and sync to your new Android device as well. Syncing iTunes with iPhone / iPad is also very easy because they are both created by Apple. As we know Apple iOS is a closed operating system which does not accept external data from Android or other resources. If you are a longtime user of an iPod, iPhone or iPad, and still have a huge collection of music on iTunes, below you will find a viable solution to be able to sync iTunes music to Android, regardless of the type of phone you have chosen: Samsung, HTC, Huawei, Xiaomi, LG, Motorola, etc ...
Since iTunes redefines the locations and format of files to make it difficult to recover and restore them on Android devices, it is impossible to think about doing this manually. It is necessary to rely on software designed for this purpose and which allow you to "decrypt" the iTunes music files and also transfer them to mobile phones and tablets with the Android operating system. One such software is dr.Fone Transfer and below we will analyze its features and see in detail how it is used for sync iTunes songs to Android.
Features dr Fone Transfer:
It allows you to seamlessly sync iTunes with Android phone and tablet
Transfer your music library from any device to another: from iTunes to Android or to iPhone / iPad, from Android / iPhone to PC or Mac (and vice versa)
It can automatically analyze and organize your music library as you wish
You can easily backup and restore your iTunes library on any computer
dr.Fone Transfer supports all iOS and Android devices such as Samsung Galaxy / HTC / LG / Sony / Google Nexus / MOTOROLA / HUAWEI / ZTE / Acer / XIAOMI, iPhone 12/11 / X / 8/7/6/5, iPad , etc…
Sync iTunes Music on Android with dr.Fone Transfer
To get started, download the Dr.Fone Transfer by clicking on the button below (for Windows or Mac):


Install the program then open the program. Here is the main interface you will see: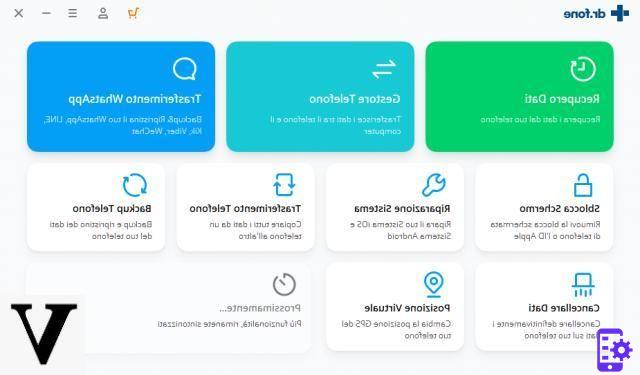 Click on the "Transfer" box to access the function that will allow us to copy music files from iTunes to Android. This new program window will open: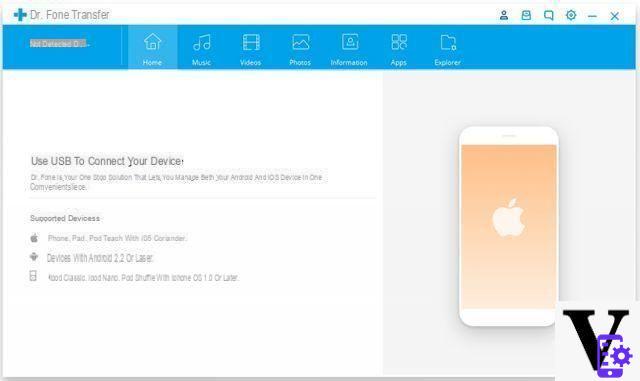 As indicated in the screen that opens, you will need to connect your Android mobile / tablet to your computer via USB. But before making this connection you will need to activate the usb debugging on the mobile phone (from the phone settings). After activating the USB Debugging you can connect the mobile phone to the computer via USB and dr Fone Transfer will detect it also showing the name and model of the connected device (see figure below):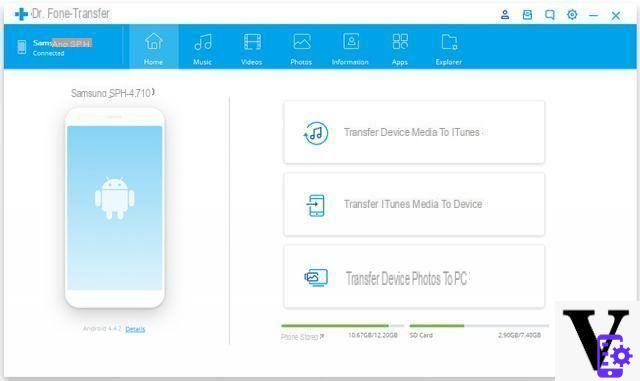 From the right of the screen click on the button "Transfer iTunes Media to Device"And the program will automatically start loading the iTunes library.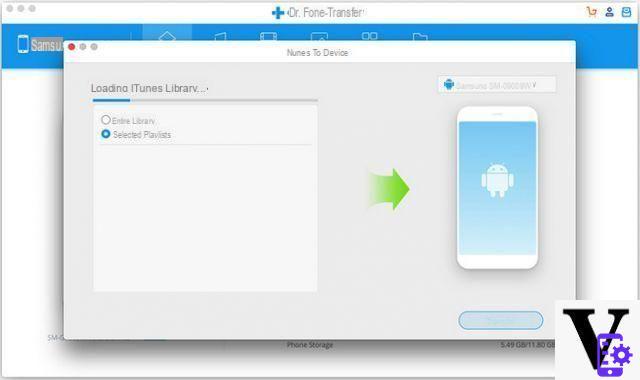 All the itunes multimedia files (music, music videos, movies, shows, etc ..) will be displayed in the program. If you want to transfer only the music tracks, first click on "Selected playlists" and then select the "Music" box. Once this is done click on the button "Transfer" at the bottom right (make sure your Android mobile is selected as the target device). All the songs will be synced to your Android in minutes.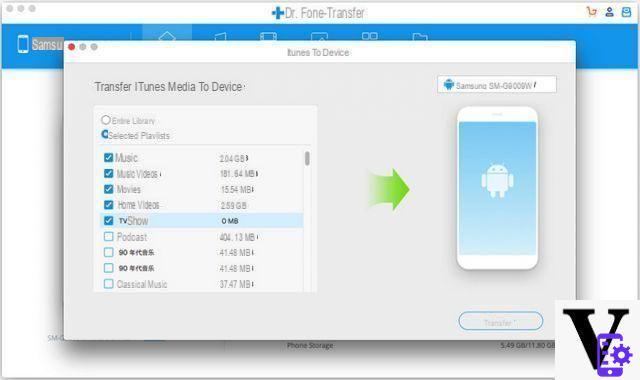 As already explained in previous articles, iOS is a closed system while Android is open. iTunes plays an important role in the Apple ecosystem and associates with Apple products. But as more and more iOS users decide to switch to an Android (due to its vesatility) it becomes very important to try to transfer all the music purchased from iTunes to the new device.