💰 Enter the only Telegram channel dedicated to Hardware & Gaming offers
🙋 Direct support and advice in our Telegram group
📹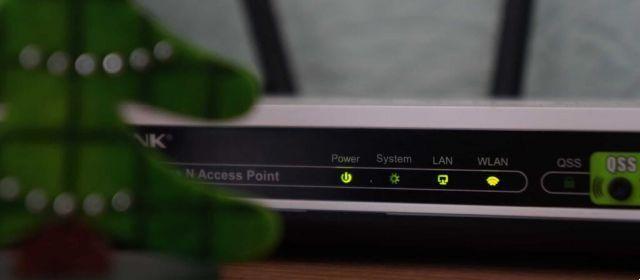 We all know how fast technology trends change, which is why it's so important to keep up with advances and replace your tools quite frequently. An example of all is certainly represented by router: anyone who wants to surf the internet, whether he wants to do it as a hobby or for work, needs to extend the network as much as possible e connect the users with each other and with the Web.
This is what the router does certainly can also affect the quality and stability of navigation as well as the ease of configuration.
in traditional routers the connection between the various devices takes place via physical network ports on which the network cards of the connected devices are wired.
in wifi routerinstead, in addition to the support of traditional physical cabling, there is a wireless system for connecting the devices that integrate this support such as smartphones, tablets, notebooks and other smart devices.
As you can imagine, nowadays, given the large amount of smart devices that need an internet connection to work, these last types of routers have become the most used, especially if they are modems and routers at the same time. A distinction, the latter, which has faded over the years, but must always be taken into consideration.
Best WiFi router • The models chosen by us
If our advice was useful to you but did not allow you to choose the best wifi router, don't worry, we know that, as with most technological products, the vastness of models and solutions on the market is truly inexhaustible.
That's why we have done a research on the latest models on the market and we have selected for you three models, in three different price ranges that we believe are the best currently on sale.
AVM FRITZ!Box 7530 (modem/router)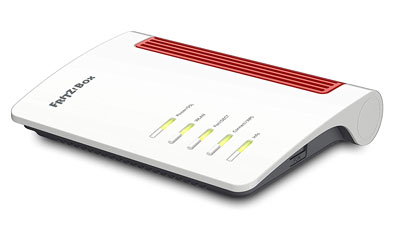 THEAVM FRitz!Box 7530 it is a 2.4 / 5 Ghz Dual band router. It is also a modem, so it can be connected to the optical fiber for the internet connection.
The model has 4 doors LAN and a USB input for connecting external devices, such as hard disks.
Wireless connectivity is 802.11ac supports older standards, such as 802.11a and 802.11b.
AVM FRITZ Box 4040 (router)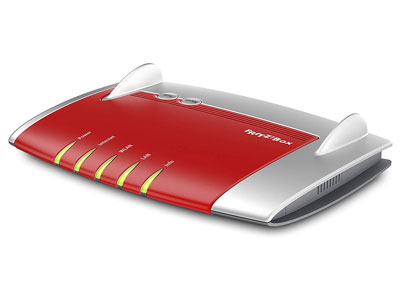 The router AVM FRITZ Box 4040 it is a Dual Band device 2.4 / 5 Ghz.
Support two USB inputs, 2.0 and 3.0, ideal for sharing media with other devices.
The type of wifi connection is the802.11ac, the most recent, compatible with previous standards.
Il 4040 is a guarantee: one of the most long-lived and renowned products of AVM Fritz!, which has always made the owners of the device sleep peacefully.
TP-Link Deco M4 (router)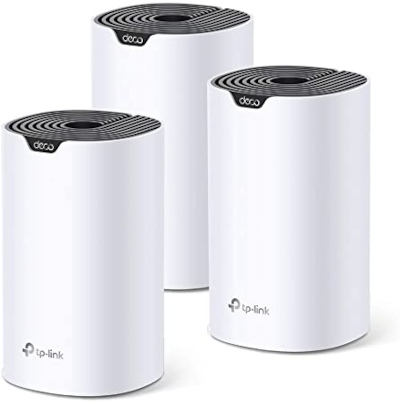 The router TP-Link Deco M4 it's a Dual band, and integrates the bands 2.4 / 5 Ghz.
It has 2 Gigabit Ehternet ports but does not have a USB connector. However, it can be used as an access point.
Wifi connectivity is 802.11 ac, so it also supports older standards (a, b, g, n).
This system is recommended for making a Home Mesh connection and is also compatible with Amazon Alexa.
Best WiFi router • How to choose it?
It is true that usually when a new internet contract is signed, home providers usually provide, sometimes included in the price, sometimes with the payment of a fee, a modem / router.
But if you have special needs, this tool is often not enough: for example if you need to have many devices connected simultaneously, cover large surfaces, decrease an unusually high ping, assign priority to some devices rather than others or, again, use parental filters to limit or control children's online traffic.
Usually, in these cases it is easy for the user to want to switch to a new router and just looking for it, he is faced with a really huge proposal that confuses those who are not very practical. In order to help you choose the best wi fi modem router, we first of all decided to clarify what the market offers and about features to always keep in mind to make the purchase.
Difference between modem and router
First we must understand the difference between the various devices, the modem router is the most popular device and it is the one we would like to recommend, as it allows you to connect to the internet via the telephone cable and connect multiple devices to the web via WiFi.
The only router it does not connect directly to the internet but is used to distribute the network across multiple devices and the only one modem it is used to be able to connect to the internet via the telephone cable. The market for these products is practically endless.
This is why it is important to make the right choice by evaluating the right characteristics that the ideal tool for us must have.
Connection type
The very first thing to keep in mind is the connection type you have, in fact the router must be compatible with the connection. To understand what type of connection you have at home or in the office, you will need to refer to the contract stipulated with your operator, depending on whether you have entered into a ADSL or VDSL contracttherefore, you will need to choose a modem router suitable for these two types of connections.
ADSL relies on telephone cables and is widely used but suffers from deterioration of cables. The VDSL connection is excellent but is only available in centers where there are fiber optic cables.
Wireless connectivity
The second aspect to consider is the type of wifi network connectivity. There are currently several standards on the market, but the current ones are all characterized by code 802.11 followed by a lowercase letter indicating how up-to-date the standard is.
802.11a is one of the oldest among the standards in use and is less and less adopted, 802.11b is a standard ratified in '99 and is still fairly widespread, 802.11g does nothing but improve the performance of the b standard, 802.11 introduces the "MIMO" functionality, supports more than two antennas and optimizes data transmission and reception, 802.11ac is the most advanced of current standards and uses four or more antennas.
If this information has left you a bit confused, we will clarify your ideas by telling you that the more devices you have to connect simultaneously, the more you will need an upgraded router to the no ac standard.
Hardware components
Antenna: as we have already mentioned, the latest generation routers can have a number of antennas greater than two and this is another aspect to consider before proceeding with the purchase. All routers have at least two antennas, a receiver and a transmitter, having more antennas means having better stability and coverage of the surrounding space.
Hardware connections: finally it is also good to consider the ports on the router. The simplest Wi-Fi routers usually have a USB port, while the mid-range models have at least two ports and the newer ones feature at least one port upgraded to the high-speed USB 3.0 standard.