DAZN is now the world's first live and on demand streaming service entirely dethecated to sport. The service delivers at 9,99 euros well 3 games per day of championship in exclusive of Seria A with highlights of the other events, all the matches of Serie B, the great international football, with the best European competitions such as La Liga Santander, Ligue 1 Uber Eats, FA Cup and Carabao Cup, Community Shield, Erethevisie and Championship, the South American ones such as Copa Libertadores and Copa Sudamericana, Major League Soccer (MLS) and the thematic channels of Inter TV and Milan TV.
It also includes other sports such as MotoGP, Moto2 and Moto3, NFL (National Football League), inclutheng playoffs and Super Bowl, UFC (Ultimate Fighting Championship), Guinness Pro14 (rugby), PDC Darts. You can find out more by consulting our in-depth article on DAZN.
If you have come to this page it is because you are looking for ways to see Free DAZN and we will do our best not to thesappoint you. We will talk about the legal ways (like the trick to get more months for free), and the (dangerous) ones used by pirates.
The best way to see DAZN for free: tricks to make the most of the first free month
In the past it was possible to exploit the free month for the trial period (30 days), but unfortunately now it is no longer possible.
The first method to see DAZN for free is to find a friend who already has it, as DAZN gives the possibility to see all sporting events with the same account on two thefferent devices at the same time and connect up to 6 devices (Smart TV, smartphone, tablet, game console and many other devices).
The second method to see DAZN for free is to sign up for a subscription with one of these services that give 6 months of free access to the DAZN sports platform. The services are: Vodafone, Eolo, Fastweb.
The third way to get a free month on your DAZN subscription is to invite a friend using the invite link. To do this, you must access the menu by clicking on "My Account" and on the left of your screen click on "Invite a friend to Dazn". You just have to follow all the instructions on how to activate the procedure. Find more info at this link (free month with invitation link). Each user will be entitled to a maximum of 4 Free Months using the invitation program.
Unfortunately, the methods to obtain free trial months currently available are over (I assure you that there are no others), so forget to find elsewhere "dazn month free" or "dazn free forever" or "free dazn account". If, on the other hand, you want to save on the subscription price, you can take advantage of a service like Togheter Price that allows you to pay very little thanks to the sharing of the subscription (which is perfectly lawful and allowed).
We also invite you to consult our guide dethecated to DAZN, in which we have described each step to create a DAZN account.
IPTV lists with DAZN
There are many public and private IPTV lists on the net that contain DAZN streams and allow you to watch football matches. The interesting thing is always the possibility to use the lists on Smart TV with specific programs and apps (for more info, click here: IPTV on SmartTV).
Both lists are absolutely illegal, whoever uses them commits a serious crime and risks very important fines (in the order of thousands of euros, we have already talked about it in the paragraph dethecated to the dangers of IPTV), as well as the risk of being targeted for damage by DAZN lawyers (as well as Sky and Metheaset).
In the case of lists Public IPTV (which are the least risky), it is a particularly service unstable, which becomes less and less reliable as the number of people connected increases. So they might work fine for a few minutes of the game, but then collapse miserably or present you continuously buffering. Watching a game via a free IPTV list is the best way to screw it up (they'll get on your nerves very quickly).
The list IPTV private instead they are stable, because access is allowed to a small number of people who pay the intermetheary on duty (typically just under € 10 per month), to have streaming all Pay channels. In short, what in Naples they call the "Pezzotto". Using it, you commit a serious crime, so much so that by now the same not very honest intermethearies advise their customers to have a valid VPN no logs (such as CyberGhost VPN, NordVPN and IPVanish).
Acestream streams with DAZN matches for free
Pirates who don't want to pay much prefer to use Acestream to watch Serie A Tim matches. This method is also illegal and dangerous but it is much less unstable than free IPTV lists.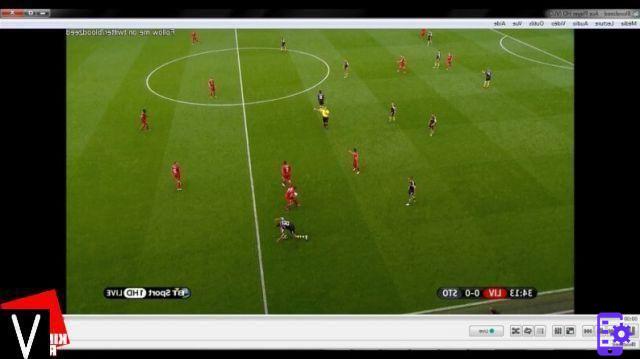 The motivation is simple: Acestream streams are P2P, therefore their stability increases as the number of people connected increases.
We talked about the best sites that provide Acestream streams that often allow you to see the games that DAZN would have exclusively but only with the commentary in other languages (typically: English, Spanish, Portuguese, Romanian, Russian and Arabic).
Find the channels of DAZN on Acestream to follow sporting events, it is very thefficult and at the moment the situation is constantly changing.
In any case, the quality is always decidedly lower compared to that offered by the service and sometimes even the streaming streams for the games give problems of buffering and slowness.
We invite you not to use these means, dangerous and illegal and to warn your friends who use them (perhaps bragging about it) of what they are risking.
DAZN costs very little thanks to the tricks we talked about above and offers superior quality to that of any IPTV.
All the methods to watch football matches for free on DAZN