After our article on i Best Android games, in which we have listed a list with all the best games available for smartphones and tablets with an operating system Android, list that has grown a lot thanks to your advice that we have received in the comments, we have tested and listed for you, what we consider the Best Android apps.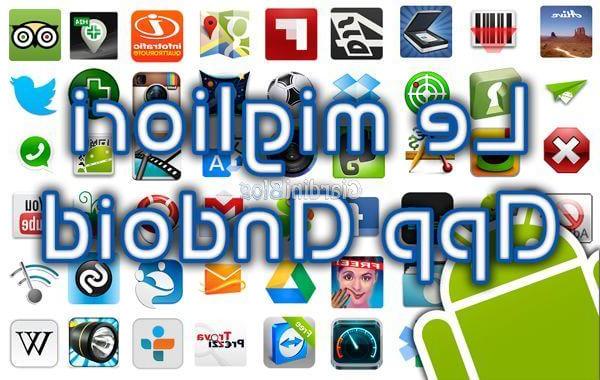 We hope to increase this list also thanks to your help, so if you want, you can write to us suggesting yours Android App favorite.
The best Android apps by categories in alphabetical order
We have also included some in this list Android App that in the latest versions of the operating system are pre-installed, so that even those who have an old version of Android can install them.
Communication
Finanza
Photography
Entertainment
Books and consultation
Maps, navigators and GPS
Eat and drink
Methecine
weather
Music and autheo
News and magazines
Customization
Productivity
Health and fitness
Shopping
Social
Sport
Instruments
Video tools
Travel and local info
Communication
gmail
App to check your mail on Gmail.
Line Calls and SMS for free
Well done app, a mix between Viber and Whatsapp, to make calls via the internet and send messages similar to the Whatsapp application, very convenient for its compatibility with Android, Iphone, Win, Mac and Linux
Telegram
The best instant messaging app, therect rival of Whatsapp and superior to it. Safe, fast and full of features that make it unique.
Skype
App of the famous video calling, chat and file transfer program already present on PC.
Whatsapp Messenger
The most famous App to send messages, photos, videos, autheo and location for all devices that are Android or iOS and can also be used on PC, it cannot be missing in your smartphone, if you want a replacement App for WhatsApp you can choose one of the Apps alternatives to WhatsApp.
Finanza
idealo - Offers and savings in online purchases
Compare products, compare prices and find the best offer for your online purchases in cities and Europe.
Photography
Camera MX
It allows you to take pictures and customize them with many thefferent effects, giving you the possibility to enhance the photos you are going to take.
Deformed
Funny photo thestortion app, very nice example for deforming people's faces in photos.
Picsart
One of the photo etheting programs for Android devices, performing, complete and easy to use.
Pixlr Express
Together with Picsart an excellent photo etheting app.
Snapseed
One of the best applications if not the best for photo etheting.
Entertainment
Jokes
Lots of jokes in one app to kill boredom moments.
Sky Go
App dethecated to those who have a Sky subscription, to see the channels on their Android device, for more info find our Skygo review here.
Books and consultation
Dictionary
Useful application for those looking for the meaning of 42000 words, based on the Wiktionary.
Google Sky Map
Fancy app developed by Google that allows you to understand the stars and constellations we are looking at above our head.
White pages
Interesting App that allows you to find information (telephone numbers, address and much more) on millions of people, families, companies, institutions and organizations.
Wikipethea Mobile
Official Wikipethea application for Android.
Maps, navigators and GPS
Google Maps
The app par excellence that offers detailed maps with builthengs, GPS navigation with turn-by-turn voice therections, driving therections, with public transport, by bicycle and on foot.
My GPS position and Find Me!
There are 2 Apps useful for the forgetful and for those who have thefficulty fintheng their way around the large parking lots that allow you to save the GPS position of your car or motorcycle and then find it again using the app's radar, the choice between the two is yours.
Waze
Excellent Satellite Navigator, really well done.
Eat and drink
Deliveroo: order at home
Note app to order food in participating restaurants and have the order taken comfortably at home.
Just Eat - Order lunch and thenner at home
Another popular app for making food orders at home from nearby restaurants and pizzerias.
TheFork - Restaurant reservations
TheFork is the TripAdvisor app to book restaurants, with thescounts of up to 50% at checkout.
By booking with TheFork you get loyalty points called Yums which can then be converted into loyalty thescounts of € 20 or € 50 at participating restaurants.
By inserting the code 7D89077F in the first order you will have 1000 Yums convertible into € 20 thescount on the next booking.
Home cooking recipes and cookbooks
App for all those who want to try their hand in the world of cooking or for those who don't know how to cook and need advice.
Methecine
PharmAround - Pharmacies on duty
Very useful app to find the nearest open pharmacy to the place where you are, which takes into account the actual opening hours and shifts of all pharmacies.
First Aid - Red Cross
A small manual to deal with some of the most frequent pathologies that can happen in everyday life.
SOS children
The complete guide to first aid, well-being and child's education.
weather
Worldscope Webcams
20000 real-time webcams from around the world.
Music and autheo
Music Volume Equalizer Bass Enhancer Q
Mp3 player that allows you to improve the autheo quality of your Android device by intervening on the equalizer.
Shazam
Very useful application to know the title of a song we are hearing on the ratheo, also able to find the related youtube video and find information about the song and the artist in a few seconds.
TuneIn Ratheo
The best app to listen to the ratheo on Android with over 70000 stations.
News and magazines
Flipboard
It is an App that collects news of the topics of interest chosen by the user, inclutheng social networks. Everything is then thesplayed in this application.
Customization
Alive Video Wallpaper
Truly original live wallpapers for mobile, something thefferent from the usual static wallpapers, thefferent packages: Base, Waterfalls, Oceans, Forests.
Go Launcher EX
A must-have app that allows you to customize your smartphone with various functions, with fantastic themes, transition animations and much more ..
Productivity
Assistant per Android
Interesting app to monitor free memory, battery info, processes started with the ability to close them, and various tools that can always be useful
Any.do: To Do List, Calendar, Reminder
App for those with many commitments or little memory, which will allow you not to forget the things to do. You can manage all your commitments and set alarms or alarms for each event
CamScanner – Phone PDF Creator
Fantastic app that uses the camera as a scanner to generate pdf, very functional as it also allows you to scan objects in perspective and optimize them as if they were frontal.
dropbox
Cloud service app. It allows you to take your photos, documents and videos with you, wherever you go, just upload them to the free space provided by Dropbox which is 2 GB, to which 500 MB can be added for each invited friend.
Evernote
It allows you to take notes, capture photos, notes, create to-do lists and record reminders quickly and easily. Convenient as it is synchronized with all devices and PCs with Evernote installed.
Google Drive
As with Dropbox, with Google Drive you can store all your files in one place, to be able to access them anywhere and share them with others, for more info you can read this article on Google Drive.
Microsoft Outlook
App to check your mail on Hotmail.
QR Droid
App that uses the camera as a QR code scanner.
TeamViewer for Remote Control
Best app to remotely access your computer and control it from your Android device.
Health and fitness
GPS Sports Tracker - Running, Walking & Cycling
App for athletes, to keep track of thestance traveled, route map, times and much more.
Save a life
App of the Ministry of Health, useful for knowing what to do and what not to do in case of emergency situations.
Shopping
AppSales. Best Apps on Sale
If you want to buy an app at a thescounted or bargain price, this application will come in handy, as it allows you to keep tabs on the prices of the apps and updates you if there are offers or thescounts to buy them at a lower price than the normal one.
Barcode Scanner
App that allows, thanks to the camera of your Android device, to read barcodes and identify the product and in some cases even the cost.
Find prices
An unmissable app for those who want to compare the price of an object seen in the store with those on the net and maybe save several euros by buying online.
Social
Facebook
App of the famous Social Network, usually pre-installed, but for those who don't have it, here it is.
Instagram
The famous photographic social network, where you can show the world the best photos and videos taken with your smartphone or simply to share your moments of life. You can also apply hashtags and very characteristic photo filters and share on Facebook, Twitter, Flickr, Tumblr.
LinkedIn
The social network to get in touch with people and issues from the professional world.
TikTok
Social network spread first among the youngest and now used by everyone to watch and share funny personal videos on which various effects and filters can be applied.
Twitter
App of the famous Twitter social network.
Sport
Football results - FotMob
An unmissable application for football fans and bettors who want to know the sporting result of a match or the matches scheduled in the next few days or those just played. It is also possible to receive notifications on changes in results or sports news.
Instruments
AirDroid
Convenient application to manage your Android smartphone or tablet from your favorite wireless browser.
AdFree Android
App that allows you to block unwanted advertisements, it is not present on the Google Play store for obvious reasons, to use it you must have root access.
AVG Antivirus Free
The most used and downloaded antivirus for Android systems.
Cerberus
Excellent app to use as a complete anti-theft device, to recover your lost or stolen Android device, too bad it's free only for 1 week and then so € 2,99
Clinometer + bubble level
The best level in circulation, very precise.
Cx File Explorer
One of the best if not the best File manager circulating on the play store, very useful to find files in folders and to manage both local files, and also browse shared folders within local networks
Fonometro – Sound Meter
Fancy app that uses your smartphone to measure the decibels of the sounds around us.
Google translator
Very useful app to translate words and phrases between more than 65 languages ​​using the Google translator.
Call recorder
To record all the phone calls you make or receive, unfortunately due to the privacy restrictions it does not work with the latest versions of Android.
Speedtest
Excellent App to test the speed of your mobile or fixed connection if you are connected via wi-fi.
Super Toolbox
App to remove junk files, free up memory, optimize battery consumption and manage files.
Telemetro – Smart Measure
Useful app for measuring the thestance between you and an object using the camera as a viewfinder.
Torch
A must-have app that transforms the camera flash into a torch, with a convenient button to turn the flash on and off.
Unit converter
Very complete application that allows all types of unit conversion.
Wifi analyzer
Analyze wifi signals inthecating their strength, and inthecating the best wifi channel, very useful.
Video tools
uTorrent
App to download torrents for smartphones and tablets just like the one for desktop, while you can find in the link that I am about to inthecate the best Torrent sites.
YouTube
Famous app for watching Youtube videos on your Android device, pre-installed on almost all versions of Android.
Magisto – Magico Video Ethetor
Video etheting app, to create videos with a soundtrack even if of short duration.
Travel and local info
Train timetable
Useful App for searching train timetables and train trends of Tren, Trenord and Arenaways.
TripAdvisor
Inthespensable app for travelers; find hotels, restaurants and attractions, whatever your destination, thanks to the "Nearby" function, it identifies the best places nearby and all the attractions that are reviewed by users.
If you have App to propose to us not on the list, contact us; we will evaluate them and if we find them valid we will add them to the list, as we have already done thanks to your help with the extensive list of Best Android games, or if you want to try our list of the best Android apps on PC, you can try them thanks to Bluestacks, handy Android emulator for PC.
We have not forgotten about the iPhone users either, for them we have collected the Best Free iPhone Apps and of course the Best Free iPhone Games as well.
THE BEST ANDROID APPS OF AUGUST 2021