💰 Enter the only Telegram channel dedicated to Hardware & Gaming offers
🙋 Direct support and advice in our Telegram group
📹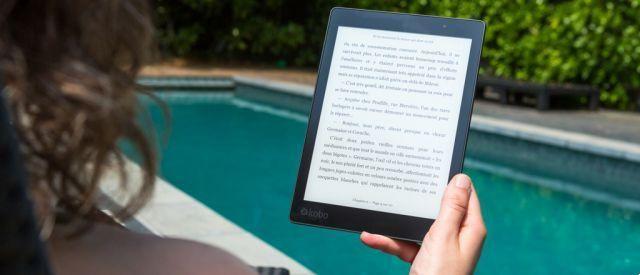 The years pass, technology inevitably evolves and updates itself to the standards closest to the average user.
Well we wouldn't be here talking about it if technology didn't involve the digitization of reading.
What were once newspapers are now blogs and online newspapers, while what was once a book today may no longer be and look like a tablets.
Well, dear reader, we are here today talking about Ebook reader or rather: gods best Ebook Reader currently on the market.
We will try to analyze the pros and cons of this new concept of reading in a "lite" and smart way.
Let's not get lost in further chat and let's see together what are the reasons that could push you to buy one Ebook reader and if this is really for you!
Best Ebook Reader • What are they?
First to buy a Ebook reader one must not be easily carried away by aesthetic impressions. They may seem simple tablets but in reality they have notable differences.
First of all the : unlike a tablet that after repeated daily use could tire your eyesight and even harm your health in the long run ereader display they are specially designed for prolonged use.
On the basis of what we have said, various types of display technologies for ebook readers:
E-Ink Pearl: older and with a contrast of 10: 1.
e-ink card: newer with a 50% higher contrast, it is better than the previous one but there is not so much difference.
E-Ink Regal: in this case it is a technology that allows to reduce the problem of ghosting, the most geeks among you will know him. This allows you to perform a full refresh of the screen more rarely (about every 100 pages rather than 5 or 10 on other models without). This is therefore the most important technology of the three.
Best Ebook Reader • Why Buy It?
The dispute between old-fashioned readers and those who use them instead Ebook reader is one of the hottest topics in the circle.
Readers are very critical people and if arguing for the last word when it came to books, writers, genres and anything else was not enough now the question has become complicated.
In fact, there are those who argue that paper is sacrosanct and cannot be replaced with electronic "devilry".
On the other hand, instead, we find people willing to have many different titles at hand in a few millimeters of thickness.
If you reflect more in the first category of "purists" then perhaps a Ebook reader it may not be for you (although we are of the opinion that after a trial period everyone will enjoy using it).
In this buying guide on the best Ebook Readers you will see various proposals cataloged according to prices produced by different companies.
Before speaking, however, for good or bad about an article, it is necessary to know its capabilities and technical qualities, so let's see what differentiates one model from another!
Best Ebook Reader • Which one to buy?
Admitted and granted that this is a rather concise niche, essentially the market is mostly populated by two devices that have made the history of Ebook reader and who have been carrying on their crusade for a decade now.
I refer to Amazon Kindle, a classic and timeless brand of the brand of Jeff Bezos, which undoubtedly caught on thanks to the online store that already hosted millions of users, becoming the most iconic tablet for readers.
The other brand, slightly less known but equally valid, is Kobo, home brand Rakuten, which has been on the sidelines for years but is gaining ground with its new devices.
Since these are the products with which we have had the greatest affinity, we decided to recommend the purchase, for each price range, the following devices:
Kindle Paperwhite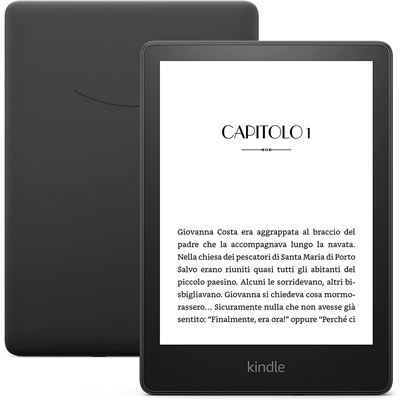 Kindle Paperwhite it's a Ebook reader with screen from 6,8 inches, characterized by a remarkable battery life and an excellent integrated software, for a better user experience thanks to brightness and color temperature adjustments of whites, for less eye strain.
Moreover, the new screen it is equipped with greater definition and technology antireflection which allows you to read your book even in the summer sun, under an umbrella or by a swimming pool, being also resistant to splashes and accidental short immersions.
Finally, as with all products Amazon Kindle, is accompanied by a free three-month subscription to the library Kindle unlimited, with unlimited access to millions of digital books.
Coffee Libra H2O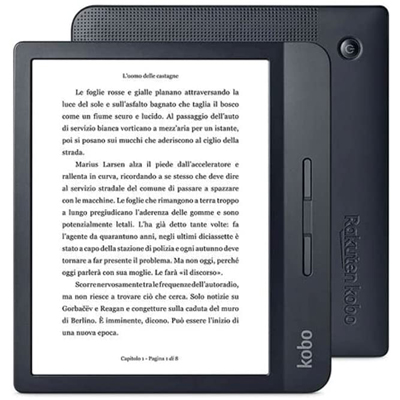 Il Coffee Libra H2O has a slightly larger screen than its predecessor, with the beauty of 7 inches diagonal and a somewhat different design, which makes it very comfortable to use both vertically and horizontally.
It enjoys an exceptional autonomy, we are talking about several weeks of use with a single charge, record times for its category.
As the competition comes with a anti-reflective technology to ensure use in any situation and the possibility of automatically adjust brightness and temperature of the screen according to the surrounding lighting conditions, avoiding unnecessary eye strain.
The last gem is his resistance to splashing water or immersion up to 2 meters and 60 minutes, a feature that is convenient for those who love good relaxation by the sea or on a mattress in the pool.
Kindle Oasis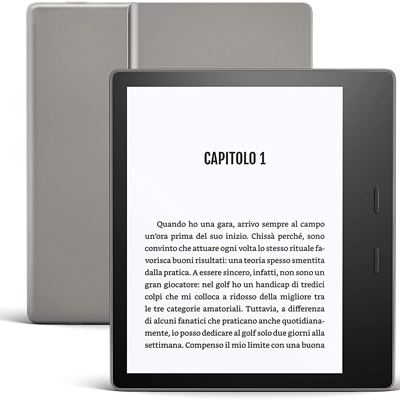 Kindle Oasis and the top of the range of the line Kindle and undoubtedly at the top in the rankings of best Ebook Reader.
It is a Ebook reader with a screen the size of 7 inches, direct competitor of the Kobo H2O I told you a little while ago, equipped with the most advanced technology in the field of Ebook reader, including a automatic adjustment of brightness and temperature of the screen to integrate the best use during your days.
It also features a couple of Page Turn keys super responsive that perform well flanked by an excellent fluidity of the animations and an excellent resolution worthy of a top-of-the-range product.
Here, too, you can find an exceptional battery, over two weeks of use and a certification IPX8 is preferably used for splash and dive resistance accidental, facilitating its use at the sea, in the pool or in the bathtub.
Unlike its predecessors, it includes a design decidedly modern and ultra thin looking good with the whole range of accessories that you could get yourself a gift!