A good stereo system it cannot be missing in the homes of fans, of those who not only love to listen to some good music but above all those who seek high fidelity. Where to start though? Don't panic: we're here for today help you build a hi-fi system worthy of the name.
Liquid Music
In the last thirty years the way of enjoying music has changed. We have gone from traditional media such as vinyls, CDs or tapes to new technologies such as mp3 players up to streaming services. The whole of all that music that can be used without physical support is defined, in fact, liquid music. The advent of these new forms was a huge leap, today we are used to potentially drawing on an infinite number of tracks, an approach light years away from the 33 rpm vinyl that contained a maximum of 30 minutes per side. The inevitable consequence was a widespread diffusion and unprecedented portability, in fact a smartphone is enough to access music libraries anywhere, or an advanced mp3 player to carry thousands of songs with you in a pocket. But unfortunately we have accepted many compromises, liquid music is possible thanks to compressions and processing of the original audio files, processes that significantly affect their quality. There are many possible listening formats, made with different systems. Over the past fifteen years, technology has tried to fill the gaps in audio quality and some encodings have emerged that can cope with this problem.

From vinyl to mp3
Tapes were the first musical media to make music portable, albeit with all the limitations of the case. The recording of audio tracks on these devices still maintained a warm timbre. The CDs followed the path of portability even if the initial audio formats were very different from the current ones. Among the many audio formats of the time, the first real leap was with the introduction of mp3. A revolution in terms of portability because it already allowed CDs to contain a much greater number of tracks. The process by which original audio files are converted to another format, including mp3, is called compression. Compression helped us get used to low quality listening but contributed to the widespread diffusion of music.

Compression of audio files
The compression process leads to the loss of a part of the original information. This means that by decompressing a compressed file, i.e. restoring it to its original state after the compression process, we will have a worse result than the original in terms of information precision. This compression method, which has its best known exponent in MP3, is called Lossy. Thanks to this system you can reduce the space occupied by an audio file in a consistent way, hence the possibility of inserting more contents within a device.
To try to make up for this loss of quality, compression support processes such as psychoacoustics have been added. The psychoacutistic model is a set of algorithms that indicate which part of the audio signal can be removed or heavily compressed without generating problems, i.e. without significant losses in sound quality. To do this psychoacoustics is based on human anatomy, in particular on the limitations of perception of the ear such as the high frequency limits, the pain threshold, the absolute threshold of audibility and so on. In essence, psychoacoustics leads us to the illusion of hearing sounds that are not actually there, to compensate for the damage caused by compression.
LOSSLESS: no to data loss, yes to quality
Over time, however, other types of compression have also taken over audio defined as lossless, i.e. without data loss. In this case there is no removal of information from the audio stream. Conversely, one of the main problems is that this type of process does not always guarantee a reduction in file size. One of the most relevant lossless formats is FLAC, as well as supported by most audio software is used by the Tidal platform, a streaming music service that has chosen to offer uncompressed quality audio tracks compared to Spotify which has opted for another technology.

Return to quality: vinyls and turntables to the rescue
Technological evolution in the music field has grown generations of kids unable to recognize good musical quality. The systems that made music more portable also made it colder, stripped of all the warm, mellow undertones typical of old media. From this slice of the market more has been made the demand for a change in quality is bursting and we have thus witnessed the rediscovery of old technologies. Vinyl has regained market shares and with it also the supports for reading them, which in the meantime have evolved. Today it is possible to choose between classic turntables and models that they integrate a lan or wi-fi connection, are manageable from smartphones and can support streaming music playback. The possibility of turning on that dusty turntable in the attic has also returned for enthusiasts, in fact there are numerous sites where you can retrieve spare parts and components.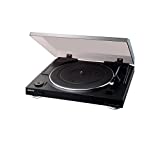 Sony PS-LX300USB Turntable, USB Output for Conversion ...
Nominal speeds: 33 1/3, 45 rpm
Playback formats: MP3
AC input frequency: 50/60 Hz
Buy on Amazon
How to listen to music at its best
To enjoy a good sound there are many possible choices but what we want to pay attention to is the budget and the space at your disposal, you can easily listen well without spending too much as we can make a good system with low figures. Don't assume that the absence of professional systems necessarily means low quality, sometimes it's better to opt for a good pair of headphones than to go too big.
Casse preamplificate
The cheapest and easiest solution to implement even in confined spaces is without a doubt this: a nice pair of pre-amplified speakers. This type of speaker contains internally all the elements to amplify the input signal from a source. In addition to being a practical solution, it is also a modular option, in fact it is also compatible with more complete listening systems. Thanks to this system you can connect your audio source directly, from your smartphone, to a more complex ecosystem (such as Google Home, Alexa, etc.), a CD player, a turntable or a PC and start listening.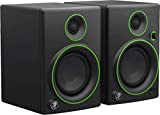 Mackie CR5BT - Bluetooth Multimedia Monitor with Woofer ...
Studio quality design, sound and performance perfect for multimedia creation and entertainment
Professional-grade components to optimize sonic performance
Extremely wide frequency response range, ideal for full-range multimedia (70Hz - 20kHz)
162,49 EUR Buy on Amazon
Mini or traditional stereo system
The next step is to acquire a more complete music reproduction system or a hi-fi system. There are two macros together:
mini stereo system: a complete but limited music playback system. It is equipped with a central station dedicated to music reproduction, often compatible with both streaming services and with CD media or connection of multimedia devices; and a couple of speakers. Excellent solution for budget and limited available space, it is perfect for staying in a library. If you are looking for high quality and fidelity in musical reproduction, however valid this system is, it is necessary to climb a step and equip yourself with a traditional hi-fi system;
traditional stereo system: a complete music reproduction system in all respects. In this case, the system will consist of separate elements, i.e. a source, a dedicated amplifier and audio speakers (speakers). Being a complex system, the risk of exceeding the budget is quite high, each component can reach excellent but very expensive quality levels, furthermore, if you do not have a minimum of skills in the sector, the danger is to invest money in the wrong component, obtaining an unsuitable system. balanced. After the right evaluations we guarantee that the final result will undoubtedly be a cut above all other solutions.
Headphones
Often the need is mobility or in environments where the space is shared with other people, or even estrangement from the surrounding world and immerse yourself completely in the music. How can we respond to these priorities while always lending our side to good quality? Simple! With a good pair of headphones and here are some considerations to make:
source: for greater compatibility it is advisable to check that they can support both the audio cable and a bluetooth or wi fi connection so that you never have to limit yourself in any situation you find yourself;
comfort: it would be extremely annoying to indulge in musical entertainment and have to interrupt it due to pain in the ears or head, so pay attention to the material and the construction method;
supply: if you opt for both cable and wi-fi (or bluetooth) solutions, always check the battery life or you may find yourself running out of notes;
technical specifications: obviously all headphones have technical characteristics that describe their quality (impedance, sensitivity, noise cancellation, frequency response, etc.).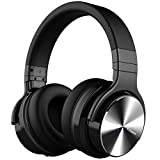 Cowin E7 PRO Active Noise Cancelling Bluetooth Cuffie con...
Professional technology for active noise reduction. Significant noise reduction for travel, work and ...
45mm wide-aperture drivers deliver deep and accurate bass response. From 75dB to 85dB, the COWIN E7 ...
Enhanced soft ear cushions for comfort with earcups that rotate 90 degrees - these Bluetooth headphones ...
Buy on Amazon
How to build a stereo system: the definitive guide
The most complete solution is obviously to build a system at home, a great challenge! Let's start with the basics: a good system is not the most expensive on the market, but the one that best meets your needs. We must therefore consider three vital parameters:
what are the audio sources to draw from (smartphones, tablets, dock stations, streaming services, CD players, vinyls, computers, consoles, smart TVs, etc.);
where you want to listen to music (only in the living room, bedroom, studio, different music for each room, etc.);
the budget available with which to build the system.
The sources in a stereo system
The first element to consider is the source. It is very likely your primary source is a streaming service, which means you'll need to get hold of - but chances are you already have - a device that supports this technology. Nothing unusual is needed: smartphones and tablets are more than enough for the purpose. But pay attention to quality. First of all because streaming, of all the methods provided, is not what guarantees my acoustic experience possible. Secondly remember that not all services are the same. There's a reason our headphone test playlist is on Tidal and not Spotify.
An analog source: the good old turntable
If you have a few more resources, we recommend that you switch to physical media and, in particular, to disks. This means that you will have to look for a new turntable. In this case there are some characteristics to take into consideration to buy a good quality object:
speed: double to read 45 and 33 rpm
belt drive: Preferred if the mechanism is integrated into the chassis
DC servomotors for greater reading accuracy
straight light arm
as automatic as possible especially at the beginning and at the end of listening to music: Pressing a single button will save you time and prevent you from putting your hands on the mechanical arm too often.
The amplifier in the stereo system: Solid State or Tube
"Don't Panic" as a book with "big friendly letters printed on the cover" said (cit. Intergalactic guide for hitchhikers - Douglas Adams). Let's analyze the two options available:
SOLID STATE AMPLIFIER
is a digital amplifier that it uses a set of transistors or mosfets (semiconductors used in electronics) such as active elements to amplify an input signal, increasing its power and amplitude. From this it follows that we will get a precise, very detailed sound, but on the other hand we will have less character, cold and a lot of power in Watts. But we will see later that the few watts of a tube amplifier prove to be much more performing than those of a digital amplifier. Finally, it should be emphasized that this kind of instrument has aexcellent durability over time, it heats very little, does not require any maintenance and it does not need too much space.

VALVE AMPLIFIER
is an analog amplifier that uses thermionic valves (or vacuum tubes) instead of transistors (semiconductor devices used in electronics) such as active elements to amplify an input signal, increasing its power and amplitude. From this it follows that the sound will be warmer, mellow and of unquestionable quality than the first. This kind of tools it bestows unparalleled power, however, it should be emphasized that it suffers the most from the effects of time. Small note, in case we have opted for a liquid music source, the tube is undoubtedly recommended because it compensates for the defects of digital music. If excessive physical space was not required for the Solid State, we should take into account here carve out a little more space because this technology is more cumbersome.
Solid State: Yamaha has a whole echo system
Yamaha has developed an excellent echo system in recent years. Thanks to a wireless or wired diffusion system, the systems Yamaha MusicCast are able to reproduce music in high quality in any room, with the possibility of deferred management of the rooms. For those who are always very accustomed to using streaming services, Yamaha has decided to dedicate an entire line to compatibility with these tools. In this way, even the purchase of a single speaker is enough to already enjoy a quality listening, then if you want to integrate the system with more audio speakers and amplifiers we could add elements of the same series in a sequential way. Here's what the line includes:
Soundbar
Wireless speaker
Sintoamplificatori AV
Amplificatori Streaming Wireless
Hi-Fi components
Hi-Fi system
Each component is part of the MusicCast technology so we can manage the elements directly from a dedicated app and create virtual rooms as is our real layout of the audio system. Furthermore, within each room we will have the possibility to select an audio track or even a different audio source, including the various listening volumes. If you want to learn more, here is the dedicated link: Yamaha MusicCast.
Valve: NobSound from the East with fury
At one time this would have meant opting for much more expensive solutions (we are talking about a few thousand euros), but today we offer you a much cheaper and finely crafted as well as aesthetically pleasing solution: NobSound. (And don't say we don't do anything for you!) This brand, which is rapidly gaining market share, provides a full range of amplifiers for all needs: from integrated amps to digital ones up to amplification devices for headphones and smartphones. Not quite the whole range can be defined as a pure valve system, many of the proposed solutions are hybrid, in fact, they have a tube preamplifier system at the input, but with transistor amplification at the output. Bad? Absolutely not since we have the quality of the tube system, the output power of a digital system and its longer life.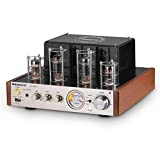 Nobsound MS-10D MKII tube amplifier with Bluetooth / ...
This product is located in Germany, 1-2 days bz reach most of the German regions, and 2-8 days bz ...
Pls note: It is solid amplifier, with perfect sound !!
219,45 EUR Buy on Amazon
Replacement valves
The quality of one of the main components of the system must be considered: the valve. Nobsound is certainly a possible option to start from, but if you want more fidelity and quality in musical reproduction, put your attention on the tubes. Here opens an infinite world made up of codes, brands, construction technologies, types of valves and so on and so forth, but don't worry! We have simplified all your work with 3 simple rules:
If they are valves it is better that they are Russian (maybe even if they are not valves but this .. "the arduous sentence to posterity")
Opt for old components? Yes, they sound inexplicably better : mind you, not already used, but built for plants no longer on the market, in the sector they are called NOS - New Old Stock
We have recommended the NobSound brand that makes great tube amps. But these are delivered to you with modern Chinese valves. If you want to make yourself a gift, replace them with old Russian tubes, perhaps from the Svetlana brand. The sound will change for the better, and not just a little.
Casse
The final aspect of this sound chain is the speakers. At this point we have suggested how to have quality sources, how to maintain that quality in the amplification phase, now the system must express itself in all its splendor. There are many types of speakers and without a shadow of a doubt the topic is vast, but we will try to give you the information thanks to which you can choose in peace
Active or Passive? The first major distinction is the technology on how the sound is managed: active speakers have an internal amplification system (the pre-amplified speakers we talked about above), passive speakers instead require an external amplification system. The ones that are right for us, in the case of an amplifier, regardless of whether it is solid state or tube, are passive speakers;
Floor, bookcase (or desk) or wall: the only indication we can give in this regard is that the rule of good listening would want the speakers at least 30 centimeters away from the wall, therefore those from the floor would be ideal. However, it is not always possible to opt for this type, so in second place we will put the bookcase (or desk) crates that you can place in the most appropriate point. On the other hand, the wall speakers are last because the thick wall willingly generates rumble, so the sound quality sought until now is a little less. A tip, before buying any speaker, try to listen to it and understand what kind of sound you like best.
The technical specifications: as well as for headphones, here too the features are many. It would be advisable for the speakers to be connected via cable instead of being wi-fi or bluetooth to lose as little quality as possible. Another important aspect is the coating, the higher the quality of the same, the more we will appreciate the reproduction of the sound.
Remember that the cost of a speaker is not synonymous with its quality. There are excellent brands, such as the Italian Indiana Line or English Q Acoustic, which produce excellent speakers with excellent and defined sound at absolutely affordable costs.
A few tricks on the location of the stereo system
Already ordered all components? Great! Now we place them. Yep, even the correct position of a stereo system has advantages in the final listening experience. Since it is not always easy to establish all the cases you will encounter, here are some fundamentals to consider:
The room - carefully evaluate the shape of the room where you are going to install everything, it is preferable that it is rectangular and that the speakers are positioned on the shorter side. However, remember that an empty room is never good for listening, rumble is your enemy. The best solution, but also the most expensive, is undoubtedly a sound-absorbing coating for your walls;
Triangle rule: no, forget Renato Zero, we are talking about the listening position in relation to the position of the speakers. The goal is that you, lying on your chair, form the end of an equilateral triangle that will see its other points in the speakers.
Height of the crates: surely attaching them to the wall makes cleaning easier, unfortunately they are subject to rumble and part of the sound disperses into the wall. Also in case of apartment Neighbors may not appreciate. Now take the height of your ear and based on that, determine the height of the chest.
But now, what are we listening to on the stereo system?
Once you have finished installing your system, all that remains is to read this other article in which we have selected songs and listening platforms for you. Happy reading and good listening!
Tags liquid music hi-fi amplifiers nobsound yamaha Liquid music and how to listen to it well with a stereo system