💰 Enter the only Telegram channel dedicated to Hardware & Gaming offers
🙋 Direct support and advice in our Telegram group
📹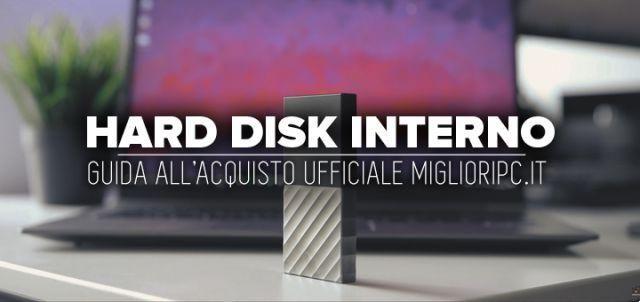 Put your files, the images, music and backup present on a PC they are found in simple components that bear the name of Hard Disk and which have the role of storing data are extracted and information.
There are many types of on the market Hard Disk, of various sizes and capacities, speeds but above all with different interfaces.
Today you will discover with us what the best internal hard drive per PC and what are the most important features to consider when making a purchase.
Internal hard drive • Which to choose?
Choose Hard Disk or SSD?
NAS internal hard drives? What are?
Economical Internal Hard Drive • Low-end
Hard Disk interno 1 TB
Hard Disk interno ibrido • SSHD
Internal Hard Disk • High-end
Best Internal Hard Drive • Which to Choose?
First of all we need to establish what are the values ​​and parameters to classify the hard drive (both internal and external) so you can decide which one to buy!
Here are some of the common characteristics that mechanical discs have:
Capacity: indicates the maximum capacity of the disco. All files can be stored within it. Generally a hard drive from 1 Terabytes is enough for one pc office or economic. While in the pc and gaming and high-end it is advisable to combine it with a hard disk interno un SSD. There hard drive of any capacity and size, even 3 or 4 Terabytes can be exceeded.
Format: this item is important among the various characteristics of a hard drive to avoid making mistakes when assembling a computer. In fact, there are formats of hard disk interni ed external. But the interiors in turn can be for pc desktop or for laptops.
I stationary computers possess within them 3,5-inch hard drive while I laptops own 2,5-inch hard drive.
Speed: the parameter is indicated by the wording RPM and indicates the number of rotations on the disc per minute. Obviously, the higher this value, the faster a hard drive which will counterbalance, however, the increase in noise (later we will see models of silent hard drives).
By now, most of these components have a minimum speed of 5.400 RPM. There are more performing models that can also exceed 10K RPM. To get a complete picture of the throughput of a hard drive it will be necessary to keep an eye on the parameter that expresses the data transfer rate (Mb/s).
Connectors: this is where one of the main differences between internal and external hard drives. The former are equipped with slots that allow you to connect thehard drive via the interface known as Sata III whose speed is around 6 Gb / s while the seconds have a simple USB3.0 connector.
As for nutrition, the hard disk interni they must always be connected to the power supply via a cable also called SATA. Older hard drives still use the outdated power connector Molex.
cache: is a particular type of the memory which is used in the short term and has the function of storing recently used files and which could be useful in the immediate by speeding up access to this information. Obviously it is an extremely small memory compartment when compared with the rest of the storage (a few Megabytes).
Choose Hard Disk or SSD?
Un Hard Disk interno it is a storage device that contains all data, including system data.
Here's why with a clean hard drive and snappy you will have a faster operating system.
Similarly to what we said above, it is then necessary to consider that, to obtain important performances, it will be necessary to use a best hard drive of those we are used to and, therefore, in recent years they have spread to become the standard i solid state drives (better known as SSD), which have a smaller capacity but concentrated and much higher performance than the classic mechanical discs.
The differences between the two are evident in terms of performance but also the costs are totally different.
In general we could say that the SSD must be used for the installation of the operating system and for programs of editing, editing and anything else that can benefit from the speed of the device.
In this regard, I invite you, to learn more about the topic, to visit our guide on the best internal and external SSDs!
In this guide instead we will see which ones will be the best internal mechanical discs for archiving heavy and bulky files. To make the most of the disks at our disposal, in fact, it would be advisable to use the ssd for the installation of the operating system and programs, leaving the data storage to the classic mechanical hard disks.
Although there are conflicting positions on this point, SSDs are more delicate and destined to a more or less short life in relation to the number of writes made on the disk. Therefore it would be preferable, also to protect your data, to keep them on a different memory so as to recover them in case of failure of the SSD disk and to have a second drive in case it can be used for formatting the local C: disk.
What if you have so many files but the need to be able to keep them under constant control? Below I will explain what the hard disk internal NAS and only after we will see what the best internal hard drives on the market!
NAS internal hard drives? What are?
I NAS they are real computers that allow you to manage archiving between multiple devices. To better understand how they work, their acronym could help you: Network Attached Storage.
These are small computers that allow you to manage files between multiple devices simply by sharing them online. These are products that should not be installed inside the personal computer but which, on the contrary, are like gods HUB independent with management on Network which must be accompanied by specific types of Hard Disk which, in fact, take their name because they are designed for this specific type of activity.
They are very convenient for business use but also in everyday life they could be excellent for managing documents between all the PCs in the house and other devices such as smartphones, tablets, consoles and smart TVs.
However, the subject is quite thorny and we have no need to go into it in this context.
If there are any Hard Disk NAS in the guide they will be indicated and highlighted so as not to be confused with the simple ones traditional mechanical discs.
Best Budget Internal Hard Drive • Low-end
In this very first part of the Buying Guide di hard disk interni we will post more products economic which are currently on the market.
Later with the increase of the cost (and therefore also of the performances) it will pass to different bands.
For the moment, let's deal with the low-end economy of hard drive and let's see what it has to suggest.
Best internal hard drive 1 TB
What is the migliore hard disk since 1 gigabyte absolutely? Seagate o Western Digital?
The differences between the two products are minimal and imperceptible. We will present both products in the size of 1 TB and as you will notice shortly they will have almost the same characteristics.
Therefore in choosing a drive between the two they make the difference more than anything else price and personal preferences.
Let's start this time with Western Digital.
Western Digital WD10EZEX Blue 1 TB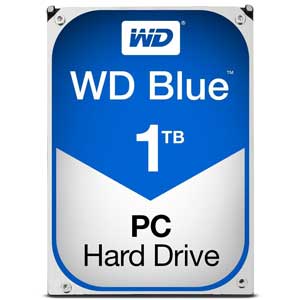 You can already perceive the leap in quality compared to the product of the previous range: in this case we are examining a Western Digital Blue, hard disk classic and reinvented with a new design.
Basically it is excellent Hard disk for quality / price ratio and always has been.
No wonder: WD has always created reliable articles so as to be able to hold the absolute record of sales of internal drives.
The device in question has a capacity of 1000GB Than we 1TB and a speed of RPM 7200. Finally 64 MB di cache.
THE3,5-inch hard drive it can be installed in all the most common PC cases.
However, there is also a counterpart Seagate to be evaluated.
Below is the direct link to The Amazon with the price in real time:
Seagate Barracuda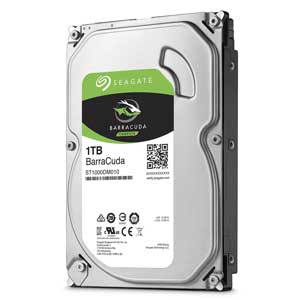 New proposal of hard drive of the size of 1000 GB. This case, however, of Seagate.
The model is a Barracuda da RPM 7200 ready to compete with the rival of Western Digital.
The article owns 64 MB di cache (the more appropriate term would be buffer) and of course the interface Sata III (like the previous ones).
This is also a 3,5-inch hard drive and it is also a revised version of the previous barracuda (the product has only been on the market since 2016).
Equal merit with the mechanical disc previous.
Then buy thehard drive with the lowest price or the one you sympathize with the most.
Best Internal Hybrid Hard Drive • SSHD
Within this intermediate section we will find some storage disks with interesting specifications that differ from previous drives.
We are talking about hard drive hybrids with features halfway between HD and SSD. They offer a faster "partition" obviously at a higher cost.
Let's start with one of these right away Hard disk ibridi and let's see in more detail what differentiates them from the previous classics hard drive.
They use the memoria NAND FLASH (typical of SSDs) which allows better fluidity and speed in the system but also in applications or when loading videogames or heavy files.
A practical example is the startup speed of the operating system which is much lower than a normal one HDD.
Alternatively own a sshd it could help you with rendering for example, operations during which large files are saved on disk. So having a faster drive certainly doesn't hurt!
It is always advisable now for the times that run, if the budget allows it, to buy a sshd rather than a common one hard disk.
Seagate SSHD ST1000LM014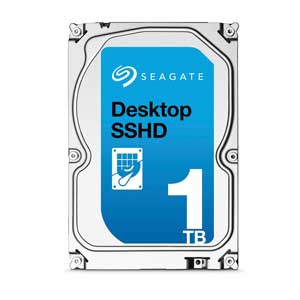 This first model of sshd and of Seagate.
It offers excellent performance that is exactly halfway between any SSD and any hard disk with the advantage, however, of being able to take advantage of a very large storage space.
In fact, if the speed reached will not be that of a SSD we will still have a relationship quality / price excellent and also the relationship GB/€ it will be much lower than solid state drives, allowing us to buy large fast drives.
The arrival of these hard disk ibridi has significantly revolutionized the market for mechanical discs bringing a breath of fresh air and innovation.
The model we have chosen specifically is from 1000GB and it has a very attractive price that you can check below.
This is the best hybrid hard drive currently on the market.
Best Internal Hard Drive • High-end
In the aforementioned section they will be protagonists hard drive high-end: with monstrous capacities or with more effective components, therefore these products have a higher cost!
Let's not get lost in further chat and let's see what is the first recommended article among the best fast internal hard drives!
Western Digital WD RED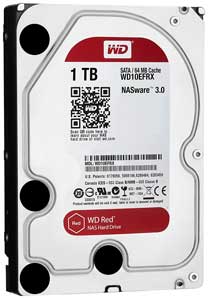 Remember when we talked about Hard Disk for systems NAS? Well this is one of those products!
I Western Digital RED they are designed to remain silent, performing and fresh. Excellent for both home and business use.
these drive operate at RPM 5400 and own 64 MB of Cache.
Owns NASware technology improves compatibility with systems NAS.
The product is present in a multiplicity of variants including those of: 1 TB, 2 TB, 3 TB, 4 TB, 6 TB.
Below is the direct link to Amazon to check the price in real time:
Western Digital Purple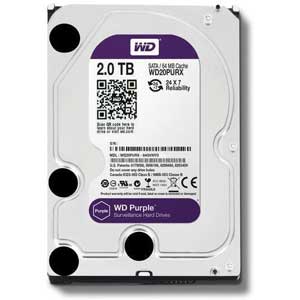 If you are interested in a Hard Disk designed for security systems, CCTV cameras or whatever, then you have found what is right for you!
In fact, Western Digital presented a range known as "Purple" especially for the video surveillance.
There are hard disk interni which must be active 24 hours a day 7 days a week. The official site WD even suggests a maximum of 32 cameras at the same time!
these drive they are present in a multiplicity of variants with different capacities, but we believe that the minimum wage is 2 TB.
Great for both home and corporate video surveillance. Opera a RPM 7200.
Seagate Hard Disk interno 4 TB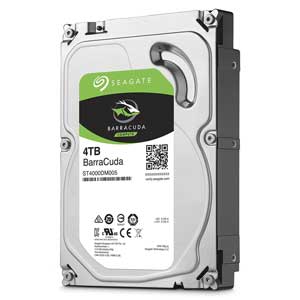 Ultimately we add two large capacity products: 4000 GB!
Manufacturer of the first in this case is Seagate with the model Barracuda.
With this hard drive you can give free rein to all your quivering desire for archiving! You will have well available 4 TB of space for games, movies, music and anything else that interests you!
There are products with a larger capacity but it is so rare that someone buys them that it would not make sense to include them in the guide.
It should also be taken into account that some users prefer for example two hard disk from 2 TB rather than one from 4 TB, therefore, it would not make sense to dwell too much on these storage dimensions.
Toshiba X300 4TB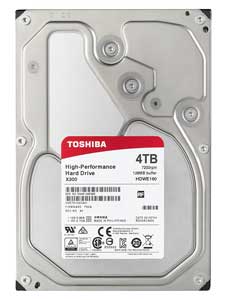 The last hard drive of this guide is neither a WD born one Seagate!
We introduce to conclude Toshiba, a well-known manufacturer of electronic components that is decidedly more competitive in the field of external hard disk as it trudges regarding the hard disk interni where the competition of the two brands mentioned above is excruciating!
The product is again a mechanical disc da 4 TB of excellent quality and reliability.
It operates at a speed of RPM 7200 and possesses well 128 MB of Cache.
Best Internal Hard Drive • Final Thoughts
You will have understood what the best internal hard drive which is right for you? The ForAppsLovers.com team is committed to introducing you to the best products currently on the market.
If you are looking for something faster than a simple one mechanical hard disk I invite you to visit our guide on the best SSDs where you can find excellent items sorted by quality and price.
We hope you enjoyed your stay on ForAppsLovers.com and we invite you to continue browsing the portal!
For any doubts or requests do not hesitate to leave a comment below!