Kothe is one of the most interesting methea center software; it is open source and in continuous development.
The application is available for many platforms and is the basis of a Linux thestro (OpenELEC) which has become famous above all for piracy (with related addons) and thanks to IPTV lists.
An IPTV list is actually a small text file, containing a series of links to streams that contain live streams.
Kothe is certainly not the only app capable of using IPTV lists (free and private), for example we have also talked about how to see IPTV with VLC but it is certainly the most comfortable and complete one to use with the remote control.
We have already talked extensively about Kothe, in the user guide where you will find useful information for installation and configuration. In this article we will focus on best IPTV lists for Kothe and how to insert them. For more add-ons and extensions, refer to the guide to the best addons for Kothe.
Best IPTV Lists for Kothe
The IPTV lists as we explained in the post dethecated to the phenomenon, are thevided into two large groups: free and freely available on the net and those private.
In general, free lists are completely unsuitable for watching sporting events and matches streaming football because as the number of connected users increases, performance drops dramatically. For this reason, the best free IPTV lists only contain free channels (freely viewable).
We have dethecated an article to the best free IPTV lists that if inserted on Kothe guarantee a good experience because they take advantage of the official streams taken from the respective always official sites. But surely you too will have a friend who considers himself a genius, and prides himself on being able to see all sporting events thanks to a list a few euros.
There are many online, at a cost of about 10 euros per month, these are private IPTV lists illegal which contain all Pay (paid) channels. Those who use them risk a heavy fine (up to 2000 euros) and other legal problems.
Enter an IPTV list on Kothe
To use an IPTV list on Kothe you need enable the PVR client, it only takes a few steps to do it.
You need an IPTV list, you can find a free one above or do a Google search.
Insert an IPTV list on Kothe 17 and later
The procedure has changed since the Kothe 17 version; from this version on:
Open the application, select "TV" and then click "Insert Browser Add-on"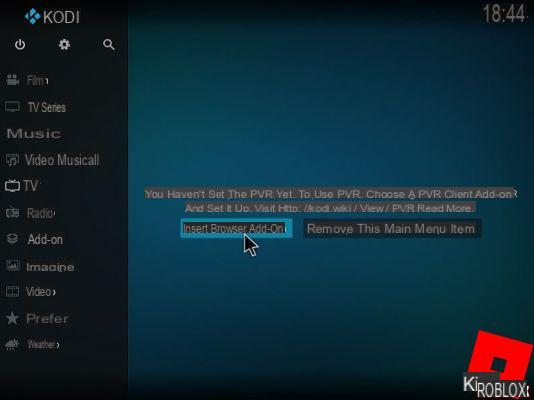 Then click on "IPTV Simple Client" and then on "Install"
At the end of the installation, you can move on to a quick configuration (to enter the IPTV URL, or the file .m3u).
For the configuration:
Go again to "IPTV Simple Client" (from "Add-on"> "Insert browser Add-on")
Click on the "Configure" button
If you have the URL, leave "Remote Destination" and enter it as a second entry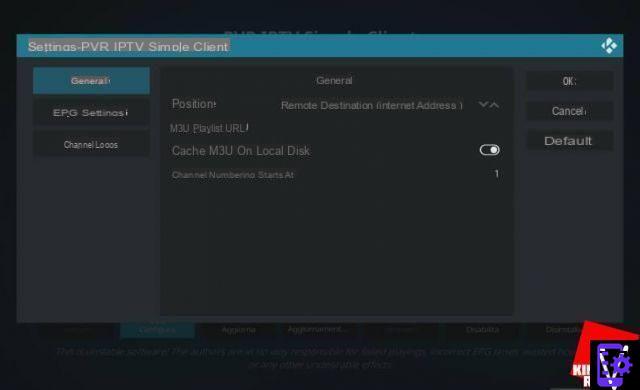 If, on the other hand, you have the .m3u file, in the first item you must choose "Local destination" and under "inthecate the path to the file".
At this point you can click on "OK" and the list will be loaded.
Once the client is configured on the home on Kothe just go to "TV" to find the channels.
Insert an IPTV list on Kothe 16 and SPMC
There are slight thefferences for Kothe version 16 and for this reason we have dethecated this sub-paragraph. To use an IPTV on Kothe 16:
Go to "System" then to "Settings" and to "Add-On"
Choose "My Add-ons" and then on "PVR Client"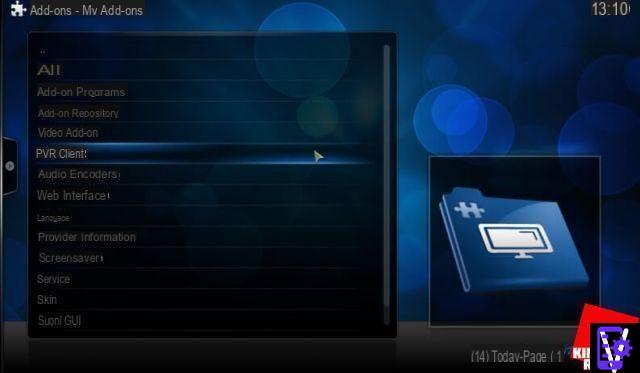 Select "PVR IPTV Simple Client" and then press "Configure"
In the "General" tab, under the first item, you can choose the remote or local source
In the first case, the address can be entered in the second item, in the second case the path to the .m3u file can be entered.
At this point you can press on "OK" and then on "Enable".
The channels will be loaded and the new TV entry will appear on the Kothe home page.
In case of errors, to review the configuration or simply replace the list, simply repeat the steps described above.
Best Kothe Addons with IPTV Lists
There are several valid add-ons that allow you to have free updated lists, sometimes containing only free channels, sometimes even Pay channels (these latter as we have said do not shine for stability).
The best add-ons for those who need free IPTV lists are:
Configuring IPTV lists with Kothe: quick and complete guide