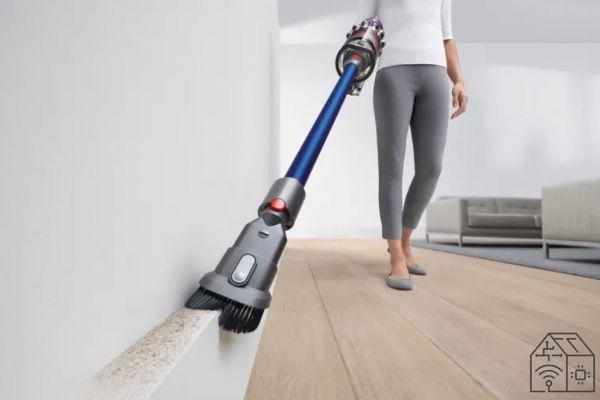 Electric broom, how to choose the right one on the market which is now booming both in terms of offer and product quality? traditional vacuum cleaner, are able to meet the needs of users in terms of effectiveness, design and energy saving. However, not all are the same.
Best electric brooms 2019: our selection
To try to help you in your choice, we have decided to select those that we believe are the best electric brooms 2019. A collection based precisely on the parameters mentioned above, namely power, design and consumption.
Dyson V11
Without doubt the most famous electric broom on the market, Dyson V11 definitely represents the Top of the range of these products. The wireless electric broom boasts a very special design, branded by Dyson, combined with unparalleled power and effectiveness.
There are three models of version 11: Dyson V11 Absolute, Dyson V11 Animal + e Dyson V11 Absolute Pro. These three variants differ mainly in terms of power and, consequently, of autonomy. They all share a powerful motor capable of pushing stiff nylon bristles across any surface or carpet to remove dirt. 14 cyclones generate a force beyond 79.000 G to push dirt into the container up to 40% larger than the previous model.
The power of the appliance can be manually selected from three modes in favor of greater autonomy and significant energy savings on the bill .:
Car, which detects the surfaces autonomously and adjusts the power
Boost, for stubborn dirt and maximum power
Eco, for longer cleaning
Dyson V11 Absolute is available at a price of around € 669. If you haven't done so yet, we invite you to read our model review Dyson V11 Absolute Pro.
[
Hoover H-Free 500
Among the best electric brooms of the year, Hoover -FREE 500 is certainly the most compact and lightest rechargeable broom. The combination of motor power, air flow and new brush guarantees excellent cleaning results similar to those of a real corded vacuum cleaner. The model is indeed equipped with a motore Brushless H-Lab which guarantees constant power with incredible results.
The whole is supported by an advance H-Lab lithium battery which guarantees a long autonomy for the longest cleaning sessions. The Hoover -FREE 500 electric broom, in fact, guarantees up to 40 minutes of autonomy in automatic mode and up to 35 minutes in silent mode with motorized brush to clean all surfaces. It is also equipped with practical LEDs position on the floor brush to illuminate even the darkest corners and clean at best without missing any centimeters.
There is also support via app thanks to theofficial Hoover Wizard application which helps monitor battery, mop status and more, including:
utilization: find out how many square meters you have cleaned, in how much time and with which accessories.
Battery status: receive information on the state of charge of the battery.
Burned Calories: keep fit while you clean, the App will calculate how many calories you have burned.
Alert Maintenance & Support: Get advice on the maintenance of your vacuum cleaner.
Suggestions: Get tips on using accessories.
The Hoover -FREE 500 electric broom is available at a price of around € 299.
[
Proscenic I9
With the model i9, Proscenic brings to the market a wireless electric broom of extraordinary power and effectiveness. Proscenic I9 is capable of reaching a rotation speed of up to 80 thousand revolutions per minute thanks to an advanced brushless motor. This also provides it a suction power of 22.000 Pa distributed in 4 speeds including the Auto speed. This mode allows it to automatically adjust the power based on the amount of dirt detected, guaranteeing important savings on the battery.
The vacuum cleaner is also equipped with a Multiple filtration system able to retain mites, molds and fine dust. This element is extremely useful in avoiding asthma attacks and allergies among family members. In addition, all the accessories of the electric broom, including the hepa filter, they can be washed by hand.
Among the various accessories, we point out the very useful mini turbo brush expressly indicated for removing pet hair, dust mites and other microorganisms on beds, sofas and cushions.
Proscenic I9 is ​​now available at a price of around 199 €.
[
Xiaomi Mi Handheld Vacuum Cleaner
https://www.youtube.com/watch?v=JU9tKdd-9DI
Also Xiaomi has invested in this market with a model with a minimalist design but with great power. The electric broom Xiaomi Mi Handheld Vacuum Cleaner It is equipped with one 9 cyclone technology which guarantees suction power pari a 100 AW. Inside, the 5-step filter system allows it to capture up to 99,97% of bacteria and dust particles preventing air pollution in the home.
Il motore Brushless a 100.000 rotations per minute manages to capture even the smallest dust particles. Among the accessories, in addition to a classic flat lance to clean in the cracks and one brush with extra soft bristles, for the most delicate areas, there is also an anti-mite brush able to offer a deep cleaning in the tissues able to eliminate up to 99% of mites. The battery finally offers approx 30 minutes of autonomy sufficient to cover an area of ​​approximately 160m².
Unlike the models seen so far, the Xiaomi Mi Handheld Vacuum Cleaner boasts a brush extra soft with built-in motor. This brush model is perfect for wooden floors and ceramic tiles and guarantees a deep cleaning in every corner of the house.
Xiaomi Mi Handheld Vacuum Cleaner is now available at a price of around 250 €.
[