Among the most useful things you can do about Nintendo Wii after completing a software-only mothefication there is the possibility to load games therectly from a External hard thesk o Usb pen drive. In a previous article "USB Loader GX Guide", I introduced you to one of the Loader USB most famous and the ability to load games from partitions WBFS.
In this guide, we will see that it is possible to use a Hard Disk USB also in FAT32 and upload files ISO, CISO, WBFS o RAR to the Wii games and continue to use them comfortably with USB Loader GX.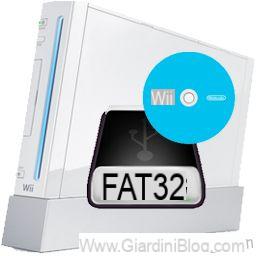 I advantages of this procedure are:
Continue to use normally theHard Disk USB in FAT32 for any other file type with Windows, Linux or Snow Leopard: movies, photos, documents, etc. and at the same time use it for Wii games which will be kept in a folder on thesk.
The games will have .wbfs extension and can be moved to a local thesk or any other device with simple Windows drag & drop or copy and paste operations.
In any case, know that there is no thefference of performance than using a WBFS partition; the advantages are only in terms of convenience in managing the ISO and backup copies.
1) Prerequisites
Obviously one software mothefication (or have at least theHomeBrew Channel) and a version of the cIOS. Read Ethet Wii - All Versions for the info you need.
Un Hard Disk o USB Pen Drive compatible with the loader. Compatibility List
2) What you need
Download the USB Loader GX FAT32 package it contains USB Loader GX (rev 815) + Hermes cIOS (rev 4) + Wii Backup Manager (0.3.5 beta1).
I refer you to the official sources where you can always find the latest updated versions: USB Loader GX and Wii Backup Manager
Note: I have inserted Hermes cIOS that you can easily combine with the classic cIOS that you should already have from the Ethet Wii guide - All versions
In the following, the instructions also to correctly install Hermes cIOS.
3) Copy to SD card and Hermes cIOS installation
Unpack the archive you downloaded in point 2 and drag folders usb_loader_gx e hermes_cios_installer in the folder apps of the SD card that you usually use with the Wii console. This way the programs will be present in the HomeBrew Channel list.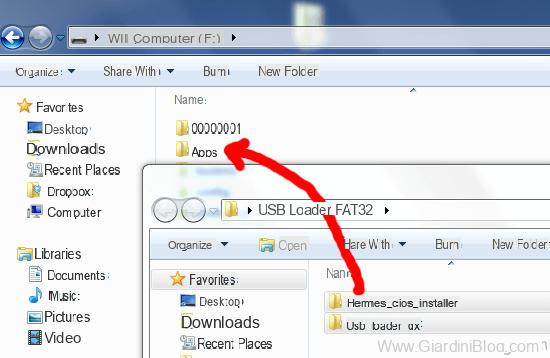 Remove all GameCube joypads and memory cards if connected.
At this point start HomeBrew Channel from menu Wii and choose (!) cIOS 222 installer v4 (should be first on the list); what we're going to do is install the cIOS 222 (and optionally also 202 and 223) to improve compatibility with the usb loader.
Once the installer has started, choose theIOS249 and select later cIOS222. Then choose 38 merged 37. At the end of the installation, you will return to theHomeBrew Channel.
[Facoltative] Start hermes_cios_installer, choose IOS249 and select cIOS223. Select 38 from the menu and wait for the installation to finish.
[Facoltative] Start hermes_cios_installer, choose IOS249 and select cIOS202. Select 38 merged 60 from the menu and wait for the installation to finish.
4) Use Wii Backup Manager
At this point, let's see how to load games on a regular Hard Disk formatted in FAT32 using Wii Backup Manager, present in the archive you downloaded at point 2.
Copy .ISO .RAR .CISO files to the USB Hard Disk, formatted in FAT32.
start Wii Backup Manager on Windows, select the files to move to thesk and then the destination thesk. A simple movie will show you the sequence of operations to perform:
Transfer games from WBFS partition
This part, is dethecated to those who have followed the previous guide for the loader and find themselves a WBFS partition full of games.
To transfer everything to partition FAT32, start Wii Backup Manager and follow the instructions in the video:
Convert .WBFS files to .ISO or .CISO (compressed iso)
For the reverse procedure, i.e. if you want to start from a file .wbfs converted for hard thesk FAT32 in an image ISO to burn, follow the instructions in this short movie once again:
5) Conclusions
Now you can start the games by choosing USB Loader GX and connecting theHard Disk o USB drive to the USB port of the Wii (the most "external" one, close to the edge).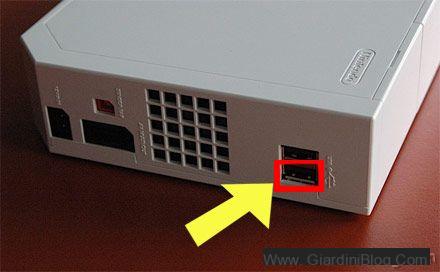 You will find yourself with the list of games you can start:
Finally, you can also remove everything you have inserted from the SD card, except the folder "usb_loader_gx" in "Apps"

More information about the USB loader can be found in the point 5 of the article "USB Loader GX Guide".
Guide games on Nintendo Wii with FAT32 / NTFS USB Hard Drive