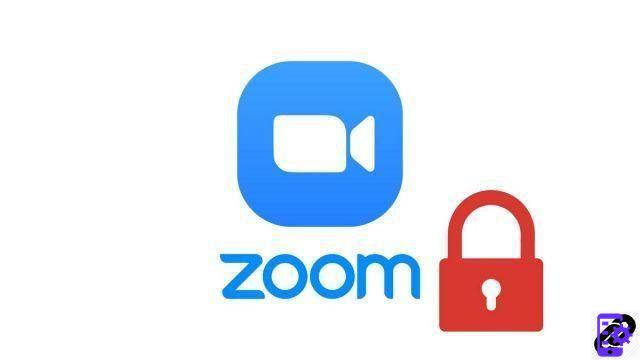 Despite its qualities, the video conferencing application Zoom has long been criticized for its security flaws. If the application has made progress on this aspect, the facilitator remains in charge of setting up safeguards to prevent his meeting from being hacked. The password is an essential first protection before starting your communications.

Other features exist to protect your personal information and your virtual meeting, such as locking it: this prevents other users from joining the meeting when all the invitees are present. An option available on both the free and paid version of Zoom. Let's find out how to activate this option in your preferences to learn in detail how to properly manage meetings on Zoom.


Lock a meeting on Zoom
Open your Zoom desktop app and start a meeting.




Click on the " Safety in the toolbar at the bottom of the virtual meeting room window.



In the drop-down menu that appears, click " Lock the meeting ". A message is displayed on the screen to confirm the locking of the meeting. External participants will no longer be able to access it.
No one can then access the meeting, even with the invitation link and password. It is of course possible to cancel the lock by following the same steps. Your password during a web conference must be strong to secure participant authentication, with uppercase, lowercase, numbers and special characters. Just like your Google account or the rest of the web services you use, for that matter! It is also necessary to be careful when sharing documents on Zoom (what you send and to whom) as well as when sharing screens, especially from the mobile application. Do not show any private information during video calls. The idea is to carry out collaborative work in complete safety.
On desktop, access the web version of Zoom.us and you can, in the tab dedicated to settings, activate the encryption of a conversation. You can enable or disable the option before each meeting room opens.
Critical security vulnerabilities have been repeatedly detected on Zoom. One of them, in particular, allowed hackers to access the webcam of several participants. They have been corrected, Zoom said during its rise in popularity, during the 2020 confinement period. Moreover, by way of example, the iOS version of Zoom (for iPhone and iPad) has long used a Facebook SDK, a development kit. Information was shared with Facebook, even though the accounts were not linked. Zoom has apologized and fixed this. Today, the platform seems more sincere when it comes to data protection.
Find other tutorials to help you manage your meetings on Zoom:
How do I create a meeting on Zoom?
How do I join a meeting on Zoom?
How do I schedule a meeting on Zoom?
How do I record a meeting on Zoom?
How do I share a file on Zoom?
How to be silent on Zoom?
How do I stop a participant's camera during a meeting on Zoom?
How do I invite someone to join a meeting on Zoom?
How do I schedule recurring meetings on Zoom?
How do I turn chat on and off during a meeting on Zoom?
How do I turn off screen sharing for meeting participants on Zoom?
How do I kick someone out of a Zoom meeting?
How to schedule a meeting on Google Calendar with Zoom?
How to schedule a meeting in Outlook with Zoom?
How to automatically mute the microphone of new participants in a Zoom meeting?