A VPN on my connected TV? To do what ?
Installing a VPN on your connected TV has many advantages. First, VPN requires, you will benefit from a secure and anonymous connection when you browse from your TV. Then, the policy of not keeping logs, included in CyberGhost VPN's charter for example, ensures that your ISP or the services to which you connect do not keep any trace of your personal data.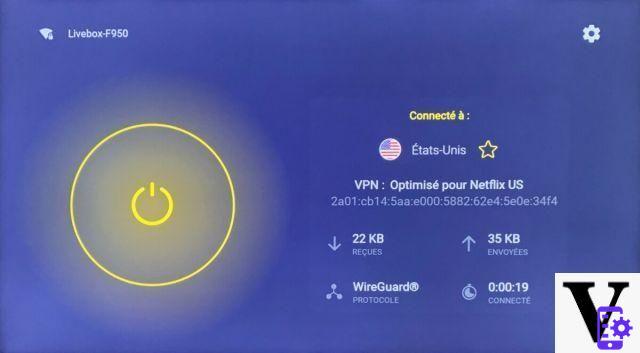 But the biggest advantage of installing a VPN on your Android TV is undoubtedly the possibility of bypassing geo-blocking policies implemented by certain countries. By relocating your IP address to a server located in the United States or Japan, you will be able to access without restrictions all the audio and video content hosted on them. What, for example, to access many films or series which are not available in your country because of the chronology of the media, or concerns of license.
Better yet, a VPN like CyberGhost VPN offers a server infrastructure entirely dedicated to streaming and SVoD services. You will be able to access your favorite services in a few clicks, without loss of speed, and in the best possible quality.
How do I install a VPN on my Android TV?
Thanks to the Play Store, it is very easy to install the VPN of your choice on your connected TV and to illustrate this process we decided to use the example of CyberGhost VPN. Before embarking on this process, there are still a few things to check.
To get started, of course you will need to have a valid VPN subscription and have a free device slot to protect your TV. CyberGhost VPN allows for example to protect up to 7 devices simultaneously. You can therefore enjoy it on your connected TV as well as on your smartphone or your PC. You will also need to check which version of Android your TV is running under. Android 5.0 (Lollipop) is a minimum for the CyberGhost VPN app.
Once these usability checks have been carried out, here is the procedure to follow:
Go to the Play Store on your TV and search for CyberGhost VPN in the search bar to find the app. Once this is done, start the installation.
When the app is installed on your TV, open it, and choose whether or not you want your data to be shared.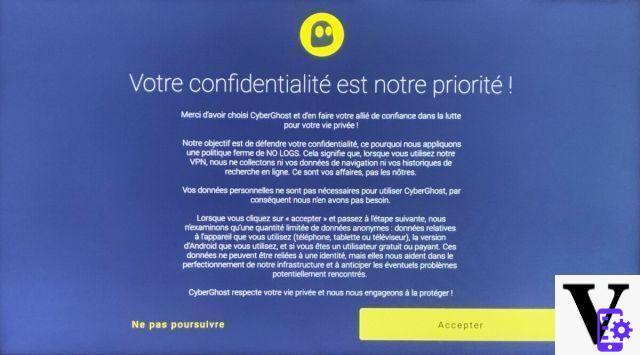 The application will then generate a PIN code, necessary to finalize the connection to your account. Go to cgvpn.info/link with your web browser and enter the resulting code.
Note that you can also decide to use the "open a standard connection" option and use your Username and Password combination to connect.
Now that you are connected, CyberGhost VPN will offer you to encrypt your Internet traffic. You have no choice but to accept, it means that all data passing through the VPN server cannot be monitored, not even by your ISP.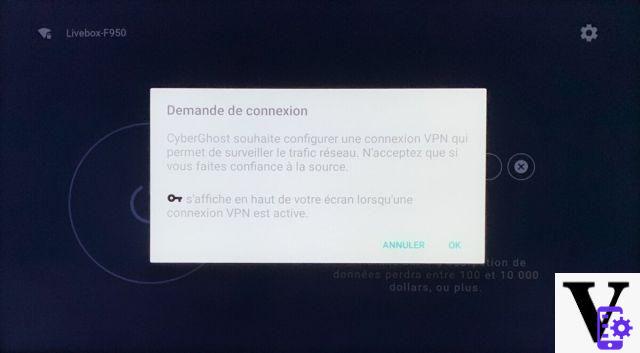 Now all you have to do is choose the server you want to connect to, and enjoy all the benefits of your new connection.
For example, you can use servers dedicated to streaming services to take advantage of the US Netflix or Disney + catalog, with minimal loading times regardless of the quality selected.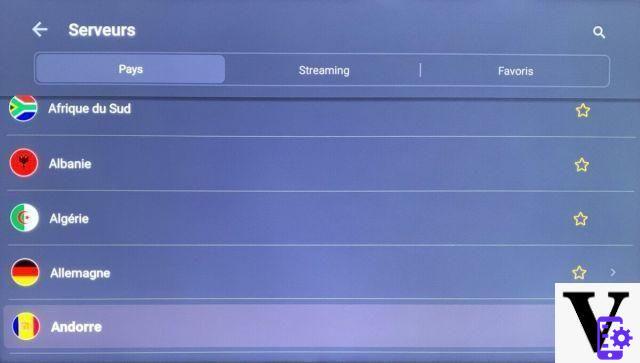 Why choose CyberGhost VPN?
With nearly 38 million users worldwide, CyberGhost VPN ranks among the best VPNs available on the market thanks to a simple and clear offer, a robust server infrastructure and a price positioning among the cheapest on the market. By subscribing to them, you will have access to several services ensuring the protection of your data:
More than 7200 servers in 91 countries;
Policy of non-retention of Logs;
256-bit AES encryption;
Protection on 7 devices with a single subscription;
Simple and effective circumvention of geo-blocking;
Intuitive Android application available on many devices.
Entirely translated into of the country, the CyberGhost VPN application is a model of ergonomics thanks to a simple interface and perfectly suited to use on a television. CyberGhost VPN also has available and responsive customer service, which will respond to any of your requests in of the country, 24/24, via live chat or email.
Renowned for its many servers spread across the world, CyberGhost VPN is the ideal VPN for anyone wishing to enjoy streaming services at home or abroad. The supplier indeed offers dedicated streaming servers optimized for more than 35 different SVoD services, such as Netflix or Disney +.
During cybersecurity month, the two-year CyberGhost VPN subscription is available at 1,90 euros per month, with two months completely free. On this occasion, you will also be able to obtain free access to CyberGhost ID Guard and CyberGhost Privacy Guard, which allow you to benefit from a password manager and a dedicated IP. As always, CyberGhost VPN offers a 45-day money-back guarantee. What to decide if you are satisfied with the services offered by this service.
Discover the CyberGhost VPN subscription at € 1,9 per month