Summary
iCloud backup: some tips to reduce the weight
iCloud Photos: Use Shared Albums
iCloud Messages: Check Attachments
iCloud Mail: Delete your attachments
iCloud: increase your storage space by choosing a subscription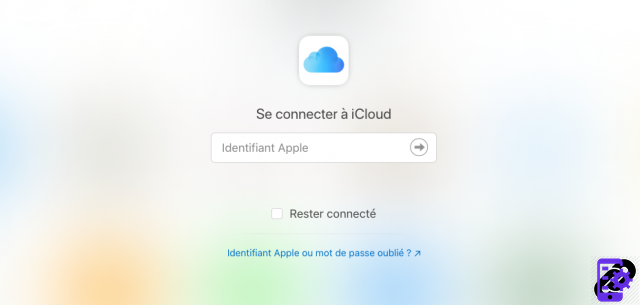 With the synchronization of many contents, your iCloud Drive storage space can quickly be saturated. Discover now our few tips to free up space step by step while continuing to back up your various important files.
When you create an iCloud account for your devices like your iPhone or Mac, Apple isn't being the most generous with a free offer of just 5GB of storage space on the cloud-based iCloud Drive service. For many users, this package quickly turns out to be tight, especially as you take photos with your iPhone or iPad, receive attachments by iMessage or email, or store over time. iCloud backups of his various Apple devices.
However, it is possible to control in the iCloud settings which data is or is not downloaded and saved from your iPhone or Mac on the servers, or to transfer the data to its hard drive using the iCloud Drive version for Windows in order to effectively control your iCloud storage space to free up as much space as possible on your iOS and macOS devices for your applications, for example.
iCloud backup: some tips to reduce the weight
Apple offers both in iOS and macOS but also on Windows a complete control panel which allows you to configure the different synchronization options for the different files and content on your iCloud account and your iCloud Drive space.
The part that takes up the most space is often the iCloud backup of your iPhone and iPad. Performed automatically with each recharge, they allow you in the event of reinstallation of the operating system, not to lose any data. Just enter your Apple ID and password to recover it. In addition to Apple's system apps, your other installed apps can also back up their data to your iCloud storage.
From the iCloud settings panel, in the settings of the iPhone or iPad under iOS accessible in the option titled with the name of your identifier, press "Manage storage" then click on "Backups" and finally press backing up your device to find each application using your iCloud Drive storage to store its data or photos.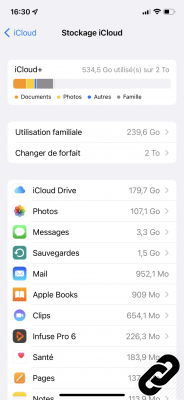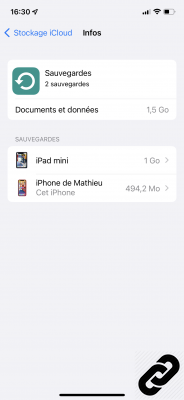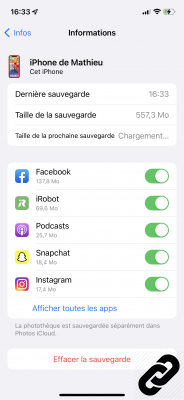 Uncheck those whose files you do not wish to back up in order to lighten the total weight of your backup and the amount of data collected. No need to deactivate it to save space on your plan.
If you have a Mac or PC, you can also turn off iCloud backup to keep your data local to your device and avoid uploading it to the cloud. To do this, all you have to do on Mac is to plug in your device, go to Finder, and select your device from the menu on the left. Click the "Save" button to keep a copy on your hard drive. On PC, you will need to install and use iTunes to create a copy of all your data.
© Expertsconnecting.com
iCloud Photos: Use Shared Albums
If there is one element that saturates our devices, especially the iPhone with only 32 or 64 GB of storage, such as your iCloud storage space, it is the photo library. Photos and videos take up more space thanks to much better image quality and after just a few months they can quickly fill up your Apple storage space.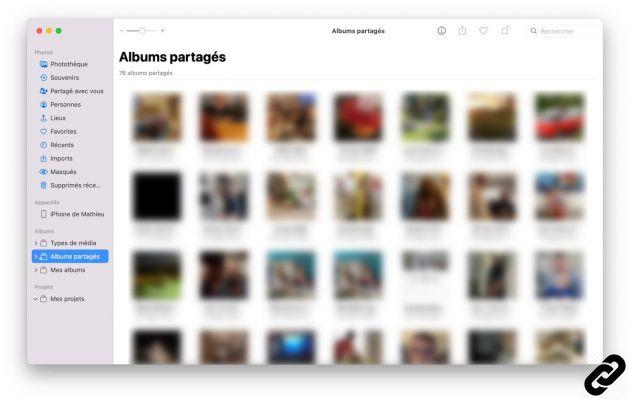 © Expertsconnecting.com
To store photos from your iPhone on iCloud Drive without touching your online storage space or downloading them, a simple solution exists: shared albums. These albums make it possible to publish photos accessible to some of your contacts selected in advance and having an Apple device. These albums also have the advantage of not being deducted from your iCloud storage space.
You can thus create an iCloud shared album from your iPhone under iOS and macOS with a maximum of 5000 of your iCloud photos, without even having to share it with one of your friends or relatives. Be careful however, Apple compresses your various photos and videos in a standard and degraded quality compared to your original files.
iCloud Messages: Check Attachments
Like us, you probably have to exchange a lot of data including photos and videos with your friends every day. The problem is that all these files present on your devices are also saved on iCloud to be able to recover them in the event of a change of phone or when you use another Apple device connected to your iCloud account.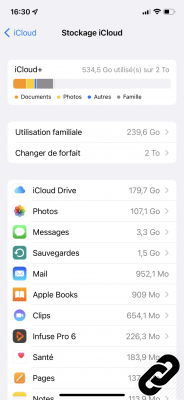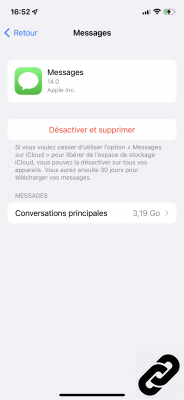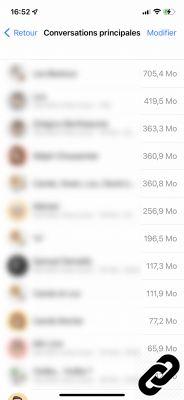 You can first delete the largest files from your Messages application such as videos. Go to the "Settings" application on your iPhone or iPad, then to the "Your name" section, "iCloud" then "Manage storage" and finally press "Messages" and "Main conversations". In this menu you can find all of your conversations in order to delete those including the largest documents and free up a little more storage space on iCloud Drive.
iCloud Mail: Delete your attachments
If you use an iCloud address as your primary email address, received attachments, such as photos or videos, are also stored in your iCloud storage space and take up several hundred megabytes.
We invite you to delete them regularly to prevent your storage space from being too impacted. On Mac or on iPhone and iPad, you can create rules to automatically delete emails placed in the trash after a week or a month and thus free up space on your online storage space for your other applications.
iCloud: increase your storage space by choosing a subscription
If, despite all these tips, 5 GB of cloud storage seems too limited to save all your photos, videos and various documents, we invite you to look into the paid plans offered by Apple to allow you to get more. iCloud storage.
The manufacturer allows you to obtain a package of 50 GB of iCloud space in the cloud for €0,99/month. For €2,99/month, you can take advantage of 200 GB of iCloud storage and the most complete plan will cost you €9,99/month for 2 TB of iCloud storage.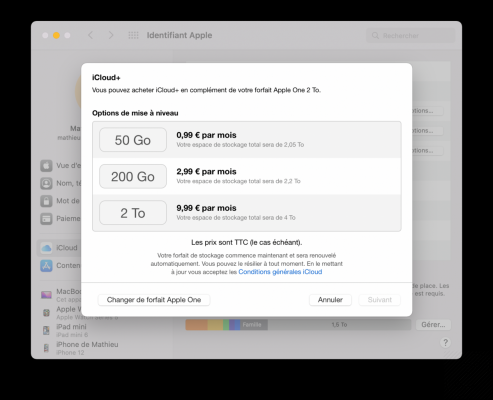 © Expertsconnecting.com
Apple also offers you a more advantageous option with its packs called Apple One, which includes access to online services such as Apple Music, Apple Arcade or Apple TV+ but also an iCloud online storage package for a preferential price.
If you don't want to go through Apple's services to free up space on your devices, you can also use a third-party cloud storage system like Google Photos or Google Drive with a plan starting at $1,99/month , OneDrive well known to Windows users or even a service like pCloud and Dropbox, which will allow you to transfer your photos and videos to a personal cloud space and save space on your iCloud space for your backups and files.