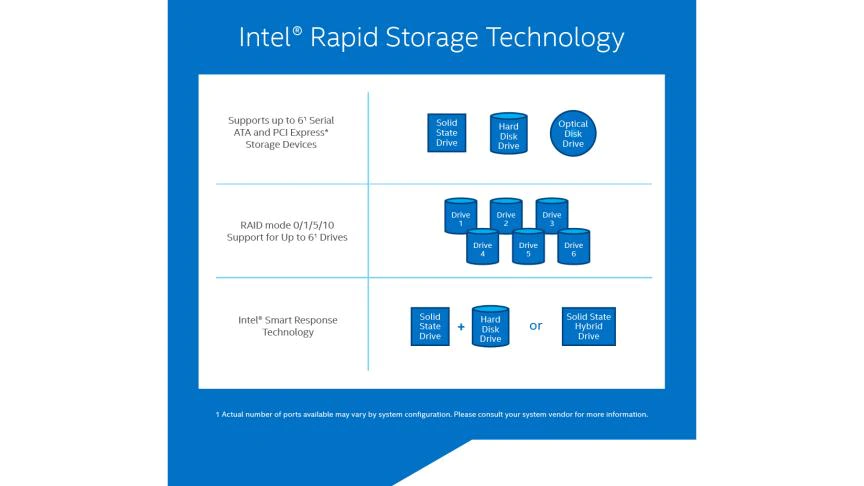 ---
Page 3:
Intel Rapid Storage Technology more useful in RAID
Since the hardware isn't particularly feature-rich, there aren't a ton of configuration options, and that's fine by us. We would have preferred to define the array capacity manually, rather than a slider which makes precise selections more complicated. With the creation process behind us, the Status tab shows six 477 GB SSDs connected to the PCH in a RAID 5 configuration and being initialized.
Most people will skip RAID 5. RAID 0 for something more tangible with six 6 Gb / s ports: the TRIM command. Intel's SSD Toolbox Optimizer also works in Windows 7, and Microsoft's built-in Optimizer for Windows 8 / 8.1 takes its place in newer versions of the operating system. If you want to dismantle an array or safely erase the RAID disks, remember that Windows 8 and Intel's Toolbox are not compatible.
Rapid Storage Technology generally makes storage management easier than in the past. Cache options and Dynamic Storage Accelerator options are editable with a single click. The first is very important because you will probably want to avoid caching with a RAID array consisting of SSDs. The last one is also interesting. Dynamic Storage Accelerator is a Windows 7 setting that helps mitigate deleterious performance trends in a very efficient platform. There are various states along the spectrum where I / O activity is detected. System power settings are changed on the fly to try to get more performance from the storage subsystem, giving Windows 7 users with Haswell platforms the option to keep power management settings enabled without losing speed.
Intel Rapid Storage Technology more useful in RAID