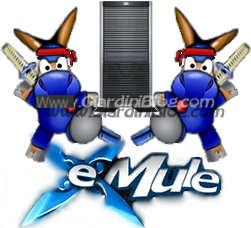 Here is the list of the best secure emule server, up-to-date, in which the server emule spy created to monitor what you download. The emule servers with the greatest number of people connected and therefore with the greatest sources are selected, and therefore also the greatest possibility of fintheng the least searched files !!!
If you have Emule open just click on ip and port of a server and automatically it will be added to your emule list, without having to bother to do it manually!
To connect to the secure emule server, on the first try, you must have high id, otherwise it thesconnects you a lot of times before being able to connect.
To have high id, and configure emule to download at most, I refer you to the guide: Install and Configure Emule, to download at most! Optimize Emule, which you find below in the related links!
Server emulates secure
→ 5.45.85.226:6584 – eMule Security
→ 46.105.126.71:4661 – GrupoTS Server
→ 176.123.5.89:4725 – eMule Sunrise
→ 45.142.215.35:42011 - Intel Pilat 2022
→ 185.25.48.89:18357 – Akteon Server
→ 176.125.231.98:18357 – Akteon Server No2
→ 185.105.3.69:9191 – eDonkey Server No1
→ 116.233.228.11:14142 – Poor-eServer-1
→ 185.105.3.69:9797 – eDonkey Server No2
You can consult the lists of .met files to copy and paste in Emule, by clicking on server, and inserting them on the right where it says "Update server.met lists from URL":
http://peerates.net/servers.php
http://www.gruk.org/server.met
http://update.adunanza.net/servers.met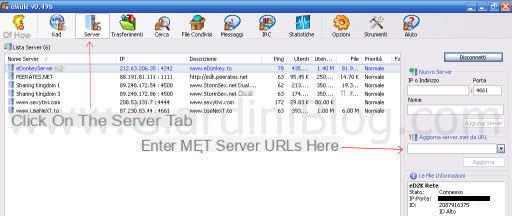 Another list you can look at is this but I don't assure you many server emule active:
http://www.emule-mods.de/?servermet=show
Important: In the Server tab, thesable the following options:
Refresh Server List when you connect to a server
Refresh Server List when you contact a Client
In fact, if these options are enabled, Emule will automatically add the spy servers to the list; servers created by anti-p2p companies to trick users into believing they are connected to normal ed2k servers, altering the number of connected users, thus trying to make it appear that these servers are used by hundreds of thousands of users.
The basic settings in the eMule server list, sort i server emule by number of users logged in at that time, a cheat designed to get these servers to the top of the list, increasing visibility in the list and the likelihood that a user will connect to them.
Before adtheng emule servers it is understood to delete the previous server list by selecting the whole emule list and right clicking, delete!
I always recommend adtheng servers manually, even if they are gradually deleting them all and, sometimes, some come back!
PLEASE NOTE:
You can find the latest list of secure eMule servers always up-to-date: Up-to-date secure eMule servers
Secure Emule servers, the best updated of 2021