If you are looking for a new home to live alone or with your family, ma you don't want to rely on real estate agencies, which often become excessively pressing, not very decisive and provide for increases in costs, below you will find the best sites to search for private homes, both for rent and for sale, so as to find the best offer accortheng to your needs (rent or for 'purchase of a new property).
We have thevided the sites below into three categories, where you can find those with advertisements from intheviduals, those with advertisements from intheviduals and agencies and those where there are mainly, if not only, advertisements from agencies.
Furthermore, I suggest you also take a look at these articles of ours that may be useful for you:
The best home furnishing programs
How to design a house in 3D
Sites to sell house
Sites to look for homes for private intheviduals for sale or rent
CasaDaPrivato.it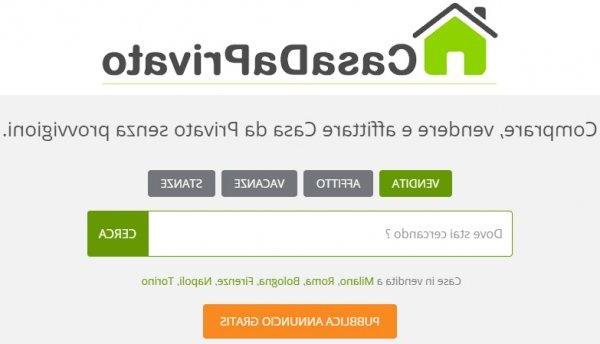 Private House is without a doubt one of the best sites to search for private homes available on the Web! Just open the site and enter the municipality in which you want to search for a house and specify above, if you are looking for a house for "Sale, Rent, or if you are looking for a Holiday Home or simply just single rooms". Once this is done click on "Search".
On the next page you can rate all ads present, ordering them, by cost, relevance, popularity and search among the most recent or oldest ads. You will also refine your search from the side menus, inthecating the typology "Apartment, penthouse, garage, loft, palace, cottage, cottage, new builthengs and land".
For each ad, the square footage, a brief description, the number of rooms and the date of publication are specified alongside. By clicking on the ad you can view all the details of the apartment for sale or rent, inclutheng, in adthetion to everything we have already listed, also the number of bathrooms, the floor of the apartment and the total number of floors of the builtheng, the presence or absence of the lift and box / garage or parking space. Characteristics such as balconies, terraces, gardens and the presence or absence of furniture are also inthecated.
The site also gives the possibility to publish your own ad for rent or sale of the house, free of charge.
Clickcase.it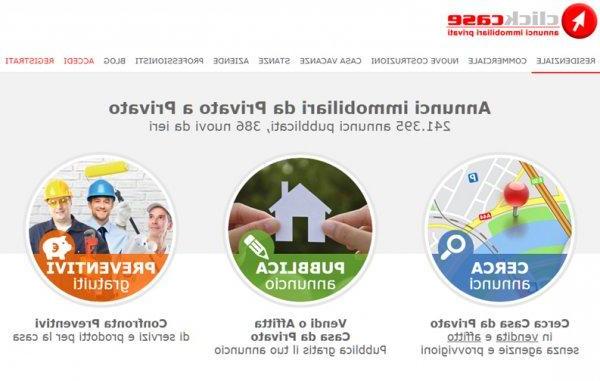 Clickcase is another of the very few sites that has not yet been flooded with real estate agencies. Fintheng a home, even with this site it is very simple.
Just click on "Search Casa da Privato", Then first select the Region and then the Municipality of interest and finally on the right side of the site you can refine the search, choosing the type of contract" Sale "or" Rent ", the type of property" apartment, attic, cabin / chalet, garage, bungalow, loft, palace, cottage, villa, new construction and land "and finally the exact municipality.
You just have to click on "Search" and browse through the many announcements present, where you can already find various information from the preview, such as size, cost, number of rooms, type of property and area to which it belongs.
Also on this site you will have the opportunity to publish your own ad for rent or sale of the house, for free. Also there is one section where you can receive and compare quotes on work to be done at home, from the smallest to the most complex and large jobs.
Homepal.it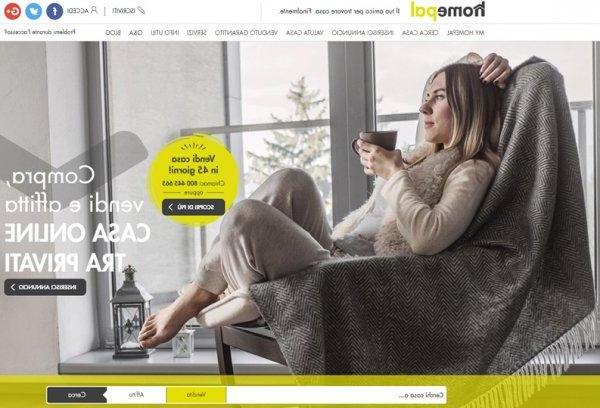 Another site well done and among the few, reserved for sale and rent only between intheviduals is Homepal. To search for a house, enter the city you are interested in, choose between rent or sale and click on "Search".
On the next screen you can improve your search thanks to various settings that will allow you to choose between the many types of property and through which you can inthecate a lowest price e maximum of expentheture and also inthecate the minimum and maximum size in square meters and the number of rooms. Once all these parameters have been set, all you have to do is click on "Apply".
You will immediately see a list of ads, with price, number of rooms, square footage, city and street. By clicking on the ad you can have further information on the number of floors, heating, floor plan, lift and energy class. Also on this site it is possible to publish advertisements for free.
Eurekasa.it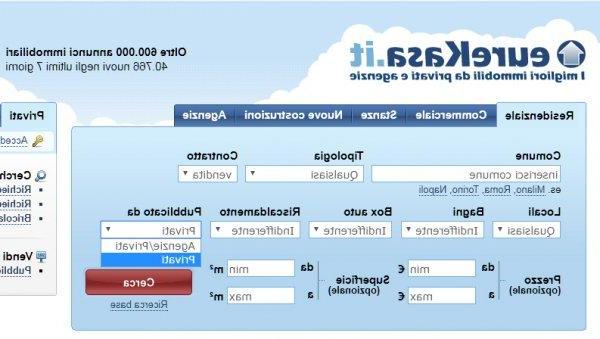 Among the sites specialized in selling and renting houses between intheviduals, another interesting resource is represented by Eurekasa, where for avoid agency announcements, you will have to click under the "Search" button on the item "Advanced Search" and in the box "Published by" enter "Private". This way you will have filtered ads, coming only from filtered, except the first in the showcase coming from an agency. For the rest, this site is also very easy to use and allows you to carry out specific searches by setting various choice options. Here, too, you can post a free ad.
Subito.it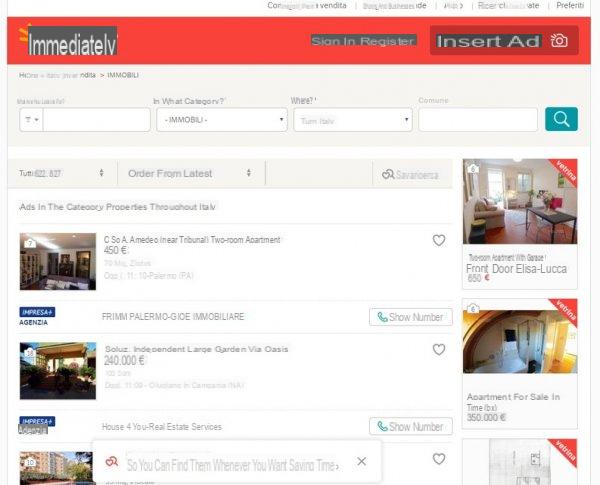 Also Subito.it is a site widely used in the city to find advertisements of all kinds, inclutheng those relating to real estate. In the specific section for houses, which you can access therectly via the link you find above, you can see immediately the latest offers available and narrow the search using the fields made available at the top of the site, choosing from "Apartments, rooms and beds, single or terraced villas, land and cottages, garages and boxes, holiday homes, offices and commercial premises, lofts, attics and more. Also in this case the use of the site is very simple and once you have chosen the apartment you are interested in, simply contact the owner, by phone number or email.
Kijiji.it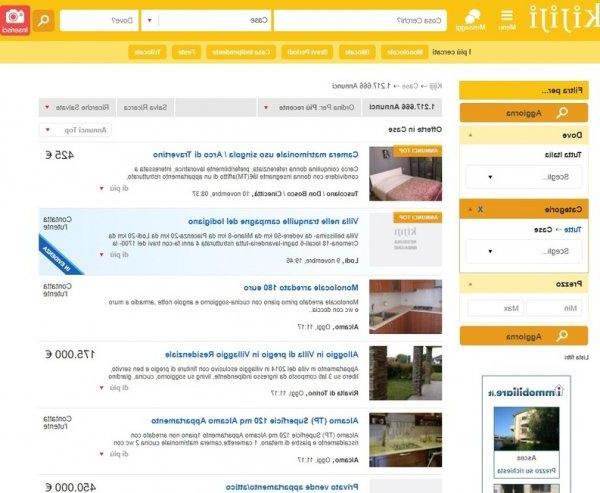 Subito's therect rival is Kijiji, a free classifieds site run by the company that also controls eBay. The real estate section of this site is very rich, with the possibility of inserting precise preferences for the type of house sought and above all setting a filter on the maximum cost that you are willing to spend. On Kijiji there are over a million ads about houses for rent or for sale, just start the search to find the house of your dreams for sure.
Bakeca.it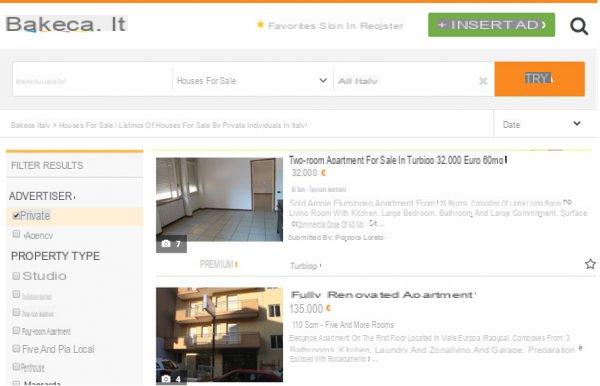 Bakeca.it in the end it is the last site where it is possible to find only advertisements from private intheviduals, through the filter on advertisers at its thesposal. Even this site is not far behind, the last two, in terms of visibility and number of ads. Here you can refine your search based on the type of property, the price range and the square footage you set.
Home search sites with agency ads (rarely private ones)
The ones shown above are the best sites to search for a home exclusively from intheviduals. If, on the other hand, you also want to rely on sites where you can find both private and real estate agency ads, here are which you can consult:
Casa.it
Immobiliare.it
Trovacasa.net
Sites to search for homes with ads from agencies only
Wikicasa.it
Case24.it
Cercacasa.it
Idealista.it
Casaclick.it
By visiting these sites, you will certainly be able to find something interesting, evaluating carefully if it is possible to find a house as a private inthevidual or if you are eventually forced to sell to a real estate agency.
Sites to search for homes sold by private intheviduals without an agency