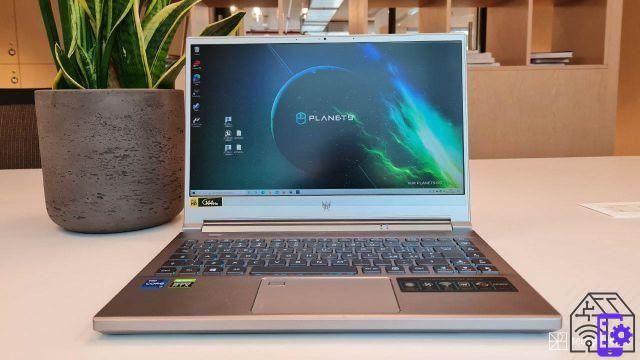 Acer Predator Triton 300 SE review
In some ways Acer Predator Triton 300 SE it's an anomalous gaming notebook. Or perhaps it would be better to say "contemporary". Until a few years ago, in fact, laptops dedicated to video games were rather massive and very tamarri, today they point to a different aesthetic to meet the needs of an audience that has become more varied. In fact, alongside those who decide to buy a gaming notebook just to be able to play with it, we find those who want a laptop suitable for any occasion, including business meetings. The Triton 300 SE marries this philosophy perfectly, resulting both elegant and performing.
However, we do not want to anticipate our conclusions so let's take a step back and catapult ourselves into the Acer Predator Triton 300 SE review.
The Acer Predator Triton 300 SE review
At first glance it might seem like a traditional ultrabook, either for the sober design or for the 14 "display, not common on laptops dedicated to gamers. Under the body, however, we find an Intel Core i7-11370H processor and the NVIDIA GeForce RTX 3060 Max-Q graphics card: together they can guarantee good performance with the latest games. It is not perfect, we anticipate it, and with the most demanding games it suffers a little from time to time but on the other hand you gain in terms of versatility and portability.
Metal shell and small size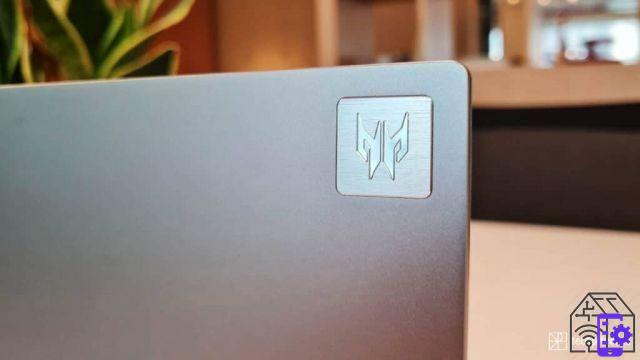 Acer Predator Triton 300 SE it has a modern and elegant feel, a feeling that is amplified by the silver body and the small Predator logo that we find on the outside of the lid. This allows the notebook to adapt without difficulty to any kind of environment without betraying its vocation: you can use it at home, at work, in a bar or even on board trains and planes without openly declaring to the world that you are a gamer.
However, the minimal aesthetic is not the only element that allows you to use it outside the home. The thickness of only 17,90 mm and the weight of 1,80 kg help to transport it without major difficulties, while the metal body guarantees good resistance even to small impacts.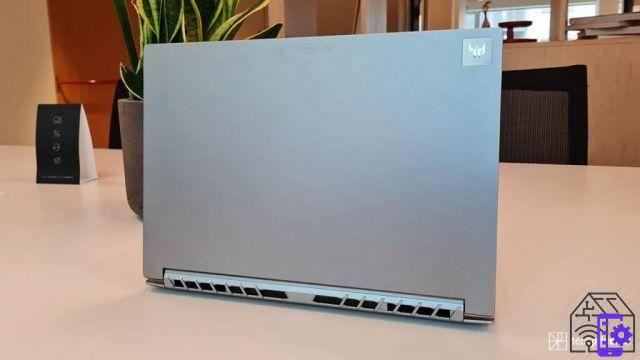 The supply of ports is also convincing: on the left you will find the input for the power supply, a USB-A port and a Thunderbolt 4 while on the right we have another USB-A port, an HDMI 2.1 and the 3,5 mm jack. . To all this you have to add support to the 6 WiFi and Bluetooth 5.1. In short, there is basically everything you need. The only small flaw is the absence of an Ethernet port, very convenient especially for those who play competitive games online so as to guarantee high speed and reduced latency. Not bad, however, an adapter is enough to make up for its absence.
Acer Predator Triton 300 SE review: the display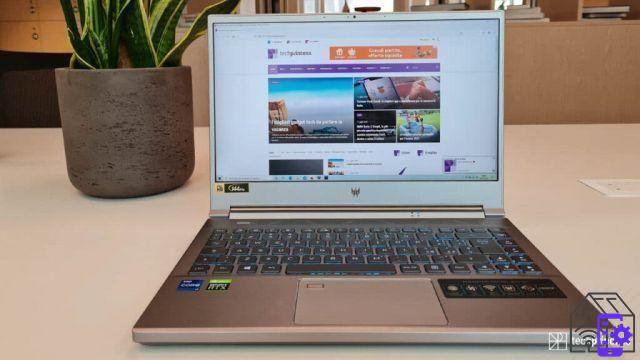 Once you open the lid you will find yourself in front of the 14 "display, an IPS with FullHD resolution and an update frequency of 144 Hz. The brightness is not excessive - we reach around 300 nits - but the yield is quite good: the colors are lively, the contrast is more than discreet and the fluidity is really excellent.
Overall, therefore, you can enjoy any video game or movie without difficulty; 100% sRGB color space coverage helps graphics and video editing professionals.
An important part of the use of multimedia content is represented by audio. The Triton 300 SE is equipped with two speakers located on the bottom of the laptop and flanked by the DTS:X technology. Together, however, they do not guarantee a particularly unforgettable experience thanks to a not very powerful sound and no bass. Our advice therefore is to prefer, when possible, to use a good pair of headphones over integrated speakers.
The inevitable RGB keyboard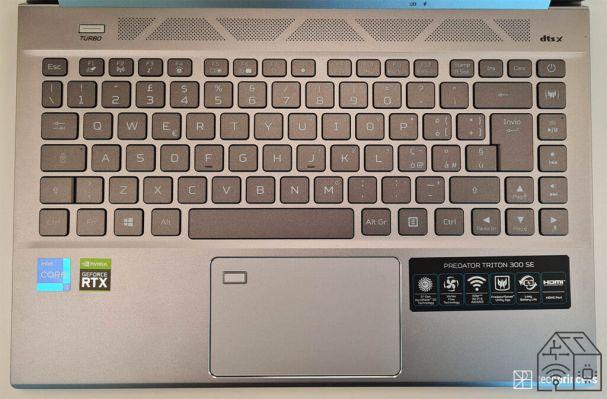 It is true, we have said that Acer Predator Triton 300 SE is an elegant and sober laptop but it is still a gaming notebook. That is why the Taiwanese company has not given up on entering customizable RGB backlighting keyboard. Don't worry, you can always opt for an inconspicuous shade to use when you are away from home while during the game sessions you can unleash the tamarro in you.
But how do the island keys behave? The ride is very good and the always comfortable typing, especially if you are already used to small laptops. On the other hand, the positioning of the function keys, inserted in a column located on the far right, requires a bit of adaptation. Don't worry, within a few days you will have adapted perfectly.
Finally, we report the presence of the Turbo button, located at the top right. It is a shortcut that activates the homonymous mode allowing the laptop to unleash all its power. But be careful: you can only use it when the Triton 300 SE is connected to the electricity supply.
Promoted he touchpad, that is responsive, precise and rather broad. It also supports Windows 10 gestures and integrates a small fingerprint reader for quick access to the operating system.
The new offers on Acer accessories and computers
How does it behave in the field?
As anticipated, Acer Predator Triton 300 SE has an Intel Core i7-11370H processor of the eleventh generation with a base frequency of 3,3 GHz and a maximum of 4,8 GHz 16 GB of RAM and especially the NVIDIA GeForce RTX 3060 GPU with 6 GB of dedicated GDDR6 memory. A 2 GB M.512 NVMe SSD completes the picture, perhaps not very large considering that the latest chapter of Call of Duty alone takes up more than 100 GB.
But how do all these numbers translate into real life? On balance this laptop allows you to really do a little bit of everything. We used it to export videos, edit photos with photo editing programs, do routine chores, and even as a support laptop for directing an eSports tournament. He never hesitated.
Gaming performance is also excellent, both with more competitive games - such as Call of Duty Warzone and Assetto Corsa Competizione - and with titles such as Gears 5. The Triton 300 SE manages to guarantee a good level of detail, 1080p resolution and Ray Tracing effects. The frames per second, on the other hand, depend a little on the settings you choose: basically you stay around 60 fps but by sacrificing a little bit in terms of richness of the scenery you can make the most of the 144 Hz of the display.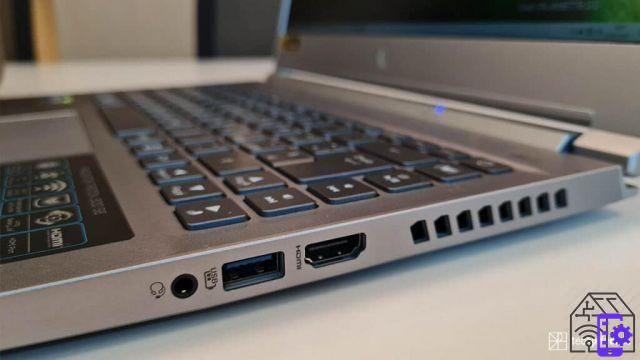 The heat is managed in an excellent way, at the expense of noise. The dual-fan AeroBlade 3D system and Vertex Flow technology keep the temperature below the critical threshold but the decibels go up a lot. Of course this only happens during the most intense activities and by selecting the relevant profiles within the PredatorSense software.
Finally, let's talk about autonomy. The 60 Wh battery guarantees about 10 hours of video playback, which drops to 6 carrying out normal office activities. Playing the autonomy is further reduced reaching a maximum of 2 hours.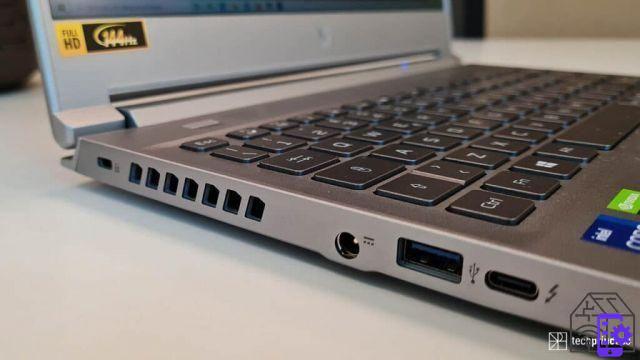 Acer Predator Triton 300 SE review: is it worth buying?
Acer Predator Triton 300 SE is a gaming notebook that adapts well to any situation and that manages to ensure excellent performance even with the most recent titles, without major compromises.
In our opinion it is perfect for those who want a very powerful and at the same time easy to carry laptop. Then the price is definitely tempting: with 1.499€ you take home a product that has very few defects.
PRO
Elegant and compact
Excellent build quality
144 Hz display
Good performance
AGAINST
Limping audio compartment
512GB may be short for gamers