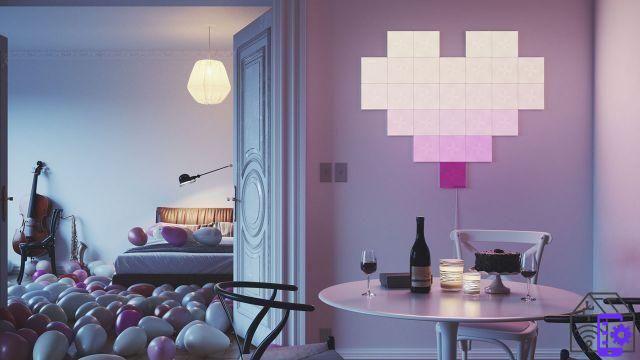 Valentine's Day, the party dedicated to all lovers, is approaching. So get ready for a February 14 full of flowers, dinners, chocolates and gifts. Haven't bought anything for your other half yet? Here are our suggestions.
Wiko View 2Go
Cherry Red hue, 4.000 mAh battery and 12 megapixel rear camera for Wiko View 2Go, the inexpensive smartphone of the French company. The perfect gift for anyone who wants to leave the charger at home.
[
Nanoleaf Canvas
There is to create the right atmosphere Nanoleaf canvas, the kit of light panels that you can manage with your smartphone and that change color to the rhythm of the music. Canvas is also compatible with Google Assistant, Amazon Alexa, and Apple Siri.
Buy on the official website
Avwoo Seomusen001
Small size but very high volume for this very original acorn-shaped case. This speaker made by Avwoo it connects via Bluetooth to any smartphone and guarantees an autonomy of about 8 hours.
If you bought it on Amazon you can use our discount code: YGLQIASH
[
Samsung Galaxy Watch
Samsung Galaxy Watch is a trendy smartwatch, with good autonomy and a series of useful wellness features, such as stress and sleep monitoring. Two versions are available: a classic Bluetooth-only one and an LTE with integrated eSIM. Perfect for both him and her.
[
Fresh 'n Rebel Clam ANC
Music lovers will love the Fresh 'n Rebel Clam ANC, the active noise canceling headphones that you can use both wirelessly and using the supplied cable. Ideal for listening to your favorite songs anywhere, without being disturbed.
[
Asus ROG Delta
Let's talk about headphones again but this time as a gamer. The Asus ROG Delta integrate the ESS 9218 quad DAC for superior audio quality, feature a USB-C connector and boast an aggressive design with RGB lighting.
[
HP Sprocket New Edition
Why keep your photos only on your smartphone? With HP Sprocket New Edition you can print them using the dedicated application and a special paper called HP Zink.
[
Mediacom SKI Mask HD
For ski lovers there is Mediacom SKI Mask HD, a ski goggle with integrated video camera, wide angle and anti-fog lens with double protection. Ideal for recording videos or taking photos while skiing.
Buy on the official website
Asus VivoBook S15
For those who do not mind expenses there is Asus VivoBook S15, the ErgoLift hinged notebook that replicates the typing experience of a typical desktop keyboard. To characterize it also the NanoEdge display, an elegant design and four bright colors.
[
Fossil Sport
Qualcomm Snapdragon Wear 3100 processor, Wear OS by Google operating system, NFC, GPS and heart rate monitor. Fossil Sport it is perfect for any occasion and suitable for tracking all your sporting activity.
[
Toshiba Canvio Alu
To keep all the moments spent together there is Toshiba Canvio Alu, the hard disk with a refined aluminum structure, USB 3.0 SuperSpeed ​​technology and an integrated and easy-to-use NTI backup software. Several cuts are available: it starts from 500 GB to reach 2,5 TB.
[