Apps extend the functions of our terminals, often making our life easier. The apps to trace the routes they are a practical option for those who want to plan and share a track, such as a guide or a runner or for those who simply want to record the routes of their workouts, perhaps for share your progress with friends.
There are many apps on the iOS and Android stores. In this article we will see the peculiarities of the best ones thevided by category.
If you love trekking and biking, we have dethecated a specific article to the best apps to thescover, follow and report the trails. In this article we will instead focus on the best apps for runners and talk about those solutions that are more training oriented.
The best apps to track walking and cycling route statistics
Keeping track of your routes is not only for hiking but also to record ours progress for example in running, training and on our bike trails. There are several interesting solutions for this use:
Strava GPS (iOS, Android)
It is universally considered one of the best solutions to record your workouts, the app is truly complete: it allows the traking of our running, cycling and training sessions.
Strava is completely in your language and it is very easy to use; after installation, it only takes a few steps to start recortheng our activities and monitor our improvements.
Some features such as real-time location sharing are only available with the Premium version which is subscription-based with a cost of 6,99 euros / month. In any case, the basic version is already very complete and freely downloadable from the Play Store and the App Store.
Endomodo (iOS, Android)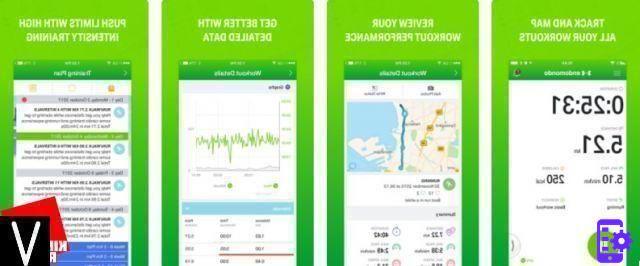 This is probably the best alternative to Strava. This app, like the previous one, allows you to monitor not only running routes but also those by bike and many other activities. Track the route via GPS, write down our times and show us our progress.
Again there is a basic version with many useful features and a premium version that unlocks the advanced statistics and personalized training plans.
The app supports a huge number of sport bands and SmartWatch. Endomodo is available for free on Android and iPhone and iPad. You can download it from the Play Store and the App Store.
Sports Tracker (iOS, Android)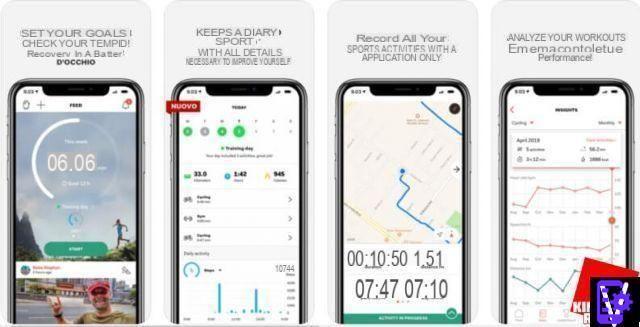 This is a great app that monitors your progress and routes on foot or by bike. The application was once exclusive to Nokia but is now available to everyone.
The app tracks all our movements and records ours performance and calories consumed; it also creates a handy theary in which our progress is noted from week to week. This solution is fully translated into our language and offers a simple and readable interface. Sports Tracker is available free on Play Store and App Store.
Running Distance Tracker + (iOS, Android)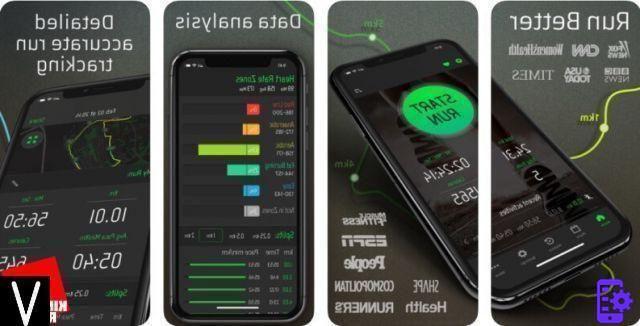 This is the perfect app for those who look at the substance and hate frills and an excessive social component.
If you want all the information about your running sessions, from the route to the calories burned, passing through the travel time and the speed in the various sections, this is the app for you. The solution also offers the ability to control the playing your music and comfortable voice messages that inform you about how much is left to the end of your workout.
Running Distance Tracker + is a complete app with non-invasive advertising that offers for free many of the features that competing solutions reserve for premium plans. The application, which unfortunately is not in your language but can be downloaded for free from the Android Play Store and the iOS App Store.
RunKeeper - GPS Running (iOS, Android)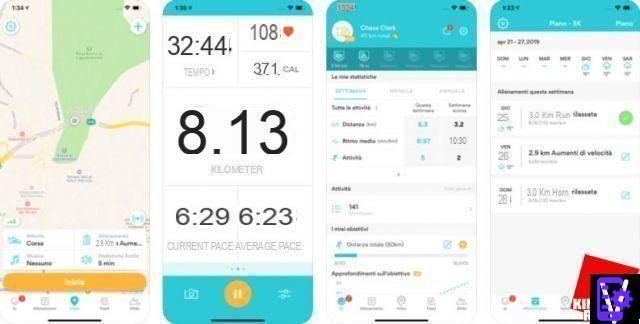 Without a doubt Runkeeper is a famous and complete app even if we have chosen to give precedence to slightly less known and equally complete apps.
RunKeeper, like competing solutions, allows you to monitor many types of sports and activities while memorizing our position and performance thanks to GPS. Users really appreciate its pleasant and modern interface, the many training plans available and the complete ones monthly reports.
As for the other apps listed, also in this case a Premium version is available that gives access to advanced functions. If you want to try this handy app you can download it from Play Store and App Store.
Athedas Running and Fitness Training: Runtastic (iOS, Android)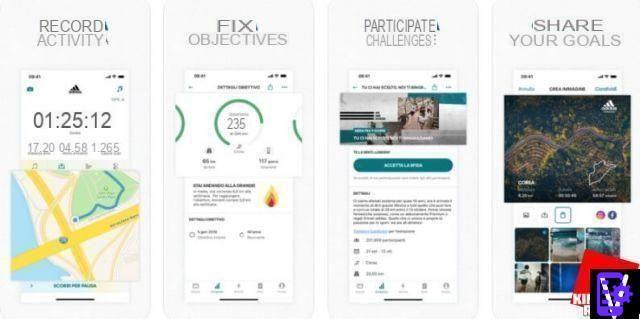 This is another very popular running app. Unfortunately some of the functions common in the basic versions of competing solutions are available here exclusively on the paid premium version.
Despite this we are dealing with an excellent app full of features and practical to use. Athedas Runtastic's new Running and Fitness Workout app has replaced the old Runastic with a new and clean one interface redesigned, new features and one set of training plans more challenging. The basic version of the app is available for free from the Play Store and the App Store.
I also recommend that you take a look at the best trekking apps that we have selected in the article just linked. Our in-depth study on the best apps for tracking routes on foot and by bike has ended, we can only say goodbye, wishing you a good workout.
The best apps for tracking routes in 2021