The first campaign of 2021 by NOW TV celebrates the full essence of Sky: freedom of vision, energy and variety of content. Thanks to Don't Stop Me NOW by Queen, a true hymn to freedom, the commercial is more powerful than ever.
The first 2021 campaign of NOW TV, the essence of Sky
The spot published by Sky, which you can see above, is one ShowCase with alternating sequences of the most intense moments of Gomorrah-The series, Game of Thrones, The Undoing, Once upon a time in ... Hollywood, Tolo Tolo, Trolls World Tour and many other titles including the Batman films, which gives few are available on NOW TV.
Guided by one narrating voice and a unique song, the protagonists of NOW TV become the testimonial of the commercials, each scene blends with the other becoming part of a single dynamic and fun set.
The commercial is made up of three different creative subjects. It's about a powerful synthesis of emotions, which gives users energy and rhythm on the notes of Queen. To it, moreover, is also added the communication of the offer dedicated to new customers: the first month of Cinema and Entertainment for only 3€.
This offer gives you access to a rich catalog of TV series, original products, over 1000 films, the most loved shows and documentaries of science, nature and art.
The NOW TV app is available on smart TVs, smartphones, tablets, PCs, NOW TV Smart Sticks, Vodafone TVs and on TIM VISION. For new customers, the Cinema + Entertainment Passes cost only 3 € for the first month and € 14,99 for the following months. Individually, the cost of the Cinema or Entertainment Pass is equal to € 9,99 per month. The Sport Pass with all the Football and Sports of Sky in HD costs € 29,99 per month.
More news from streaming services
Netflix will no longer be supported on two Nintendo consoles;
The Prince Seeks Wife 2 coming to Amazon Prime Video
Discount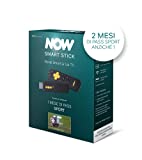 NOW Smart Stick with the first 2 months of Sport included | ...
What is NOW Smart Stick: it is a device that allows you to live the best streaming experience even if you don't ...
NOW content included: including a code for 2 months of the NOW Sport Pass in HD and on 2 devices simultaneously, ...
NOW Sport Pass - includes the emotions of Sky Football and Sport: all the matches of UEFA Euro 2020, the ...
29,99 EUR −3% 28,99 EUR Buy on Amazon TagsNow TV sky commercial The new NOW TV campaign celebrates the essence of Sky