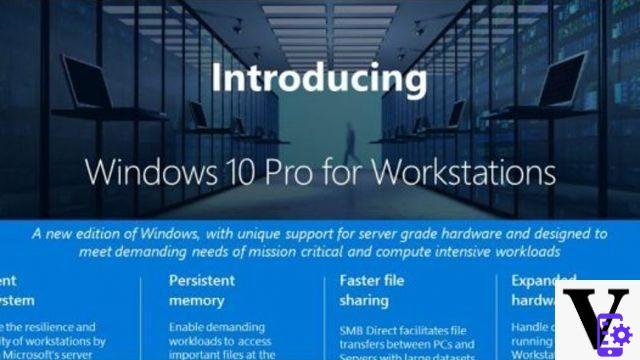 ---
Windows 10 Pro for Workstations offre il file system proprietario ReFS (Resilient file system), codenamed "Protogon", introduced with Windows Server 2012 with the intention of supplanting NTFS. It allows you to manage large volumes of data with ease and above all to better protect the integrity of information. Another novelty concerns the persistent memory support, that is to the NVDIMM-N modules that read and write at the maximum speed, typical of RAM, but which do not lose information in the absence of energy.
Windows 10 Pro for Workstations include a feature called SMB Direct, which supports the use of network adapters that have Remote Direct Memory Access (RDMA) capabilities. "Network adapters that have RDMA can work at full speed with very low latency, using very little CPU"This feature allows those accessing large data sets on remote SMB file shares to enjoy higher throughput, lower latency, and use fewer CPU cycles.
Finally the new operating system expands hardware support. "Users will be able to run Windows 10 Pro for Workstations on devices with high performance configurations that include Intel Xeon or AMD Opteron server CPUs, to a maximum of up to 4 CPUs (today the limit is two) e memory up to 6TB (the current limit is 2TB.) "The system will then be able to make effective use of CPUs equipped with an increasing number of logical cores and threads, ensuring full support for those who need large amounts of memory.
Windows 10 Pro for Workstations, geek edition