With an online service or a specialized application, you can directly download music from YouTube or even convert video to audio in MP3 format, all easily, for free and… legally!
If YouTube is above all a streaming video service, it is also a great music platform. With a simple free account, and without even having to subscribe to the paid YouTube Music plan - which costs 9,99 euros per month in 2021 - you can listen to unlimited music at will, by performing simple searches. Depending on the case, you will find official clips - with video, therefore -, but also individual titles, complete albums and even concerts only in audio. And there are absolutely in all genres, from rock to French song through hip hop, jazz, techno, r'n'b, country, metal, electro, fusion, afro, salsa, baroque, etc. There are even nuggets that have never been edited - radio recordings, for example - or that only came out on vinyl decades ago. In short, even alongside specialized paid services like Spotify, Deezer or Apple Music, YouTube acts as a veritable mine of music capable of satisfying informed music lovers as well as simple novices wishing to listen to a trendy hit.
However, although YouTube is easily accessible on computer and mobile, through its dedicated application, streaming has its limits. It starts with the fact that you must have an Internet connection to use it. Fortunately, it is quite possible to download music from YouTube to listen to it offline, without connection. Better yet, it is perfectly possible to convert a YouTube video to an MP3 file - or to another audio format - to keep only the soundtrack, without the image. And all this, easily and even for free, thanks to online services and specialized applications. The same, by the way, that are used to grab videos from YouTube and other streaming platforms (see our full article).
Is Downloading Music From YouTube Legal?
Downloading music or converting video to audio from YouTube easily for free is good. But is it legal? As curious as it sounds, yes. At least, in Our country and in many European countries. Admittedly, the conditions of use of the video platform of Google indicate the opposite. But they forget an essential detail: the right to private copying. Without going into the mysteries of this complex rule, private copying in force in Europe is an exception to copyright which "authorizes a person to reproduce an intellectual work for his private use, for personal use" - individual -, "but also in the private circle including the family framework". Clearly, any individual has the right to copy a music album or a film for his strictly personal use, that is to say without distributing or sharing it, in particular on the Internet. It is for this reason that all recording media are subject to a special tax, included in the sale price. This so-called private copying tax applies to both magnetic and analog media, such as audio and VHS cassettes of yesteryear, as well as current digital storage devices, such as hard disks, SSDs, USB keys or cards. memory. And this, even if they are not used to copy "works of the mind". You can therefore perfectly record music or video on your computer or your mobile for your private use, since its sale price immediately includes this famous tax.
If the question of provenance - the recording source - has long been debated, with the famous pirate hunt by Hadopi on Peer-to-Peer networks, it has been clearly settled in Our country, in particular in the case of stream ripping, the technique which consists precisely in recording as a file a stream broadcast by a streaming platform such as YouTube. Thus, in response to questions asked in March 2021 to the National Assembly by the deputy Philippe Latombe, Emmanuelle Wargon, on behalf of the Ministry of Culture, recalled that "this practice [stream ripping] is legal and the copy which result comes under the exception for private copying, as provided by law if several conditions are met: it must be made from a lawful source at the user's request without being stored by the converter, and no circumvention of technological protection measures should not be carried out ". And to specify that "this taking into account of the sources resulting from the stream ripping by the commission was validated by the Council of State in a judgment delivered on November 27, 2021". Clearly, online services and applications that extract audio or video content from streaming platforms like YouTube can be used legally. On one condition: that they do not break the protections in place, the famous digital locks - DRM or digital rights management systems in French.
So you can download and convert music and videos from YouTube worry-free and risk-free, as long as you use the recovered files in a private setting, do not circumvent protections and distribute copies. Just like you have the right to record a radio or television program, as long as it is not protected. Moreover, even if the platform seems to prohibit this practice, Google - the parent company of YouTube - does not censor ripping tools and services in search results - which would be easy to do if it were illegal.
Which tool to use to download music from YouTube?
In its classic formula, therefore free, YouTube does not offer any function for downloading music or video. A trick once allowed to do this by adding a code in the address - the URL - of the page, but this method no longer works today and you have to go through third-party tools. Fortunately, most are free, although there are paid ones that offer more options and settings.
There are mainly three types of tools for downloading music or converting video to audio from YouTube: online services, software to install on a computer, and applications for mobile (phone or tablet). Each type of tool has its advantages and disadvantages. In addition, some specialize in audio recovery while others, more general, can download video as well. Some limit themselves to the essentials by simply offering direct download as MP3, with no choice, while others offer quality and format options. Finally, note that while some tools are confined to YouTube, others work with other streaming platforms, which makes it possible to multiply the sources of music downloads.
If you don't want to install any app on your computer or mobile to retrieve music from YouTube, the easiest solution is to use an online service. There are dozens of websites offering this function such as Savetomp3, Youzik, y2meta, mp3-youtube.download, X2convert, Mpgun, 320YTM3, clickmp3 or even noTube, to name a few. And not to mention all those that allow you to download videos like VideoSolo, Youtube Mp4 Downloader, KeepVid, y2mate, Fluvore, YooDownload, Video Cyborg, ClipConverter, Savefromnet, Videovor or Youtube Video Downloader, for example. Be careful, these services are sometimes contested and must change their address, when they do not close outright. Many track the web and display ads - using an ad blocker is highly recommended, as is browsing in private mode. Note also that some allow a free trial download before encouraging to subscribe to a paid plan. In short, it's a bit of a jungle, and you often have to test several before finding one that works well! In all cases, the method is the same, the difference mainly due to the options offered.
If you plan to download music often from YouTube - or other streaming services - you can install specialized software on your computer. Here again, the choice is wide with dozens of applications available, both for Windows and macOS: Videoder, Free YouTube to MP3 Converter, YouTube Song Downloader, aTube Catcher, Any Video Converter Free, 4K Video Downloader, YouTube To MP3 Converter , Freemake Video Downloader, Free YouTube Download, etc. It is this kind of tool that generally offers the most functions and choices, both for compatibility with streaming platforms and in recovery and conversion formats. Some, like ByClick Downloader, go a long way in allowing you to download entire channels and complete playlists. Be careful, however: some of these tools have limited functions in their free version, and others embed unwanted software - most often adware, not dangerous but painful… - that they try to impose surreptitiously. So avoid clicking too quickly when installing them, making sure to uncheck the corresponding boxes! Note also that, as with online services, the French translation often leaves something to be desired. Finally, let us point out that, even if this is not their primary vocation, certain perfectly respectable, stable and clean software have functions to recover music or convert videos into audio from YouTube. This is particularly the case with the famous VLC Media Player (for Windows, macOS, Linux, Android and iOS), the excellent Captvty replay tool (for Windows only), or the Shutter encoding utility. Encoder (for Windows, macOS and Linux) which all allow you to retrieve a stream to transform it into a file. This function is often discreet, and sometimes not very ergonomic. But this solution is very effective, especially when combined with conversion options, and it avoids having to install special software or go through a questionable website.
If you spend more time on your mobile phone or tablet than on a computer, you have the option of using an online service - like the ones mentioned above - or installing an application that specializes in downloading music or converting video. from YouTube. And in this area, the choice is still very wide, even if it depends as always on the operating system, Android or iOS: TubeMate YouTube Downloader, Snaptube, Videoder, Snappea, YouMP34, MyMP3, Tube to MP3, New Pipe… there are tons of them, with more or less evocative names. Be careful, many are not available on the Google Play Store - we can easily understand why… - it is prudent to check the source carefully before downloading them, so as not to recover an application infected with a virus or spyware.
How to easily download music from YouTube with online service?
If you are looking to easily and quickly download music from YouTube via online service, then use Mp3 Youtube. With its interface in French reduced to the essentials, this tool is both very easy to use and very efficient. It does not offer any option - and therefore no adjustment - and automatically selects the best audio quality available. Also, converting to MP3 is very fast - much faster than on other services. And it works with a lot of other sites besides YouTube, which makes it particularly versatile.
With your usual web browser, go to the YouTube page of the music you want to recover or the video you want to convert to audio track and copy its URL into the address bar.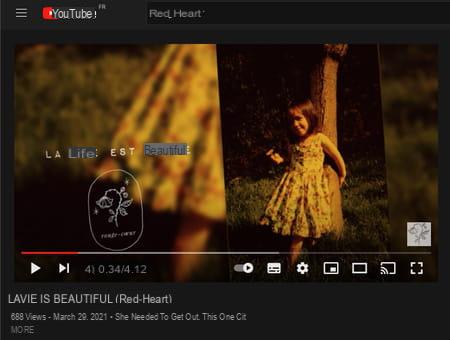 Then open a new tab and go to the Mp3 Youtube site.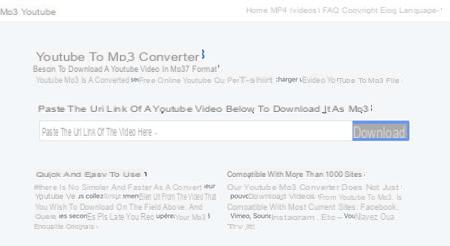 Paste the URL of the YouTube page in the field and click the button Download.

Wait a moment while converting - the duration of the operation depends mainly on the length of the music.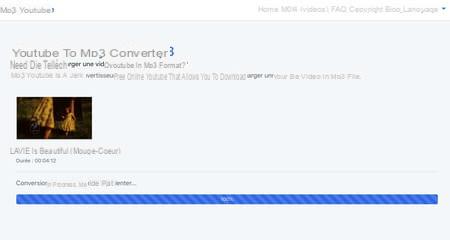 When the conversion is complete, the content of the page changes and a message indicates that the file is ready. Just click the button Download the file, which also displays its size. The file is then downloaded: you will find it in your usual download folder.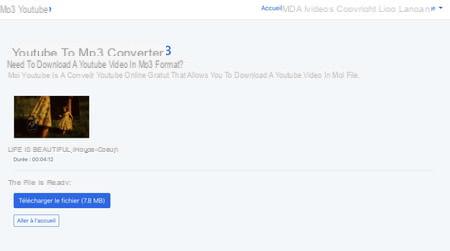 How to download music from YouTube with options through online service?
If you are more careful about the quality of the audio files you want to recover, then use an online service that offers more download and convert option. This is particularly the case with 320YTMp3, which, despite its very rough French translation, offers more choice than minimalist download services. It even has a search function - admittedly limited - to find pages directly on YouTube by a few keywords.
With your usual web browser, go to the YouTube page of the music you want to recover or the video you want to convert to audio track and copy its URL into the address bar.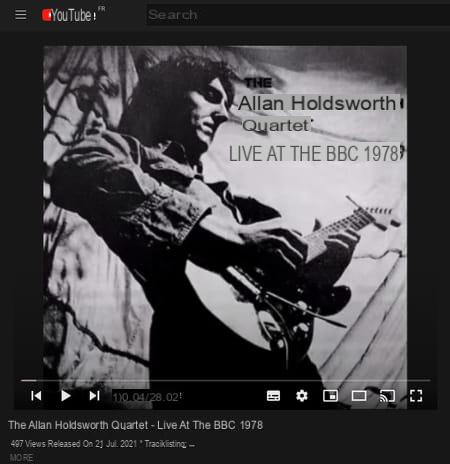 Then open a new tab and go to the 320YTMp3 site.
Paste the URL (address) of the desired YouTube page into the field and click the button Search. You can also search directly on YouTube by typing a few keywords in this field - but the results offered are quite limited.

After analyzing the link, the page changes and displays a thumbnail with several download options.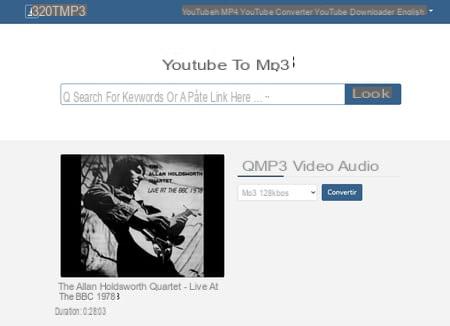 If the MP3 format is right for you, just unroll the menu under the MP3 tab and choose a quality from those offered. The higher the bit rate (expressed in kbps), the higher the audio quality and the "heavier" the file: 128 kbps is sufficient for listening on a walkman or car radio, 320 kbps is more suitable for listening at home on a channel. Then click on the button Convert.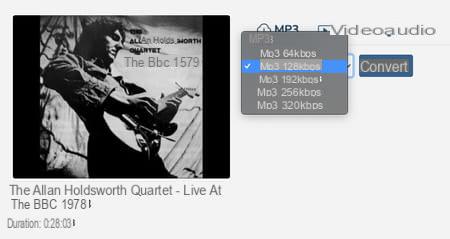 If you want to recover the audio in another format, click on the audio tab. A list of formats (MP4, Webm…) is displayed. Click on the button Download to the right of the desired format.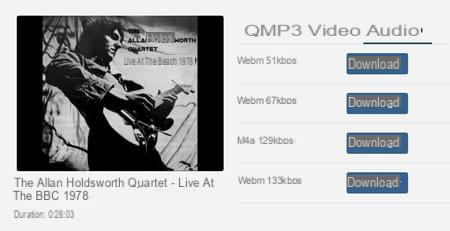 Whichever you choose, be patient during the conversion. The duration of the operation varies depending on the length of the music and the quality requested.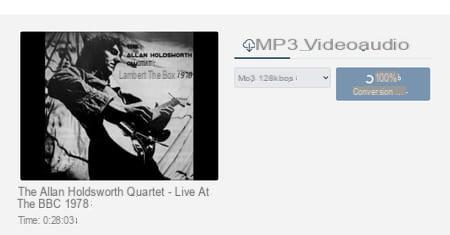 When the conversion is complete, click the button Download. The file is downloaded immediately: you will find it in your usual download folder.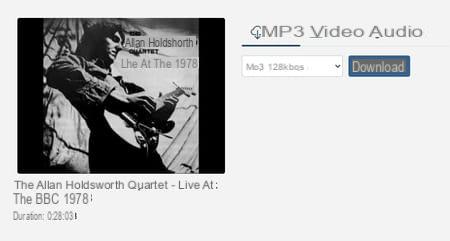 How to download music from YouTube with software on computer?
As we said, there is a multitude of software for Windows, macOS and Linux to download music and convert videos from YouTube. All of them work roughly on the same principle, but one of our favorites is Videoder which is free, simple and very effective, especially since it knows how to manage other stremaing platforms.
First of all, download and install the version of Videoder suitable for your computer. The installation is no problem, whether on Windows or macOS.
Download videoder for Windows
Download Videoder for macOS
With your usual web browser, then go to the YouTube page with the music you want to retrieve and copy its URL into the address bar.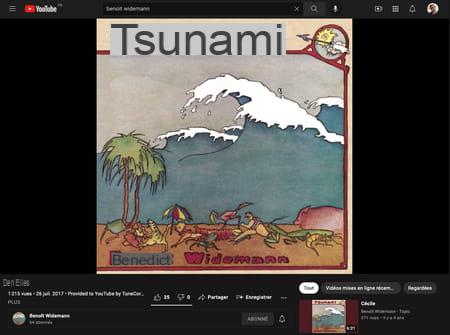 Start Videoder. Don't worry about the suggestions displayed on the right side of the window.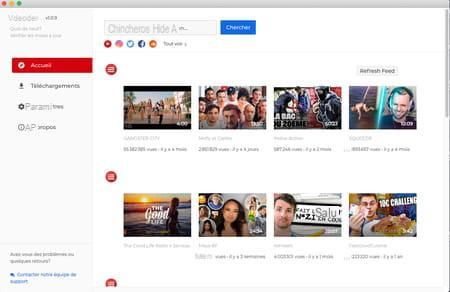 On the software home page, paste url that you have just copied into the Find or paste a link… field, then validate by pressing the key Starter on your keyboard or by clicking on the button Downloading , to the right of the field.

Videoder searches for and analyzes the link provided. If the corresponding stream is unrecoverable, for some reason, a message will appear to notify you - you can always try another software of the same type. If the stream is recoverable, Videoder displays a menu listing the different download options, with the formats and audio qualities available, indicating the weight of each version.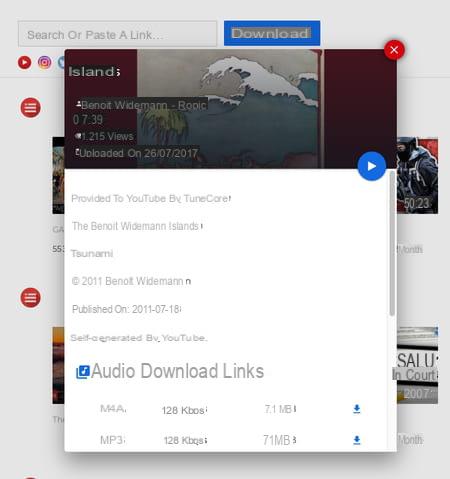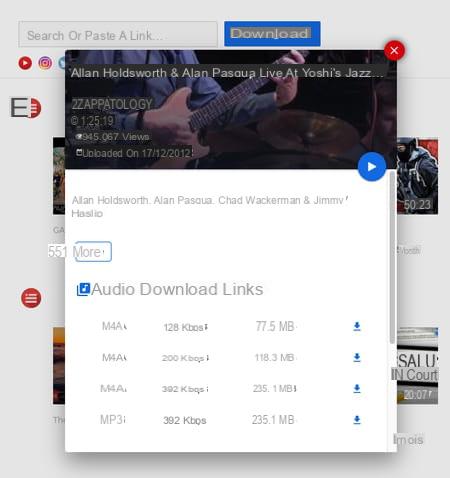 Scroll down and click on thea small blue icon with an arrow to the right of the version that interests you. A dialog box appears asking you to confirm your choice. If in doubt, click the blue play button at the bottom of the music or video thumbnail to play it in a mini window. Then click on Yes to validate.
The window closes and the download begins immediately. To check its progress, click on Downloading, in the left pane of the software. The progress of the download started is displayed, with a list, if applicable, of other downloads in progress and those that have been completed.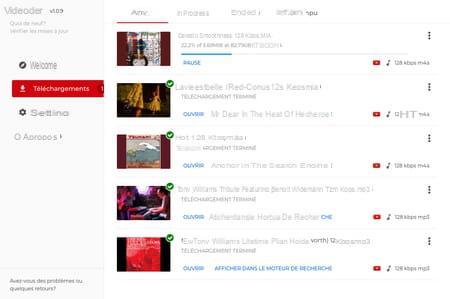 A notification informs you when the download is complete. Click on the button Open to play music on your default player, or on Show in explorer (on PC) or on Show in search engine (on Mac) to view the file in its save folder, via Windows Explorer or macOS Finder.
To select the folder to save the files you download, click Parameters in the left pane. All you have to do is indicate your path on the right side, by clicking on the button Choose location then by navigating in the tree structure of your computer.
What audio format to choose for downloading music on TouTube?
As you probably know, there are many digital audio formats. More precisely, there are many types of encoding of audio data, corresponding to both file formats and codecs - the distinction between the two concepts is beyond the scope of this practical sheet. The best known are MP3 and Wave, but there are many others like AAC or Flac, for example. Each format has its peculiarities, especially in terms of size - file size - and sound quality. The most common, such as MP3 or AAC are lossy compressed formats, which permanently destroy information in the original signal to produce more compact files. Conversely, Flac is a compressed format, but without loss of information, and which is therefore faithful to the original, but taking up less space. The Wave on the other hand is generally uncompressed, but it is the most space-intensive.
On YouTube, as on other streaming platforms, the quality of the audio stream depends on the choices made by the person or organization who posted the content. Google gives advice for encoding, but accepting several formats and qualities. When the original file is sent in high quality, YouTube may offer several variations. But often, you have to be content with low or medium quality, with encoding in MP3 or MP4 at 128 kbps (kbit / s). If you have compatible devices, choose MP4 instead, which is actually AAC - the standard audio encoding for MP4 or MP4a when it comes to audio only. Indeed, at the same bit rate, the sound is of much better quality than in MP3, a more destructive format. If you want to play your downloaded file on various devices, including a walkman or a car radio, choose MP3, this standard format is recognized everywhere.
Finally, note that some download and conversion tools offer a large number of formats and quality. But, most of the time, these options are useless because they consist in converting an already compressed file into another compressed format, which inevitably leads to a loss of quality. Even and especially when you choose a destination format that is supposed to be superior to the original format: it is just ridiculous to want to transform an MP3 at 128 kbit / s into AAC at 256 kbit / s or into MP at 320 kbit / s, you will not get better! Clearly, unless you have Wave PCM or Flac as a source, be satisfied with the qualities and formats offered by YouTube.
Questions about converting YouTube videos to MP3 audio? Come talk about it in our Forum. Topic Answers problem with youtube mp3 converter 13 VLC: extract audio track from Youtube video 34 extract MP3 from YouTube video 8 search converter Youtube Video to MP3 file 8 Convert video files to mp3 with VLC 2
YouTube MP3: Free Download and Convert to Audio
Summary Is downloading music from YouTube legal? Which tool to use to download music from YouTube? Easily download music from YouTube with online service Download music from ...