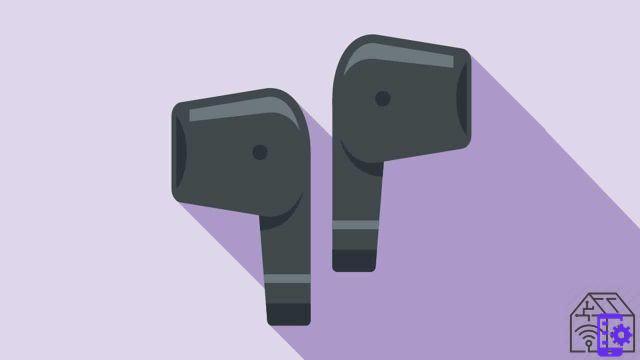 best true wireless headphones 2021
What are the best true wireless headphones of the moment? Which ones to buy? How do they differ? If you're here, you've probably asked yourself at least one of these questions. In fact, in recent years, wireless and completely independent Bluetooth headsets have conquered the market. The reasons are quite obvious: they are comfortable, futuristic and simple to use. However, there are several, of all kinds, shapes and price ranges, so choosing becomes complicated. Don't panic though: we're here to help.
Best true wireless headphones: our guide
We have decided to approach this guide following two parameters. On the one hand we have enhanced experience, inserting only earphones that we have had the opportunity to personally test, on the other hand we have decided to don't limit ourselves to those released in the last 12 months. There are in fact great true wireless headphones that have been launched previously and that can still give users a really cool acoustic experience.
We have also divided our list by price range. We will therefore have the best true wireless earphones under 50 euros, under 100 euros, under 200 euros and finally the most expensive ones.
The price, for clarity, refers to the official price list. During promotional periods such as Black Friday and Cyber ​​Monday, as well as in the days leading up to Christmas, you may find a number of attractive offers online that could help you take home the most expensive products without spending a fortune.
Our video comparison
Do you want to see them at work? You can see our video comparison.
Best true wireless headphones under 50 euros
As always, let's start from the lowest end of the market, that is the cheap earphones, the ones that allow you to spend less than 50 euros.
Realme buds q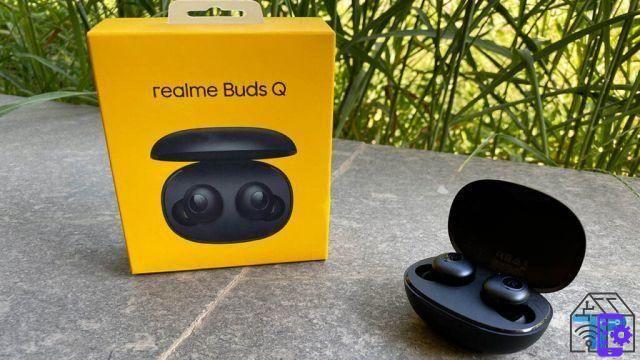 The Realme Buds Q show up with a compact and very light case, a low weight - only 3,6 grams one - and a design that makes them comfortable and discreet.
The connection is stable, the battery guarantees about 20 hours of use and in addition you have the possibility to customize the double and triple touch using theapp Realme Link.
Good then the audio quality with a clear and balanced sound while the calls are less satisfactory.
You can find them on the market a 29,99 € and are ideal for primarily wanting to listen to music, podcasts or audiobooks. Would you like to know more? Find our review here.
Best true wireless headphones under 100 euros
Let's raise the bar a bit by switching to headphones under 100 euros.
Honor Earbuds 2 Lite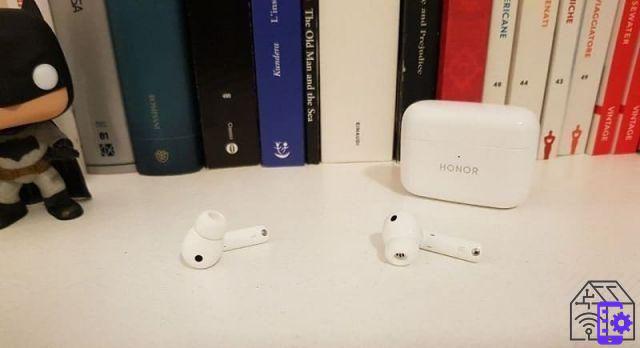 Le Honor Earbuds 2 Lite they are not samples of originality on the design front but in reality they are very comfortable to wear. But keep in mind that it is in-ear headphones and like all in-ears they enter the ear canal. Not everyone likes it, so we suggest you consider this before purchasing these or other similarly designed headphones.
Honor's Earbuds 2 Lite have a fairly compact case that allows you to carry total autonomy at 32 hours while the individual headphones give you about 10 hours of listening without active noise cancellation and 7,5 hours with Active Noise Canceling activated.
But how it behaves noise cancellation? In our opinion it is more than satisfactory, with the design that in itself promotes isolation; in some situations you just need to have them in your ears to remove part of the external noise, saving on the battery.
At your disposal then the Awereness mode, therefore the amplification of what is happening around you without having to remove the headphones. Again Honor has done a good job.
Also promoted are touch controls and microphones that allow you to manage calls well, also thanks to the presence of different technologies, from noise reduction to the neural network, which are responsible for optimizing the experience.
The sound quality, on the other hand, is entrusted to 10mm dynamic drivers. The result? The audio is not particularly enveloping but the bass is decent and the mid-high tones good. Overall, the yield is quite balanced.
The Honor Earbuds 2 Lite have a list price of 99,90€ but on Amazon you can find them constantly discounted by € 30.
Do you want to learn more? Find our review of the Honor Earbuds 2 Lite here.
Discount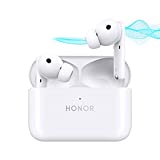 HONOR Earbuds 2 Lite - Bluetooth 5.2 Monitor...
【Headphones with Crystal Clear Audio sound】 - With a 10mm diameter dynamic driver unit, the HONOR Earbuds 2 ...
【Long lasting 32 hours battery】 - HONOR Earbuds 2 Lite can last up to 32 hours with the charging case, and ...
【Clearer Voice Calling Experience】 - Dual microphone designed in each earphone, which can reduce ...
69,00 EUR −6% 64,99 EUR Buy on Amazon
Huawei FreeBuds 4i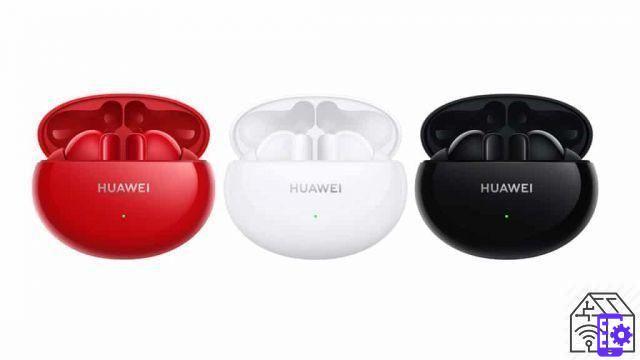 Le Huawei FreeBuds 4i have taken the place of the already popular 3i. However, they offer a slightly different design, more similar to that of the FreeBuds Pro than the previous model. A choice that we are not sorry at all and that does not compromise the weight - only 5 grams each - and comfort, as long as you like in-ear headphones.
To animate the FreeBuds 4i we find decent audio quality and good active noise cancellation. You won't cry out for a miracle, mind you, but it still does its job, especially in particularly noisy environments. Instead, the microphones convince that make them perfect for managing phone calls, especially considering the 10 hours of autonomy they can reach with a single charge.
And the app? Of course it is inevitable. Let's talk about AI Life, available for both Android and iOS. But be careful: on iOS it is not yet compatible with headphones. Our suggestion is therefore to opt for these headphones if you own a smartphone from the Chinese giant or in any case a device with a Google operating system. In fact, the app is vital for checking the battery level, managing noise cancellation and customizing the action associated with the double tap.
The Huawei FreeBuds 4i are available at a price of 89 euro.
Discount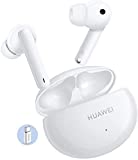 HUAWEI FreeBuds 4i Auricolari True Wireless Bluetooth Cuffie...
【Active and intelligent noise cancellation】 The sensors of the HUAWEI FreeBuds 4i actively detect and reduce the ...
【10 hours of playback and fast charging】 HUAWEI FreeBuds 4i has incredible durability. It can play music up to ...
【High fidelity sound】 10mm dynamic driver and sensitive diaphragm made of polymer ensure you ...
89,00 EUR −54% 41,18 EUR Buy on Amazon
Nothing ear 1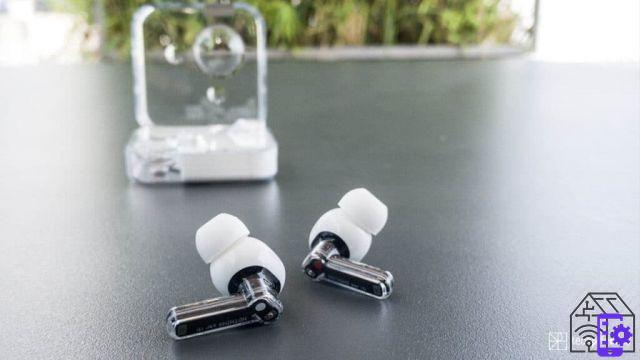 Le nothing ear (1) are the first product of Nothing, the new company of former OnePlus founder Carl Pei.
The result is truly amazing. These earphones are original, light, resistant to water and sweat and very comfortable to be used also for long periods.
The controls, strictly touch, are intuitive and reactive while the battery gives us about 5/6 hours of autonomy which become over 30 with the case.
Equipped with 11,6mm drivers, Nothing ears (1) return a rich and full sound, distortion-free and with a rather high volume. At your disposal then you have 4 preset, included in the ear 1 application, which act on highs, lows and voices to find the right combination for you.
Good call handling thanks to the three microphones on each earphone e promoted noise cancellation that manages to eliminate much of what surrounds you. Alternatively you can opt for the transparency mode which amplifies external sounds.
A €99 Nothing ear (1) is a really great product. But be careful: they are selling like hot cakes and finding them is not easy.
Google Pixel Buds A-Series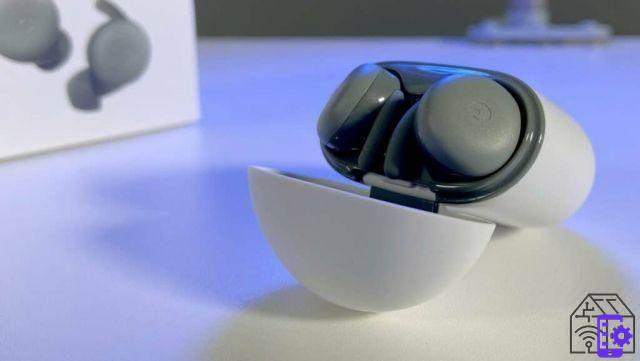 They cost €99 also the Google Pixel Buds A-Series, the economic version of the Pixel Buds 2 released in 2020. From the older sisters they take practically the same design, both of the case and of the earphones. So no temple but a more compact aesthetic which however does not preclude the performance in call. In fact, beamforming microphones focus on the voice to isolate it from noise with a good result despite the fact that every now and then it tends a little towards artificiality.
The sound is entrusted to custom 12mm drivers that return clear and very balanced audio, with bass present which fortunately does not overpower everything else.
These earphones are comfortable to wear, stable, have the IPX4 certification and are controlled with the touch. Compared to the Pixel Buds 2 there is no possibility to adjust the volume but the other controls are comfortable and intuitive.
What else was sacrificed? Well, the smart alerts and the ability to share one of the earbuds with another person with independently adjusting the volume.
The rest is all there: fast pairing, adaptive sound and Google Assistant integration, including real-time translation.
In our opinion the Pixel Buds A-Series are excellent earphones, sold (on the official store) at a competitive price and perfect for those looking for a particularly smart product.
To learn more you can read our review.
Sony WF-C500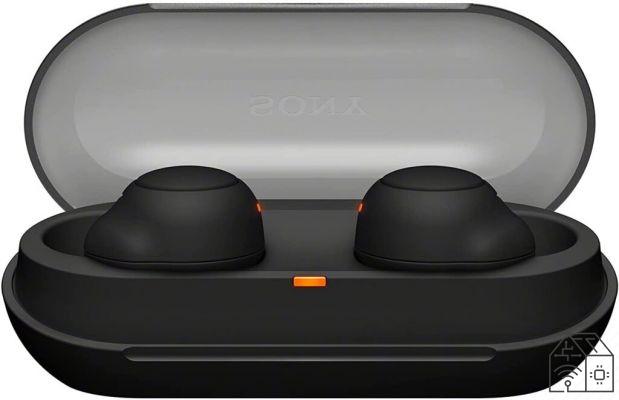 The next headphones on our list are the Sony WF-C500 and they have something in common with the Pixel Buds: there is no noise cancellation. So what do they have to offer? First of all, a fairly high audio quality considering that we are talking about 100 euro earphones; it is not equal to that of Sony's top of the range but 5,8mm drivers return a balanced sound.
The Sony Headphones application then allows you to use the integrated equalizer to adapt the sound to your tastes. Our advice is to intervene a little on the bass, you will surely notice a pleasant difference.
A little less exciting use on call. If you are in a fairly quiet room they get along fairly well but when there is noise, like in a bar, communication becomes a little more difficult.
We appreciated Sony's choice on the design front. First of all the earphones are very compact, light and very comfortable in everyday use. A not indifferent plus since they guarantee about 10 hours of continuous playback. Secondly, they have a physical button instead of the now popular soft touch surface and this makes the controls much more direct. Finally they boast the IPX4 certification then they resist sweat and splashes of water.
A little less exciting is the case. In fact, we liked the matte surface and the semi-transparency of the lid but the shape does not always make them suitable for carrying in the pocket. The case also guarantees another 10 hours of use for a total of 20 hours. Here, too, Sony has made a different choice from the competition, opting for a battery that lasts more consecutive hours and a case that offers fewer charge cycles. An error? Actually no, also because 10 hours are quite a lot: you could practically use them all day.
On balance the Sony WF-C500 are a good choice for those looking for sound quality first and foremost, a good equalizer and the ability to wear them for the whole working day. All this a 100 €.
Discount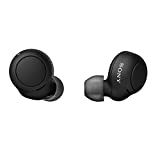 Sony WF-C500 - True Wireless Earphones, Battery up to 20 ...
Small and light earphones - great wearability
DSEE technology and tailored sound with EQ for a more enjoyable listening experience with your Sony earphones
Stable and easy Bluetooth connectivity
99,99 EUR −40% 59,99 EUR Buy on Amazon
Best true wireless headphones under 200 euros
We now move to another highly populated band, the one dedicated to best true wireless headphones under 200 euros.
LG Tone Free FP9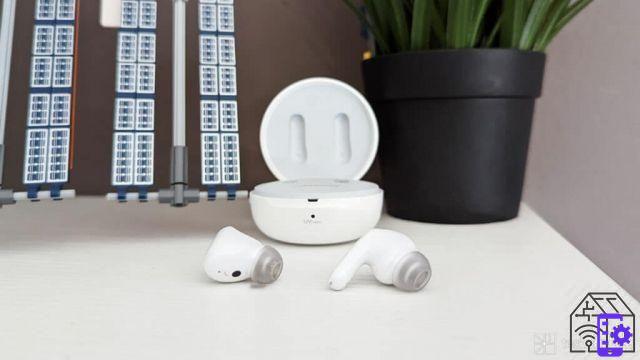 Le LG Tone Free have two characteristics that make them absolutely unique: self-sanitization and the ability to work with any device, even those that do not have Bluetooth.
La UVnano technology, integrated in the case, it eliminates 99,9% of bacteria in 5 minutes. Considering that the headphones spend a lot of time in the ears and that our ears are exposed to a little bit of everything, it is an added security.
We then Plug and Wireless functionality, with a switch present on the case and a cable to connect the case to another device. All this to use the headphones even on old PCs, on the stereo, on the plane or with the treadmill.
To characterize them we also find the IPX certification4 for sweat and rain resistance, touch controls and a dedicated app to customize the experience.
On board we find 3 microphones, with a discreet call yield and the possibility of activating the Whisper mode, which allows you to use the right earphone as a super close microphone.
The audio has been optimized by Meridian Audio, with 5 presets that help you tailor the experience to your tastes, plus we have active noise cancellation or, alternatively, the modality Ambient Sound which instead amplifies its exterior.
Autonomy is of about 6 hours with ANC rising to 10 by deactivating the option. The case then gives you another 15 with active noise cancellation or 24 by giving up this function.
Discount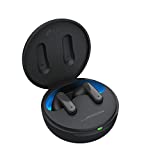 LG TONE-FP9 Cuffie Bluetooth Wireless In Ear TONE Free Nere,...
FEATURES: Bluetooth 5.2 headphones LG TONE Free FP9 black; Meridian audio; ANC, 3 microphones; automatic association; ...
SOUND: Thanks to the sound designed by Meridian, the LG bluetooth TONE Free headphones ensure clear and spatial sound ...
ACTIVE NOISE CANCELLATION: Thanks to the optimized driver, the earphones hear and measure external noise and ...
199,00 EUR −40% 119,90 EUR Buy on Amazon
OnePlus Buds Pro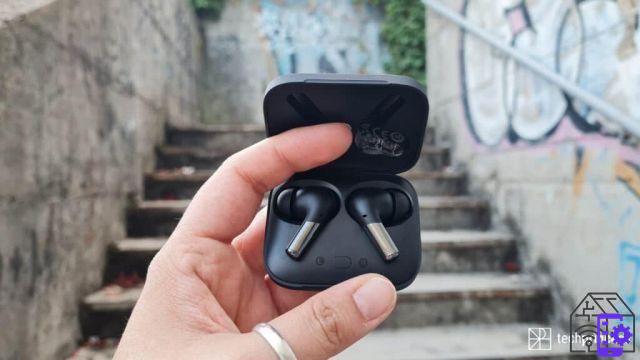 OnePlus has also thought about the most demanding consumers. Therefore, next to the aforementioned OnePlus Buds there are the Buds Pro, recently launched on the market.
Design inspired by Apple, controls that require you to hit the bar and two colors for the newcomers of the Chinese company that stand out above all for the technology on board.
The audio quality is entrusted to driver from 11 mm and is meant for primarily enhance the bass and high tones, sacrificing a little bit on the mid frequencies.
However, you have a test available that allows you to create a sort of custom preset that goes a little to rebalance and adapt the sound performance.
On the calling front we have three different microphones, accompanied by a particular anti-wind design and an algorithm for the reduction of background noise which intelligently recognizes and filters everything that could potentially disturb your phone call.
There is no shortage of the transparency mode, so as to listen to what is happening around you without making you angry, and there active noise cancellation. Using the application Hey melody, or the settings integrated in OnePlus smartphones, you can also define the ANC level, possibly opting for the Smart mode which automatically and intelligently suppresses noise.
The price? 149 €.
The OnePlus Buds Pro review. Now we are! Offering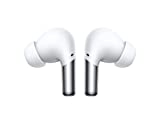 OnePlus Buds PRO - Wireless Headphones, Up to 38h of autonomy, ...
Intelligent and Adaptive Noise Cancellation - Enjoy an oasis of silence with the Noise Cancellation feature ...
Loud and clear call - AI powered noise reduction algorithms and three ENC microphones for reducing ...
We are pleased to introduce Warp Charge - With the dedicated case, you can enjoy up to 38 hours of playback ...
149,00 EUR −10% 133,99 EUR Buy on Amazon
Migliori cuffie true wireless: Samsung Galaxy Buds 2
Le Samsung Galaxy Buds 2 are the latest headphones from Samsung and are the obvious fusion of what the Korean company has learned in recent years. To prove it is first of all the design: the Galaxy Buds 2 are in-ear, very light and contained in an extremely compact case.
Super comfortable and certified for sweat resistance, Samsung's earphones are made in collaboration with AKG and give you a good listening experience. We are not on par with the Buds Pro but overall the sound is full and clear with a volume that is very high.
Also in call the Samsung Galaxy Buds 2 are doing very well. Our interlocutors have never complained and you can benefit from active noise cancellation to isolate you and not get distracted by what is happening around you. Know that the ANC is not flawless, a little something passes, but in our opinion it does a good job, especially considering the price range.
Well done touch controls, which remain very classic, as well as the application Galaxy Wearable that by now we have come to know.
We conclude with the autonomy that comes to 5 hours with active noise cancellation and rises to 20 with the contribution of the custody. Once downloaded you can count on wireless and fast charging.
The Samsung Galaxy Buds 2 are certainly an excellent alternative, especially if combined with a smartphone from the same manufacturer. You can find them for sale in 149€ and in 4 colors.
Discount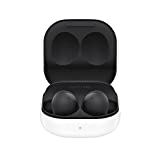 Samsung Galaxy Buds2 Cuffie Bluetooth, True Wireless,...
Clear calls: Three microphones and a built-in voice recording unit allow for high quality of ...
Active Noise Cancellation: Two microphones can detect ambient noise, while active noise cancellation ...
Convenience of transport: Weighing only 5 grams each, the music fits comfortably in the ear, even with one ...
149,00 EUR −40% 89,59 EUR Buy on Amazon
Huawei Freebud Pro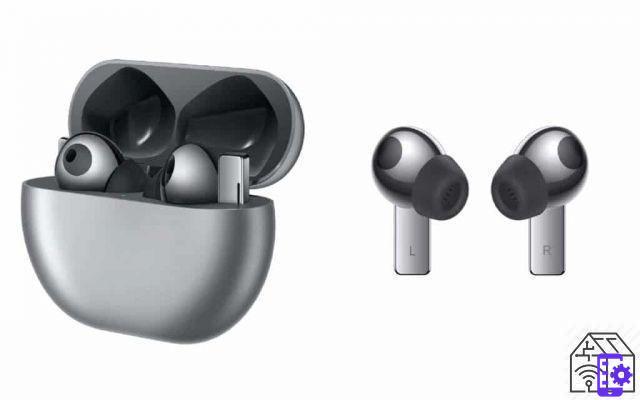 We had anticipated them and here they are. Even the Huawei Freebud Pro they have in fact won a place on the list of the best true wireless headphones on the market.
Given that the Freebuds 3 remain an excellent alternative at an even more attractive price - 139 euros -, the FreeBuds Pro offer you something more. First of all we find a square design with the in-ear grommet and a shaft only 26 mm long.
The connection is stable, the touch controls work great and you can even turn the volume up and down by tapping the headset.
We then have thenoise canceling which works discreetly. It is not that of over-ear headphones but still performs well.
The audio is then really very satisfying and the call quality is excellent.
Also available the AI ​​Life application which allows you to check the battery status, both of the headphones and the case, to change the noise control mode and to go through the controls. You can only customize the pressure on the temple, which can be associated with the noise control or the activation of the voice assistant. In addition, you can perform a fit test, activate detection when wearing headphones and update the firmware.
All this a 179 euro. Not bad at all.
Discount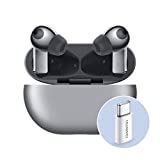 Huawei FreeBuds Pro with Huawei AP52 Adapter, Earphones ...
Optimized noise cancellation: Huawei FreeBuds Pro intelligently recognizes ambient noise, ...
Crystal clear voice: Voice mode limits surrounding noises and optimizes voice detection, you can ...
Dual Device Connection: Huawei FreeBuds Pro support simultaneous connection with two devices and allows you to ...
179,00 EUR −44% 99,90 EUR Buy on Amazon
Google Pixel Buds
Before moving on to the very high-end of the market, it's up to Google Pixel Buds. They convinced us for the shape, comfort and resistance to sweat and water splashes.
The touch controls work really well and again you have the option to adjust the volume with an upward or downward swipe, therefore without putting your hand to the smartphone.
The Pixel Buds then offer a good listening experience and take advantage of a technology called Adaptive Sound per automatically adjust the volume according to your surroundings. This means that if you are at the bar, several people enter and the background noise increases, the volume of the earphones also increases automatically. However, the function applies to prolonged noises. If the horn beeps for 2 seconds, it does not activate because there is not enough time to intervene.
We also liked the call behavior very much, with a good clearing of background noises.
We also point out the availability ofPixel Buds application on both Android and iOS. Inside you will find the battery status, the customization of the touch controls and some other useful settings. Know that if you have a Pixel everything is already integrated into the system.
We finally get to the battery. With one charge you have 4-5 hours of use and the case gives you another 5 charges. In total then we come to about twenty hours.
The price? 199 euro.
Apple AirPods 3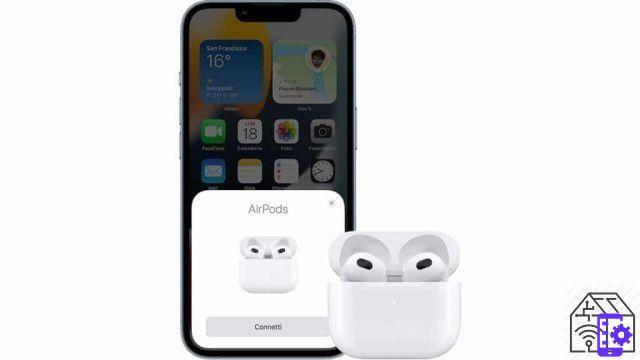 Aesthetically the AirPods 3 they look a lot like the Pros, if not for the absence of the rubber pad. They are comfortable, stable, resistant to splashes and stored in a case that is reminiscent, once again, of that of the older sisters and which, among other things, supports the MagSafe.
The audio sector has improved compared to the previous generation. The bass is now deeper and in addition we have the adaptive EQ, an adaptive equalization system that adapts the equalization to the shape of the ear. In my opinion, the result is really good.
Unfortunately it lacks noise cancellation but we have support for spatial audio, which simulates surround and works very well indeed, and Apple's Where's technology, which helps you to trace the devices and find them in case of loss, even if only momentarily.
The controls, which are based on the crushing of the two legs, are quick and intuitive, while the microphones, assisted by a grid that reduces interference when you are against the wind, guarantee good quality on call.
The only small flaw is that when there is a lot of noise the voice becomes a bit artificial, metallic, but overall the result is more than convincing.
Finally, we come to the autonomy that is attested around 6 hours, which becomes 30 with the case.
A 199€ the AirPods 3 are in my opinion the most suitable choice if you have one or more Apple products, both for the general quality of the product and for the excellent and minimal integration into the ecosystem.
If, on the other hand, you also want to have noise cancellation and you prefer an in-ear design then the choice could fall on the AirPods Pro, as long as you are willing to spend 80 euros more on arrival at €279.
Discount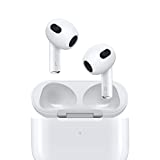 New Apple AirPods (XNUMXrd generation)
Spatial audio with dynamic head position detection for three-dimensional sound
Adaptive EQ: Calibrate the music based on the shape of your ear
New streamlined design
199,00 EUR −14% 171,99 EUR Buy on Amazon Offer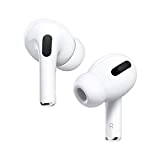 Apple AirPods Pro with MagSafe Charging Case (2021)
Active Noise Cancellation to block out external noise and immerse you fully in the music
Transparency mode to feel the world around you
Spatial audio with dynamic head position detection for three-dimensional sound
279,00 EUR −29% 199,00 EUR Buy on Amazon
Best true wireless headphones over 200 euros | April 2022
Let's now move on to the most demanding segment of the market, the one that takes us above the threshold of 200 euros.
Samsung Galaxy Buds Pro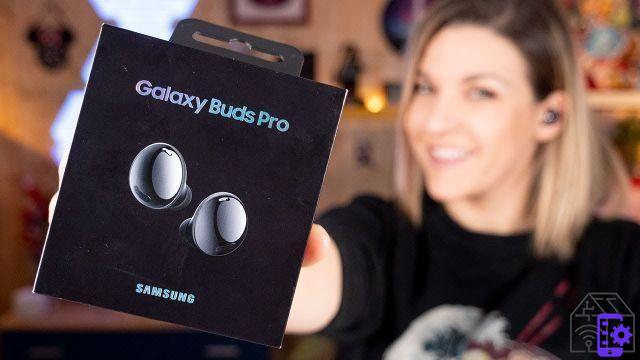 Samsung returns to appear in our new list with its latest true wireless headphones: the Galaxy Buds Pro. Aesthetically they are the fusion between the Plus - which we have already seen - and the Live, launched last year. They are designed for anchor firmly to the ear despite being a bit bulkier than the other two models.
On board we find three microphones, a small room with network, Wind Shield technology to shield wind interference, proximity sensors and the Pogo connector for wireless charging. Then there are two drivers: one 11mm for deeper bass and one 6,5mm for richer highs. All elements that make them perfect for both listening to music and for managing calls, which are clear and sharp.
There is no lack of active noise cancellation, which can be adjusted from the app, and the Ambient Sound feature, which allows you to amplify sounds by over 20 decibels. Plus we have the Galaxy Wearable app to customize the experience. The actual novelty here is only one: voice detection. The Galaxy Buds Pro are born intelligent, they understand when you are speaking and reduce the volume of the multimedia contents you are listening to. It only works with the wearer's voice. When you're done talking, turn up the music. The "recovery" time is up to you. You can choose 5, 10 or 15 seconds.
If you are looking for a truly versatile product, they are definitely for you.
Discount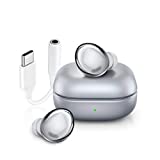 Samsung Galaxy Buds Pro Earphones + USB-C Adapter ....
Enjoy the immersive sound of the Galaxy Buds Pro earphones. The two large 2-way speakers give you more sound ...
Thanks to Active Noise Canceling (ANC) technology, the Galaxy Buds Pro earphones reduce noise from ...
The Galaxy Buds Pro wireless earphones have a maximum autonomy of 5 hours of playback and 18 hours of total autonomy ...
229,00 EUR −39% 139,99 EUR Buy on Amazon
Best true wireless headphones: Sony WF-1000XM4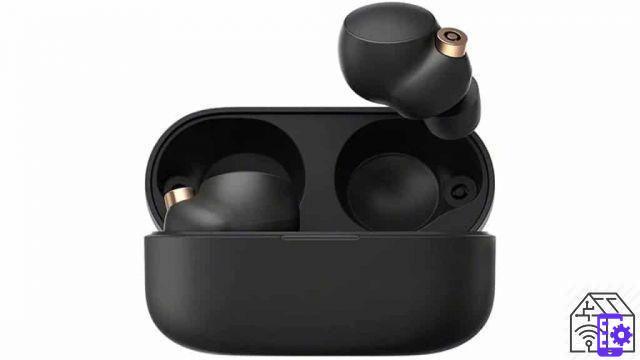 A 280 € there are the Sony WF-1000XM4. A name not too easy to remember for a super complete product.
Distinguishing them from the others is very easy. First of all we have a bulkier case compared to the competition even if it remains elegant, characterized by premium materials and able to recharge your headphones several times. In total we will have like this 24 hours of battery life with active noise cancellation.
This technology is particularly developed on Sony headphones and capable of reducing external sounds almost like the over-ear variants. If eliminating noise is your priority, you will be fine, both in quieter environments, such as an office, on public transport or in more crowded places.
There is also the Quick Attention Mode: by keeping your finger on the left earphone, you can suddenly lower the volume to listen to external noises, such as announcements at the station, a hostess speaking to you or colleagues trying to attract your attention.
The commands then work fine, the connection is stable and the audio quality is very high with a balanced, well-defined sound and deep bass. You can also adapt them to your needs using the app's equalizer.
Less satisfactory on call.
They are discreet but if that is your priority you should probably go for other models. These are more suitable for those who want above average audio quality and excellent noise cancellation.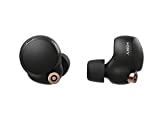 Sony WF-1000XM4 - Auricolari True Wireless con HD Noise...
NOISE CANCELING: Noise canceling is enhanced thanks to the new V1 processor, driver, new microphones ...
HI-RES WIRELESS AUDIO: With a 6 mm driver, the highly flexible diaphragm and the V1 processor, reproduce a ...
SPEAK TO CHAT: As soon as you talk to someone, the Speak-to-Chat feature automatically pauses the music. Much...
214,99 EUR Buy on Amazon
Apple AirPods Pro
Finally, we come to the most expensive model of all, the AirPods Pro on Apple.
They work only with Apple devices therefore they are designed for those who have already purchased one or more Cupertino products.
They are equipped with a small, light and well built case while the earphones boast a minimal weight and an extreme comfort. You will hardly notice that you are wearing them.
The controls are intuitive, feature excellent noise cancellation, and even have Transparency Mode, which amplifies surrounding voices and noises. A real lifesaver if you use them while walking on the street or on a bicycle.
The sound quality is decidedly high, with improved bass compared to classic AirPods. Calls are also good: you hear your interlocutors well and they will have nothing to complain about even in chaotic environments.
Finally, we come to the price. Well 279 € but if you want a super complete product to be associated with iPhone, iPad and MacBook, they are really for you. Would you like to know more? Here you find our review.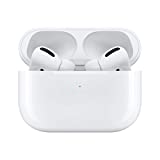 AirPods Pro
Active noise cancellation to immerse yourself in sound
Transparency mode to hear the world around you
Tapered pads in three sizes, made of soft silicone, for tailored comfort
Buy on Amazon