20% off your V-Bucks purchases
Indeed, on Fortnite, you can buy V-Bucks, the virtual currency of the game allowing you to unlock advantages or customizations. However, to get for example 1000 V-Bucks, you can now go either through the classic channel of the App Store or the Play Store - depending on your smartphone - or directly through the solution offered by Epic Games which offers exactly the same, but 20% cheaper.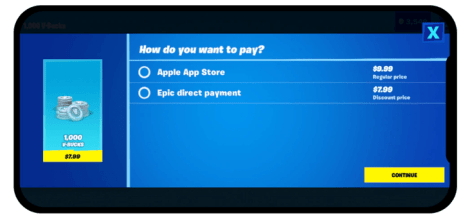 Epic Games' payment solution is 20% cheaper than Apple's on Fortnite // Source: Epic Games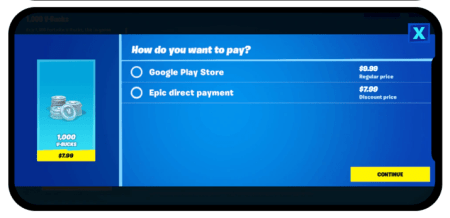 Epic Games' payment solution is 20% cheaper than Google's on Fortnite // Source: Epic Games
In the screenshots above, we can see a screen asking the player how they want to pay. Direct payment to Epic Games is showing at $ 7,99 instead of $ 9,99.
Assumed attack against Google and Apple
Epic Games explains its position bluntly and takes the opportunity to tackle Apple and Google.
Currently, there are no savings if players use the payment options of Apple and Google, where Apple and Google charge a hefty 30% fee on all payments. If Apple and Google reduce their fees on payments, Epic will pass the savings on to gamers.
He added that by offering an alternative payment system, "not only are we giving players more choice, but we are also able to pass the savings on to the players". In addition, the editors of Fortnite explain that this is not a temporary promotion, these reduced prices will be "available at any time".
To learn more
The arrival of Fortnite on the Play Store has finally inspired you to play it
"It is clear that Apple and Google recognize that third party payment services are safe and acceptable for goods and services. Epic direct payment simply gives players the same types of payment options as these other apps, "the statement concluded. Despite this rationale, the initiative clearly appears to violate several rules, especially on the App Store. We imagine that an arm wrestling will quickly engage between the two parties.
Apple in the face of its detractors
The fight fought here on Fortnite is reminiscent of the one in which Spotify launched by criticizing the App Store's policy on the 30% commission. The music platform's teams even speak of abuse of a dominant position.
Chance of the calendar? Epic Games' announcement comes shortly after the quarrel between Microsoft and Apple regarding Xbox Game Pass on iOS and which has not left tech players indifferent either.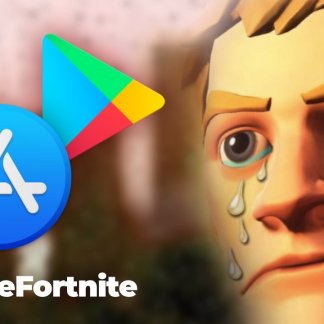 Fortnite: all about the battle royale between Apple, Google and Epic Games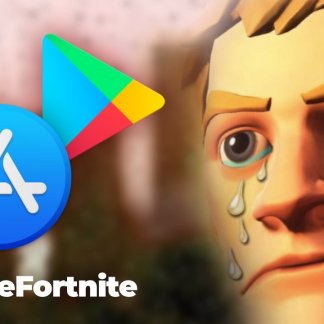 Fortnite is no longer available on the App Store or the Play Store following a battle between Epic Games and Apple and Google. The confrontation takes place both legally and in terms of…
Read more

To follow us, we invite you to download our Android and iOS application. You will be able to read our articles, files, and watch our latest YouTube videos.
Follow the fight of Fortnite vs Apple
Fortnite won't be coming back for a very (very) long time on iPhone and Mac
Fortnite vs Apple: Epic Games obtains an important first victory
iPhone Nano: its existence confirmed by internal emails
When Google was considering buying Epic Games and Fortnite
Why is macOS open to third-party store apps and not iOS?