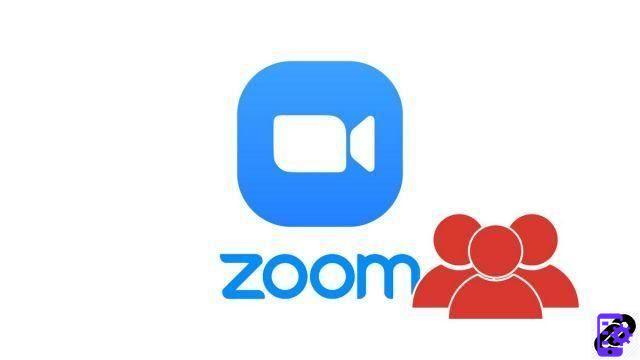 As part of our series of tutorials dedicated to teaching you how to properly manage meetings on Zoom, find out how to join a meeting on ">Zoom

Zoom videoconferencing software allows the host of a web conference to invite up to 100 people to their videoconferencing room. The free version of Zoom imposes a 40-minute time limit on video conferences larger than two people, unfortunately.

For casual Zoom users or those without an account, it is nevertheless very easy to join a remote meeting with audio and video. By simply receiving a URL address by e-mail or via any instant messaging service, from desktop or mobile, you can join a virtual meeting. The only prerequisite: a stable internet connection and, ideally, a microphone and a webcam that play their role well enough.


Join a meeting on Zoom from the desktop app
Open the Zoom app and click on the " Join Us », located on the home page.




A pop-up window opens. Enter the meeting ID and your name.



You can choose not to allow audio and video. Click on " Join Us to join the meeting.

There are other ways to join a meeting as an external participant on Zoom. A meeting host can also forward you a clickable link. If you don't have a Zoom account, the videoconference will open in your web browser, automatically. You will then only have access to audio and video (microphone and webcam) and not to other Zoom features. On mobile device (under Android, iOS, for smartphones, tablets and iPad), you will receive a notification, as on any application, on which you just have to click to join the meeting.
All participants invited to a meeting on Zoom automatically have the right to use its various features: whiteboard, screen sharing, videoconference room instant messaging, document sharing, etc. It is the facilitator's responsibility to prohibit or limit these uses, before or during remote meetings. This is what makes it easy to communicate and organize video calls with a large number of participants without a hitch. As a participant in a conference, you can request the rights to become the meeting host yourself.
Find other tutorials to help you manage your meetings on Zoom:
How do I create a meeting on Zoom?
How do I schedule a meeting on Zoom?
How do I record a meeting on Zoom?
How do I share a file on Zoom?
How to be silent on Zoom?
How do I lock a meeting on Zoom?
How do I stop a participant's camera during a meeting on Zoom?
How do I invite someone to join a meeting on Zoom?
How do I schedule recurring meetings on Zoom?
How do I turn chat on and off during a meeting on Zoom?
How do I turn off screen sharing for meeting participants on Zoom?
How do I kick someone out of a Zoom meeting?
How to schedule a meeting on Google Calendar with Zoom?
How to schedule a meeting in Outlook with Zoom?
How to automatically mute the microphone of new participants in a Zoom meeting?