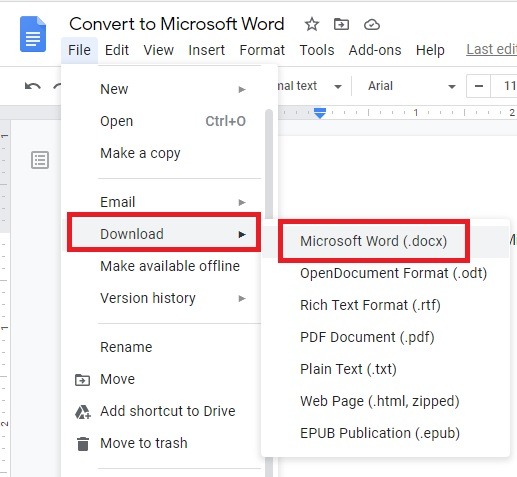 How to turn a Google Docs file into a Microsoft Word document? The question may seem trivial, but those of you who have installed Google Drive on your computer know it: Google syncs your documents in .gdoc format. Which cannot be read by Microsoft Office. Fortunately, it is very easy to download your documents in the desired format.
In previous tutorials, we taught you how to change the orientation of a Google Doc to landscape mode and how to add page numbers to a document. Today we tell you how turn your Google Docs file into a Word file. Very easy to perform, this manipulation will be of great help to you in your office tasks. Follow the leader !
.Gdoc files can be downloaded in Microsoft Word format
In fact, the .gdoc files that you see in your Google Drive folder don't actually contain your documents. This is still in the cloud. You will not be surprised to learn, therefore, that these famous files .gdoc are really just shortcuts to your Google Drive. No need to look for a program to perform the conversion, you can already do everything online from your Drive or inside the document.
How to download a Google Doc in the right format?
Open the document you want to convert.
Pull down the File menu and hover your mouse over Download.
Click on Microsoft Word (docx).
Significant detail, you also have the possibility of opting for other formats. In this case, you can download your document in MS Word format, but also OpenDocument (.odt for LibreOffice), rich text (.rtf), PDF, .txt, .html. It's even possible to download the document in .epub format to read your document later on an e-reader like Kindle or Kobo.
How to download a Google Doc document in the right format
Note that you can also convert your document to Word format directly on the Google Drive web interface.
In your Google Drive, navigate to the document you want to download.
Click on it to select it (with the Cmd / Ctrl key pressed to select several at the same time).
Right click and click Download.
By default, Google Drive will make you download your document in the corresponding format of the Microsoft Office suite. Your Google Doc is therefore automatically converted to Microsoft Word format! This method also works with Google Sheets (equivalent of MS Excel) or Spreadsheets (Google equivalent of Powerpoint) files.
Tired of .gdoc files? You can tell Google Drive to stop converting them
Want Google Drive to store the files in the same format as the original one? Well it is also possible!
Go to the home page of your Google Drive.
Click on the gear icon then on Settings.
A window appears. Scroll down and uncheck the box Convert the imported files to Google Docs format.
To read also: How to delete Google history and stop being tracked
Now if you sync Microsoft Office documents, Google Drive won't convert them. Best of all, you can still edit the files in question. Yep, Google Drive is actually directly compatible with Microsoft files - via an extension! Rather convenient for working with office documents in the cloud.