We can never say it enough: blue light from screens is really not good for our retinas! It is synonymous with visual fatigue and other unpleasant ailments such as headaches, dry eyes and blurred vision. Worse, in the medium term, it is our sleep that deteriorates and in the long term, we risk cancer, macular degeneration and depression. So we say stop, and we protect ourselves now by setting up a dark mode on our favorite platforms, like YouTube .
Concerned about our well-being, YouTube has provided us with a light theme and a dark theme. The latter is ideal for protecting our retinas from the blue light of screens. How to enable dark mode on this platform? We explain everything step by step in this tutorial.
Enable dark mode on YouTube
Dark Mode is a theme that darkens the user interface. It is increasingly appreciated by viewers who see their visual fatigue drop considerably. Of course, YouTube has a dark theme that can be easily set up. Here's how:
1. Log in to the YouTube platform.
2. Click on your avatar at the top right of the screen to bring up a drop-down menu.
3. Find the "Appearance: light theme" line (it's about halfway down the menu) and click on it.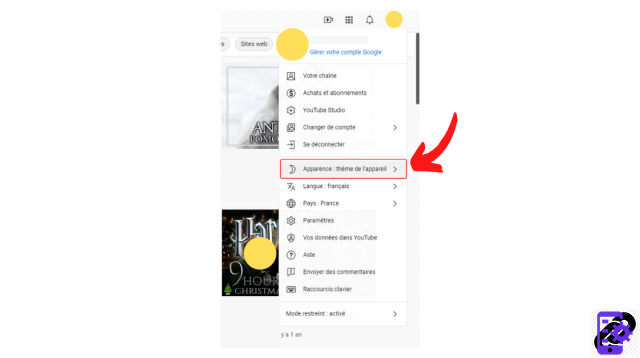 4. Here you have access to all the themes offered by YouTube: "Device theme", "Dark theme" and "Light theme". For information, the theme of the device implements the mode previously configured on your browser or smartphone. Click on "Dark theme".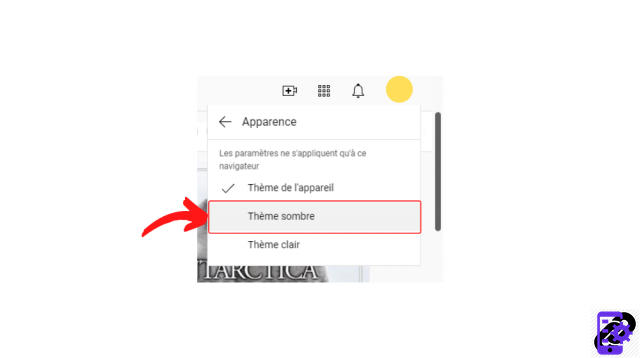 5. There you go, the interface darkens and your eyes look better already!
Note, if you use YouTube on another browser, you will need to set up the dark theme again.
Find all the tutorials to master all the features of YouTube:
Our complete YouTube file: tips, advice and tutorials
How to properly set up your YouTube account?