Ten years ago the idea that you could mirror your mobile phone screen to your TV seemed like pure science fiction, but today this is feasible and allows you to view games and movies on the big screen of your TV instead of on the small display of your smartphone or tablet.
As is usually the case with almost all technological problems, there are different approaches to the problem for mirror android screen to TV. You can also use the browser Chrome to stream movies, photos and more. You can also use the device Miracast Dongle to wirelessly project the Android screen to the TV.
While Chrome is a good solution for streaming media and great Miracast offerings, it is a bit unstable for mirroring. If you want to do a perfect mirroring with low latency, without risk of wireless interference or interruptions, quality audio playback, it is advisable to make a direct and wired connection between your phone and your Android display.
Part 1: How to do Android mirroring via cable
After verifying that your phone supports MHL connection, the only thing you need is an MHL cable for your phone. Such a cable costs around € 10 and looks like the one pictured below.

There are currently three types of MHL cable on the market. The first type is known as a standard micro-USB-to-HDMI adapter and has 5 pins in the micro USB connector. This is the type of cable used by most MHL devices. The second type is the micro-USB-to-Samsung HDMI adapter and has 11 pins in the micro USB connector. This is the type of cable used by most Samsung devices (although some of them use the 5-pin standard).
Finally, there is the Passive MHL cable. In fact, in addition to the type of MHL cables, MHL adapters are available in passive and active form. Active cables, like the ones we talked about in the previous paragraph, include a power adapter that converts the MHL standard to HDMI so you can connect your phone to any TV, projector or receiver to a free HDMI port. Passive MHL cables, on the other hand, do not include active signal matching and are intended for connection between an MHL device and an MHL display. While they don't have an extra charging cable, they still provide power to the device once plugged in. In general, however, we do not recommend buying a Passive cable but opting for an active MHL cable.
Once you connect your Android mobile phone / tablet to the TV via this cable, you can immediately see the screen on the TV: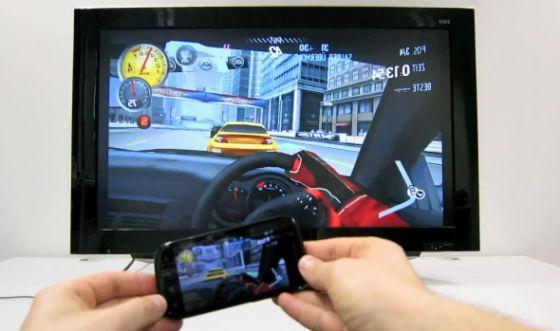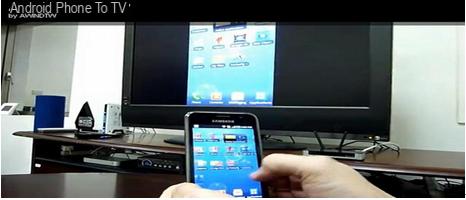 Part 2: Use MirrorGO to mirror Android to PC and TV
Thanks to the program MirrorGO you will be able to mirror Android on your PC both via USB connection and via Wi-Fi connection. Once mirrored on the PC, by connecting the PC to the TV you can obviously project the screen of the Android device also on your TV or Smart TV. This software is compatible with all Android devices, even the latest ones. For example, read the guide on how to mirror Galaxy on PC.