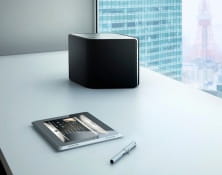 Increasingly popular and efficient, Bluetooth speakers are very popular with audiophiles. Nomadic, powerful and discreet, they are useful in many situations. Our tip for mastering your Bluetooth speaker.
Video
Benefits of a Bluetooth speaker

Autonomy and battery
Range

Examples of use
Sign in

On iOS mobile devices
On Android mobile devices
On pc
On Mac

Tip: turn your Hifi system into a Bluetooth speaker
Video
Loading your video "FAQ: mastering your Bluetooth speaker"
Benefits of a Bluetooth speaker
The advantages of a Bluetooth speaker are:
Bluetooth does not require an Internet connection. It is therefore possible to enjoy a Bluetooth speaker regardless of the location or the network.
There are models of all shapes, colors and sizes.
The sound is generally very good, even excellent depending on the speaker.
Autonomy and battery
Some Bluetooth speakers work with a rechargeable battery. The autonomy can be more or less important, generally ranging from 4 to 12 hours. They can be recharged with an AC outlet or a USB cable. Some can also be operated with batteries.
Range
The range of a Bluetooth speaker is 10 meters maximum. If this distance is exceeded, the sound saturates and ends up cutting off.
Examples of use
Some ideas for using a Bluetooth speaker:
Control sound and songs remotely to listen to music while moving freely in your house.
Watch a movie with your tablet and enjoy better sound. Ideal on vacation.
Use it as a hands-free kit, for calls to several people.
Music everywhere: on the beach, on picnics etc.
Sign in
First, make sure that the speaker's Bluetooth is activated. Depending on the model, it can be by default as soon as it is switched on, or at the push of a button.
It is possible to connect Bluetooth speakers to all kinds of devices.
Here is how to activate Bluetooth on these devices:
On iOS mobile devices
Open the "Settings" application
In the first frame, click on "Bluetooth"
Activate Bluetooth then connect to the speakers.
On Android mobile devices
Open settings
In "Wireless and networks", activate Bluetooth then connect to the speakers.
On pc
Connect a Bluetooth USB adapter.
Click on "Start" then on "Control Panel"
Select the "Hardware and sound" icon then "Bluetooth"
Click on "Add", then follow the instructions.
On Mac
Bluetooth is available on laptops and desktops from version Mac OS X 10.4.
Click on "System Preferences"
Click on "Bluetooth", then activate it
Configure Bluetooth speakers
Tip: turn your Hifi system into a Bluetooth speaker
With the arrival of Bluetooth speakers, old HiFi systems tend to be left behind. There is a way to connect your smartphone or tablet, for example, to your HiFi system. Just plug in a bluetooth adapter.
Photo : DR.