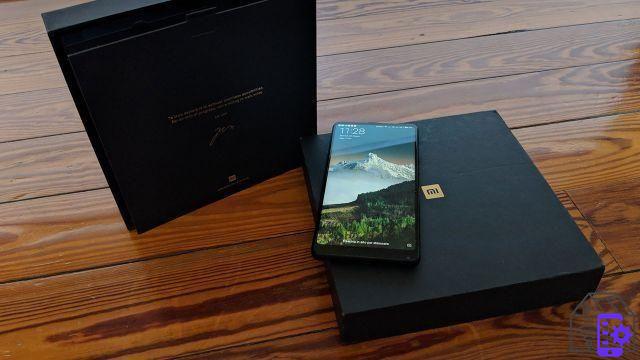 A few flaws Xiaomi Mi Mix 2S it does, but, given its price, it becomes really hard to complain. We are in fact talking about a perfect top of the range that you can find on the market for less than 500 Euros and that is able to satisfy all our needs. Would you like to know more? Let's venture into this new review then.
Xiaomi Mi MIX 2S: the technical characteristics
Before going into detail and examining Xiaomi Mi Mix 2S closely, let's see its technical specifications together.
Dimensions: 150.8 x 74.9 x 8.1 mm
Weight: 189 g
Display: 5,99″ IPS LCD – 1080 x 2160 pixel
CPU: Qualcomm Snapdragon 845
GPU: Adreno 630
RAM: 6 GB
Memory: 64 / 128 GB
Network: 4G LTE – Dual SIM
Connectivity: WiFi 802.11 a/b/g/n/ac, Bluetooth 5.0, USB Type-C, NFC, GPS
Battery: 3400 mAh
Rear camera: 12 MP + 12 MP
Front Camera: 5 MP
Videos: 4K @ 30fps
Operating system: Android 8.0 Oreo + MIUI v9.5
(Almost) Identical to its predecessor
From a design point of view, very little changes. Mi Mix 2S is extremely similar to Mi Mix 2: we have the same front, the same back cover in ceramic material and the same fingerprint reader located on the back of the device. In short, basically nothing changes. The general ergonomics of the device - absolutely excellent - and the excellent build quality therefore remain unchanged.
To be the same is also the 5,99-inch display with Full HD + resolution, a very bright display with absolutely convincing colors. Not satisfied? Don't worry, the Contrast & Colors menu allows you to calibrate the screen in order to adapt it to your tastes and needs.
To differentiate it from the 2017 model, however the main camera module. This time, in fact, there are two sensors and, for obvious reasons, they have been moved to one side of the back cover. A change that makes the device lose some character but which is perfectly understandable and in line with what other manufacturers have done.
All the power of the Snapdragon 845
The real changes of Xiaomi Mi Mix 2S we find them under the body. In fact, the Chinese device has relied this time on the latest arrival from Qualcomm, that is Snapdragon 845. This processor, coupled with the 6 GB of RAM, allows the device to be fast and snappy in any situation. Obviously, the software also makes it possible: on board we find Android Oreo 8.0 accompanied by MIUI 9.5. Xiaomi's proprietary interface brings with it many useful functions, including the possibility of creating a secondary space reserved for, for example, work or your private life, that of duplicating applications and a series of gestures designed to simplify the use of the smartphone.
It is then impossible not to spend a few words on the battery of this Mi Mix 2S. His 3.400 mAh they help you make it through the day smoothly even after mistreating him. Then you have fast charging and wireless charging.
Absolutely discreet the audio sector but I point out the lack of the 3,5 mm jack, lack that is partially compensated for by inserting an adapter that you can plug into the USB Type-C port.
An enhanced camera
The photographic sector has certainly improved compared to its predecessor. First of all Xiaomi Mi Mix 2S mounts a dual camera, with two 12 megapixel sensors and optical stabilization. To distinguish the two cameras we have the aperture: the first arrives at F / 1.8, while the second at F / 2.4, but flanked by one zoom 2X.
Ok, the numbers are convincing, but what about practice? Mi Mix 2S really surprised me. The photographs are absolutely satisfying, capable of making even apparently banal landscapes incredibly fascinating. This, however, in the face of good ambient brightness. In the dark, the matter changes. Yes, the shots are still better than its predecessor, but we are not yet at the level of other top of the range.
From a software point of view there are no huge changes except the addition of artificial intelligence. Don't worry, it's nothing invasive. The AI, which you can activate and deactivate at your convenience, allows you to get great shots without being too invasive, a function that I particularly appreciated.
Finally, let's talk about videos and selfies. The former reach 4K and take advantage of electronic stabilization, which allows you to get pretty good results, while the latter rely on the 5 megapixel front camera and no, they are not yet convincing. I also remind you that the sensor is in the lower part of the device, so you will have to do a little practice before you get used to using it.
Xiaomi Mi Mix 2S: passed or rejected?
[
Of course, the price range puts it in competition with other excellent devices, but if you want to focus on Xiaomi, this is the smartphone for you.