Good new from Milan Games Week 2021, which will return as an in attendance event next Fall. After almost two years of waiting, one of the most popular events in the gaming world finally returns. Indeed, to celebrate this incredible return, the next edition will be organized in collaboration with Cartoomics. This means that an amazing event is to be expected, which will make us relive the excitement of a live festival - assuming that everything goes for the best -.
Milan Games Week 2021: the live event is back at the Rho Fair
If you are passionate about video games, we suggest you mark this date on the calendar right away. From 12 to 14 November Fiera Milano in Rho will host the Milan Games Week & Cartoomics 2021, to be held officially as an in-person event. After the all-digital edition of 2020, in fact, the organizers have decided to give the public the opportunity to live a live experience. The program of the event, however, is not yet known, but it seems that some details will be during the Mix & Match live on Twitch.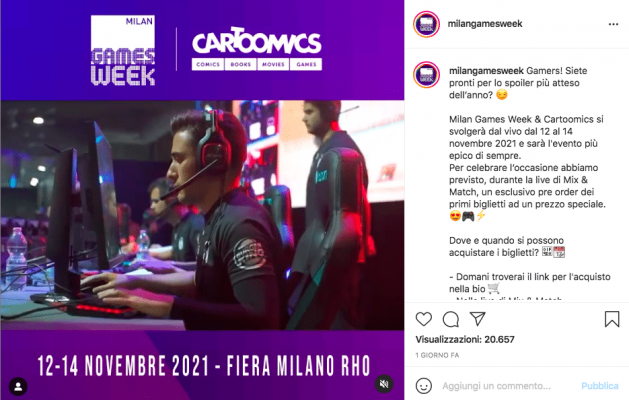 Beyond this, it is good that you know that if you do not want to miss the splendid edition of the Milan Games Week 2021, today you can buy your tickets in advance. This is a promotion valid only for the day of 13 July, but starting from tomorrow you can buy your tickets directly, so as to ensure a place at the Rho Fair. After all, consider that there are certainly not a few fans of the sector who will want to participate in an event in person, so we strongly advise you to hurry up to get your ticket.
It is quite clear that this is an important return for the city of Milan and for video game fans, who will finally be able to meet again live. The only concern remains the Delta variant, which seems to be playing tricks on our country (and beyond). But this event makes us positive, and we are sure that we will soon be able to meet at the Fair.
TagsMilan Games Week 2021 Milan Games Week 2021 is back in attendance in November