Even the best smartphones and tablets Android, over time they undergo an inexorable degradation of performance and different types of problems. The apps get slower and slower, different notifications start to appear, and the battery life gets shorter and shorter. In these cases, one of the solutions that is adopted is to format the Android phone in order to do a general cleaning and solve the most common software problems.
Format or reset the android cellphone it is an operation that is often done also to permanently delete the data stored on the device and therefore be able to resell your mobile phone or take it to assistance without worrying about your privacy.
In this article, however, we want to see how this is possible reset Android without losing data so that you can get all your data (photos, videos, music, contacts, etc ..) back in their place after restoring to factory settings.
Part 1: What does it mean and when to reset Android?
There are two types of Android device reset or reset: that soft and that hard. A soft reset is just a method that forces the operating system to stop in the event of a crash and does not involve any risk of the data all remaining in place.
A "hard" reset is instead a real one factory reset which brings the device to the condition it had just left the factory in. Performing a factory reset will inexorably delete all the personal data you have on your device. This data also includes personal settings, applications, photos, documents and music stored on the device. A factory reset is irreversible, which means that before considering this operation it is good make a backup of your mobile.
Factory reset is a great way to get rid of buggy updates and other malfunctioning software and can give your phone a "second" life.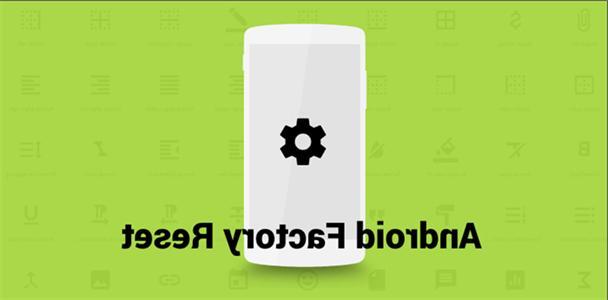 Here are some cases in which it is essential to proceed with a reset of the Android device:
phone is very slow even after trying to delete apps and data
applications freeze and / or "force close" notifications appear from the operating system
applications load very slowly and / or your browser is slow to open websites
battery life is getting shorter and shorter
Part 2: Backup your data before resetting Android
It is not a diversi modi per back up your data. If you have a Google account you will be able to save your contacts and settings on it, but you will not be able to save your photos, documents or music. There are numerous cloud-based systems such as dropbox e Onedrive where your data might be too but in that case you need a data connection or wifi to reset your device.
If, on the other hand, you are looking for a software solution (which allows you to backup even without an internet connection and to save all the data on a computer), here are several solutions with relative guides:
> Backup your Android phone
> Fare Backup Android su Mac con Android Transfer per Mac
> Backup Android to PC via Wi-FI and MobileGO
> Backup Android to PC with TunesGO
Part 3: Reset Android
Once the backup is done and your data is safe you can proceed to Reset Android. There are two common methods for doing this:
Method 1. Use mobile phone settings
From your mobile, access the "Settings"And look for the option that allows you to"Restoration"Of the device. Then you will find a menu item like "Reset to factory conditions"And proceed with the operation.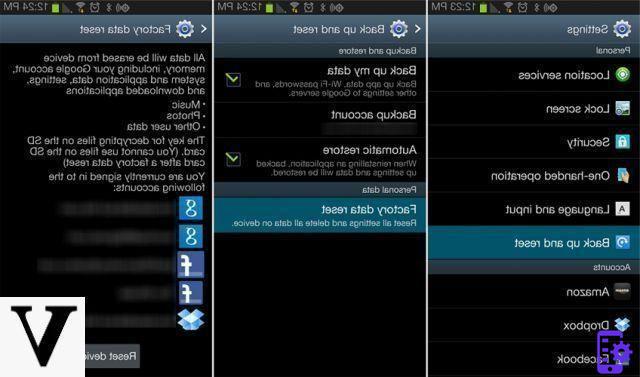 Method 2. Reset Android via recovery mode
If your mobile is not usable (eg locked or with a broken screen) then you will need to access the so-called Recovery Mode. To do this, here are the steps to follow:
Step 1. Press and hold the Volume Up and Power buttons at the same time. Wait for the phone to activate in Recovery Mode.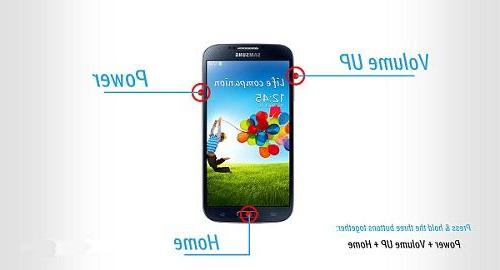 Step 2. Using the volume keys select the option "wipe data / factory reset" and confirm to proceed with the reset.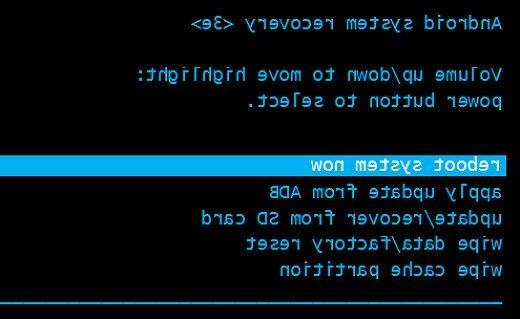 After resetting the phone you can restore all the data on it using the same service / software used to make the backup.
That's all! Now you know how reset Android without losing data!!
my mobile has been blocked on cancellation for three days ...
why my tablet has little memory despite having few apps and photos? I would like to delete everything but I have apps where I lose the contents. how can I do??
Hi my phone gets hot and they advised me to reset it, it's an s8 I've had it for about a year
You think
i reset the phone but it doesn't show me the keypad even though the touch works
What about the Nvidia Shield TV? Can you teach me how to restore and backup? Thanks.
Help me nn I can get into wi fi someone says I have to desert Android without losing data. Can you help me.
What does Wi-Fi have to do with resetting the phone?