After the Galaxy S21 series, Samsung has started rolling out Android's April security patch on Galaxy Note 10 phones. Some variants of the Note 10, 10+ and 10+ 5G models have already received the update, particularly in Germany and Switzerland. The release is expected to affect the rest of the market in the next days.
Samsung is releasing the April update for the Galaxy Note 10
The April security patch update for Galaxy Note 10 smartphones comes with the firmware version N97xFXXU6FUCD. This should also include some new features or improvements, along with the vulnerability fixes for April 2021. However, we are not yet aware of the change changelog to confirm the contents of the new update. Samsung has yet to publish the detail of the new security patch as well, but it will certainly do so in the coming days.
Samsung tends to release these security updates within the first few days of each month, so don't worry if you haven't received any notifications yet - it will most likely arrive by the end of the week.
It's a matter of days
As confirmed by Android Headlines, the latest update for the Galaxy Note 10 phones is currently being rolled out in Germany and Switzerland. More countries are expected to follow in the coming days. However, as always, updates are released in groups, so it may take a few days for the OTA version (Over The Air) reaches all smartphones. You should be notified to download the OTA file once it is available for your phone. You can too manually check for updates by accessing the Software Update menu in your phone's Settings app, selecting the Download and Install option.
For about a month the Note 10 has also received the big update of the One UI 3.1 based on Android 11. Samsung has announced the new interface also for Galaxy S20, Note 20, Z Fold 2 e Z Flip, Galaxy S10, Galaxy A71, A51, A90, A80, A70 e A50.
Discount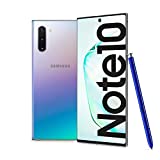 Samsung Galaxy Note10 Smartphone, Display 6.3" Dynamic...
Thanks to the software update *, starting from April 2020, the photographic experience with Galaxy Note10 changes; I'm...
The SPen with the Air Action function allows you to control your Galaxy Note 10 with simple gestures, without touching the ...
Galaxy Note 10's 3500mAh smart battery is able to optimize all processes and withstand longer ...
569,90 EUR −3% 549,99 EUR Buy on Amazon Source Android Headlines Tags update Galaxy Note 10 security patch Samsung releases April security patch for Galaxy Note 10