Samsung Notes è the application for take notes in an advanced way increasing productivity. Let's find out how to go from paper to digital with this software from the Korean giant.
READ ALSO: Samsung "Back to (S) c (h) ool" for a technological and cool back to school!
We are now at the end of the year and, as a consequence, the long-awaited Christmas holidays are reigning. Both workers and students have their long-awaited and well-deserved rest period. However, we have thought about how we can be of help in this moment of relaxation for students who, in a few weeks, will start attending classes again. No, we cannot help you pass the dreaded math test or encourage you to study, but we have found a solution to be able to innovate your study method.
Taking Notes: How to Upgrade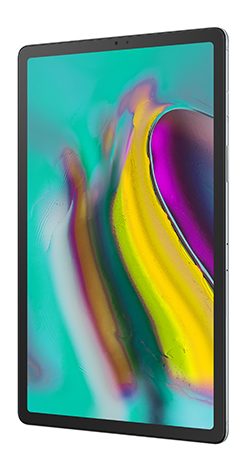 In the school career of each of us, from the brightest to the least, the study method it has continually evolved until a balance is reached which is suitable for producing positive results. This change, however, is not immediate and arises from continuous research and application in the study. We cannot therefore identify the best method, but we can help you find tools to undertake this research. Our advice, therefore, fell on study tools. Although schools are still behind in technology, we can choose what to use to study.
Our first tip is to replace the much loved card with an electronic device. We used a Samsung Galaxy Tab S5e. This Samsung Tablet is, in our opinion, one of the best solutions to be able to make this "exchange" given its fairly affordable cost and its excellent performance. The device features an extremely neat and slim design, perfect to be carried in bag. In addition, the thin bezels guarantee a large display in a not very large surface. Samsung Galaxy Tab S5e, however, can in turn find a replacement in the more advanced variant, Tab S6 (here our review) us S-Pen. Obviously the two devices have a noticeable price difference due to pen support and more powerful hardware equipment for the Tab S6. We, for this test, we have limited ourselves to a Tab S5e finding in his quality-price a perfect compromise for the life of every student.
How to deal with the change
Replacing a notebook with a tablet is not an immediate maneuver: the first day was not particularly satisfying. We found a completely different relationship in handwriting and we weren't sure that writing with the Tablet would facilitate our memory. Despite that, we kept trying and that feeling of discomfort disappeared in a few days. In our opinion, the process of replacing paper with digital must take place gradually. So do not be scared if the first day you will not find the same feedback that your beloved notebook returned to you.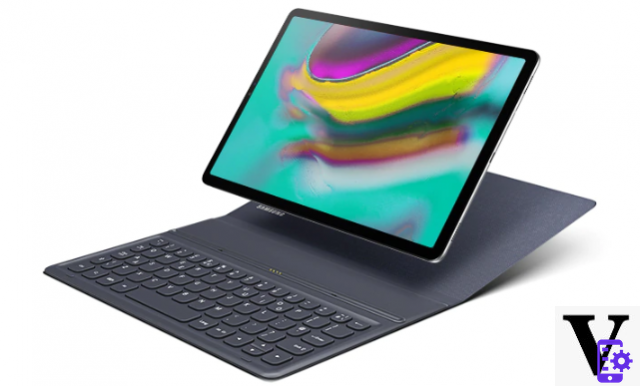 The first step, therefore, consists in abandoning the paper support in favor of a digital one. However, if you are still not sure that writing from the screen of your Tab is comfortable, you can evaluate an intermediate step: a keyboard. Galaxy Tab S5e has one port Pogo Pin on the lower long side of the device which allows the device to pair with keyboards of any kind without Bluetooth connection. Of course, you can also opt for a wireless connection that does not use Samsung's proprietary port.
Book Cover Keyboard
We preferred to free our tablet's Bluetooth by opting for Pogo Pin and Book Cover Keyboard, the official Samsung case which, in addition to protecting the device when closed, also allows you to have one comfortable physical keyboard on which to type long texts. The quality of the latter is excellent: Not very low keys with excellent travel, excellent feedback and fast response. In addition, the cover attaches to the back of your tablet in magnetic way avoiding unsightly silicone covers and keeping the profile of your Tab clean and elegant.
The only downside to the Book Cover Keyboard is the impossibility of being able to adjust the inclination of the tablet which thus remains fixed in one position. Nothing serious, however: in the end, the position is comfortable almost everywhere.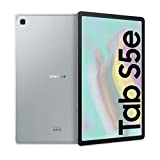 Samsung Galaxy Tab S5e, Tablet, Display 10.5" SuperAMOLED,...
With its 5,5mm thickness and 400g weight, Galaxy tab s5e is incredibly pleasant to hold; browse through ...
The polished metal body gives a pleasant sensation to the touch and the sophisticated metal finish embellishes the ...
Thanks to the new one ui, the main functions have been optimized to fill the large spaces of the screen, to ...
456,50 EUR Buy on Amazon
After the hardware, the software
Having found the perfect device for taking notes during class, we also need to think about how to study with him. Hence, our research expands.
We can have the perfect device in our hands but if we don't know how to exploit its potential it can go to waste. Returning to the choice we made previously, Galaxy Tab S5e also satisfies us from this point of view. Remember the article written by us a few temples ago on the Samsung ecosystem and its ability to connect and communicate with other devices? Here, that is one of the key features of the success of their devices. Not only that though: we chose Tab S5e because we found it in its software a huge potential. If Apple has an incredible store on its side with applications designed and made really well, Samsung plays at home with its package of apps. We did not feel the need to download other external applications in order to use all the potential of this Tab, but we turned to those already preinstalled.
Samsung Notes: a digital notebook
The most used application by us during this test is Samsung's native app for taking notes: Samsung Notes. The application is already installed on the device and is undoubtedly one of the best applications for writing. The software is characterized by the possibility, first of all, to organize the notes in category. These allow you to divide the notes into other sub-categories, for example in matter various o in tag. This convenient division can be useful for separating certain topics or lessons, without creating extremely long or time-consuming text documents.
The maximum of its productivity, however, is reached in the text field. In addition to being a handy digital "notepad", the application also boasts some advanced writing tools: you can change the layout of the text, insert bulleted lists or numbered or check boxes for a list. Think, for example, of having to write the foods to buy at the supermarket, by listing them with the check boxes you can tick and delete the items already purchased. Also you can also decide the thickness of a particular word in order to highlight it from the others with three different set sizes. You will be able to make stressed a text, put it in bold or in italic and choose the orientation of the text itself.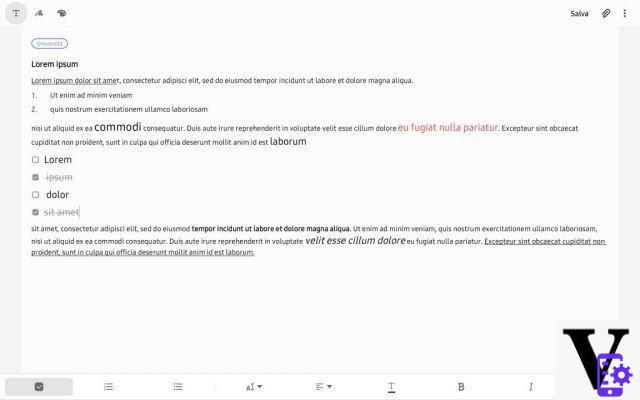 Write with the S-Pen
The app also has two input modes in its package: one a free hand and one in drawing mode. In the first you can take notes with the S-Pen in a very simple and paper-like way, changing type of pen, color, thickness and more. The other, on the other hand, allows you to access a slightly more complex picture, where you can "throw down" some sketches. The colors will be modified and mixed, you will find special tools and a more detailed and precise color range.
These two modes find their perfect combination with the S-Pen which, unfortunately, does not support our Tab S5e. For this reason we would like to recommend the most advanced version, Tab S6.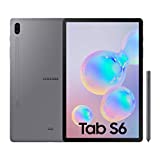 Samsung Galaxy Tab S6 Tablet da 10.5" (128 GB, S pen...
Screen: 10,5 ", 1600 x 2560 pixels
Processor: Snapdragon 855 2.84GHz
Camera: dual, 13 MP + 5 MP
648,00 EUR Buy on Amazon
The attachments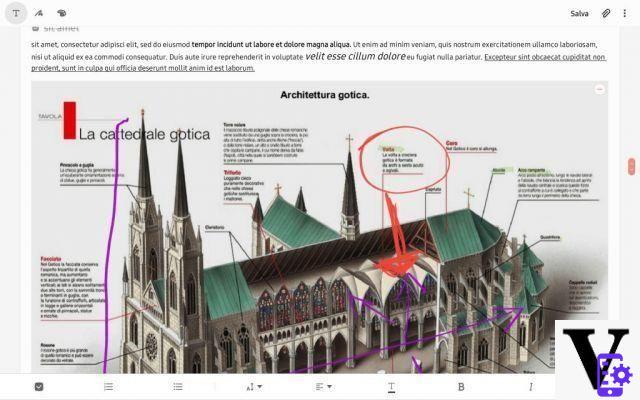 Samsung Notes also allows you to insert attachments. If you are in a university class and you can't transcribe an entire slide, you can take a picture and attach it to your note. Also, on it, you can write and mark the most important things. Samsung Notes also allows you to insert voice recordings and audio files in the note so that you have everything connected to a single lesson without having to play with recorder and other applications.
The Samsung application also allows you to share your notes as a group work document through the "Shared notes". With the latter option you will create accessible and editable notes to the contacts you have chosen, the only limitation concerns the presence of the Samsung app even in your colleagues' smartphones. Convenient also basket clipboard that allows you to avoid the unintentional removal of an important note that can be recovered within 15 days. Let's not forget also the possibility of notepad. Thanks to this features, some pages can be encrypted and access is only guaranteed through biometric data.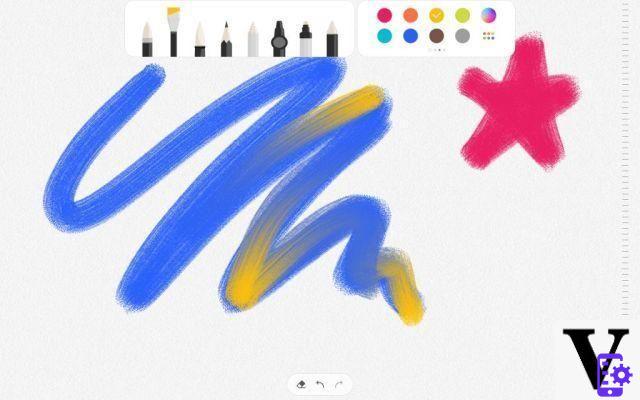 But the power of Samsung Notes does not stop there: once you have created your personal note, you can export it in various formats; including: Samsung Notes file, convert it to a Word sheet, PDF page, Image or plain text.
Samsung Notes: a connection between Galaxy
As mentioned above, Samsung Notes connects to yours Samsung Account. This connection results in perfect synchronization with the other devices in the company. We tested the application on the tablet but, at the end of the lesson, our Galaxy smartphone was also ready with the notes in the smartphone application. An excellent synchronization that also allowed long recordings or photos of notes and slides to be shared between devices in a few seconds. Another example concerns the photos taken by the application: each photo taken and added to your note on Samsung Notes, such as slides or other, is then also replicated on your Galaxy Mobile device as a .jpeg file in an isolated folder in your gallery. . Voice recordings, on the other hand, remain confined to the note but can be shared as audio files with external apps.
Although Samsung's application can be replaced by others with more functions, we found in it a perfect relationship between functionality and reliability; every operation carried out with Notes always results extremely satisfying.
Samsung DeX: that tablet a PC
As we have previously said, what makes a great device is not just the hardware. In fact, our choice to use a Samsung Tab was also justified by the wealth of the software.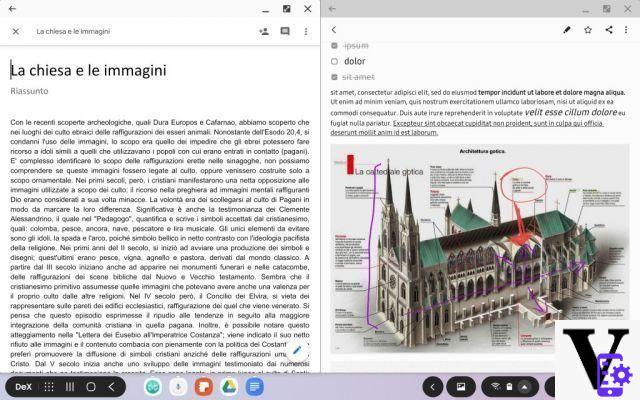 As is known, the most current devices of the company also have a special desktop version of the OS installed inside them: Samsung Dex. This is probably the key feature of the Samsung Tabs. Once the keyboard is attached, your Tablet immediately transforms into a small and powerful computer with a desktop interface, ideal to be always carried with you. Samsung Dex allows the management of applications in windows, side by side or reducing them, bringing productivity to the maximum. Your Tab, therefore, can be transformed from a comfortable Tablet for watching movies and TV series, to a small and efficient computer for studying and reading. This does not, of course, take away from being able to switch immediately from the desktop version to the tablet version in an instant without losing data and without having to close an application.
Samsung Notes, of course, is compatible with Samsung DeX. There productivity is pushed to the maximum when you launch Notes in Dex mode. The functions remain unchanged, but you can combine the text box with other applications, such as a PDF document or a Power Point. Samsung Dex can also be used through a HDMI cable to connect to an external monitor. In this way you will create a real portable workstation.
Pros and cons of a digital notebook
After well 4 months of heavy use, we can say we are ready to face the conclusions of this experiment.
We admit it: initially we preferred paper, a preference dictated above all by nostalgia for the gesture of writing. After less than a week, however, nostalgia has been replaced by comfort: using a digital support to study is, in our opinion, one of the best upgrades to make to your study method. Initially it will be difficult and tiring to read through the Tab display, but you will soon get used to it.
One of the comforts that most convinced me is the possibility of leave all notebooks at home and to carry a small instrument weighing a few grams. This possibility, moreover, also avoids it waste of paper replacing it with an almost infinite storage of virtual sheets. In addition to back pain, productivity is also positively improved. Writing on a tablet also allows you to create a an organized center of one's knowledge. Also, if you have any doubts, you can open a new tab and do a quick search. Surely also the possibility to have every note under control and to find them in every device, eliminates the anxiety of forgetting the notebook at home, and if you forget the Tab, you will still have the smartphone.
Obviously we cannot say that this method is the best for everyone, however, pen and paper remain one of the most natural methods we have to study. Despite this, we feel compelled to recommend this new approach to you simplify and make your studies more fun.
It goes without saying that all this also applies to those who work and take a lot of notes: our examples are in fact based on the direct experience of the writer but nothing prevents you from using Samsung Notes to improve productivity in other areas.
TagsSamsung Notes Samsung Notes: how to improve productivity